2011
08.24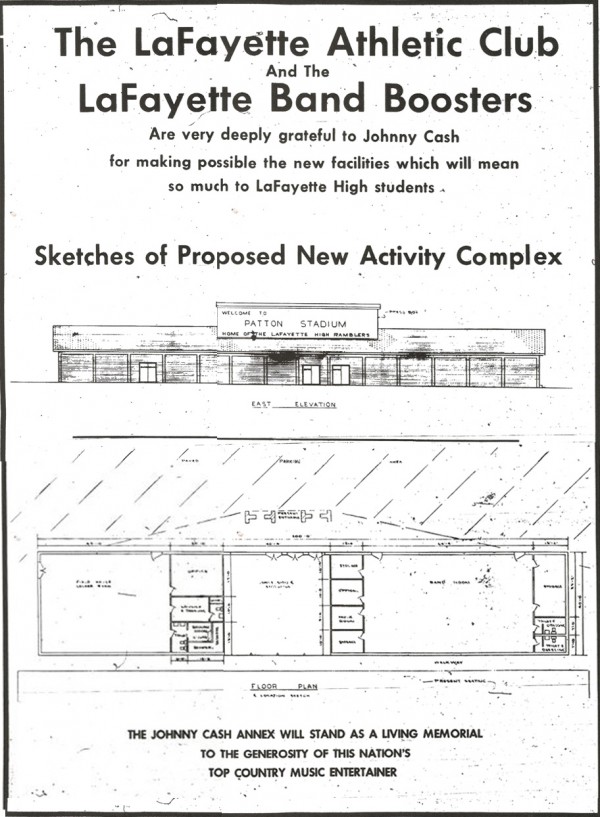 Profits from LaFayette's Johnny Cash Show went to the LaFayette Athletic Club and LHS Band Boosters. Those groups were working to build a new "Activity Complex" behind Patton Stadium's hillside seats, and a new band room for the LHS music program. Both organizations were made up of parents and businessmen seeking to provide better sports facilities for the city's children in an era when they weren't provided by government.
Cash's fundraising mission was a complete success, generating over $75,000 – the equivalent of $416,350.53 in 2010 dollars. That large sum paid off all the Athletic Club's debts and allowed for the construction of a top-notch facility ranked among the best in Georgia when it first opened. In honor of Cash's contribution, the addition was named after him.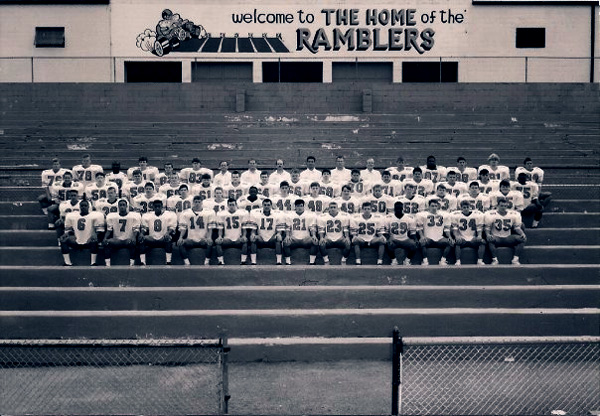 Other properties built by LaFayette Athletic Club eventually became part of the LaFayette recreational department, and the club went inactive. It still legally existed on paper until September 2010. LaFayette High Band Boosters is still around today. That group can be proud of its connection to the Cash concert and the good work done to support local students.
In January 1998 the city's social heart was moved outside town when a new LaFayette High School and new football field opened on Round Pond Road. Ownership of Patton Stadium reverted to the City of LaFayette Recreation Department, which rechristened the older facility "Ross Abney Complex" and then did nothing with it outside of an occasional peewee football game and line dancing classes.
After a decade of no maintenance and vandalism, including a 2008 arson fire, Ross Abney Complex (Patton Stadium/Tucker Field/Johnny Cash Building) is today a poor shadow of what it was in 1970 – more of an eyesore than the landmark it once was. A symbol of LaFayette's greatest moment and greatest accomplishments has become a symbol of the city's decline.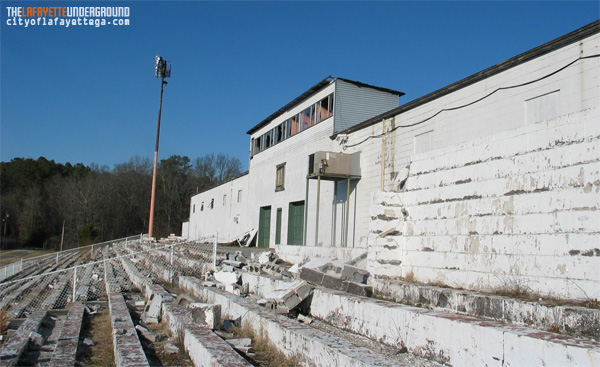 A June 2010 LaFayette Underground article about the old field inspired several residents to petition the City Council last August about having the site renovated and made usable. The council stuck to "business as usual" by not taking a clear position; they didn't reject the plan but also refused to support it by committing city resources to a renovation, warned against the use of volunteers, and laughed at the plan once its presenter left the room. Mayor Florence speculated that a full restoration would cost the city over $150,000.
But in January the city reversed itself and announced plans to renovate the field in September of this year. City leaders told the media of "their" plans for Cash-themed events, family movie nights, and festivals that could be held on the old field. Outgoing City Manager Johnnie Arnold expressed "excitement" about the site's potential, and LaFayette Recreation Director Patty Scott was credited as being "behind the idea to promote the late Johnny Cash's ties to the stadium" even though nobody publicly cared about the field or its history until our article last June.
The city's restoration plan won't cost $150,000 or even $15,000. According to Johnnie Arnold, they can tear out the old disintegrating concrete block risers and set up metal bleachers in the same location for less than $5,000. How is that possible? Good question – one we'd like to see answered before they begin bulldozing the old field next month.
Plans for restoration hang on a land-water-swap deal worked out between the LaFayette city government and Walker County Schools. During their December 2010 meeting, LaFayette City Council agreed to run a new water line to Rock Spring Elementary School and provide free water service for a period of time in exchange for a small tract of school-owned swampy land south of the old bleachers. The property will become a dumping ground for concrete and debris removed from Patton Stadium, which will then be (in theory) retrofitted with seating for 1,500 people.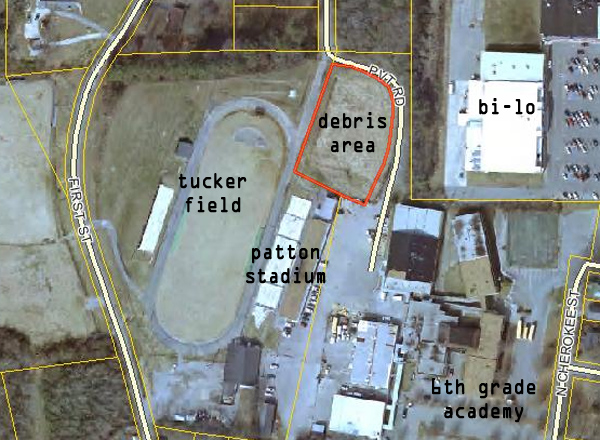 The total value of the swap, according to the LaFayette council, is $5,000 – the exact amount they said renovations will cost the city. That leaves no room for any kind of improvement, only demolition and cleanup conducted by city employees not given enough resources to do quality work. Any new seating will come from the Recreation Department's stockpile of used bleachers, and the complex will be left without working lights or sound.
If demolition and renovation does begin in September as the city announced, what remains afterwards will be a cleaned up site, but one stripped of most connections to the past and still hardly usable for anything of benefit to the citizens of LaFayette. Patton Stadium, or whatever it's called by then, certainly won't be an adequate venue for a medium-size concert, much less one of the scope and scale of what Johnny Cash brought to town 41 years ago.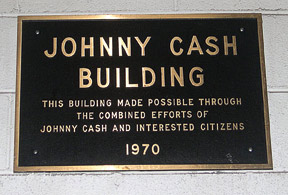 <---PREVIOUS PAGE / PAGE 5 OF 6 / 1 2 3 4 5 6 / NEXT PAGE —>