2014
03.02
On August 13, 1970, LaFayette was in a positive spotlight when world-renowned musician Johnny Cash performed a benefit concert at the old high school football field.
Cash had visited town once before, during an infamous stay at the Walker County jail. That 1967 experience, later credited by the singer for turning his life around, was the reason he came back to town to headline a fundraiser for the LHS football team and marching band.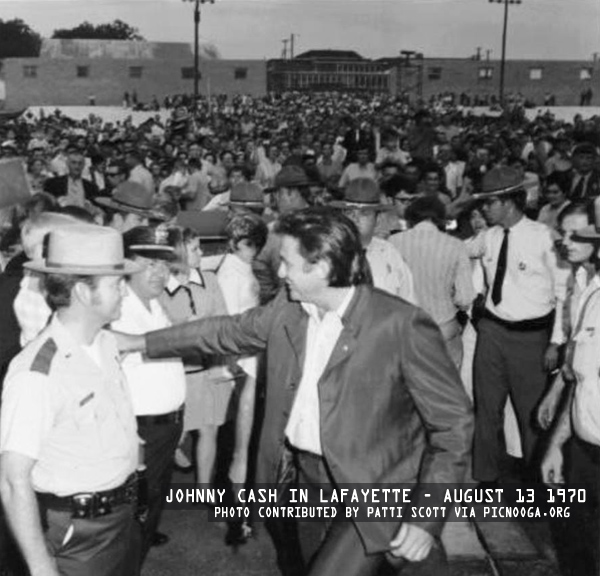 Cash's appearance – accompanied by other musicians who regularly played with him on tour and on his weekly "Johnny Cash Show" for TV – raised thousands of dollars for the LaFayette Athletic Association and LHS Band Boosters. Those funds were used to build top-notch facilities for the school's football team and marching band at the field where he played.
43-plus-years later, souvenirs, memorabilia, and even photos from the 1970 concert are still kept, and treasured, by some who were there. But those items are scarce and not readily available for those who want a reminder of a day, and an era, when LaFayette was great – and much of the physical facility where Cash performed has been demolished.
However, in a few weeks a modern reminder will be made available for anyone seeking a connection with the Cash appearance: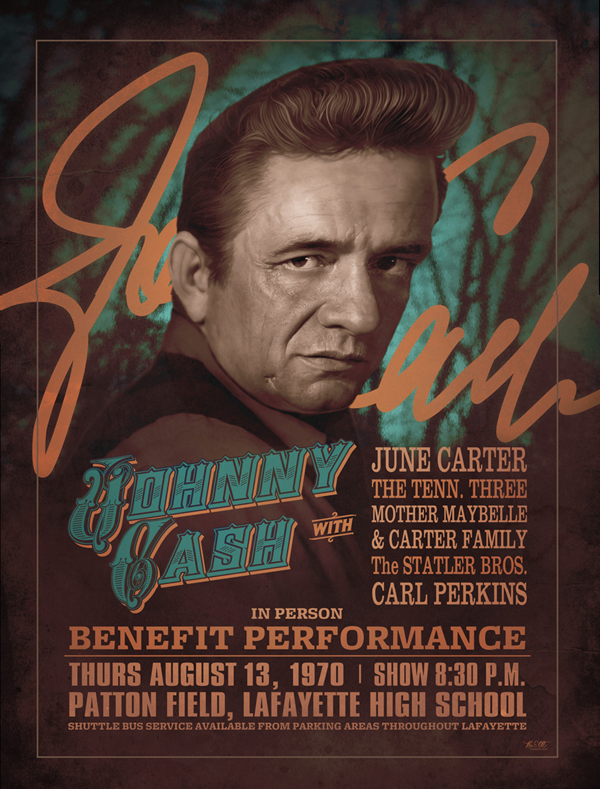 Designed by well-regarded Chattanooga artist Ron E. Ott from original photos and information compiled by Picnooga.org volunteers, this recreated, fictionalized version of a 1970 concert handbill will be available next month for "less than $20."
Cash and many involved with the 1970 concert have since passed away, but their legacy of giving continues to help local kids: This imagined poster will be given away with donations to support LaFayette's underfunded local library.
Final donation amounts for the recreated flier have not yet been announced, pending final details about other items that may be included. Benefit organizers say there may also be some versions of the archive-quality 18×24 handbill signed by musicians or Cash family members who were present at the original event.
Want to know more about the concert itself and the events leading up to it? Check out these articles from LU: The Man in Black | Johnny Cash Day in Georgia
Thanks to Picnooga.org, David Moon, Ronn Ott, Patti Scott, John Carter Cash, and those originally involved with the concert for creating this project and providing advance material for this post.