2017
04.12
Monday afternoon officers from the US Marshal Service, assisted by deputies from the Chattooga and Walker sheriff offices, descended on a home on Halls Valley Rd. near the Walker/Chattooga line.
They were seeking to capture a fugitive wanted in Catoosa: Thomas Zane Campbell, age 31.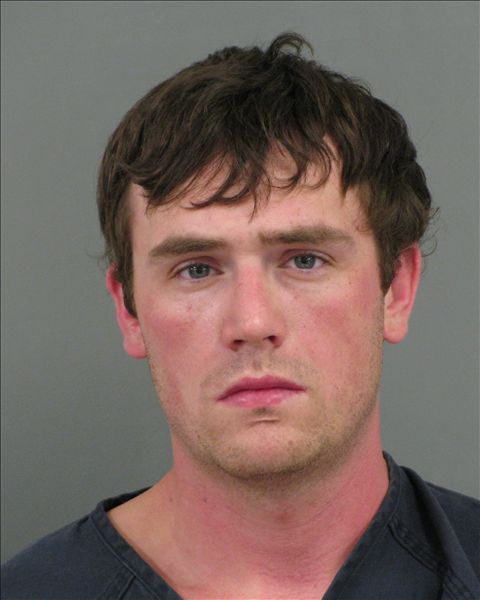 Mr. Campbell was wanted in Catoosa for "possession of a firearm by a convicted felon" – and firearm he apparently did possess. He allegedly produced himself in front of the house with a gun in hand and was shot by one or more officers on the scene.
He was LifeForced to Chattanooga "in critical condition" with no updates on his status released as yet. No officers were harmed in the shooting.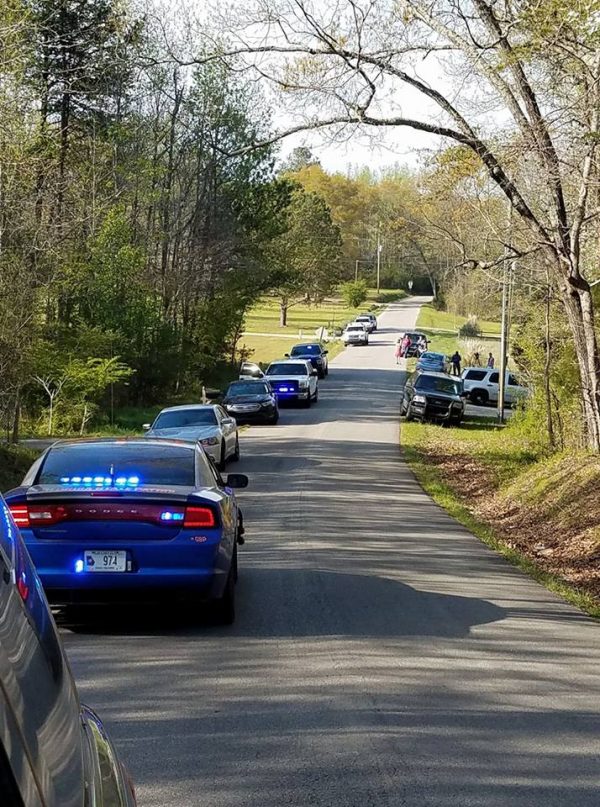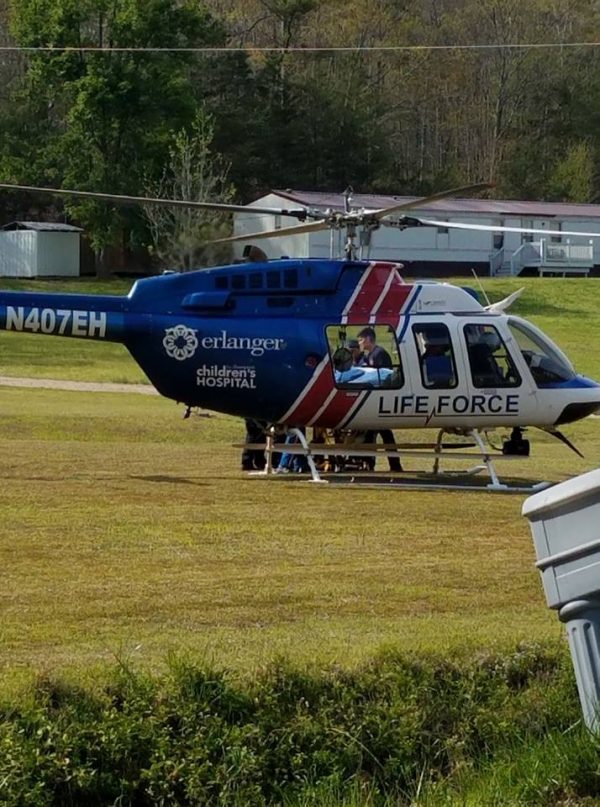 Initial reports said Campbell was shot by an unidentified Chattooga deputy, but those reports were retracted; currently there's no official word of what officer fired shots or what department the shooter represented. One report said multiple officers on the scene fired.
As required by protocol in an officer-involved shooting, the GBI is investigating.





Commissioner Whitfield's planning commission gets one step closer to permanent rules cracking down on "tiny homes."
WQCH Radio, 04/01/17:

"THE WALKER COUNTY PLANNING COMMISSION HAS FINISHED A DRAFT ORDINANCE TO ALLOW 'TINY HOUSES' TO BE BUILT HERE.
"THE MICRO-HOMES WERE DISALLOWED RECENTLY BY COUNTY COMMISSIONER SHANNON WHITFIELD, UNTIL NEW REGULATIONS COULD BE WRITTEN.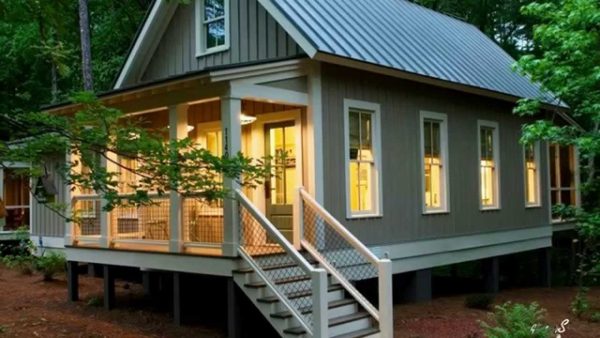 "THE PLANNING COMMISSION STATES THAT 'TINY HOUSES' SHOULD BE NO BIGGER THAN 500 SQUARE FEET, HAVE A PERMANENT FOUNDATION WITH AN ELECTRIC METER AND SEWER OR SEPTIC SYSTEM, AND THAT THEY WILL BE 'GROUPED TOGETHER' IN SPECIFIC ZONES WITHIN WALKER COUNTY.
"THE NEW ORDINANCE REQUIRES A NUMBER OF PUBLIC HEARINGS BEFORE THE COMMISSIONER WILL ACCEPT OR REJECT THE NEW RULES."
The really concerning part here is "THAT THEY WILL BE 'GROUPED TOGETHER' IN SPECIFIC ZONES WITHIN WALKER COUNTY"
That means most of us will be prohibited from building or bringing in a house this size. If you live anywhere near the Commissioner or anyone on the planning board, you can give up on your dream of having a tiny house.
Sounds like they plan to segregate them all into parts of the county where few people want to live anyway.


Battlefield murder case comes to an end.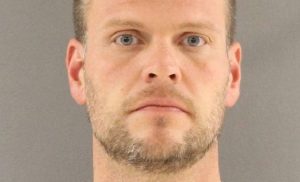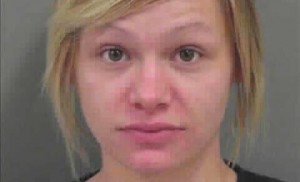 Robert Martin Brooks and Jennifer Allison DeMott, both of NY State, have taken plea deals in their pending murder trial.
Brooks and DeMott will spend 20 and 10 years in prison, respectively, for the killing of Duane Hollenbeck.
59-year-old Hollenbeck's remains were found near Chickamauga Battlefield in December 2015. Prosecutors say all three went on a trip to the south to buy drugs for resale, and the younger two got tired along the way of dealing with Mr. Hollenbeck and his disabilities.


Starting awfully young…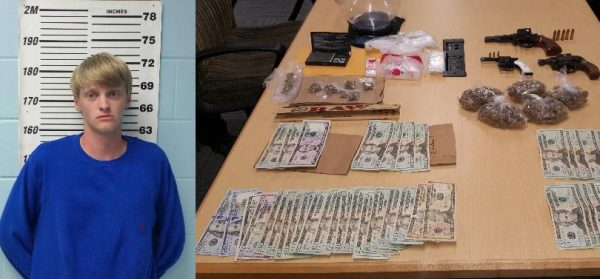 Jadon Chase Snyder, 18, was on probation for "a gang-related felony conviction" in Walker County.
He broke probation and moved to Florida, where he immediately got involved with drugs and guns (allegedly). Now he's heading back to the Walker County jail, where he should have been to begin with.


As predicted, Walker County's recent rate increase at the garbage dump has cost the county commercial garbage customers.
Three Chattanooga-based companies that were paying the county to dump construction debris have taken their business elsewhere, meaning the rate increase intended by Mr. Whitfield to fix a deficit will likely cause landfill losses to skyrocket.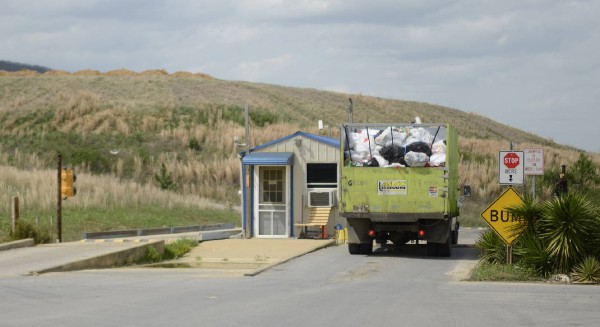 The landfill's costs, outside of expansion costs, are mostly fixed – meaning it costs almost the same to run the dump if it has a lot of business or very little. Losing customers in a rate increase, especially major commercial customers, will do the opposite of fixing debts at the dump.
"After increasing rates earlier this year, the Walker County landfill has lost three customers from Chattanooga.
"Paine Gily, the landfill manager, said Thursday he doesn't know how the loss of business will hurt the county's bottom line. The new rates on the landfill went into affect at the beginning of the month. He's not sure how the boosted revenue from the clients who stuck around will compare to the losses from the three businesses that bailed.
"Gily is also not yet sure what volume of trash those three clients accounted for. It's possible, he argued, that loss of business could help the county long term, because the landfill may fill up slower."
An awful lot of "we don't know" from the people in charge here…


New Georgia rules limiting food stamps to elderly, children, and truly disabled have led to some disabled people being (temporarily) dropped from the program.
The state says most of those who need stamps who got cut off were dropped because they hadn't notified DFCS of their disabilities in the first place out of privacy concerns, and those who verify their situation are being added back into the program.
The new rules, rolled out to Walker and a handful of other counties on April 1st, require able-bodied single childless adults to find work, volunteer, or attend job training in order to keep receiving stamps.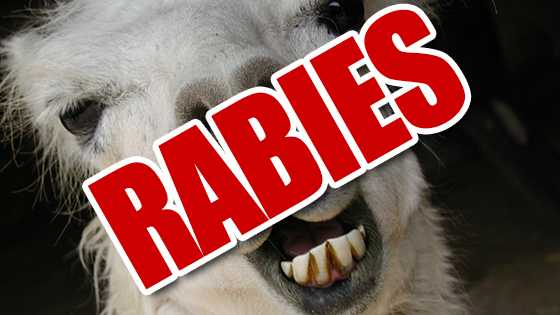 This year's community rabies clinics will be held in Walker County on April 29th and May 6th.
Per the Sheriff's Office here are some of the sites:
Saturday April 29th
1:00 – 2:00 Rock Spring Elementary
3:00 – 4:00 East Broomtown Road Fire Hall
4:30 – 5:30 Gilbert Elementary

Saturday May 6th
1:00 – 2:00 Chattanooga Valley Elementary
3:00 – 4:00 Oakwood Baptist Church
5:00 – 6:00 Naomi Elementary
Unfortunately the shots will be almost full cost this year: $15 per animal (cats and dogs only)
Chattooga County will also be offering rabies shots in several locations on May 6th for half the price – just $8.



Alan Jackson goes to jail in LaFayette.
Not THE Alan Jackson tho.
WQCH Radio, 04/11/17:

"A LOCAL MAN WAS CHARGED UNDER THE FAMILY VIOLENCE ACT SUNDAY NIGHT, ACCORDING TO LAFAYETTE POLICE. THE CALL CAME FROM A COOPER STREET ADDRESS: TOWN CREEK APARTMENTS.
"THE COUPLE GOT INTO AN ARGUMENT AFTER THE FEMALE VICTIM STAYED LONGER THAN EXPECTED AT A VISIT WITH A FAMILY MEMBER, AND 35 YEAR OLD GRANT ALLAN JACKSON ADMITTED PUSHING HER WHEN SHE RETURNED HOME. SHE SAID HE TRIED TO STOP HER FROM CALLING 9-1-1 AND FORBID HER TO LEAVE THE HOME.
"JACKSON WAS CHARGED WITH SIMPLE BATTERY UNDER THE FAMILY VIOLENCE ACT."
Plus: Walker County jail report, April 3-9.



This summer's lineup for "Movies in the Park" features four family films from last year and one from 1995.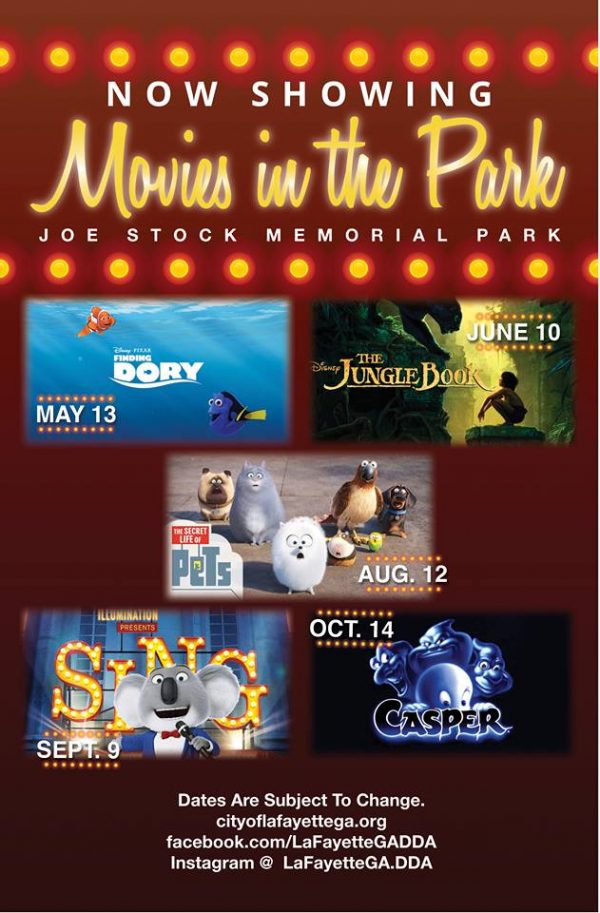 The first movie will be Saturday May 13th. All will begin at dusk.


Randall D. Vasser, 40, of Rome, arrested in Summerville for stealing two drones from CVS.
No word on how he intended to use more than one.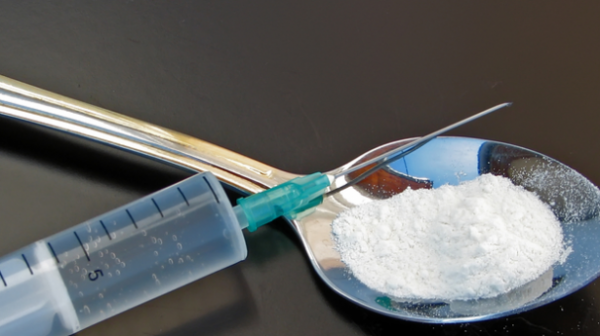 Around the country a record number of children are being taken into the foster care system, overwhelming caseworkers, foster homes, and budgets.
The root cause? Drug addition among parents, especially addiction to heroin.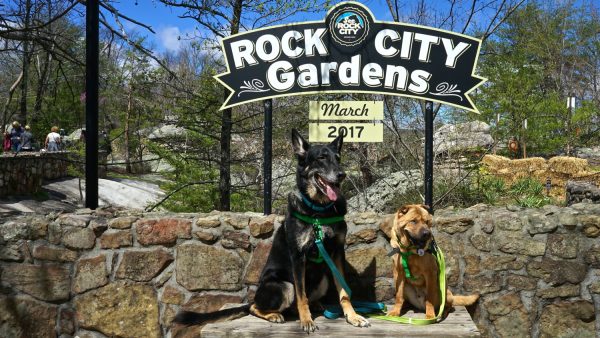 Walker County's Rock City Gardens named "top pet-friendly" tourist attraction in Georgia by a popular pet travel blog.


For today's links and any breaking news, follow the Underground on Facebook or Twitter.