2014
02.26
The goal of every community is "progress" – moving forward to give everyone a better life. However, some have different definitions of what "progress" actually looks like. Different visions of progress frequently lead to conflict as communities work out priorities and trade-offs.
Last Friday's much-discussed closure of Chattanooga Street Tavern is a conflict over progress and how the term is defined for residents of LaFayette.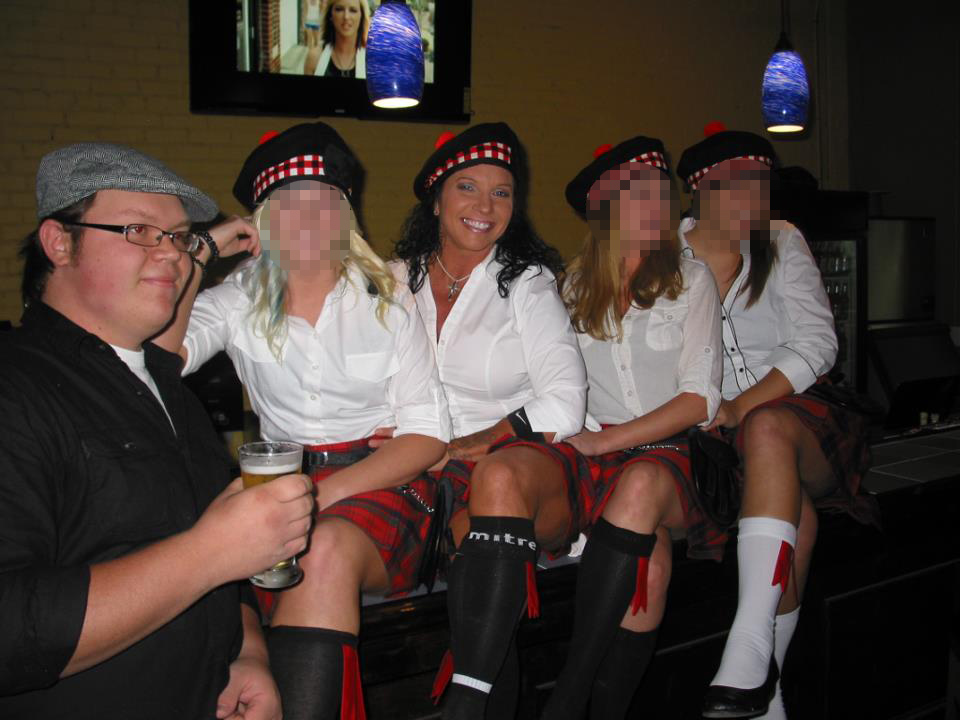 Tavern owners Mike and Gary Lovelady, and their supporters in the fight to illegally serve hard liquor, say that "progress" means changing the rules, allowing in hard drinks, bringing in new restaurants that represent jobs and economic growth. And while updating the city's laws might deliver those results, that's not what's on the table today during a hearing about Chattanooga Street Tavern's pouring license.
What IS on the table is ethical progress. Moving beyond a past of corruption and cronyism (or the "good ol boy system") where misdeeds by some in the community are ignored because of last name, political position, social ties, or bank balance. Through the years LaFayette has been ethically lousy, developing a bad reputation for corruption and unfairness that has done far more to hold the city back than any restrictions on serving liquor.
This year LaFayette has its first new Mayor since 1991. The city also has three council members, an interim City Manager, a Codes Superintendent, and a police chief who have all come into their jobs within the last three years. The city has changed, considerably, since the dark days of Neal Florence, Tommy Freeman, Johnnie Arnold, Sam Parker, and Norm Hodge. New people put into positions of authority in LaFayette have made efforts to change, to reform the city both financially and ethically, but up until now they've not truly been put to the test.
The issue of Chattanooga Street Tavern and ALL the Lovelady-owned businesses being allowed to continue breaking city laws is that test, and a hard one. An opportunity for the city and its new leaders to decide if we'll remain in those days of looking the other way or progress into a future where the law is applied equally to everyone regardless of who they are.
Friday evening LaFayette took the first step forward by temporarily suspending the Tavern's pouring license. That decision was made by Police Chief Benjie Clift after an investigation into reports of hard liquor being served by Tavern employees during a Valentine's Day Party fundraiser at Mars Theater. The chief also cited unreleased reports of minors served alcohol and liquor stored inside the Tavern as reasons for pulling the license.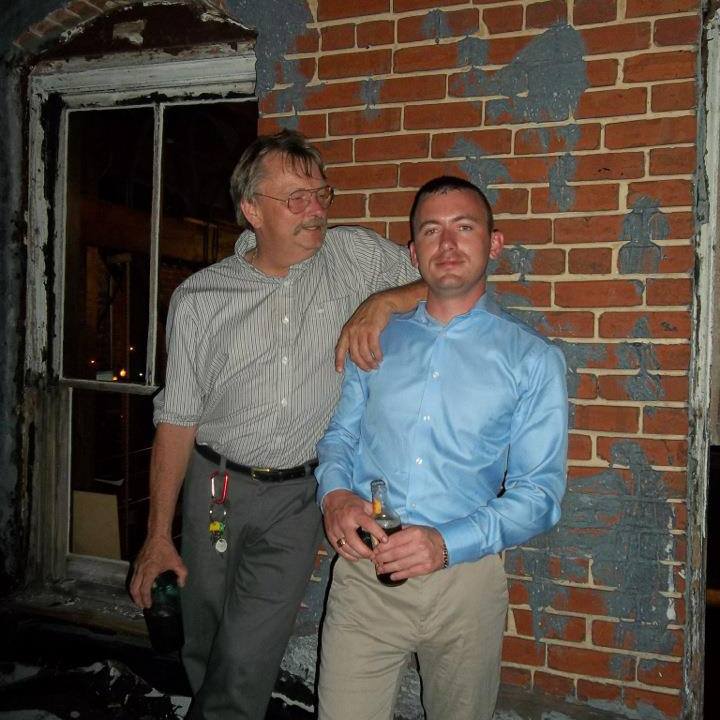 The Underground has no direct knowledge of current complaints about underage consumption or stored liquor but similar – and worse – reports have come in since the Lovelady family came back to LaFayette in 2011.
Before One Eleven opened, LU received accounts of inappropriate behavior, including an employee strip show, inside the building. Once the restaurant launched complaints began coming in steadily: minors drinking after school, employees drinking on the clock. Employees getting into fights with or being sexually harassed by Mike Lovelady's business partner/manager/son Gary. Customers allowed to drink themselves into a stupor and then walk, or drive, away. Similar stories also leaked out of Chattanooga Street Tavern.
Most of the individual complaints received by this blog couldn't be independently verified and were thus not repeated, but the volume and consistency of concerns from many different people was troubling and pointed to some real problems inside Lovelady, Inc.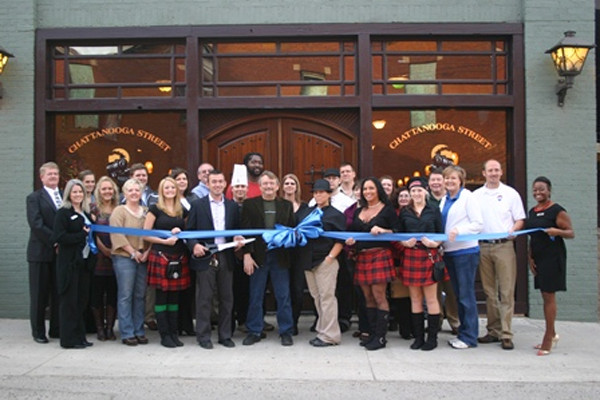 Lovelady-owned storefronts next to the Tavern in Mars Theater District have also been the subject of concerning reports; despite having the lowest rent in town, most businesses that moved into the Mars Theater District quickly moved out as tenants realized one of the "benefits" of that location was.. ..friendliness.. with Gary Lovelady. During a two year period the younger business partner befriended, flirted, texted, sexted, and frequently bedded at least six married women involved with the Tavern, One Eleven, or businesses located inside Lovelady's complex.
What does that behavior have to do with this? For starters, it shows a pattern of abuse, of disregard for the law, and behavior that could hardly be defined as "progress" for the city.
But more seriously, the behavior is relevant because Mike Lovelady used one his son's relationships to blackmail an elected city leader. In August 2013 he approached Interim City Manager Morrison and Economic Development Director Matt Williams, telling both he would share embarrassing information about a council member's spouse with "the media" if LaFayette didn't stop interfering with his business activities by investigating complaints.
Friday the city, after getting more complaints than could be ignored, finally interfered with Mike Lovelady's business in a real way. And now we'll find out if LaFayette is willing to pay the price – Mike's price – for enforcing its own laws.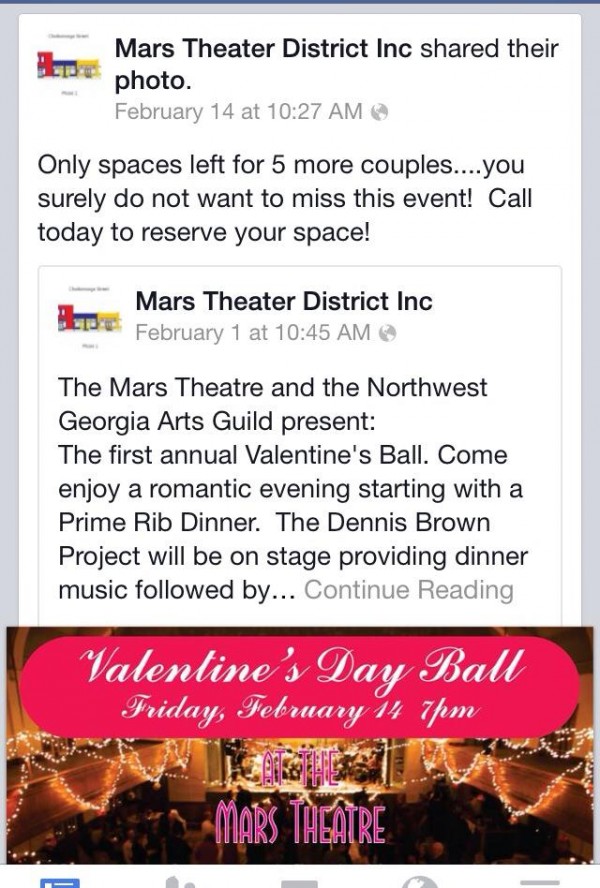 In addition to the blackmail threats, which aren't accomplishing anything, Mr. Lovelady has suggested he will name names during the license hearing. Names of church leaders, city officials, business owners, and current/future politicians who attended the Valentine's Day party or previous charitable events where alcohol was made available illegally. Some of those who may be named fear prosecution (which is unlikely), but most want to make sure their good names aren't dragged into this.
That concern from connected, influential citizens has turned into pressure on some members of the City Council who are being strongly encouraged to make the whole thing go away before it gets ugly. Their behavior during the hearing today, and the eventual decision reached afterwards, will be observed and possibly punished by social or political means.
But that's not what we elect council members and mayors to do. That's not the way City Managers and police officers are called to be. Listening to a small segment of the population who happen to have an oversized amount of influence while ignoring the rules, which were approved by voters in 2009, is the opposite of democracy and fairness.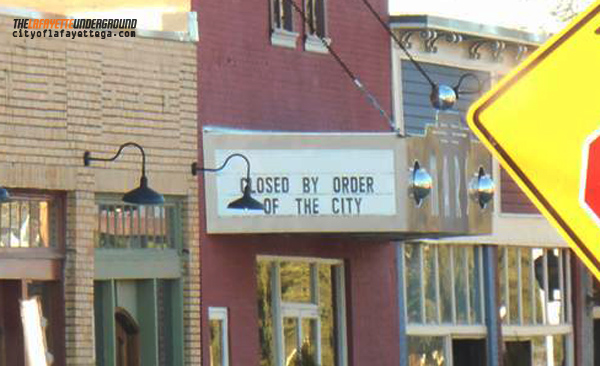 Lovelady's response to the city removing his pouring license was to shut down both the Tavern and Mars Theater, changing the theater marquee to say "CLOSED BY ORDER OF THE CITY." (Lovelady also claimed the city's decision prevented him from posting on the Mars Theater Facebook page.) The Tavern and Theater (which did eventually reopen) could have both remained in business by simply not selling alcohol, but closing them down generated maximum attention and helped get customers and citizens worked up into a mad froth.
Regular Tavern customers and a handful of other supporters have reached that mad froth and apparently plan on showing up at the hearing, giving city leaders something else to be intimidated by. Their plan seems to be yelling and demonstrating enough that the Council ignores its own laws and lets the Loveladys and their businesses off the hook without punishment. But again, the issue here isn't if the law should be changed (which is their demand) but whether or not the law was broken – a conclusion that seems unavoidable.
There may be a time when the issue of legalizing hard liquor sales, by the bottle AND by the drink, is discussed in LaFayette – but that time isn't today. That's a distraction from the core issues of holding people accountable for breaking the law.
Council members and community observers shouldn't allow themselves to be distracted by theatrics, by threats of names being released, by threats of other organizations being investigated. They should also avoid being fooled by Mike Lovelady's very public attempts at charitable giving and community service. That service is commendable, but much like colorful false-fronts on buildings an appearance of generosity can hide trouble beneath the surface.

Lovelady and one of his employees who served as a bartender during the Valentine's Day party and other events in the past have both admitted hard drinks were served at the Theater. But both claim the drinks were given away to guests, who paid $75 for admission and were asked to make $5 donations for each shot. Lovelady will also likely claim the event was "private" even though he advertised it all over Facebook, and challenge the police chief's authority to remove his license.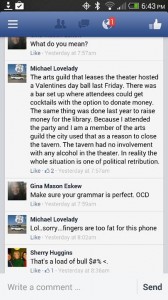 Other arguments or claims of discrimination may come out, along with made-up charges of council members making threats against the Tavern and much of the blackmail material. Once the hearing is done, city leaders will have another ten days to decide about punishment – restoring the license, withdrawing it for a longer time, or revoking it entirely. The city could also decide to fine the Tavern for breaking beverage law. (Lovelady himself might later face charges related to his knowledge of the activities inside Mars Theater or the Tavern and his efforts to blackmail a councilman.)
Citizens who can attend the 11 AM hearing at City Hall are asked to make an effort, to attend the meeting and silently support the council and city officials in doing right, in making progress – not progress towards breaking the law and being beligerent, but progress towards holding everyone accountable for wrongdoing even if they're breaking laws many consider outdated.