2010
08.13
Well, you wonder why I always dress in black,
Why you never see bright colors on my back,
And why does my appearance seem to have a somber tone.
Well, there's a reason for the things that I have on.
I wear the black for the poor and the beaten down,
Livin' in the hopeless, hungry side of town,
I wear it for the prisoner who has long paid for his crime,
But is there because he's a victim of the times.
I wear the black for those who never read,
Or listened to the words that Jesus said,
About the road to happiness through love and charity,
Why, you'd think He's talking straight to you and me.
Well, we're doin' mighty fine, I do suppose,
In our streak of lightnin' cars and fancy clothes,
But just so we're reminded of the ones who are held back,
Up front there ought'a be a Man In Black.
I wear it for the sick and lonely old,
For the reckless ones whose bad trip left them cold,
I wear the black in mournin' for the lives that could have been,
Each week we lose a hundred fine young men.
And, I wear it for the thousands who have died,
Believin' that the Lord was on their side,
I wear it for another hundred thousand who have died,
Believin' that we all were on their side.
Johnny Cash recorded this self-referential song, Man in Black, in February 1971. SIx months earlier, in August 1970, Cash and an entourage of other performers put on a concert here in the tiny town of LaFayette. While this yet-unreleased song wasn't (far as we can find) a part of the concert, the mental state that led to its creation and the LaFayette concert can both be credited to some time Cash unwillingly spent in LaFayette a few years earlier.
In the mid-60's Cash's career was at its peak. The singer was wildly popular, had several songs in the top-40, was performing in more than 300 shows a year, and was making more money in six months than most people could make in a lifetime. But he was also finalizing a bitter divorce and battling a drug habit so serious his employers at Columbia Records didn't expect him to live out the decade. He had been arrested for drug possession in 1965, but the suspended sentence that resulted did nothing to cure his addictions; by 1967 Cash was (by some accounts) consuming more than 100 amphetamine pills a day, a habit that was quickly destroying his health and his career.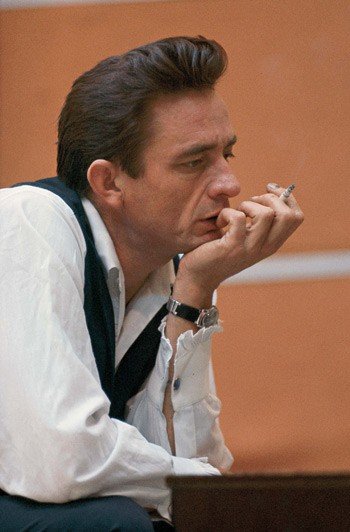 Drug use and personal struggles led Cash to quite a bit of aimless wandering as he tried to work out his spiritual demons. One of those wandering trips on November 2nd 1967 led Johnny Cash to the woods of Walker County – literally – as he took a Cadillac Eldorado off-roading near LaFayette while drunkenly hunting for Civil War relics. That adventure ended after he repeatedly banged on doors in the middle of the night and was arrested for being an intoxicated prowler.
According to Bobby Edwards, the arresting deputy, Cash tried to buy his way free with a wad of $100 bills. In an interview done several years ago, Edwards said he had never seen a $100 bill before, much less more than one, but he refused the bribe and had the singer locked up overnight in the Walker County Jail.
The next day Sheriff Ralph Jones, a self-described Cash fan who "owned every record" he had ever recorded, threw out all the charges and offered to let the musician go. But before leaving, Jones talked to Cash about his life, his wasted potential, and the heartbreak everyone felt at seeing his terrible physical condition. Jones offered to return the bags of pills, saying "you've got free will – kill yourself or save your life."
That wasn't the end of Cash's battle with drugs and he continued to struggle against addiction for the remainder of his life, but he described that moment in LaFayette as "the turning point of it all" that helped him realize how far he had fallen. During the following years he went to counseling, began actively attending church again, held the second of two famous prison concerts that heightened his fame, and married June Carter. He gradually gave up a drug-addicted, violent, and self-centered lifestyle and began to give back, refocusing his music and his thoughts on serving God and reaching out to people on the outer fringes of society.
In 1970 Ralph Jones traveled to Nashville and asked Cash to come back to LaFayette, this time under slightly better circumstances. Cash agreed and on Thursday, August 13, 1970 performed two concerts in Georgia – one in front of soon-released prisoners at the Atlanta Civic Center and one at the LaFayette High School football stadium. For both concerts he was joined by June Carter, the Statler Brothers, the Carter Family, and several other performers fairly popular in their own right.
The LaFayette concert attracted some 12,000 people, an amazing feat in a town that only had 8,500 residents at the time. One commentator recently recalled how some feared a burglary epidemic since nearly every home in LaFayette was empty on the night of the concert. That monstrous crowd filled the high school stadium beyond capacity, attracting not only locals but state officials like Governor Lexter Maddox and state senator Jimmy Carter, who was busy campaigning for Maddox's job.
All total the Cash concert raised more than $75,000 ($409,793.83 in today's dollars) for the LaFayette Athletic Association. The Association was a group of LaFayette businessmen and community leaders who invested much of their own time and money to build the LHS football stadium (and much of today's city rec. department) in an age when those kinds of facilities weren't provided by the government. That $75,000 paid off the Association's loans from building the football stadium and funded improvements that gave LaFayette High School one of the nicest and most modern sports facilities in Northwest Georgia. The school has moved on, but some of those improvements still stand as a testimony to the impact that concert had on the community.
Today is the 40th anniversary of the famous Cash performance. While plans to commemorate the event with a concert haven't worked out (at least for this year), we still should stop to think about how things were here when the performance was held. A time when LaFayette could be in the news for something not related to a murder or dead bodies, when the citizens cared about their neighbors and rallied together to build lasting facilities for children, and when an out-of-town stranger could be so impressed with the town's hospitality that he would be willing to come back and do something to help everyone who lived here.
To get back to the way things were then, we should all reflect on the words of Cash's song and consider the ones who are held back. Slow down to think of the poor, prisoners, elderly, sick, addicted, lonely, hell-bound, misled, or otherwise downtrodden in our community and look outside your own circumstances (as Johnny Cash apparently did) for ways to assist the citizens of LaFayette who could use a helping hand.
That's the best way to honor the legacy of what was done for and by Johnny Cash in the City of LaFayette.
Well, there's things that never will be right I know,
And things need changin' everywhere you go,
But 'til we start to make a move to make a few things right,
You'll never see me wear a suit of white.
Ah, I'd love to wear a rainbow every day,
And tell the world that everything's OK,
But I'll try to carry off a little darkness on my back,
'Till things are brighter, I'm the Man In Black.
For more information:
Will You Miss Me When I'm Gone?
Johnny Cash: The Life of an American Icon
Johnny Cash: The Biography
Rome News-Tribune, Aug. 14 1970
Johnny Cash Obituary / VH1.com
Photo from Johnny Cash Facebook. Song Lyrics ©1971 John R. Cash.