2010
08.21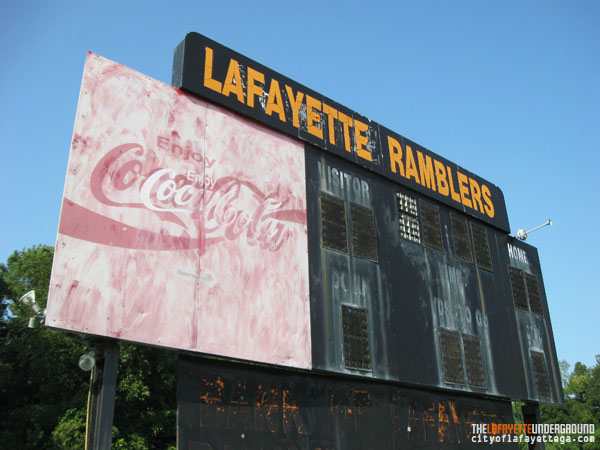 During August 9th's regularly scheduled meeting of the LaFayette City Council, Shannon McConnell presented a tentative plan for restoring and using the former LaFayette High School football field and stadium on First Street. McConnell, a Roper engineer and member of the Rotary Club who recently returned from military service in Afghanistan, was inspired (at least in part) by a LaFayette Underground article about the field that prompted much discussion among some of the school's alumni and other interested parties.
McConnell's proposal was light on specifics or dollar figures, but heavy with a vision for "revitalizing downtown" through a restored stadium that could host a wide array of events and activities. Those activities would include a 5k or 10k run, a barbeque and cooking contest, fireworks, a portion of Scare on the Square, an annual Johnny Cash tribute concert, and a variety of other musical acts. The field could also be used for an "old graduates" football game, a powderpuff game, and the recreational department's 4-11 year old football games already held there.
The biggest proposal called for having the city-owned field restored in time to host LaFayette High School's 2011 homecoming parade and football game, an idea sure to attract the thousands who attended school there before it relocated during the 1997-1998 school year. That would draw the city and school closer together, strengthening a sense of community largely lost when LHS moved outside the city limits.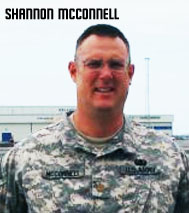 Before the council meeting, that aspect of the plan had already been brought up with other officials who would be involved – including City Manager Johnnie Arnold, LHS principal Roger Hibbs, school superintendent Melissa Mathis, Walker Commissioner Bebe Heiskell, and Patti Scott of LaFayette Parks & Recreation. McConnell said all were supportive and excited about the possibilities of holding a homecoming game at Tucker Field again, and he even got a commitment from the county to repave the facility's running track.
McConnell vowed to create and lead a steering committee devoted to putting those plans into action, coordinating concerts and events with musician Vic Burgess and using volunteer labor to "take on a portion of the project." But even with volunteers, the committee would still require permission, cooperation, and support from the city council – which is what brought him to the council meeting Monday evening.
Local businesses could sponsor some repair costs, but the city will still have to bear "some brunt" of the proposed upgrades. Those upgrades would include adding new restrooms, upgrading concessions, and building a new press box to replace the current one, which is apparently beyond repair. The city would also have to pay for new seating unless the committee decides to go with the lower-cost option of simply removing what remains of the old risers and leaving a grassy hill. (The Ramblers scoreboard needs to be repaired or replaced too, but we've learned since the meeting that Coca-Cola owns the old one and would probably be willing to cover repair costs if anyone at the city ever bothered to ask them to.)
The council let McConnell finish, but once he was done they immediately began to contribute reasons why the city can't help with the project. Mayor Florence guessed it would take at least $150,000 to bring the field back into shape with new metal bleachers, and Councilman Andy Arnold said the same amount would be necessary to build bathroom facilities for the five or six thousand people who might attend a homecoming football game.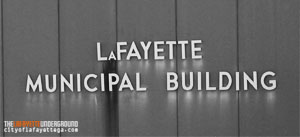 The mayor then added that the city has no money to spend on anything right now because of "those softball fields" – referring to an endless project converting a single baseball field at Lowell Greene Rec center into three softball fields with outdoor bathrooms. That job was originally promised to cost $170,000 and be done by April 15, 2010, but at this point it's cost nearly a million dollars and still isn't completed – draining away SPLOST money intended for infrastructure jobs and projects like renovating the stadium.
Councilman Norm Hodge, who coaches golf at LaFayette High School, said holding LHS' homecoming football game at the old field would never work because of transportation issues (even though the Ramblers play away games all the time) and because none of the school's coaches would allow it due to concerns about the playing surface. McConnell replied that he already heard through LHS principal Hibbs that all the coaches were OK with the plan, as is the school facilities department. (That shut Hodge up, for now, but we'll see if the coaches' support continues once he's had a chance to speak to them.)
Mayor Florence said they don't want to dampen Mr. McConnell's enthusiasm for doing something with the field, but added that it's "fine the way it is now" for events the city has there. Councilman Eric Tallent then said everything McConnell proposed could "go on schedule like [the field] is" except for the homecoming football game. (Taken at face value, that pushes program planners into a catch-22 situation: removing the homecoming game from their plan would eliminate the cost of new seating and bathrooms, but without that event there's no impetus for doing other repairs to the facility – and without repairs, planners can't attract quality performers or events that would draw in enough people to make a difference to the community.)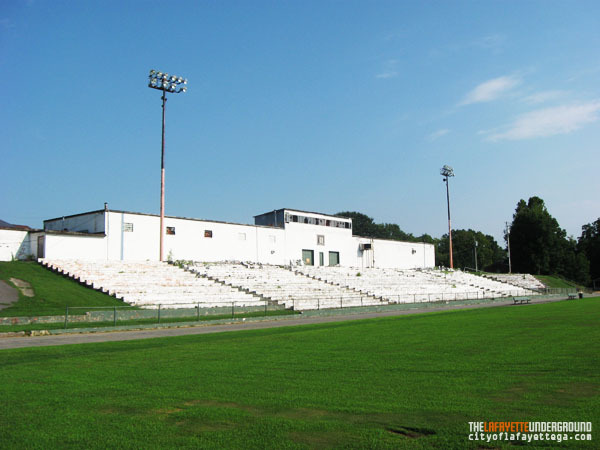 The council then briefly backed away from their negative comments, suggesting renovation work might be handled by prison labor or funded by 2013 SPLOST funds (a promise already made to get votes for the 2003 SPLOST). They also asked building inspector Rod Robertson to check into the building's code problems "when he had time" and promised to "be as cooperative as we can" – but refused to commit city resources or employees to the project. When discussion of the plan ended the council politely thanked McConnell for his concern, interest, and enthusiasm and quickly moved on to other matters.
Unfortunately, the council's appreciation for McConnell faded as soon as he left the room. During a later discussion about downtown development, all the councilmen and mayor had a long laugh about the possibility of a football game being played in town again. Councilman Norm Hodge also showed his level of comparative concern, displaying outrage and disgust with the quality of his daughter's rec. department softball photo despite being almost asleep during McConnell's brief presentation.
Councilman Bill Craig (who lives directly in front of the old stadium) also revealed his level of support for the plan at meeting's end by warning city department heads about the possible liabilities and risks of using volunteers. He stopped short of actually forbidding departments from using free labor (golf-cart parkers were specifically exempted) but said everyone should "be real careful who [they] ask to volunteer." That warning might well make McConnell's proposal even more difficult to complete, because without volunteers even more labor will have to be funded by the city.
Negative attitudes displayed during the meeting come as no surprise to the handful of LaFayette Underground readers who answered our request to call the city before the meeting began. Those calls were all answered by the city receptionist, who giggled and snickered while promising to pass the message along to the council. (Undergroundlings sending letters and e-mails to city officials after the meeting have also been treated in a passive-aggressive manner.)
The mayor and council didn't dismiss the plan outright as we had anticipated – but expecting them to actually take a position one way or the other was shortsighted on our part. One of the reasons this council and mayor have been so politically long-lived is their refusal to take a position on anything potentially controversial. Usually their public statements reflect the attitude of one group, while their private actions (such as allowing beer sales after voting showed a majority of the city was opposed to the measure) reflect the attitude of another party entirely. Publicly praising McConnell while he was there and laughing at his plan once he left is exemplary of the derisive way the city of LaFayette has been run for the last twenty years.
LaFayette's current crop of leaders are defined by their refusal to make decisions about almost everything. That kind of willful neglect is what we see as we drive down the city's collapsing streets, walk down half-finished sidewalks, or look at the football field – which was handed over to the city on a proverbial silver platter in 1998 but allowed to disintegrate into its current sad state under their watch. They also refused to step in and stop the softball project from spiraling out of control, throwing good money after bad even after commenting that it's like "an open check-book over there." (That kind of indecision also killed Theresa Parker; the council's refusal to replace dying police chief Dino Richardson or investigate Sam Parker created a power vacuum that enabled Parker to kill his wife and almost get away with it.)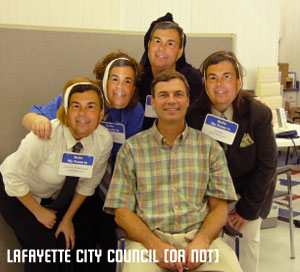 We've said this before, but it bears repeating: the only areas where LaFayette's mayor and council are willing to make a decision are the areas that benefit them personally. The same body that can't make a commitment to repairing Patton Stadium, repaving city streets, or cleaning up the police department has no trouble paying for sidewalks in front of the Mayor's downtown pharmacy, building a $1.4 million clubhouse for the golf course where most of them enjoy free games, or building unnecessary new softball fields for Norm Hodge's two kids to play on.
LaFayette deserves leaders who can present a visionary plan for the future that makes sense, and deserve leaders who can stand and boldly commit to something, anything, that isn't the same thing we've always had. The meeting on August 9th was just another step towards a hopeless, muddled, and visionless future. In other words: business as usual.
McConnell has battled city indecision before; as a member of the Rotary Cub Shannon planned and coordinated much of the work needed to build a walking trail from the housing authority on Oak Street to the location of old Fort Cummings on Indiana Street. But after spending an estimated $40,000 (and countless hours) on that project the Rotary turned it over to the city, which never completed the trail and let finished sections fall into disrepair. Today that path, like the football field, sits as a sad reminder of how much concern the city council has for the city, and illustrates again that if the citizens want anything done they need to do it themselves.
Most of the city's recreational facilities, including Patton Stadium and the rest of the old football field, were built without government assistance. Concerned citizens like Fred Henry, Ross Abney, Joe Stock, and Ralph Jones (who asked Johnny Cash to play his benefit concert at the field) took it upon themselves and created everything nice the city ever had. Today's citizens have less power and fewer resources, but still can duplicate those past efforts. Without government help, we can (and must) work together and rebuild the field on our own, asking the city to do only one thing: give up control and get out of our way.