2011
08.24
Not only did Johnny Cash get the Messenger's front page, he was also given a special section in the paper.

The Messenger never has been a daily paper, so to make the special section available to concert guests and the Cash entourage, it ran in the Wednesday August 12th edition. And of course Cash hadn't arrived yet so all the photos of him in that section (including the fancy "Cash on Cash" illustration at left) were publicity stills and clip art from from newspaper wire services.

The special section probably set sales records for the Walker County Messenger. More than a few locals still have their copies four decades later and consider them to be valuable reminders of the Cash show and a time when everyone was proud to have a LaFayette address.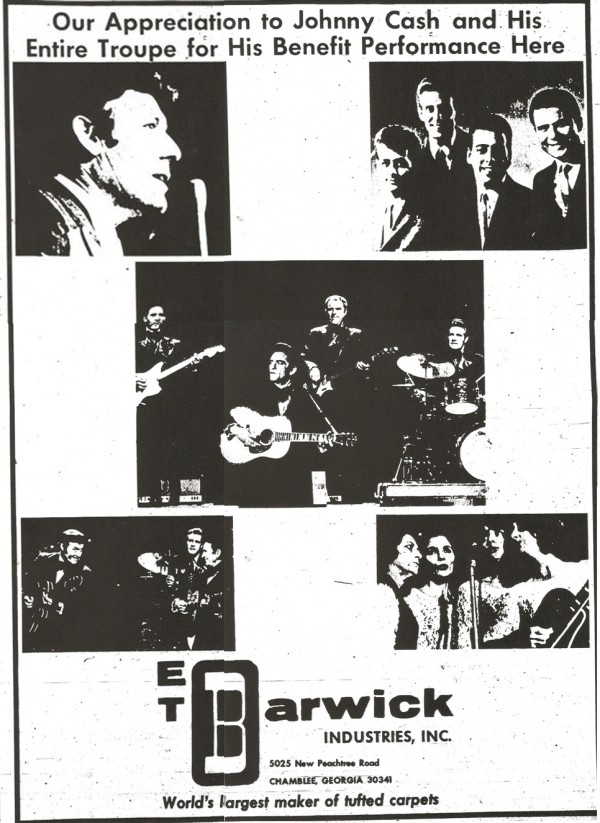 Special sections in today's Messenger are usually filled with full-page ads and sponsorships. In 1970 that was no different, but back then most ad slots were purchased by businesses, not politicians and government agencies. The biggest business in Walker County in 1970 (by far) was E.T. Barwick Industries, a major carpet manufacturer. Barwick was a relatively new player in the carpet industry, having started in 1950 – but Barwick's use of new processes and materials (they were one of the first to set up tufting machines and pioneered the use of BCF Nylon) made the manufacturer America's largest carpet producer during the 60's and 70's.
Barwick was based out of Chamblee, Georgia but its manufacturing plants were all in Whitfield and Walker County. At one time the largest carpet company's two largest plants were actually located in LaFayette and Kensington, employing thousands of Walker residents. The cotton processors and hosiery mills LaFayette and Linwood were built around had faded, but Barwick picked up where they left off and kept the city economically strong for over two decades. Barwick was also a huge benefactor for city facilities, building ballfields, helping pay for rec. center construction, and setting up the LaFayette airport.
In 1971 Barwick was listed on the Fortune 500, ranked 475th on the prestigious list of top American businesses. But a series of bad mergers, lawsuits, and outright embezzlement by top executives doomed the company to bankruptcy and obscurity. It was all over for Barwick by 1981. Newer employers like Roper, BlueBird, and Sweetheart kept the city going, but LaFayette hasn't been the same since the death of its largest manufacturer.
Some Barwick facilities and assets were bought by Beaulieu of America, but others (including both plants in Walker County) were closed. A series of smaller manufacturers have used them over the years for warehouse space or limited production; today part of the LaFayette mill houses Auto Custom Carpets. Barwick's 216-acre Kensington site has been for sale, deteriorating and mostly empty, since the early 90's.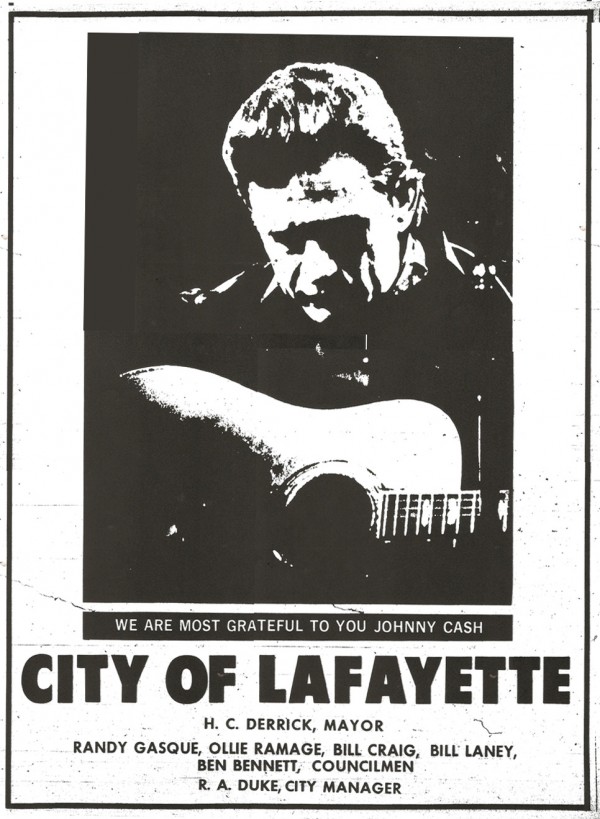 Politicians and government agencies did advertise in the Messenger 40 years ago, but not in the same style they do today. Special sections in the 2011 newspaper have been sponsored by Bebe Heiskell, but feature her face, name, and position ahead of the community name. In this 1970 example the gratitude and community name come first, with the politicians and their positions listed less prominently. That's the way it should be: community first, humble leaders on the bottom.
Mayor H.C. Derrick was Dr. Howard Clifton Derrick, Jr. He practiced medicine in the city for years and served as official physician for LaFayette and Walker County. He was one of the executives at Kitchens Hospital and Kitchens Clinic, located in the current Walker County Tax office. The World War II veteran was LaFayette mayor from 1959 to 1973. He retired from practicing medicine in December 1990, moved to Ringgold, and passed away in 2004.
Very little information is available about City Manager R.A. Duke. He was described as "Acting City Manager" in 1965 and 1969, but had taken the job permanently by 1970. He retired in 1973 after ten years of service to the city and was replaced by Grady McCalmon, imported from Macon. A wedding announcement from April 2000 said Mr. and Mrs. R.A. Duke were both deceased.
Edward "Randy" Gasque, Sr. was a Korean War vet from South Carolina who ended up in LaFayette as a Barwick executive. He was a library trustee and served on the LaFayette council from 1966 to 1973. In January '73 he replaced H.C. Derrick as LaFayette's mayor and served in that role (despite a weak recall effort) until 1985. He started his own flooring business, Gasque Carpet, and sold real estate. Gasque passed away in October 2003. The road between Foster Mill Drive and the LaFayette airport is named after him.
Ollie Ramage represented City Ward 2, during an era when the city had five distinct wards instead of four as it does today. Ramage served at least two two-year terms on the council, 68-69 and 70-71. That's about all we know of him. Ramage Drive, a subdivision in West LaFayette on the back side of the airport, is likely connected to him or his family.
Councilmen William D. "Bill" Laney and Ben Bennett are also a bit of a mystery. We know Laney served at least three terms on the council, representing Ward 4, between '66 and '71. Bennett was first elected in 1970 and served at least two terms.
Also elected for the first time in 1970 was councilman William J. "Bill" Craig. Originally from Johnson City, Tennessee, Craig moved to LaFayette in 1965 to manage a furniture store. He rose to be a district manager at Jefferson Furniture, then bought a stake in the city's Ford dealership. Craig was president of LaFayette Optimist Club in 1968 and 1969 and served as councilman for Ward 4 from '70 to '73. He later worked for a home health company and recently spent a few years on two different boards at financially-struggling Hutcheson Medical Center.
After a few decades off, Bill Craig ran for Council again in 2007, winning against Judy Meeks with promises to change the ward system, clean up the city, eliminate property taxes for the elderly, and reform city codes. During Craig's one four-year term back on the council he's accomplished none of that, only managing to get himself arrested for a DUI in 2009. He announced several weeks ago that he has no plans to run for the seat again this year.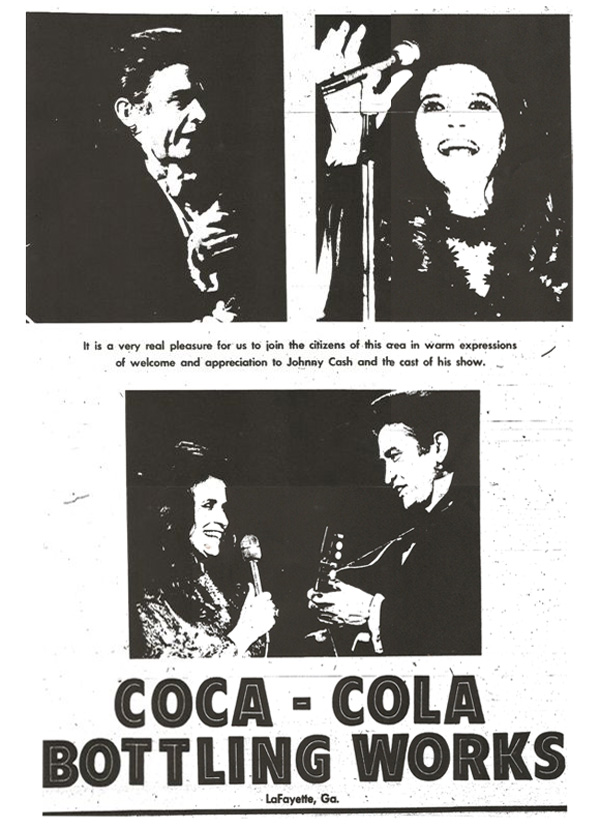 Barwick had the most employees, but in 1970 LaFayette's most prestigious employer was Coca-Cola Bottling Works.
Coke production began in LaFayette around 1915 when R.A. Wardlaw obtained a license from Coca-Cola and set up a foot-powered bottling machine in a shed next to the Central of Georgia railroad depot on Chattanooga Street. Over the next half-century Wardlaw's company outgrew several buildings, ultimately moving in the late 1940's to a modern brick and glass facility at the corner of North Main and (appropriately enough) Wardlaw Street downtown.
By the time Cash came to perform in 1970, LaFayette Coca-Cola Bottling Works had expanded to use the brick building and a metal warehouse on the opposite side of Wardlaw Street. Sixty Bottling Works employees were turning out Coke, Tab, Sprite, Fanta, and Fresca for thirsty consumers in Walker, Chattooga, and Catoosa county. That sounds like a small market, but in those days Coke practically had a monopoly on sugar water sales in the area and the Bottling Works was quite profitable.
LaFayette was saturated with Coca-Cola; the bottler sponsored local sporting events, contributed to schools, and liberally gave away product and signage. Coke also set up vending machines in most business and government offices. Every LaFayette city government building in those days seemed to have a Coke machine; a 1970's style Coke bottle dispenser sat in the lobby at City Hall until a few years ago, and another is still located (non-functional) at the old Housing Authority office on Doc Love Ave. All the Bottling Works' efforts paid off in market share; by 1986 LaFayette had the highest rate of Coca-Cola consumption, per capita, of any city on earth.
But that growth led to trouble. As sales for the Bottling Works grew, so did the amount of traffic going in and out of its facilities. The company began using double-trailer trucks, which had trouble getting up and down Wardlaw Street and out into busy North Main. Bottling Works requested permission to close Wardlaw Street between Main and Duke in order to reconfigure their buildings and get trucks in and out easier. That request was, surprisingly, denied by the city and in 1989 Coca-Cola Bottling Works relocated to Battlefield Parkway in Fort Oglethorpe.
No official reason for refusing the request was ever given, but it certainly wasn't due to other properties on Wardlaw Street since Coke took up the entire block on both sides. That largesse might have been part of the problem; Coca-Cola's newer warehouse was an ugly gray metal building situated on prime land next to century-old Chattooga Academy. The building's back corner was literally within a yard of that historically-significant school, and it was no secret many in town wanted the property cleared off. There were also some who had hard feelings towards the Wardlaw family over political differences decades earlier, and a few who resented the Wardlaws for opening LaFayette's first fast-food restaurant, Long John Silvers – something they opposed for damaging the city's historical character.
Whatever the reason – vengeance or otherwise – LaFayette lost Coke. Not just a business with sixty jobs, but a top-quality company producing a world-class branded product and giving the city something to be proud of. Losing Coca-Cola in 1989 was as big a blow to LaFayette's fragile self-image and culture as losing BlueBird in 2010.
In 1994 LaFayette bought the Bottling Works properties from the Wardlaw family. That old glass and brick bottling plant, originally designed with big windows so passersby could watch Coke being produced, became headquarters for the city's police and fire departments. (Officially the "Elbert E. Campbell Public Safety Building" but nobody calls it that.) The metal warehouse was disassembled and moved to a semi-swampy lot behind City Hall for equipment storage. The downtown property it previously occupied became Joe Stock Park.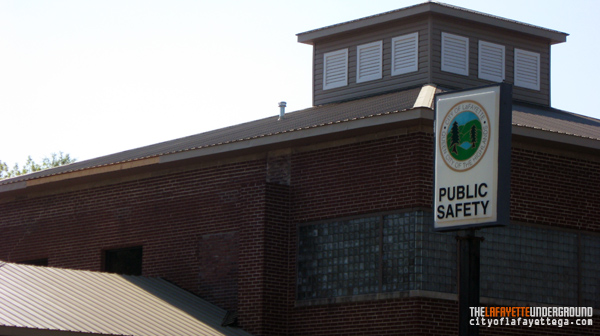 The renovated Public Safety building looks nice (a new metal roof installed last year doesn't quite keep with the building's history but isn't bad), and Joe Stock Park is a centerpiece in town – certainly an improvement, visually, over the Bottling Works warehouse it replaced. But the city's mistreatment of Coke and the family that owned it showed other businesses in the area (and some who might have moved in) just how little concern FiSDOP city leaders have for LaFayette's manufacturers and the people who work for them.
<---PREVIOUS PAGE / PAGE 3 OF 6 / 1 2 3 4 5 6 / NEXT PAGE —>