2011
08.24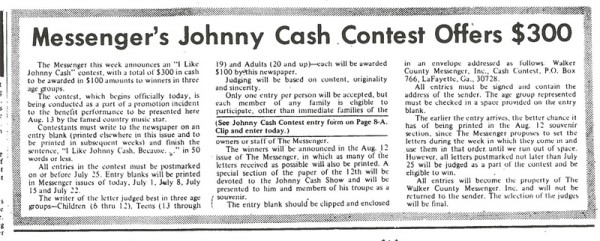 Some time before the Cash Concert, the Messenger ran an "I Like Johnny Cash" writing contest. Contestants were separated into three age groups, each with a $100 top prize. That was quite a reward, worth about $555 today. Winners also got to have their name, face, and brief biographical information featured in the newspaper.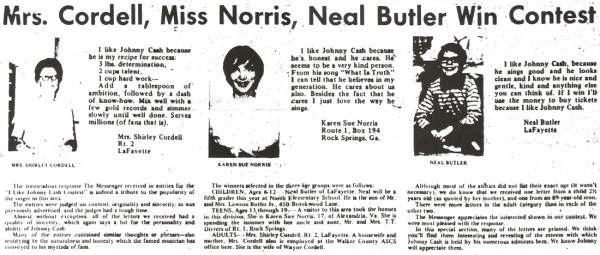 The adult winner was Shirley Cordell, who said Cash was her "recipe for success." In 1970 Ms. Cordell worked for Walker County ASCS, or Agricultural Stabilization and Conservation Service, a division of the USDA now merged with Farm Service Agency. Cordell was still there four years later when she was recognized for her "outstanding job performance." As far as we know, Shirley and her husband Wayne still live in the community on Burnt Mill Road.
Karen Sue Norris won the teen category by saying she loved Cash for his honesty and concern, with the song "What Is Truth" showing his belief in her generation. Norris was from Alexandria Virginia, in Rock Spring for the summer to stay with family. We couldn't track down any additional information about Ms. Norris or her relatives, the Divvers family, in Rock Spring.
Child category was won by North LaFayette Elementary 5th-grader Neal Butler. Butler won saying Cash "sings good and he looks clean and I know he is nice and gentle, kind, and anything else you can think of." Six years later Butler was part of an LHS golf team that won the AA Boys State Golf Championship. There's currently no record of a Neal Butler living in LaFayette, but there are individuals with that name around the right age in Rome, Roswell, and Marietta. His parents, Lawson and Joan, still live in the city.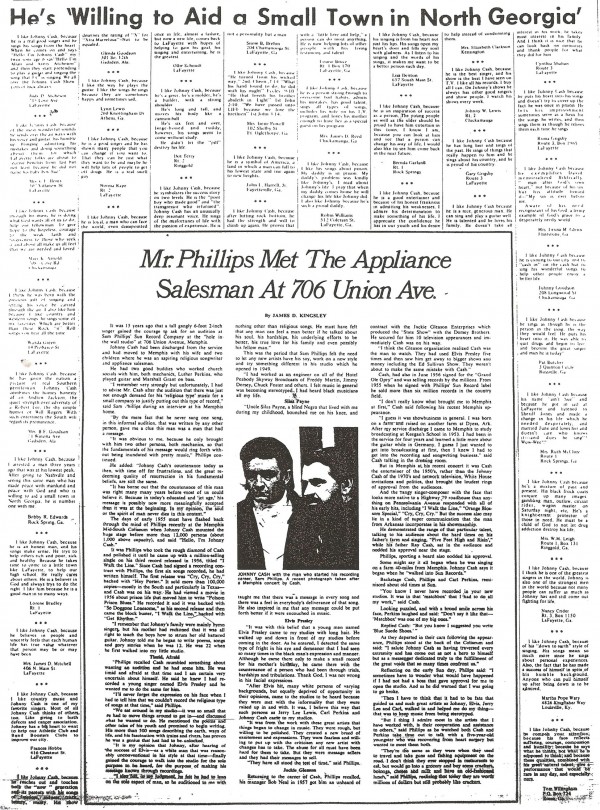 Non-winning entries filled several pages of the Messenger's special Johnny Cash section, which was sold in with the regular paper and presented to the show's performers. Most, like this one, were mixed in with stock articles about Cash and his entourage.
<---PREVIOUS PAGE / PAGE 4 OF 6 / 1 2 3 4 5 6 / NEXT PAGE —>