2011
08.24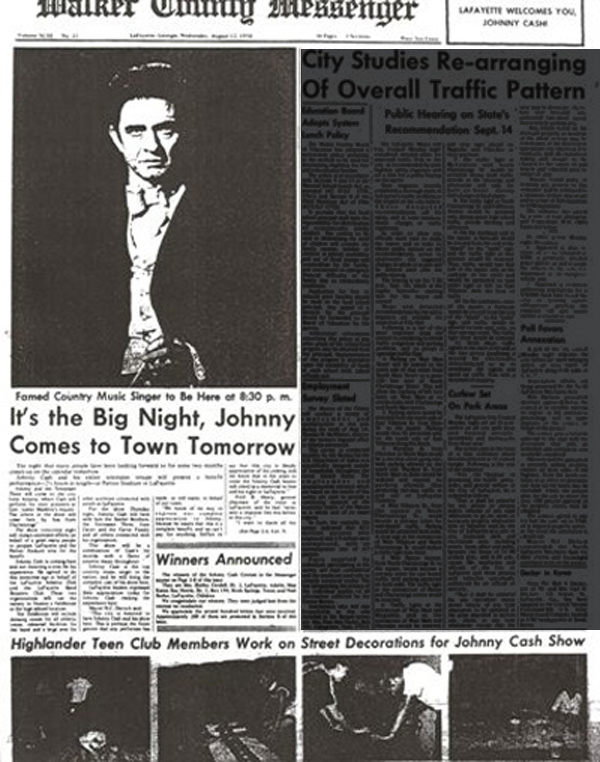 Johnny Cash got most of the August 12th Walker County Messenger front page, and the paper was filled with news about concert preparation and winners of a show-related contest. The paper also had a special Cash section, which we'll discuss in a bit. First, a closer look at the front page: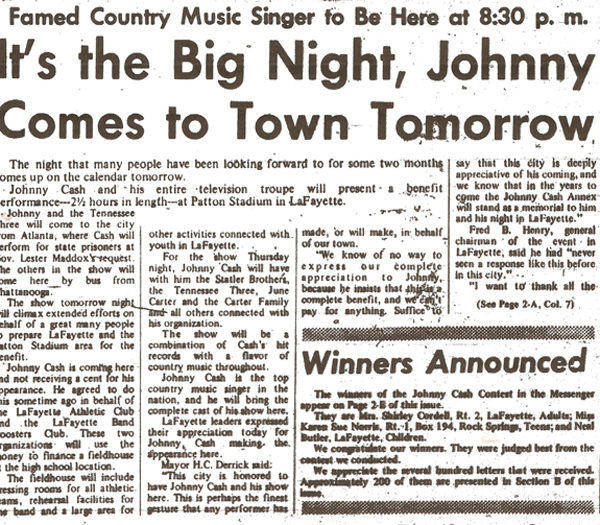 "Fred B. Henry, general chairman of the event in LaFayette, said he had 'never seen a response like this before in this city.'

"'I want to thank all the people who have helped us in staging this event. I have never seen such cooperation on the part of everyone before.'"

"Sheriff Ralph Jones, who directly was responsible for Cash being here, said that 'we truly appreciate Johnny's very kindly offer to do his show here. He is a personal friend of mine, and I consider it a very real honor for him to do this for us.'"
LaFayette's Johnny Cash Show required a lot of work, planning, and cooperation. Sheriff Jones got the singer's commitment, insurance salesman and civic-leader Fred Henry organized the event, members of the Athletic Club and Band Boosters volunteered in various ways, and elected leaders lent their support. Even high school students contributed to decorate the streets and set up the football field. Work and cooperation from almost everyone in the community was necessary to carry out such a massive event. It's impossible to think of anything of that scale being carried out in LaFayette today when city leaders hardly seem competent enough to assemble a good-sized birthday party.
Johnny Cash himself also had to put in effort to make the concert happen, along with his band and manager, the other performers, and many behind-the-scenes people. Many were paid through Cash, but there was no evident profit motive for anyone involved on either side of the event – simply a desire to help a small town build something nice for its youth. In this day the thought of that is absolutely refreshing.
Bobby Edwards, the deputy who refused a bribe from Johnny Cash, is now 69, retired, and living in the area. Sheriff Jones served as Walker County's top law enforcement official for fourteen more years, finally retiring in 1984 after a record-setting two decades as Sheriff. Jones passed away in 2006. Fred Henry spent his life selling insurance but also founded the Downtown Development Authority, LaFayette Development Authority, and LaFayette Chamber of Commerce (now merged into the county chamber); got Queen City Lake built; doubled the size of LaFayette Golf Course; and played a key role in bringing Roper and BlueBird into town. He passed away in 2008 and has a short driveway near the golf course named after him.
Of course those men weren't perfect, and some of their altruistic activities also benefitted themselves – Fred Henry's property around Queen City Lake became much more valuable after the lake was built, and Sheriff Jones never wasted an opportunity to remind voters about his connection to Cash ("He is a personal friend of mine…"). But overall Henry, the Sheriff, businessman Ross Abney, several of the older Gilberts, and others involved in the LaFayette Athletic Club or various other civic clubs and development groups left the city in better shape when their lives ended than it was when their lives began. That's something that can't be said about most in leadership here today.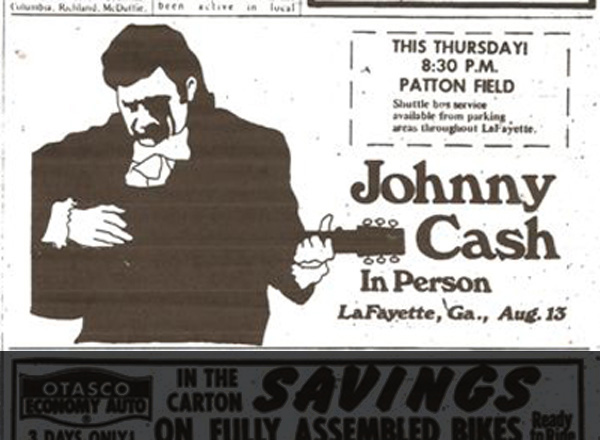 Johnny Cash and June Carter both went on to Glory in 2003. The other members of June's family music group, the Carter Sisters, have also passed away. Johnny's long-time road manager and original bassist Marshall Grant, who played a big role in organizing the LaFayette show, died two weeks ago. Guest guitarist Carl Perkins, who wrote the well-known song "Blue Suede Shoes", passed in 1998.
Three of the four Statler Brothers are still alive, retired since 2002, as are Tennessee Three guitarist Bob Wootton and drummer W. S. "Fluke" Holland. Wootton and Holland still occasionally tour and perform as part of a reconstituted Tennessee Three, minus (of course) Cash and Grant.
<---PREVIOUS PAGE / PAGE 2 OF 6 / 1 2 3 4 5 6 / NEXT PAGE —>