2010
04.03
Monday evening residents living along Bell Rd. in Noble were run out of their homes for several hours as officers of the Sheriff's Office dealt with an armed man who had fired a shot (or shots) in the woods after threatening to commit suicide. Traffic through the area was also disrupted by law enforcement officers who apparently felt the man was a danger to himself and others.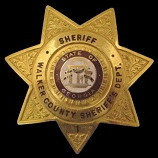 Typically a stand-off between deputies and an armed man would be headline news, with the suspect identified almost immediately and the Sheriff appearing on Chattanooga TV at 11:00 to take credit for his disarmament. But in this case there was no TV coverage at all, and only one written report which didn't come out until 36 hours after the incident ended.
That one news report provided only minimal details, quoting Sheriff Steve Wilson as saying the suspect was "a former Sheriff's Office employee" who "had an emotional episode" without revealing his name or any specifics about what he had actually done to warrant evacuating an entire neighborhood. This smelled a bit fishy and made us curious about who the suspect actually was and why the SO would go to so much trouble to protect his identity.
We have confirmed that the unnamed suspect is Major Hill Morrison, who voluntarily took early retirement from the Sheriff's Office last year. Morrison entered law enforcement in 1977, working with Steve Wilson at the LaFayette Police Department. He transferred to the Sheriff's Office in 1989 along with Wilson and moved up the ranks, being promoted to major in 2001. As major he ran the department and was the sheriff's substitute on several occasions when Wilson was unavailable. If he hadn't retired last spring he would be serving as the defacto sheriff during Wilson's cancer treatments and would be prepared to replace the county's highest-ranked law enforcement officer if he died or became disabled.
Details about Morrison's career are posted not to investigate the man personally but to figure out why the Sheriff and his office might want to protect the suspect's name and reputation from public scrutiny. It's not much of a stretch for anyone to assume Morrision and his family have been given special treatment in this case, both in the way the incident was handled by officers and in the way it was presented to the media.
We understand the SO's desire to protect Morrison's privacy and know his family appreciates their name being kept out of the news, but how many other local families have been through similar or worse situations without being provided the same consideration? Charles Lee Cochran hung himself in the county jail one weekend last November but his name and the details of that incident were released to the media the following Monday without concern for his family's feelings. Others accused (or even victims) of crimes such as murder, burglary, rape, and molestation are regularly identified to the public by law enforcement officials regardless of the potential impact on their lives.
Beyond just protecting Morrison and his family, keeping his name and details out of the news also protects the Sheriff and his office from public scrutiny. Knowing that the man involved in this dangerous incident with a gun was less than a year ago second in command at the SO might lead many to question how the department is run and how many more of its employees have the potential for this type of behavior. Voters might also begin to wonder if Morrison's mental status or self-control were issues while he was still an employee and if anyone overlooked warning signs due to his friendship with the sheriff.
All implied questions, speculation, and guessing aside, it's clear that many law enforcement officers who excel in their jobs have trouble handling life off duty. Sam Parker, whose career mirrors Morrisons in some way (time on the LaFayette PD, friends with Wilson, recipient of public awards, number-two officer in his department), also threatened to kill himself with a gun on at least two separate occasions, in Panama City Beach with his late wife and in his own home after he was accused of murdering her. We certainly aren't equating Morrison's "emotional episode" with Sam Parker's murderous depravity, but both were highly respected lawmen who eventually displayed signs of instability and self-destructive behavior.
Is enforcing the law in Walker county truly so difficult that it drives officers off the deep end, or does the power of a badge lead to mental corruption? What kinds of psychological tests are required before officers join the force, and are employees of the LaFayette PD and Walker Sheriff's Office required to regularly have thorough counseling and mental health screenings? These are questions that should be asked by everyone, both for public protection and for safety of the officers themselves.