2011
09.25
SEPTEMBER 26 UPDATE:
Johnnie Arnold turned in a resignation letter, effective 10/10. Council voted 4-0 to accept the resignation. He was not at the meeting, had no legal counsel at the meeting. He leaves with nothing but his vacation pay and health insurance through the end of October. Council voted on city health insurance, 2012 budget, and also voted to allow the mayor to sign two-party checks "if the City Manager or City Clerk are not available" which indicates clearly that the CM won't be. New CM starts 10/10, his name was announced – more info on him later. Mayor was asked about Ms. Greene, they said cannot comment on her because it's a personnel matter – she probably will have a similar deal as her friend.
If he left this willingly, without any benefits, his behavior was as bad (or worse) than we thought and he likely agreed to leave with no strings attached to avoid prosecution or additional legal risk for himself. This is the best possible outcome for the city, but hopefully will not preclude any investigations into his potentially illegal behavior as City Manager. If the GBI was called in they can't just be shooed away, so more information may still surface.
Good number of people at the meeting tonight considering we never did see an announcement for what time it was supposed to start. Apparently got rolling at 6:00 or 6:15, everything was done by 6:40.
SEPTEMBER 25 POST: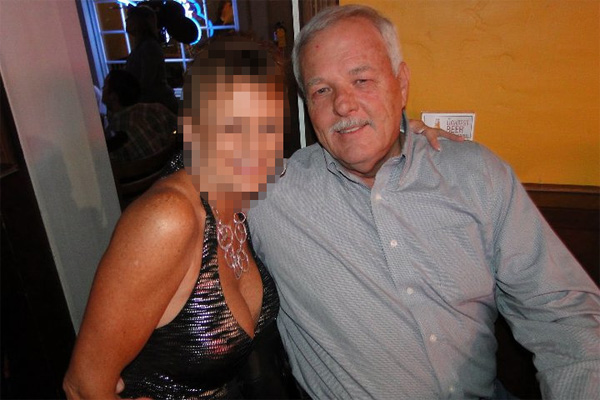 From WQCH, 09/20/2011:
"LAFAYETTE'S MAYOR AND CITY COUNCIL WILL HAVE A CALLED MEETING TONIGHT AT CITY HALL. ONCE AGAIN, THEY'RE DISCUSSING PERSONNEL IN A CLOSED SESSION, STARTING AT 6:15 THIS EVENING. NO BUSINESS WILL BE CONDUCTED AT THE MEETING. THE COUNCIL IS TRYING TO HIRE A NEW CITY MANAGER AND HAVING THAT PERSON 'ON BOARD' BY THE FIRST OF OCTOBER, IS THEIR GOAL."
The "closed session" announced Tuesday was presumed to be more discussion about choosing a new City Manager for the City of LaFayette, but in actuality it was about an issue with the old City Manager, Johnnie Arnold.
Several months ago Arnold announced an intent to retire next March. The original plan called for his replacement to be named in September or October and then train beside Arnold for six months before fully taking over the position. But now sources within city government are saying Arnold was fired, or told he will be fired, during last Tuesday's special meeting.
Lets backtrack a bit and look at recent incidents that might have prompted his dismissal.
The Underground reported two weeks ago about the resignation of Solid Waste Department supervisor Richie White. White was given control over the city's garbage collection, despite a inherent conflict of interest stemming from his father's ownership of White's Sanitation, a major contractor doing business with the same city department. Over the last two years White managed to steal thousands, potentially tens of thousands, of dollars from the city through false invoices, doing unnecessary repairs to a garbage truck, and by overweighing garbage to benefit his family's business. Last month White was finally caught, or feared being caught, and resigned from his job.
The original Underground report said White quit after a parts supplier called the city to check on missing payments, but city insiders are now saying he quit after Public Works director Vanessa Gossett confronted him over fake invoices filed on White's Sanitation letterhead. The truth is probably somewhere in the middle; it sounds like parts sold by one company were being paid through White's, which would have made the embezzlement easier.
Blame for all that falls on Johnnie Arnold, as he personally chose Richie White for the Solid Waste job (bypassing other qualified candidates), had originally set up the business deals with White's Sanitation, and failed to supervise Mr. White once he was in the job or possibly knew about the embezzlement and did nothing about it. However, Arnold denies having knowledge of any problems at Solid Waste before White quit and claims he only learned of them for the first time by reading the Underground report.
During September's regularly-scheduled City Council meeting, a day after the Richie White article was posted, Arnold was asked about funds designated for garbage truck replacement:
From WQCH, 09/14/2011:
"THE LAFAYETTE CITY COUNCIL 'HELD-THE-LINE' ON PROPERTY TAXES… BUT VOTED-IN AN INCREASE IN GARBAGE COLLECTION FEES. .. THE 'DOLLAR A CAN' INCREASE IN GARBAGE COLLECTION WAS ADDED TO OFFSET THE COST OF A NEW GARBAGE TRUCK… APPROVED AT LAST MONTH'S MEETING. COUNCILMAN BILL CRAIG SAID HE REMEMBERED RAISING THE RATES BY A DOLLAR TWO YEARS AGO… AND THAT THE MONEY WAS TO BE SET-ASIDE FOR A NEW TRUCK PURCHASE. HE ASKED CITY MANAGER JOHNNY [sic] ARNOLD 'WHERE THAT MONEY WENT'. ARNOLD SAID HE DIDN'T RECALL THAT ACTION BY THE COUNCIL AND WOULD HAVE TO LOOK AT THE MINUTES OF PAST COUNCIL MEETINGS TO DETERMINE IF THAT WAS INDEED THE CASE. AT ANY RATE, THERE WAS NO MONEY SAVED IN THE SOLID-WASTE BUDGET FOR A NEW TRUCK. BOTH RESIDENTIAL AND COMMERCIAL ACCOUNTS WILL SEE THE 1-DOLLAR PER CAN INCREASE ON THEIR BILLS. IT'S ONLY THE SECOND INCREASE IN 14 YEARS."
During discussion about raising garbage bills to cover the costs of a new truck – which was itself made necessary through White's behavior at Solid Waste – outgoing councilor Bill Craig asked Arnold about an extra charge added to city garbage bills two years ago. That $1 per month increase was intended for a reserve fund that would be used for garbage equipment replacement, but it's now missing. Arnold claimed to have no knowledge of that extra money or where it went.
Not only did Johnnie allow Richie White to walk out with tens of thousands of dollars, he hasn't kept track of designated funds meant to benefit the citizens of LaFayette and avoid the kind of price increases the council just put into place. Johnnie Arnold is responsible for making sure city funds are spent properly, and he's failed miserably at it. The council and mayor have also failed on that level by keeping Arnold in place for so long – but that discussion at the September meeting may have finally prompted them to take action against him.
However, most of the rumors and discussion about Arnold's status have focused on an embarrassing incident at Twins Pizza three days after the meeting.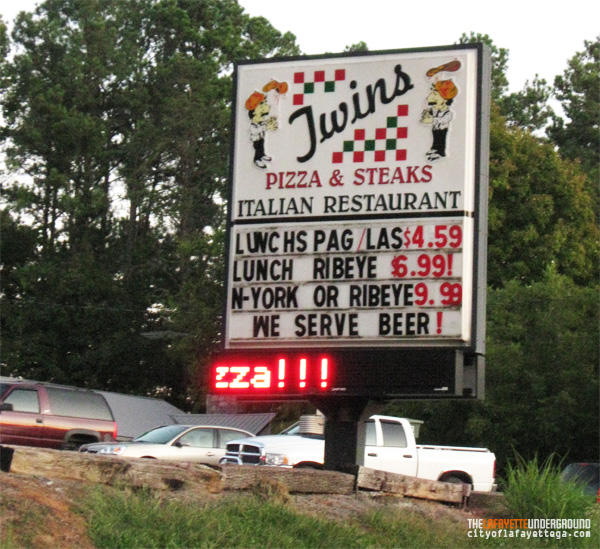 On September 16th around noon, Johnnie Arnold and his secretary Doris Greene were seen by a multitude of customers and employees drinking alcohol at Twins. Arnold and Greene have long been involved in a romantic relationship they've barely bothered to hide and are frequently seen having lunch together, but this is the first time (far as we know) they've been observed publicly drinking alcohol while on the clock – in flagrant violation of city employee policy.
Two top-ranked officers from LaFayette PD were also at Twins having lunch and spoke to Mr. Arnold about his behavior. According to witnesses Arnold told them "it was good" and then jokingly invited the officers to join him. Arnold and Greene then climbed back into a city vehicle and drove back to their office. The officers did not cite Arnold for driving drunk, possibly because he hadn't had enough beer to be legally DUI or because of his position as their indirect supervisor – but they did report the incident to the mayor and police chief.
Neither Chief Freeman nor Mayor Florence wanted to do anything in response; the mayor apparently said there was no reason to discipline Arnold and Greene unless there was "too much publicity." But within days rumors about their behavior had spread like wildfire, several of the witnesses contacted Chattanooga TV, and at least one citizen threatened to call the FBI. The GBI also became interested in Johnnie Arnold and the Richie White embezzlement situation after hearing about it from LPD.
LaFayette's City Council couldn't care less about the will of the people, but when Channel 3, Channel 9, or the GBI come calling, they get motivated to take care of business. Pressure from the Twins incident, Richie White's embezzlement, missing garbage truck money, and the ongoing age discrimination lawsuit all tipped the scales against Johnnie Arnold and the council finally began to see him as LaFayette's citizens do: an embarrassing failure and a huge legal risk. That's what led to last Tuesday's impromptu "executive session" city council gathering.
According to sources in city government, the council decided during that meeting to fire Arnold and Greene, giving the City Manager two weeks to wrap up loose ends and/or hide evidence. Mayor Florence denied that claim to a Channel 9 reporter, saying the twins incident is a "personnel matter" being reviewed by the council, but no action has been taken and the two employees didn't come to work last week because they were "taking a few days off." Arnold himself echoes that statement, saying he took the week off and Greene was out Thursday and Friday due to being "sick."
In contrast, City Clerk Brenda Snyder told Channel 9 she's been named acting City Manager, which isn't normally done during "a few days off." Additionally, Arnold was seen several times at city attorney Ron Womack's office during his supposed vacation, and had to be monitored by Womack as he removed items from his desk late in the week. All of that speaks volumes about his actual employee status and confirms, again, that he either was fired or is about to be. It seems very likely that the council decided informally to release him but saved the official vote and announcement for tomorrow night's meeting.
Johnnie Arnold's impending unemployment is more than deserved – he's horribly mismanaged city departments, has let friends walk off with our tax money, let the city's buildings and infrastructure dissolve beneath us, hired the worst police chief in the state of Georgia, and mistreated more than one loyal city employee. We've found virtually nobody in LaFayette willing to defend Arnold and nearly everyone who's had to deal with the man at City Hall has had a bad experience. His time to go came a long, long time ago.
But Mr. Arnold's early dismissal doesn't mean much unless the council strips away his pension, insurance, and any severance pay. If those remain it's just an early retirement. The amount coming to him varies, but we've heard he's in line to get something like $60,000 a year, which is ridiculous if true. He's only worked for LaFayette 14 years; even if he was leaving on good terms he hasn't earned a full retirement. Freddie Mitchell worked for the city 39 years and all he got, thanks to Mr. Arnold, was fired. Johnnie Arnold ought to be leaving town with nothing more than what he arrived with in 1997.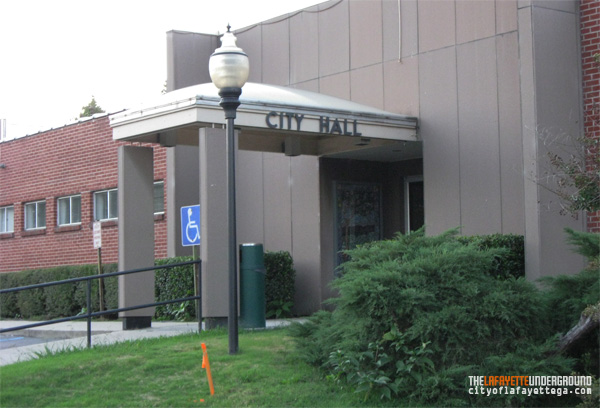 Another special City Council meeting will be held this Monday night. This one will be open to the public, meaning council members will be legally allowed to vote on any business they choose. During that meeting the council is expected to make some kind of statement about Arnold and his successor. Councilors have been looking at City Manager candidates for the last few months and reportedly narrowed the list down to a final individual who was undergoing background checks last week. Rumors vary, but the candidates we've heard about most are former council member and crooked real estate developer Mark White, Acworth's 34-year-old Assistant City Manager, or someone from Thomas County, GA.
It will all be made clearer, hopefully, on Monday night during the special meeting. The meeting's start time is unclear as of Sunday afternoon but we expect it to begin at the usual time, 7:30. But it might not be a bad idea to show up at 6:15 just to be sure. (We will update this if we hear otherwise.) Everyone who can should show up at the meeting to see the council's announcement about Arnold, if there is one, and question them about the candidate appointed to replace him.
LaFayette's City Council, to be fair, should hold off on appointing anyone to replace Arnold for now. We haven't had a real City Manager in fourteen years, leaving the job vacant for another three months isn't going to hurt anything. In January LaFayette will have a new council with at least three new (or different) members, with a new direction and new goals for the city. The mayor and four current councilors, two who aren't running and two who will remain in place, should have respect for their successors and leave the decision up to them. That won't happen, because the current council has no respect for anyone, but it should.
Anyone put into place by the current regime will be tainted with the same dirty image Johnnie Arnold has, but a new person appointed by a new council would have a better chance of heading the city into a better direction. And right now any direction is better than the direction we've been going in under Johnnie Arnold.
ORIGINAL ARTICLE POSTED SEPTEMBER 22, 2011:
From WQCH, 09/20/2011:
"LAFAYETTE'S MAYOR AND CITY COUNCIL WILL HAVE A CALLED MEETING TONIGHT AT CITY HALL. ONCE AGAIN, THEY'RE DISCUSSING PERSONNEL IN A CLOSED SESSION, STARTING AT 6:15 THIS EVENING. NO BUSINESS WILL BE CONDUCTED AT THE MEETING. THE COUNCIL IS TRYING TO HIRE A NEW CITY MANAGER AND HAVING THAT PERSON 'ON BOARD' BY THE FIRST OF OCTOBER, IS THEIR GOAL."
The "closed session" announced Tuesday was presumed to be more discussion about choosing a new City Manager for the City of LaFayette, but in actuality it was about an issue with the old City Manager, Johnnie Arnold.
Arnold stopped caring a long time ago, but since his decision to retire was made public he's displayed some poor decision-making skills, most notably drinking adult beverages at Twins' Pizza, during lunch time, on the clock, with his city-employee girlfriend Doris, and then climbing back into his city-issued vehicle as two senior LPD officers looked on.
Before the Tuesday night meeting was done, Mr. Arnold and Doris were both given two-week notices to clean out their respective desks. Johnnie will not be present for his retirement party next March, and his gold watch will probably not be forthcoming. A new City Manager has yet to be named by the council.
This is a preliminary report based on information from very good sources, we'll flesh out the details soon. Chattanooga journalists are circling around hoping to find additional information about the incident at Twins, which is probably what prompted the firing – and prompted us to get this out ahead of them.
Expect a full rewrite here with more details over the weekend. And a good weekend it shall be.