2011
03.07
It's been a while since we've been able to "take care of business." Here are point-by-point notes from 2010's final two LaFayette City Council meetings, with Underground commentary following in italics. Notes from January and February of this year will be posted soon.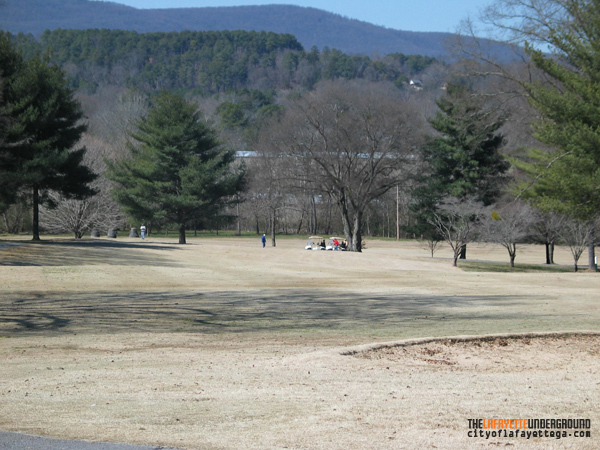 November Meeting: November 8, 2010
City Council addresses the firing of Andy Fricks from the Public Works department. Fricks apparently lost his job for "stealing" a public works department chainsaw. Fricks was performing cemetery maintenance when the cemetery saw stopped working, so he took one from public works. When Fricks finished with the saw he left it at the cemetery overnight, locked in the shed there. The following day he was terminated for stealing the saw despite using it only for a city job. Fricks' attorney is present at the meeting. Public Works director Vanessa Gossett (Gilliam) explains why he was cut loose. Local businessman Richard Wilbanks of Wallis-Wilbanks Funeral Home speaks to Fricks' character and job performance. Wilbanks says other city employees are scared of being fired for minor infractions. Council holds off on making a final decision until the meeting ends.
Councilman Norm Hodge proposes the city purchase clay base for new softball fields constructed at Lowell Green Rec. Center. City will pay $3,400 for the clay and $3,600 for delivery. Motion passes 5-0.
After four years of starts and stops, LaFayette has invested about $900,000 into this softball project that was originally projected to cost less than $170,000. Involved contractors went way over budget because they weren't required to keep project costs below a set amount, but the main cost comes from the council's own failure to plan or investigate the site being used.
Lowell Green is actually the third site chosen for new softball fields – the first location next to the bypass wasn't usable because cutting down trees there interfered with a GDOT drainage area, and the second location behind Max Stoker Rec. wasn't large enough for three fields. Both those sites were partially prepared and then abandoned or used for other purposes. Lowell Green is no better suited because its field site sits in a swamp, but that didn't deter the city's elected leaders (primarily Norm Hodge) from pushing to have the new softball complex built there anyway.
The baseball field formerly there often flooded even in moderately wet weather, and now the $900,000 softball fields have been built on the same unstable ground. That's why it's taken so many years and so many dollars to get them partially finished. The council, city manager, and rec. department did no studies or planning to see if the ground was appropriate for this kind of facility, just like they did no planning for the other sites, and insisted that the complex be ready to open in April 2010 regardless of cost. Now after throwing a considerable amount of road and sewer money down a bottomless pit, we find that the property at Lowell Green was probably one of the worst places in Walker County to build a softball field. Apparently LaFayette's elected leaders never heard the old saying "measure twice, cut once."
Councilman Wayne Swanson told the Walker Messenger they shouldn't have pushed so hard to have the field open in 2010, but Norm Hodge says the delays and expenses "[are] not our fault." If that's the case Mr. Hodge, whose fault is it? You're the one who pushed past resident objections and common sense to get the thing done, and your city council signed off on the contracts and plans. If anything blame lies with this council, and of the council you've driven this project through harder than anyone else. Blame for this boondoggle lies squarely in your sports-obsessed lap.
Council votes to raise fees at LaFayette Golf Course by $1 per game. Motion passes 5-0.
Increasing player fees at the golf course is a small victory for the Underground. Since this site began we've regularly noted the multiple-hundred-thousand-dollar losses that field incurs on an annual basis. Raising general recreational fees for kids and families hurts local people who aren't able to pay for basic services, but those who play golf are the most able to pay more for their own hobbies. The council, of course, made no motion to end their own free games, currently capped at two per week. Just making Norm Hodge and Eric Tallent pay for golf would bring the field closer to profitability.
Council discusses property belonging to Otting International at 411 McLemore St. behind Auto Custom Carpet. A new business is interested in that facility and has requested several concessions from the city, including the use of a small piece of city-owned adjoining property next to the airport. Councilman Swanson says the site will be handled by the Downtown Development Authority.
Otting's property has been optioned by HERO Biomass of Chattanooga. HERO's owner lives in LaFayette and has been looking to expand the business into a new location, separating it from another company he owns in Chattanooga. HERO Biomass manufactures equipment for chicken houses and promises to employ at least 100 once its LaFayette facility is open. One concession the company requested, along with the piece of property, is a break on utility prices – which it isn't likely to receive from the city. Swanson's decision to pawn the deal over to Downtown Development may be a sign the council isn't serious in doing anything to attract this business since the DDA has little power to give any kind of tax breaks or utility discounts; those can only be approved by the full council.
Councilman Swanson inquires about the possibility of King St. in Linwood being paved during 2011. He also notes the poor condition of Chestnut St. in West LaFayette and suggests that should also be paved. Council makes no decision, advises Swanson to compile list of streets that need work.
This is another small victory for the Underground and citizens who have pushed for infrastructure work during recent meetings. Councilman Swanson is beginning to figure out the people of LaFayette want asphalt to take priority over golf greens, airport fences, and softball fields. Swanson is more responsive lately to citizen demands, but he's also the only councilman planning to run for reelection in November 2011. And even he knows that any roads paved in 2011 will have to be paved with state funds since the city's own money intended for road maintenance has been already been spent on the softball field project or committed to remodel the library.
After an "executive session" held in private, council votes to reinstate Andy Fricks in a motion passed 5-0. Meeting adjourned.
Documentation: Official City of LaFayette Minutes From 11/08/10 Meeting
December Meeting: December 13, 2010
The big draw for December's LaFayette City Council meeting was an appeal for the termination of police officer Robby Tate. Because of that issue City Hall was filled beyond standing-room-only, the largest crowd present since 2009's cemetery controversy. Many of the citizens present were wearing paper badges with "reinstate Tate" on them, displaying their support for the fired officer. His termination was tackled at the meeting's end after some of the crowd had dissipated.
City Council and rec. department recognize the best parade floats from December's city Christmas parade. Winners are given a cash prize.
After parade participants were recognized, a good number of the people present left. If LaFayette citizens were as interested in the city's political mechanisms as they are in a $20 parade prize the city wouldn't be in such sad shape. The only African Americans we've ever seen at a City Council meeting left once a check was handed over for Mt. Zion church – if the city's black residents regularly attended council meetings, LaFayette's predominantly black neighborhoods might get more attention from the city government.
Mayor Florence recognizes five city employees for their decades of service. Gives out two ten year, one twenty year, and two thirty year awards to workers. Recognizes city clerk Brenda Snyder for "Achievement for Excellence in Financial Reporting" in regards to fiscal 2009 financial reports.
Mayor should recognize city clerk's failure to post 2009 financial figures in a timely manner. Law requires CAFR statements to be completed within six months of the fiscal year's end, which is October for LaFayette. That means they should be finished by April, but 2009 reports had not been turned in to the state in November and still aren't on the city's Web site as this is written in March 2011. Good job Brenda! Maybe we'll see how bad 2009 was before the November 2011 city council election.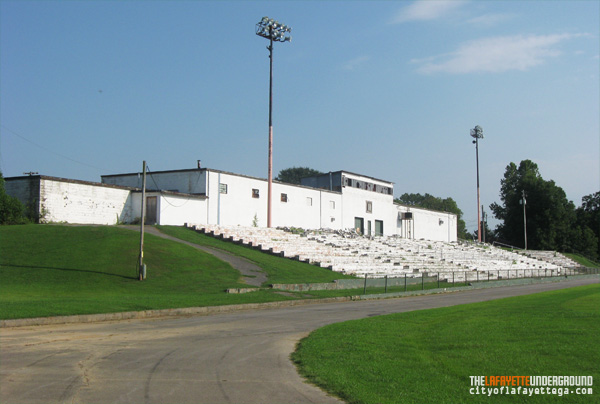 Under "old business" city council discusses an in-kind trade with Walker County Board of Education. The city will install a water line and water service to Rock Spring Elementary, slightly extending the LaFayette water system up highway 27. In exchange the school board will give the city an unused piece of swamp land next to the old LHS football field deemed necessary for repairing that facility. Council caps the total amount spent on water line installation and water service for the school at $5,000. Motion approved 5-0.
The property in question is to be used as an inert landfill of sorts, a place to bulldoze all of the debris and existing structure of the stadium seating and risers instead of paying to haul it off. That would fill in the swampy area and make it usable while clearing the way for new seating to be installed at Ross Abney Complex.
A few days after the council meeting ended, LaFayette announced plans to renovate the old field starting this September. According to reports, that renovation would add enough metal bleachers to seat 1,500 people. LaFayette Recreation director Patti Scott said she hopes to eventually see a playground built at the site and have the stadium host concerts and movies along with events honoring the legacy of Johnny Cash – all of which sounds strangely familiar.
That announcement ran in the local paper and on Chattanooga TV with similar details – but none of those media outlets questioned one aspect of the city's announced plan: renovating the entire field for just $5,000 – the exact value of services and water being provided to Rock Spring Elementary. If that $5,000 figure includes what the city's giving to the school system, it provides nothing for actual renovation work except a graveyard for the existing facility's debris.
Back in August the council laughed at proposals to restore the old football field, and the mayor claimed it would cost over $150,000 to clean up debris and install metal bleachers on the site. They were so dismissive of the plan we were surprised to see it designated as an "old business" item since the council never discussed it as a proposal, only provided reasons why citizen plans to restore it were impossible. Did they do a 180° change in only four months time, or is this plan a convenient excuse to finally tear down the stadium once and for all?
Even if the $5,000 figure is beyond the value of water service, how much renovation can really be done for such a small amount of money? Ross Abney Complex needs field work, bathroom renovations, a new scoreboard, lighting repairs, a new press box, a public address system, and the proposed metal seating. But five grand won't even buy the seats, much less everything else needed for restoring it back into the world-class facility it was before the city took it over. Cynical residents might even expect the city to clear away debris and then "run out of money" before putting anything back – leaving us with a facility stripped of its historical connections to Ramblers teams of yesteryear and the legendary Johnny Cash Concert of 1970, yet no more usable for concerts or movies than it is today.
Proposal to install 600′ of six-inch water line to serve a subdivision off E. Reed Rd. approved 5-0. $3,000 to Switzer Services for state-required services at Water Treatment Plant approved 5-0. $4,000 for engineering related to Sewage Treatment Plant renovations approved 5-0.
Council discusses workers compensation insurance renewal. Insurance premium is quoted at $323,907 through Georgia Municipal Association, a pool of city and county government agencies. The premium is based on current payroll figures. Councilman Bill Craig asks if the insurance was put out to bid. City Manager Johnnie Arnold responds that rates from GMA are "always lowest" so LaFayette hasn't bothered to put out bids for workers comp. insurance in five years. Council approves renewal 5-0 without further inquiry.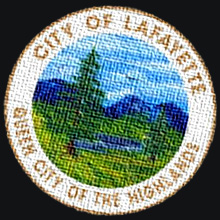 City Manager Johnnie Arnold proposes a one-time bonus for all city employees. Bonus is needed because employees have not gotten raises in three years and took a 6% pay cut two years ago that was restored in March 2010. Last year employees were given a bonus only if they hadn't taken any sick leave. City must "come up with some way to compensate employees" without giving raises. Proposal calls for salaried employees to get 1% of their annual pay, while employees making $15 or more an hour would get a 1.25% bonus and those making under $15 would get 1.75%. All together that totals $59,663.39 to be distributed on the Wednesday before Christmas.

Mayor Florence inquires if the city has enough funds on hand to cover the bonus. Johnnie Arnold replies affirmatively. Councilman Craig asks if that means the city is currently operating in the black. Arnold again replies yes, "until we do this." Brave Citizen in the crowd speaks up and asks if that means the bonus will put the city in debt. Arnold replies again that the city has funds to cover the bonus but nothing beyond it, and the $59,000 is "all we can justify in the next couple months." Motion passes 5-0. Andy Arnold later says the bonus is "well deserved."
Employees of Public Safety were given an additional Christmas bonus not discussed or approved by the council: all the free venison they could shoot after dark between Thanksgiving and New Years. After numerous complaints of gunshots heard in the vicinity of the LaFayette Airport, the city finally admitted on- and off-duty police officers (and firefighters, and Walker Sheriff's Deputies, and probably a number of other people) were shooting deer on and near the runway with a special hunting permit. That's the city's most recent solution to the airport's deer and "wild children" problem instead of a half-million-dollar fence and also a way to provide cops and firemen with Christmas dinner. Only problem is, the airport is surrounded by residential neighborhoods. As usual, LaFayette's leaders placed the little-used airport and employee perks ahead of citizen safety.
Cemetery committee discusses tree roots encroaching on burial plots. Committee, headed by Mayor Florence, decides to allow tree owners to install root barriers two feet down to limit root spread. Committee to "monitor this situation" with no formal vote taken. Council votes 5-0 to close a dormant account at the Bank of LaFayette and move balance to general fund.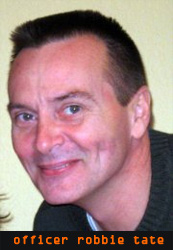 Council finally addresses the firing of LPD officer Robby Tate. "Reinstate Tate" crowd beginning to get restless after patiently waiting through all the routine business. Tate is being represented by an attorney whose name sounds like "Ted Sawyer" but note taker cannot hear well in crowded room with poor acoustics. Mayor Florence asks that witnesses for Tate be limited to those who know about the specific incident he was fired over. Says we are "not questioning his character [because] he's been been here 25 years," so character witnesses (like those who advocated for Andy Fricks a month earlier) won't be necessary or permitted to speak.

Tate's attorney gives the officer's work history: he started as an LPD patrolman in 1986, then joined the Drug Task Force in 1989. In 1995 he rejoined LPD as a patrolman, was promoted to investigator in 1997 and held that position until May of last year, eventually becoming the department's head detective. In May 2010 Tate asked to leave the investigative division and go back on patrol. On July 2nd he was demoted from Lieutenant to Sergeant after telling the police chief he "had no confidence" in him. After demotion officer Tate continued as patrolman until December when he was terminated from the police department.
Freeman didn't challenge any aspect of Tate's career summary, including the demotion in July stemming from a disagreement between the two men. Based on that retributive action, it's not much of a stretch to assume Tate was ultimately fired as much for his feelings and comments towards the chief as for whatever supposed laws or policies he was fired for violating. As the meeting drug on that assumption became more believable and the firing started to resemble a modern day witch-hunt.
Officer Tate was fired via a "termination notice" on December 2nd. The notice said he was being cut loose because he used inmate labor for personal gain when a prisoner painted his pickup truck in 2004 or 2005. Tate's attorney said the officer had not been given an opportunity to review the investigation file or any statements made by witnesses who had collaborated the accusation, nor was he told who made the complaint against him in the first place.
According to Tate, during his time in the investigative division he also served as evidence property officer at LPD. One aspect of that job required him to occasionally dispose of seized items and found property. Much of the material being thrown out had to be taken to the county landfill, a trip Tate often made in his personal vehicle. On at least one occasion the officer's pickup truck bed was scratched while loading it with items bound for the dump. Tate then asked late police chief Dino Richardson for permission to have his truck painted by a prisoner named Larry who had been repainting police cars, fire trucks, and other city-owned vehicles. Richardson approved and the job was handled inside the Public Safety building. Tate claims he paid for all the material used, sanded the truck himself, and the prisoner did nothing except apply paint.
Tate's attorney says the truck wasn't "painted in the middle of the night" – it was in the PD eight or ten days covered in plastic, and all the other officers at LPD – including Chief Richardson – knew what was going on. Current School Resource Office Billy Mullis, LaFayette firefighter Billy Naramore, Naramore's wife Beth, judge Jerry Day, and the late police chief's girlfriend Carol Corbin(?) all testified that the truck was painted out in front of everyone, and Corbin said she knew Richardson had given permission for the work to be done. Everyone also agreed that nothing happened in the PD without Richardson's knowledge, and at least one person testified the chief had made his decision known to "correctional authorities" and told them he "got permission" to have the work done.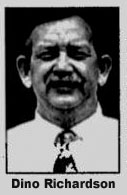 Attorney asks Tate if he would have had the truck painted at LPD if the chief hadn't authorized it; Tate replies that he wouldn't have. Speaking on his own behalf, Tate says he served in law enforcement for 25 of his 48 years and would "never do anything to disgrace this city." He says there had been no complaints about him before the firing except a two-day suspension in 1986 for falling asleep while driving. Tate adds how he continued to use his personal vehicle for city work until he was dismissed, and donated vinyl siding to LPD without compensation.
Larry, the prisoner involved, was unavailable to make a statement because the city has no idea who or where he is. Police chief Richardson died in 2006, and Tate's attorney concedes that there is no documentation to verify the chief ever gave permission for the truck painting. Nobody is even sure if it happened in 2004 or 2005. Tate's lawyer comments that there were no indictments or charges filed against Tate and no disciplinary action was taken before his sudden termination some five or six years after the incident allegedly occurred.
Retired city building inspector and LaFayette Housing Authority board member Jack Hart testifies to Tate's character. He says he knows law enforcement because he served twenty years in the Military Police, and during that time learned "when something's rotten you stand up for it." He says the way employees are treated at LPD points to a "disturbing trend in the police department" and knows Tate is a good officer because he's the one always called to handle issues involving the Housing Authority.
Additional character witnesses attempt to speak but are cut off and dismissed by Mayor Florence. Tate's attorney says Tate's only real fault is not being a big diplomat, a person who will "tell you what you need to hear – some don't appreciate it and that's why he's in trouble." Florence dismisses that statement, saying the council's only concern is with a violation of state codes, not with Tate's character or any motivation behind his termination.
LaFayette Police Chief Tommy Freeman is now asked to present his side of the story. According to Freeman, Tate was interviewed about the incident before his termination and admitted the truck painting was a violation of law. Freeman says making an inmate do personal services for police officers is "like slavery" and the law is in place to keep officer behavior in check. He accuses Tate of taking custody of the inmate and making him paint the vehicle for free, violating his oath of office by committing a crime at work.
The chief goes on to say permission from Richardson is irrelevant to the situation because Richardson had no authority to allow a prisoner to perform personal service; Robby Tate, Billy Mullis, and (presumably) Dino Richardson all knew the action was illegal. Was Tate's truck used by or for the city at times? We have "no proof of that." Was a law violation of this type covered in Tate's original 1986 oath? "I would think so – he violated his oath." Freeman said the incident isn't about Tate, Richardson, or himself but about the "integrity of people working in my police department," finally adding "if they [people of LaFayette] can't trust the people patrolling the streets at night we have a huge problem."
Freeman is right in his statement about trust. Sadly we already have little trust in those who patrol the streets at night, and much of that is because of the way he's chosen to run the LPD. Major crimes have gone uninvestigated for far too long and lower-ranked officers have suffered verbal abuse from the chief. The lack of confidence in Freeman that Tate spoke of is likely why he stepped down from the investigative division and went back to being a patrolman last May and was certainly a factor in his firing. Several other experienced cops have retired or resigned because of Freeman's bad attitude towards them and their work.
Attorney for Robby Tate speculates that every police and fire employee who knew what happened without saying anything should be fired if the law is followed. He then asks Freeman which officer told him of the problem and when he was told. Freeman confesses Detective Sergeant Darin Kelley brought it to his attention only two days before Tate was dismissed and he had never been told before that point. After Kelley brought it to his attention, Freeman also spoke with other officers and firefighters he refuses to name. Freeman is asked why officers didn't say anything until December 2010 if they knew about the truck painting and believed it to be a crime – chief replies they had "fear of Richardson back then."
Dino Richardson died in August 2006 and Freeman replaced him in early 2007, but from then until last December none of the officers made mention of Tate's supposedly serious violation of state law. It's likely their failure to bring the subject up is less a factor of "fear" and more a factor of "nobody cared" until the chief started trying to find dirt on a cop he wanted out of the department.
During the selection process for Tommy Freeman in 2007, Tate and several other LPD officers were critical of the selection committee composed of Mayor Florence, City Manager Johnnie Arnold, Sheriff Steve Wilson, and an officer from the Georgia State Patrol. Those officers felt a local candidate should have been given the job, and have been critical of Freeman's performance as chief of the LPD and fire department. At the same time, Freeman has been systematically trying to nail those senior officers for wrongdoing and have them removed from the department. One of the critical officers was subjected to a pointless GBI investigation that produced nothing, and now Tate has been fired for something he did years before Freeman came to town. That pattern of behavior also makes us question the motives behind LPD Sgt. Todd Manning's resignation late last month after he was accused of having sex with someone else's wife in his patrol car. Experienced cops at LPD know Freeman is incompetent and uncaring, but these investigations and terminations have taught the smart officers to keep their mouths shut and allowed the ones who kiss up most to move quickly up the ranks.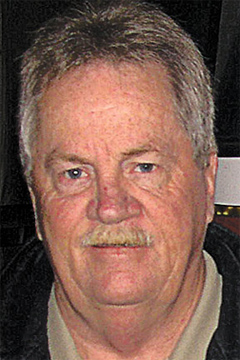 Around the same time Freeman spoke in the meeting about "fear" of Dino Richardson, he showed why officers and citizens alike should be afraid of him. A citizen in the crowd started asking Freeman a question. The chief stared at the questioner and interrupted them, roaring "WHO AM I BEING QUESTIONED BY??" If that's how the chief treats those who pay his salary, how does he treat those who work beneath him? Public officials, both elected and appointed, have no business being that hateful to anyone asking an innocent question in a public meeting.
Freeman is asked if he thinks Tate intentionally committed a crime. Freeman replies intent doesn't matter in an administrative investigation relating to employee matters; Tate was fired for admitting to the action he was accused of even if he didn't purposefully violate the law or have permission to do it. The investigation leading up to termination wasn't a criminal case and LPD isn't willing to prosecute him for violating the law, only for administrative purposes related to his actions being considered criminal by the chief of police. The police chief concludes his statements with a defensive comment: "he destroyed his career, I didn't."
At 8:52 PM, an hour and 22 minutes into the meeting, City Council enters an executive session to discuss Tate's future. None of the councilmen or mayor have questioned any witnesses, Freeman, Tate, or Tate's attorney. Many of the people gathered at the meeting are beginning to dissipate, especially as the executive session begins to drag later and later. Some speculate the council snuck out the back or are dragging their feet hoping everyone will go home before a decision is announced.
Finally at 9:50 PM the council comes back in to the chamber. Councilman Andy Arnold makes a motion to reinstate officer Tate. Motion is seconded by councilman Craig. Arnold and Craig are joined by Norm Hodge in voting to give Tate back his job. Councilmen Wayne Swanson and Eric Tallent (himself a Georgia State Patrol officer) vote against reinstatement. Tate's termination is formally reversed.
Official minutes of the December council meeting show who made and seconded the motion to reinstate, but doesn't say which of the other three councilmen voted for him. Considering the reinstatement vote was the only decision of the November OR December meetings that wasn't unanimous, it's a disservice to the people of LaFayette for City Clerk Brenda Snyder's meeting minutes to not include such an important detail.
Even though Tate was reinstated, Freeman's moves against him accomplished the chief's goal: stifling dissent and criticism of his job performance. Tate's demotion wasn't reversed, he had to pay for an attorney, and he was dragged in front of the city council like a criminal on trial. He has refused to comment about the termination or anything else within LPD since being reinstated, and other officers have followed Freeman's instructions to "shut up" in regards to saying anything publicly about their jobs.
Councilmen and city department heads are asked to make their reports at the meeting's close. Only significant report comes from councilman Wayne Swanson, following up on his road conditions report from the November meeting. Swanson quickly reads off a list of the ten worst condition streets in LaFayette. Worst is King St. in Linwood, followed by Webb-Wheeler Rd. at Lowell Greene Rec Center, North Chattanooga St., Probasco St., West North Main, several streets LU note taker has trouble hearing, Thompson St., and Ann St. Council recommends city petition State Senator Jeff Mullis for funding to have the roads paved.
As noted earlier, Swanson has finally begun to advocate for road work to be done on the west side of town, but it's too little too late since the city has no street money remaining and the state has been increasingly unwilling to fund local road projects. Swanson's changed attitude towards infrastructure is welcomed, but he's been on the council for 13 years and never fought for West LaFayette/Linwood roads until now when he's getting pressure from the Underground and likely facing a heated battle for reelection in 2011.
One of the patient citizens still at the meeting around 10 PM asks council about the sharp curve on Probasco St. where two head-on collisions have happened in the last year. He says new houses on Probasco have added to the twisty street's traffic and he has concerns about vehicles actually running into a home near the curve. He asks if the city can redo or straighten the curve to make it less dangerous, Mayor Florence misunderstands and mentions something about using a different kind of asphalt to add traction to the hill. Councilmen Arnold and Tallent both laughing during request. Meeting finally adjourned a little past 10:00 PM.
Documentation: Official City of LaFayette Minutes From 12/13/10 Meeting