2010
06.11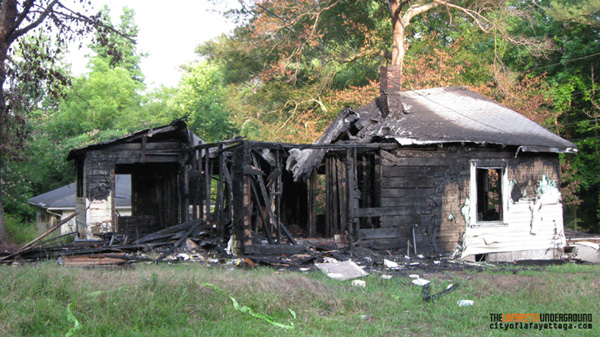 After more than three years on the job, LaFayette Police Chief Tommy Freeman finally admits the city might have a slight problem with arson.
In last week's Walker County Messenger, Freeman said intentionally set fires have been "an ongoing problem" since before he took office in 2007, and so far this year at least ten buildings have been intentionally burned to the ground. Freeman, who as Public Safety Director also oversees the city fire department, indicated the LPD would finally get serious about finding the perpetrator (or perpetrators) of these crimes and reminded Messenger readers of a $10,000 reward available to anyone who rats the arsonist out.
The LPD, Walker Sheriff's Office, and Georgia Arson Control Board (a panel of insurance companies and local law enforcement) began working together three years ago to "educate" the community about the dangers of arson fires, but that effort was restricted to putting a few yard signs with an arson tipline phone number in front of Linwood homes that had already burned. Fire investigations were cursory, if conducted at all, and apparently didn't involve state law enforcement until now.
That Messenger article could have been titled "Police Chief Develops Clue" as the arson problem in LaFayette hasn't ever been much of a secret, with many wondering for years why the LPD hadn't done anything serious about it before this point. It's not pure incompetence: Previous arson investigations produced results quickly, as evidenced by two junior firebugs who were found, arrested, and sentenced within a two-week period of 2008. But in that case the building burned was a city utility office filled with rec department tractors and equipment. So far this series of arsons has cost the city nothing except for the time and effort involved in putting out the fires.
In fact, some might speculate that the fires have all been a net benefit for the city since every last one has involved a neglected, unoccupied structure, an eyesore taking up space that might be better used for something else. Those same persons would also consider it a benefit that every burned home, up until last month, was been located west of the railroad tracks, in Linwood or traditionally-black neighborhoods off Culberson Ave.
As long as the crimes only involved abandoned homes in neighborhoods where "those people" live, it likely wasn't worth the LPD's time or trouble to conduct a thorough investigation. But all that changed in May.
Freeman's shift in attention is attributed to the ten fires set so far in 2010, but that's not a dramatic increase over what we've observed during the last two years. There's been little change in the quantity of arsons, but the location of said conflagrations has shifted into new territory. With abandoned Linwood homes now in short supply, the arsonist moved east on May 3rd to light up an abandoned and partially-burned house on First Ave behind the old high school, within sight and smell of councilman Bill Craig's home. Another fire during the next week took out an empty residence on the corner of West Indiana and Lee, only blocks away from respectable homes on Main Street and North Duke.
So, as WQCH reported on June 1st:
"THE FIRES HAVE BRANCHED OUT FROM LINWOOD TO LOCATIONS ON INDIANA AND FIRST STREETS."
And that, my friends, means the chief must finally pretend to care about this. Perhaps not enough to do anything yet, but to at least make statements to the media indicating that he's on top of things. If the arsonist ever targets an empty rental home owned by a member of city leadership, or city property, or the abandoned home three doors down from the chief's own house, we can all rest assured the LPD will take action and make an arrest – even if the person arrested wasn't involved.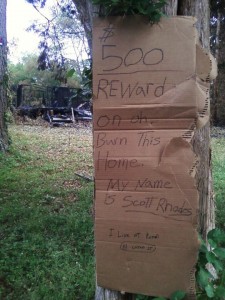 Finding the actual arsonist isn't that difficult; LU investigators tracked him down by asking a few Linwood teens who sets all the fires in their neighborhood. Everyone asked universally identified the same two suspects working together, teen boys who break into abandoned homes, steal everything of value for drug money, and then light the residences on fire to cover their tracks. One of the boys named was actually arrested by the LPD earlier this year for burglarizing an abandoned Linwood home (he was arrested before any fire was set there), but was quickly released without being connected to the rash of fires. This particular youth, notorious for being involved with drugs and at least one sexual assault, also lives on the same street where one of the first fires was set in 2007.
So far, however, Chief Freeman and the rest of LaFayette's Finest have been unable to hook two clues together and arrest this teen or anyone else for a plague of arsons that has claimed by conservative estimate at LEAST twenty buildings in the last three years. The number of homes burned apparently hasn't risen high enough to draw the chief's attention from the mystery of the 18th hole, or to even demand as much time and effort as the LPD has invested into keeping gas-engined boats off Queen City Lake or to finding out who's behind this Web site.
LaFayette's residents continually debate and discuss the city's spending priorities, political maneuvering, and business struggles; those issues all have two or more sides and remain legitimately worthy of debate. But there should be absolutely NO debate needed about police priorities. When citizens living in different parts of the same town are treated differently by the officers called to protect them, it goes beyond a political or budgetary issue and begins to challenge the very notion of all people being equal in the eyes of the law.
There can be no security, no economic strength, no sense of community in LaFayette until every resident, regardless of their economic situation or neighborhood, knows crimes against their property or person will be taken seriously and fully investigated. Many of the burned buildings were empty rental houses, and renters don't pay property tax, but the building's owners all do – as do the rest of us who own property here. And everyone, property owner or not, must deal with the consequences of these drug-fueled thefts and arsons. But only some residents are given fair treatment by a police department and body of leadership who regard certain citizens as being lesser than others. We who foot the bills and provide resources to the city and its law enforcement arm must demand fair treatment of every citizen, demand a new police chief who can bring in a new attitude of concern, and (if those demands aren't met) a new council and mayor willing to make those changes happen.

While we have no direct evidence and everything reported here has been relayed through third-party sources, this article should give the LPD a Chance to catch the arsonist and begin to restore security to every neighborhood in LaFayette the way it should. If the LPD officers who regularly read this blog (we're talking to you, Stacey Meeks) somehow use this information to make an arrest, we're requesting that the reward money go to one of our favorite charities.
If you happen to have additional information about any arson in LaFayette or elsewhere in Walker County, skip local law enforcement and report it directly to the Georgia Arson hotline at 1 800 282 5804 or www.georgiaarsoncontrol.com.