2010
05.25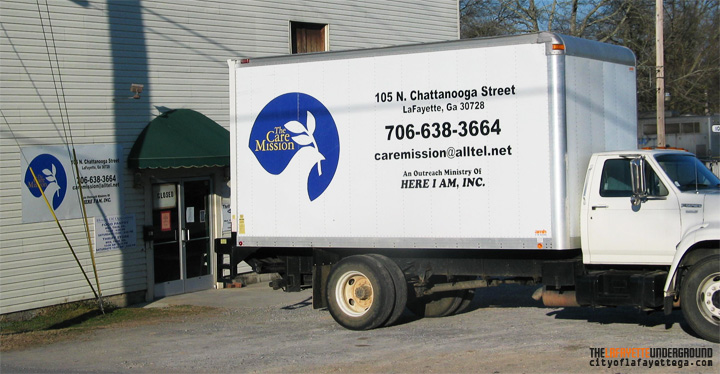 Last week a site reader e-mailed us with concerns about a local charity. The e-mail (with identifying details removed) and our reply are posted below.
From: [redacted]
To: underground@cityoflafayettega.com
Subject: odd
Date: May 19, 2010
I was reading your posts and I found them very interesting. I thought I would bring up something that you might find interesting…I read an article in the Walker County Messenger not too long ago about the Care Mission in LaFayette, asking for donations or better yet "money donations". What upsets me about this is up until this article there was a sign on their door and I quote "NO DONATIONS PLEASE, WE ARE FULL". Now I agree that their general goal is a great one to have. But, in the article they brought up that the owners were close to losing thier house before. What does that have to do with the mission unless they plan on secretly using donations help themselves seeing as how a month earlier they had a sign up refusing donations. It would seem to me that they should be grateful that the people of Walker are will to GIVE them items that they could pass on to needy families or sale and use it to help even more than they claim they already do.
I don't know if you find it as odd as I do, but it generally upsets me that they seem so ungrateful 1 day refusing donations and asking for money the next.
Anonymous Reader is referring to this Messenger article profiling The Care Mission and its founders, Deon and Kendra Phillips. A second article about the Care Mission and a fundraiser held there ran several days later, probably written at the same time as the first.
To answer Anonymous' questions and concerns, we did a bit of investigation and research about the organization and its directors.
The Care Mission is a Christian food pantry and clothing ministry that also runs a thrift store. Founded in 2005, Care Mission is a subsidiary of Ringgold-based Here I Am, Inc. The mission operates out of a former railroad depot that once housed Stuff N Such (thrift store set up by the LaFayette Womans' Club) and The Real Deal, a closeouts store now located on North main. The rented building is still owned by Real Deal proprietor Jim Powell, a former professional wrestler and current pastor of Harbor Lights Baptist Church.
Competing with at least six other thrift stores in LaFayette (most only a few blocks away), The Care Mission accepts donations of used clothing, household goods, canned food, and limited furniture. Much of the donated material is resold in the mission's thrift store, but quite a bit is also given out to families in need due to poverty or disasters such as house fires and floods.
The Care Mission gets a lot of material donations, mainly clothing and household items, and everything has to be stored until volunteers can sort and process it. Despite outside appearances, the building is quite small inside and provides limited storage space for donated items, so "no donations we are full" is to be taken literally – when the building is full of unsorted clothing and other donated items they cannot accept more because there's nowhere to put it. Something would have to go in the trash or be left outside and stolen or ruined.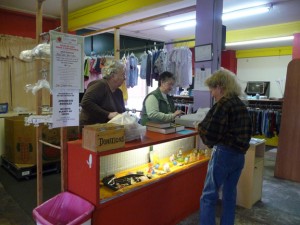 After being sorted, items are put out for sale in the thrift store. Usable donations that cannot be sold or used to help a family in need are passed on to other organizations with similar purposes. Thrift store profits support the organization's primary purpose, providing food and limited clothing/household items to people who have a genuine need for help.
Sales of old shoes and clothes offset the organization's operating costs, but used items don't sell for very much and The Care Mission doesn't have enough people shopping to offset all of its expenses. For that reason, having more donated material on hand doesn't necessarily translate into having more money available to pay operating costs or provide food and clothing to the community's needy.
At last check, The Care Mission was providing food to more than 350 families per month, and helping at least 400 families with clothing and household items. Clients are screened to make sure they truly are in need, and assistance is limited to several times each year per family (with exceptions for disabled, elderly, etc). Clothing items come from the store's donated inventory and a considerable amount of food is donated from food banks or local stores, but some food costs along with overhead expenses (rent, utilities, insurance, on and on) are partially covered by thrift store profits.
All nonprofit organizations are required by law to make their financial information available to anyone who requests it. Additionally, any nonprofit with more than $25,000 a year in revenues must annually fill out an IRS form called a 990. (Traditional churches are recognized as nonprofit groups but are exempted from filing requirements, while "religious nonprofits" like Care Mission parent Here I Am must file annual reports to the government). Those 990's are available free online through several sources, the most popular of which is GuideStar.
We downloaded Here I Am's latest 990, from 2008, and have posted it here so readers won't have to register with GuideStar. The 2009 report should be available soon; 990's don't have to be filed until mid-May and GuideStar seems to run a few months behind once they've been received.
According to its 2008 forms, The Care Mission (as Here I Am) had revenues of $60,179, including some $27,000 from thrift store sales and $32,000 in monetary donations. Based on those figures, less than half of the organization's budget came from thrift store sales. The thrift store operation provides a good base of support and also serves as a ministry providing affordable clothing and other goods to local people, but the thrift store alone would never provide enough income to meet all of the organization's financial needs.
One of those financial needs is a salary for The Care Mission's husband-and-wife director team, Deon and Kendra Phillips. Working as contractors, which makes them responsible for all taxes, the Phillips made only $18,000 in 2008 – a paltry sum for two adults managing a business full-time. Some comparable nonprofits take their salaries off the top and don't begin to serve the community until leaders have been taken care of, but the Phillips only get paid once the ministry's expenses are covered. That's why they did almost lose their home at one time, and still live month to month depending on their faith and the generosity of others.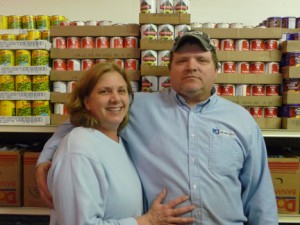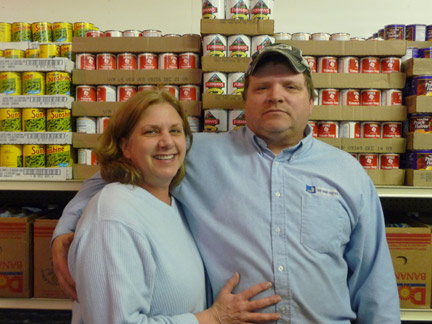 The Phillips, who founded and run the mission, have put everything they have into it; closing down a family business and quitting good jobs to step out on a limb and make The Care Mission possible. They don't work at the mission for their own benefit and would be in much better shape financially if they had kept their previous business or walked away from the mission now and took better paying jobs in the private sector. The small amount of compensation they receive is only so they can survive without secondary jobs while focusing all their time and effort towards serving God and ministering to people in need.
Compared to what many ministers and secular nonprofit directors make, the Phillips are highly underpaid. Especially when you consider how many other local organizations (and quite a few churches) are doing a lot less for the community despite having much greater resources at their disposal.
All nonprofit organizations, including churches, are required by law to make financial reports public. For anyone interested enough to go in and ask, The Care Mission is legally required (and perfectly willing) to show their checkbook and financial reports. Any charity, religious or secular, that refuses to show financial statements upon request is either not a real nonprofit (completely void of oversight and unable to give tax deductions) or breaking tax law. Either way, an organization that won't be forthcoming with its books probably has something to hide and should be avoided entirely.
There are a good number of non-profits in Walker County that deserve support through material and financial donations or volunteer time. Notable charities include Four Points, Jimmy Simpson Foundation, North Georgia Animal League, Kids 4 Christ (their financial reports are online), Family Crisis Center, Sage Center (formerly A+ Women's Care), and many more. A complete list of IRS-recognized nonprofits based in Walker County is available here.
Before giving or volunteering with any organization, there are several resources available for checking their legitimacy. GuideStar, as mentioned above, makes available the latest IRS-required financial reports, BBB.org is a good resource to check for complaints against a specific charity, and the IRS maintains an annually-updated list of registered nonprofits. Larger organizations might also maintain membership in financial accountability groups such as the ECFA, although those generally require revenues north of $100,000 per year.
Another good way to check a charity's legitimacy is to drop in and actually see what it does. Outside of those who need to maintain client privacy (like the Family Crisis Center), most valid nonprofits will welcome anyone interested enough to stop by and check them out in person.
No one should ever automatically assume a nonprofit agency is trustworthy without researching it a bit, just as we shouldn't do what Anonymous Reader did and assume one is untrustworthy based on outside appearances.
Do you have a favorite local charity? Ever have a bad experience serving or giving to a nonprofit agency? Join the discussion below.