2010
06.06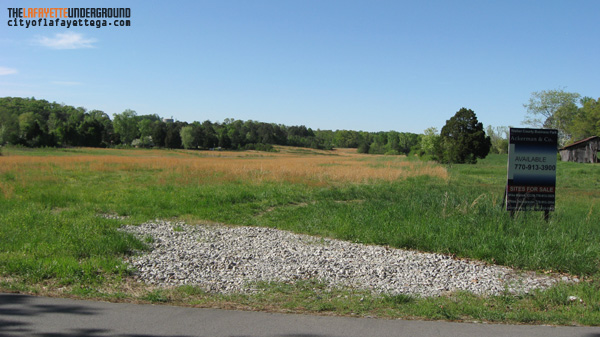 In mid-March 101 addresses in Noble along Hwy. 27, West Reed Rd., Straightgut Rd. and in Emerald Acres subdivison received a letter from Walker County Planning & Development. That letter revealed the county's intentions to rezone several hundred acres of property in the area for industrial use. Residents were invited to attend a meeting about the proposal on April 8th at the Walker Civic Center.
Detailed within the letter was a plan to rezone four separate tracts of property. The first and smallest is a 40-acre plot on West Reed Rd. next to Emerald Acres. That residential-zoned tract already belongs to the county development authority but isn't usable for industrial development due to its deep-but-narrow shape and a lack of railroad or highway access. The other three tracts, 376 acres of agricultural land across the highway from Center Point Rd. belonging to Joe Swanson, have direct access to Highway 27 and lie along the railroad, making them ideal for an industrial park.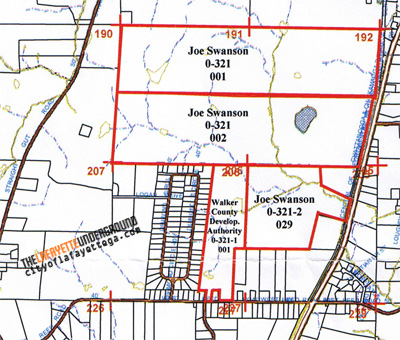 Noble residents who attended the April 8th meeting brought up specific concerns about the rezoning plan, but left feeling that their worries about noise, pollution, and property values had fallen on deaf ears. Meeting attendees also left with several major questions unanswered: Why this site instead of an existing industrial zone, and what company (if any) is the property being prepared for?
Walker County owns two industrial parks; one south of LaFayette where Roper is located and a second site in Rock Spring housing Nissin Brake and an empty facility formerly used by Cardinal Communications. (The Rock Spring park also hosts Balloons & Tunes each fall.) A number of existing non-government industrial sites are also for sale around the county, including LaFayette Cone Co. and the closed Imperial/Sweetheart Cup facility, both in Noble. Jeff Mullis-directed Northwest Georgia Joint Development Authority maintains an extensive list of all these sites, both public and private, on its Web site.
However, none of those properties are as large as the 416 acre site being rezoned. In fact, the county's existing industrial parks only have a COMBINED 202 acres (120 in LaFayette, 82 in Rock Spring), and much of that is chopped up or already being used. The largest privately owned industrial site available, Barwick in Kensington, comes in at just under 199 acres. That means the only option left for a larger industrial development (especially one needing direct railroad and highway access) is the Swanson property in Noble.
Whether or not the county actually has such a facility moving in is another question entirely.
A number of rumors concerning the site's future have been floated about, with many concerning a Volkswagen supplier coming to LaFayette. Unfortunately that's not very likely, and hasn't really ever been considering how far the city is from Enterprise South Industrial Park north of Chattanooga where VW's new facility is being built. Enterprise South has some 3,000 total developable acres, far more than Volkswagen needs for its own facility, and if that isn't enough for suppliers there are a dozen or more sizable industrial parks with better infrastructure located much closer to the ESIP site. Additionally, the VW plant is on track to begin production in early 2011; that six or eight months isn't even enough time to work out a contract with a potential site developer, much less have a manufacturing facility built and ready to supply auto parts.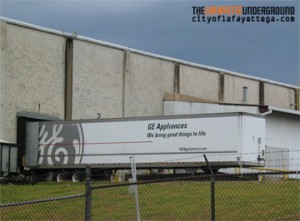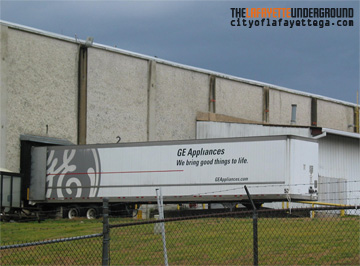 Another rumor concerns some type of "warehouse" for Roper being built on the site. Such a warehouse would allow GE to expand its existing LaFayette Roper plant and produce more product without shipping delays, but such a facility would add few (if any) jobs to the area and certainly wouldn't require a site more than twice the size of Roper's current landlocked location, parking lot included. If Roper needs 400-plus acres, we expect they would build an entirely new facility there to replace the existing mill, allowing for a larger, modern plant retaining the same employees as its 40-year-old predecessor. That move would also let Roper continue using North Georgia Electric utilities without paying the City of LaFayette franchise tax. Within the current economic conditions this type of drastic development is highly unlikely, but still somewhat more likely than seeing a Volkwagen supplier open up in Noble.
There are hundreds of other potential users for the county's future industrial park, and we should all keep our fingers crossed for something with desperately needed jobs to eventually open on the site. Building a new manufacturing plant on the 416 acres would disrupt the lives of some who live nearby, but that's a small sacrifice compared to the positive impact even a few hundred new jobs would make to a community on the edge of economic death. A solid industrial employer would do wonders for the county and potentially increase property values in Noble and beyond as new residents move in and existing residents are able to move up.
The county might buy the land and do nothing with it for the time being, which isn't the best use of money but does at least keep the prime acreage left open for industrial development instead of being carved up for yet another tacky subdivision. But one possible outcome could be a county-sponsored land rape, with trees cut down and hills scraped away with thin hopes of attracting an unknown developer to the site. That's what the City of LaFayette has done at the corner of W. McCarter and Gordon Pond Rds, clearing off a wooded tract in hopes of attracting a supposed Volkswagen supplier to a piece of property barely big enough for building a Hardee's.
Walker County should certainly encourage companies to first consider redeveloping existing industrial sites like Sweetheart, Barwick, Reichold, or the Rock Spring business park. Realistically some of those sites would be less desirable for a major manufacturer, and there's no excuse for limiting potential economic growth just to avoid kicking up dust in a few quiet neighborhoods. However, with that said, any future developments on county-owned land should come with multiple-decade written agreements that guarantee companies won't pack up and leave before the paint dries on their new facilities. The very last thing Walker County needs is another brand-new abandoned facility like Cardinal Communications' plant in Rock Spring, or another half-million-dollar rail spur like the county built for PlyMart a year before its local store closed.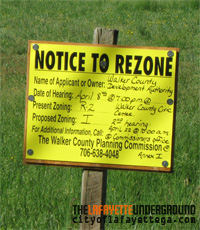 During a second meeting at Commissioner Bebe Heiskell's office on April 22nd, residents were given concessions about noise barriers and property line restrictions for the site and reassured that any facility built would be accessed from Highway 27, not narrow residential West Reed Rd. Heiskell then approved the plan, not unexpected considering the county's multiple-thousand dollar investment to install fiber optic Internet service onto the site several months before the plan was announced. (Shortly after rezoning was approved Joe Swanson's wife began telling people he sold the property to the county for $4 million, or $10,638 per acre. The county has so far made no statement to confirm or deny this rumor.)
Walker County Planning Committee and the Planning & Development Office together work on rezoning plans, but knowledge of any future site occupants is outside the scope of those agencies. Discussions between the county and any potential developer are conducted solely through the commissioner's office to keep corporate plans secret until a deal has been finalized, akin to the deal worked out in secret between Catoosa County and Costco. Residents will have to remain in the dark for now, hoping with fingers crossed that Bebe Heiskell will keep their best interests in mind as she handles any type of negotiation for the property and its future occupant(s).