2011
02.23
Last May the Underground received the following e-mail. That message (with identifying details removed) is posted below:
From: [redacted]
To: underground@cityoflafayettega.com
Subject: commissioner
Date: May 3, 2010

Have heard rumors that Be Be Heiskell has had minor traffic accidents and recently was driven home from the Chick. Taco Bell in the wee hours of the morning and intoxicated, the transportation was by the county. Have you anything like this?

Wish to be anonymous. Thanks
We replied to the message and asked for any additional details, receiving the following answer:
From: [redacted]
To: underground@cityoflafayettega.com
Subject: RE: commissioner
Date: May 4, 2010

My understanding is that the incident was not the Taco Bell, but the Huddle House in Chickamauga, if I understand right this happened this past Saturday or early Sunday. I believe it was Sheriff's deputies that may have been summoned by the Huddle House employees.

As to any other car incidents, don't know specific, but did hear she had her personal vehicle repaired at the counties' expense.
The Underground receives similar tips in e-mail all the time, and most are unusable rumors or information we already have. But this was something different, and the anonymous source is someone known to be trustworthy. We felt it deserved a bit of a followup and deployed a researcher to see if there was any truth behind the story.
During several consecutive visits to the Chickamauga Huddle House, an Undergroundling spoke with employees who confirmed an intoxicated customer had been in the store somewhere between 11 PM and 12:15 AM on the evening of Friday April 30th. The employees we interviewed didn't gt a good look at the customer and weren't sure how he (or she) had gotten home since their shifts ended before the subject left.
Obviously their accounts gave some weight to the e-mail tip, but without direct confirmation from an independent eyewitness the rumor was still unconfirmed and unusable. After a week of checking with various Huddle House staff the e-mail tip was designated as an unconfirmed rumor and moved out of the spotlight, unlikely to ever see the light of day.
The tip came back up last December when a casual Facebook thread about an unrelated topic led to a discussion of drunkenness. One Facebook contributor with no connection to the original source casually mentioned seeing Commissioner Heiskell intoxicated at Huddle House last spring. That unexpected comment provided a secondary confirmation and a direct eyewitness account – changing an unconfirmed rumor into usable news.
According to the second source, Heiskell arrived at the Huddle House one evening (they were unsure of the exact date but said it was late April or early May) "dressed like she had been at a party" with "her wig crooked" and obviously too drunk to drive. They left before she did and were unable to confirm how the Commissioner got home or if law enforcement was ever involved.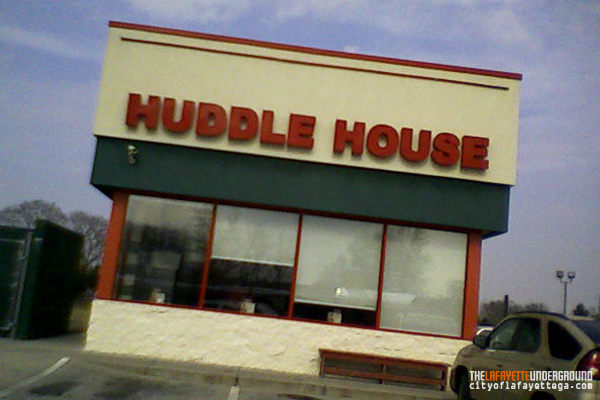 After the December confirmation, we contacted a law enforcement officer friend. He confirmed hearing a similar story from fellow officers, adding that the commissioner had apparently soiled herself before arriving at the diner. He couldn't confirm if Heiskell drove herself home after officers arrived, but clarified that any police officers or deputies called to the store would not have arrested the commissioner because state law requires officers to see a suspect actually driving a vehicle before charging them with a DUI. (That's apparently in place to keep overzealous officers from arresting people sleeping one off in their car.) According to that law enforcement source, officers would either drive the suspect home or allow them to drive their own vehicle with an officer escort, which is probably what happened when Heiskell left the Huddle House.
So there you have it. Verified by multiple sources: Bebe Heiskell showed up drunk at the Chickamauga Huddle House on a Friday evening last April, presumably after driving herself from a party in Fort Oglethorpe or (likely) Chattanooga. She was obviously drunk, fake hair in a mess and possibly soiled. Police or deputies arrived and carried her home, as they would be required to do under current law.
It's none of our business or concern if someone drinks to excess in their own home or even gets knee-walking drunk at a party, so long as they have enough self control to arrange for a ride. But when a public official drinks herself under the table and then tries to drive home, that becomes an issue of public safety and personal responsibility. Heiskell also gets her personal vehicle expenses reimbursed by the county, which could be a problem if she's involved in any accidents or instances impacting insurance costs. And since Heiskell is the county's sole leader, she has minimal accountability for her actions.
If she has so little self control, do we truly want her to continue in her role as sole commissioner for a county of more than 60,000 people? At the very least this should reignite interest in changing Walker County from a sole-commissioner form of government into a county with a board or council making decisions, accountable to each other and unable to make decisions without a majority vote.
More on that topic later.