2011
08.24
The biggest event in LaFayette's history was held 41 years ago this month, on August 13, 1970.

That event was a benefit concert featuring Johnny Cash, June Carter, and their entourage – essentially a traveling version of Cash's popular TV variety show. The concert was organized by LaFayette's business community and a county sheriff who arrested the singer several years earlier in an event Cash credited to changing his life.

The Cash Show put LaFayette in a spotlight regionally and attracted media attention for months before it began. (The article at right ran in the Walker Messenger during May 1970.) The concert was well-promoted and drew in thousands of people, including state political leaders and a future President of the United States.

On this occasion of the concert's 41st anniversary, lets take a look back at a time when the Queen City had strength – both economic and social – and a reputation more positive than the toxic atmosphere developed in recent years.
"There can be little doubt that the announcement that Johnny Cash, the famed country music singer, is going to present a benefit performance here on Aug. 13 has created the most excitement in our area in a long time."
"As his agent has said, 'when Johnny Cash says benefit, he means benefit' and the star's appearance here, with his whole troupe, isn't costing us a penny. .. It's difficult to thank such a man. Material gifts are superfluous. But, we believe we express the attitude of the people of LaFayette and this area, when we say that we are deeply grateful for the gesture on the part of Johnny."
In 1970 the Messenger's editor felt comfortable speaking for area citizens, possibly because he was one. Edmond P. Hall, listed as editor on the masthead above, owned the newspaper from 1915 until he passed away in 1973. Hall's son Joe, who likely penned the editorial, worked as managing editor and stayed with the paper until his own death in 1977. Both Halls owned the paper, edited the paper, wrote for the paper, and lived in the community it served. The two men who owned the paper before the Halls were also Walker County residents. After Joe Hall passed away his estate sold the Messenger (and former sister paper Dade County Sentinel) to an out of state publishing company.
The Walker County Messenger in its heyday, much like The Summerville News today, was more than just a business – it was a true community service. Today's Messenger, by contrast, avoids any and all controversy, gives minimal coverage to LaFayette, censors its reporters, and rarely runs editorials about local issues. Some of that decline stems from the current economy and a business climate where papers struggle to compete with instant free online journalism (sorry!) – but much of the Messenger's current sad shape is simply a result of it being a small part of a large company with no interest in Walker County outside of selling advertisements.
Yet the cost of an annual subscription is now twelve times what it was in 1970.
As the editorial above says, the 1970 concert was a generous effort on Cash's part, costing the city nothing beyond expenses related to setting up the football field where it was held. Why would one of the top musicians of all time ("a man who commands $50,000 for a single appearance") give hours of his valuable time to a community in the middle of nowhere that was nothing to him outside of an unwilling one-night stay several years earlier?
Because that one-night stay in 1963 apparently changed the singer's life.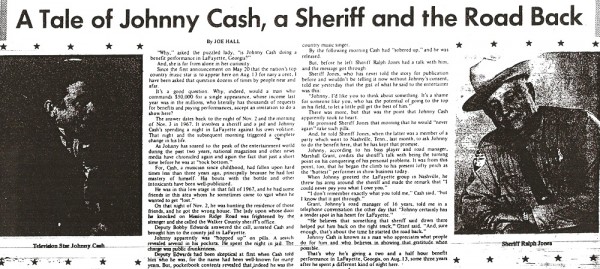 As documented here last year, Cash was arrested in Walker County on November 2, 1967 after crashing his car in a pill-induced haze and banging on a random family's door in a threatening way. An evening in the Walker County Jail, a deputy who refused his bribe, and a long talk with Sheriff Ralph Jones left the musician a changed man.
"Sheriff Jones, who has never told the story for publication before and wouldn't be telling it now without Johnny's consent, told me yesterday that the gist of what he told the entertainer was this: 'Johnny, I'd like you to think about something. It's a shame for someone like you, who has the potential for going to the top in his field, to let a little pill get the best of him.'
"There was more, but that was the point Johnny Cash apparently took to heart. He promised Sheriff Jones that morning that he would 'never again' take such pills. And, he told Sheriff Jones, when the latter was a member of a party which went to Nashville, Tenn. last month, to ask Johnny to do a benefit here, that he has kept that promise."
Forty-one years of rumors, memories, and exaggerations have made it hard to work out exactly what happened between Cash and Jones in 1967, but the Messenger piece above was written less than three years later and has a direct interview with Jones, so it's probably going to be the most accurate story available. The article, also written by Joe Hall, provides additional details not available elsewhere; namely that the arrest was on Mission Ridge Road between Rossville and Chickamauga, and that Cash was actually looking for the home of an unnamed friend who lived in the area.
Sheriff Jones, who described himself as a huge fan of Cash before and after the arrest, went to Nashville in May 1970 on behalf of the LaFayette Athletic Club. The club was working to build an "activity complex" with field house and band room for LaFayette High School's football field and needed a big fundraiser to pay off construction costs. Cash agreed to do a concert, appropriately held at the same field with a half-built complex rising behind the audience.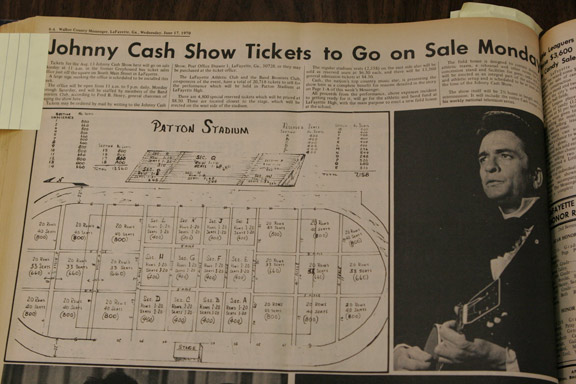 Cash's stage was set up on the running track next to First Street, facing Tucker Field and Patton Stadium. The field and bleachers were mapped off into about three-dozen sections, with tickets selling for $4.50, $6.50, and $8.50. After 40 years of inflation that top ticket price would be about $48 – still cheaper than a nosebleed seat at one of today's middling-quality rock or country concerts. The very front rows at stage level were free for VIP's and media, but even kids listening across the street without a ticket got an acceptable view (and quite an earful) of the performance.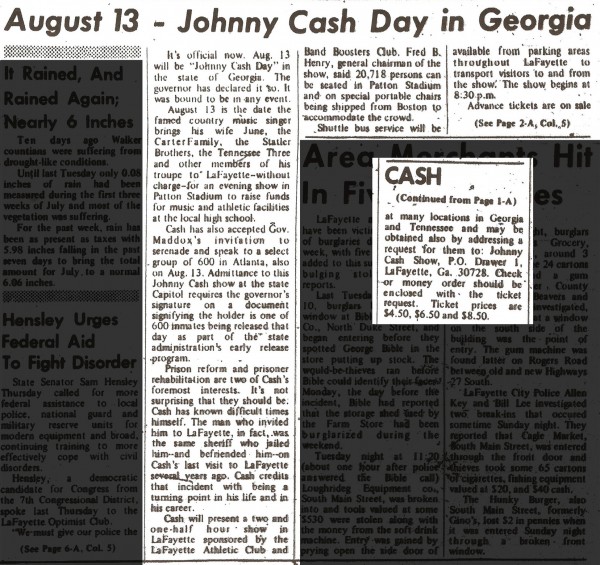 "Cash will present a two and one-half hour show in LaFayette sponsored by the LaFayette Athletic Club and Band Boosters Club. Fred B. Henry, general chairman of the show, said 20,718 persons can be seated in Patton Stadium and on special portable chairs being shipped from Boston to accommodate the crowd."
In light of those numbers, Mr. Henry and concert organizers were obviously expecting an absolutely monstrous crowd for the Cash show. Their preparations for over 20,000 people were probably a bit excessive since the concert only sold about 12,000 tickets (and one report said the crowd numbered just 5,500) – but that was still an incredible number considering the entire LaFayette ZIP code had less than 9,000 people in 1970.
So many attended the Cash Show that local law enforcement feared a crime wave would break out on the evening of August 13th since almost every home in town would be empty. As far as we know no robberies were committed, and potential burglars were probably all at the concert along with the rest of LaFayette.
Cash didn't just visit LaFayette on August 13th, he and his band the Tennessee Three (along with musician/wife June Carter and newborn son John Carter Cash) also gave a special performance and motivational speech to about 600 men being "early released" from state prison in Atlanta. After that benefit Johnny, along with his family and band, the governor of Georgia, and other dignitaries drove up to LaFayette for the evening concert.
Cash was joined in LaFayette by other members of the Carter Sisters (performing in 1970 as The Carter Family), musician Carl Perkins, and the Statler Brothers, two groups that normally performed along with Cash on his TV show and during concerts. Those additional musicians flew into Chattanooga on August 13th for the 2-1/2 hour show, heading back there afterwards with Cash to fly off for another show scheduled the next day.
No word on what happened to the "special portable chairs" after the concert, or why they had to come from Boston.
PAGE 1 OF 6 / 1 2 3 4 5 6 / NEXT PAGE —>