2017
04.01
Walker County School Board still hasn't officially said WHY Mike Culberson was let go, but here's a public report on one of his ethical problems – one that was bad enough by itself to cost him the principal's office.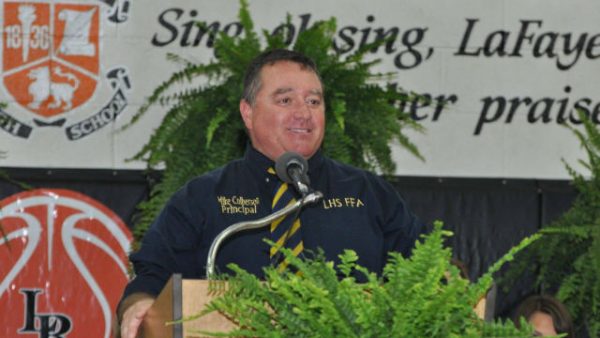 Culberson wrote his own comments into e-mails he forwarded from school employees, pretending that his thoughts were the thoughts of others. An effort to tear down another school employee he didn't get along with – and also build himself up.
Next fall she'll still have her job, and he won't.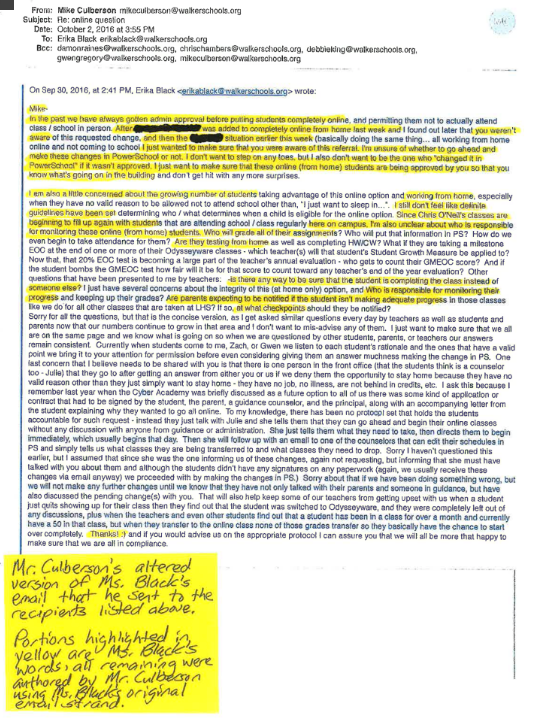 This is one of the "ethics violations" LU mentioned last week. We heard from school staff that Mr. Culberson was sending e-mails pretending to be other school employees, and that was the major reason the board and Superintendent Raines decided to let him go.
We didn't feel comfortable being specific with it since the story we got wasn't quite fleshed out, but it was referenced in LU's Culberson posts.
This isn't something criminal, it didn't involve students, but it was unethical and violated school policies. This would be enough to get you fired on the spot in any kind of private sector office. The School Board has instead opted to let Culberson finish out the school year – while carefully monitored.


A large number of Walker County homes will soon be getting higher water and sewer bills.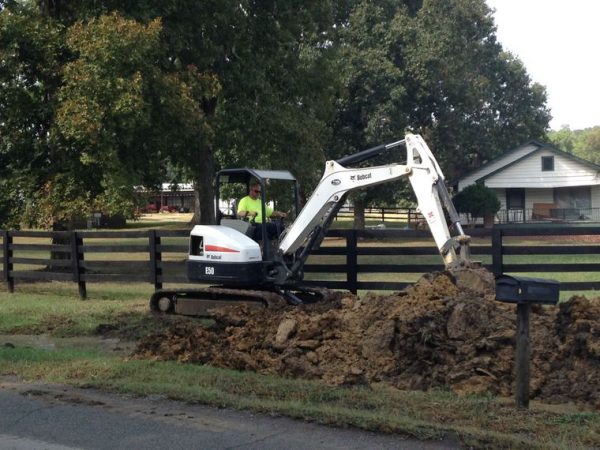 This week Commissioner Whitfield and the Water Authority board voted to increase base rates for water and sewer service by a considerable amount. The increase will impact more than 10,000 homes on county water and 3,500+ on county sewer.
The Commissioner says this is necessary to do water line maintenance neglected under his predecessor, who frequently used Water Authority funds to pay for her own projects.
However, they're not yet sure exactly how much the repairs and upgrades will end up costing.
This will not impact your bill if you're using City of LaFayette, Tennessee American, or Walker County RURAL water. Those entities may end up having to raise rates later on since some of them buy water from the Water & Sewer Authority but it's unclear if any wholesale rates will be changed.


This last week was the end of Georgia's 2017 legislative session. As the General Assembly began to wrap up (and actually do work), the Capitol building (Senate side) was invaded by a literal rat.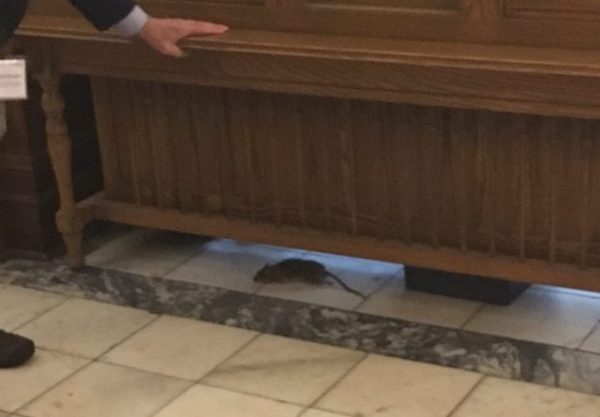 (The sizable rodent was given a free steak dinner by a Georgia Power lobbyist and enjoyed nine free UGA football games before a state employee realized he wasn't a Republican incumbent State Senator and proceeded to stomp him flat.)
As the clock ticked down, the State Senate narrowly passed a House bill (HB 280) allowing older college students with weapons permits to carry guns on campus for self defense.
Senator Mullis, who signed off on the bill last year before Governor Deal vetoed it, didn't take a position this year – the only state senator who didn't cast a vote on the hot-topic legislation. Rep. Steve Tarvin voted "NO" on the bill's final version, while Rep. John Deffenbaugh voted in support.
A similar bill was passed last year but vetoed by Governor Deal. He will have the same option this year but insiders expect him to agree to the 2017 version.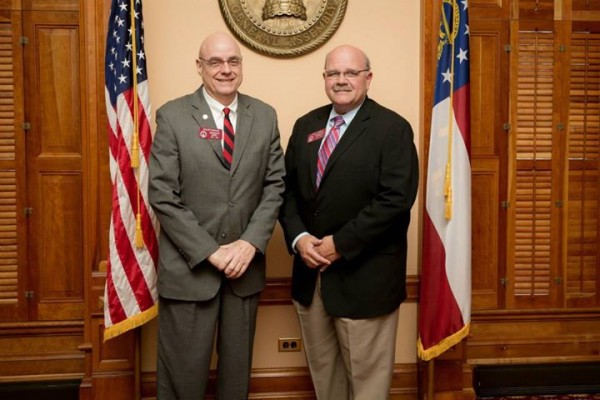 A bill adding more illnesses to Georgia's list of what can be treated with medical cannabis oil has been approved by both sides of the state legislature.
An earlier version reducing the amount of THC allowed in the oil was rejected.
Rep. Tarvin and Senator Mullis both voted yes for the final version (SB 16) while Rep. Deffenbaugh did not vote. To become law this only has to be signed by Gov. Deal, but his position on the change is unknown.
Now that the session has ended, LU will pick through some of the debris and paperwork and share about other measures the legislature pushed through during the last few weeks – including one directly impacting Walker County government.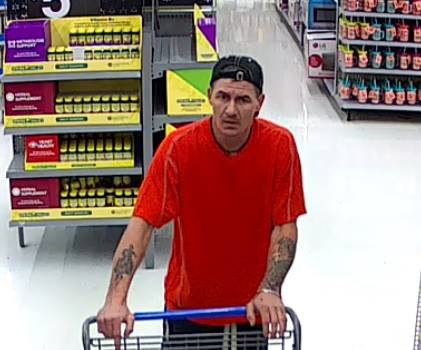 LPD needs help identifying this man suspected of theft at Walmart on March 19th – a week ago last Sunday.
(Looks like Walmart finally upgraded to security cameras made after 1994.)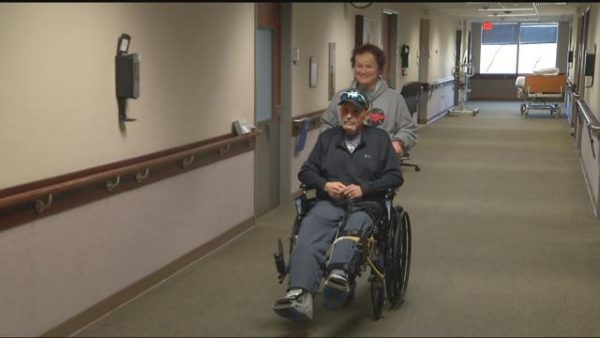 Late last week, after being hospitalized for two months, Matthew Mann finally returned home.
Mann was seriously injured during an accident near Turnipseed Rd. in January. The fire chief of Walker State Prison has had a hard journey since, and got married along the way.
Finally we know the name of the other driver in his accident: Bryan Hailstone. Hailstone is blamed for the wreck and faces several charges. He's expected to be charged with more crimes when the results of a drug test come back.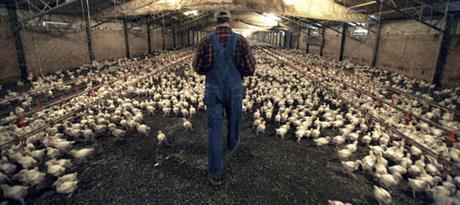 A suspected case of "bird flu" in Menlo has been confirmed, leading to the destruction of 18,000 birds potentially exposed to the illness.
It doesn't carry to humans but will easily spread between flocks of birds, potentially doing millions in damage to the state's poultry business if not contained.



Foiled again by the dead car light.
WQCH Radio, 03/30/17:

"AN 18 YEAR OLD FROM LAFAYETTE WAS CHARGED WITH POSSESSION OF METH AND SCHEDULE-3 DRUGS, FOLLOWING A LOCAL TRAFFIC STOP.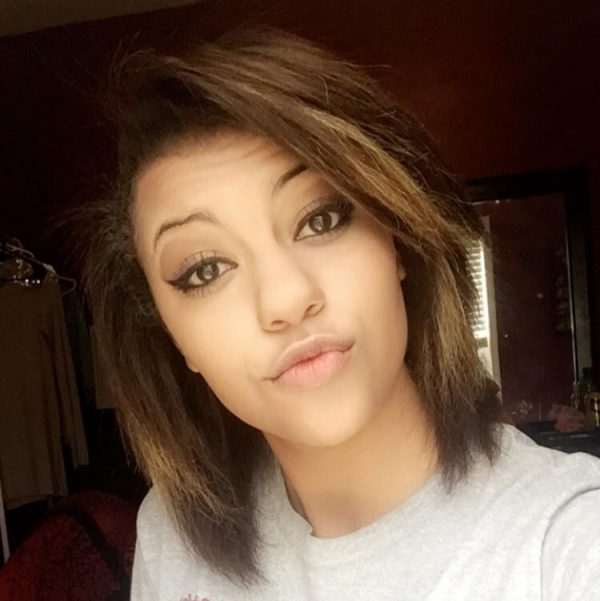 "ANNSLEIGH ABIGAIL COLE WAS CHARGED SATURDAY NIGHT, AFTER HER VEHICLE WAS STOPPED ON ROUND POND ROAD FOR A BLOWN HEADLIGHT.
"LAFAYETTE POLICE FOUND NEEDLES, SCALES WITH METH RESIDUE, A SCHEDULE DRUG AND A PIPE WITH MARIJUANA RESIDUE- ALL LOCATED IN THE VEHICLE DURING A CONSENT SEARCH."
Pretty girl. Too bad for her she'll look like this after a couple years if she sticks to meth: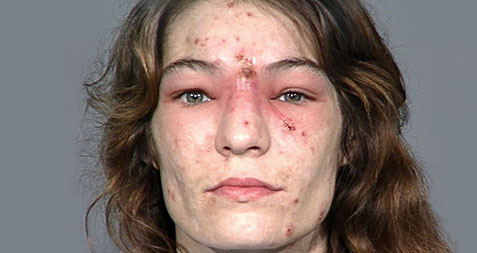 Teeth don't grow back hon. Just don't.


Last week police in East Ridge TN arrested a couple that could be responsible for a series of storage building thefts in NWGA.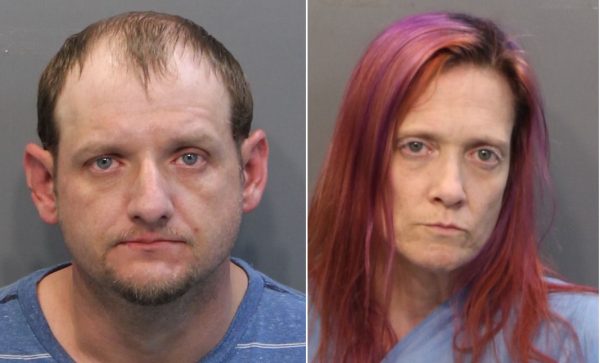 Ricky Barnette and Jennifer Murray tried to check into a hotel using false information. Cops identified them and nailed them for outstanding warrants, then found items (including a gun) stolen from self-store sites in Chattooga and Catoosa.
Maybe they're connected to a recent storage building theft in LaFayette?


Tuesday the city had a real "crappy" issue to straighten out.
WQCH Radio, 03/30/17:

"THE CITY OF LAFAYETTE BATTLED A SEWER LINE BREAK TUESDAY, THAT SENT AN ESTIMATED 50-THOUSAND GALLONS OF WASTEWATER INTO TOWN CREEK.
"WATER AND SEWER DIRECTOR WALLY MEEKS SAID THE BREAK OCCURRED 100 FEET NORTH OF THE SHATTUCK INDUSTRIAL BOULEVARD LIFT STATION. A PUMP WAS USED TO FORCE WASTEWATER INTO A TANKER TRUCK, TO MINIMIZE ANY ADDITIONAL SPILL DURING THE REPAIR. THE MAIN WAS UNCOVERED, THE CRACKED PIPE WAS CUT OUT AND REPLACED WITH NEW PIPE AND CLAMPS, ACCORDING TO MEEKS."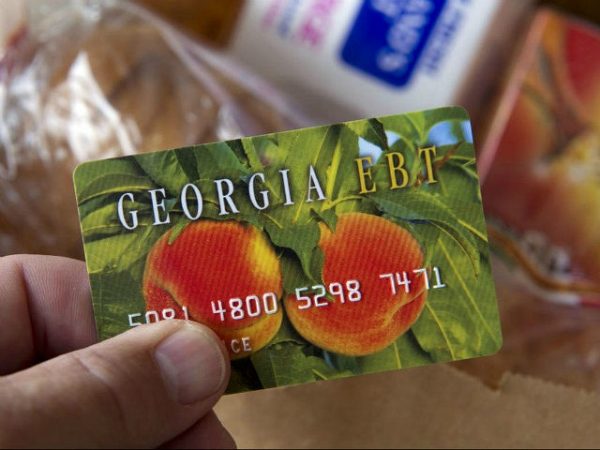 Beginning this weekend, April 1st, able-bodied single-household (no kids) adult food stamp recipients living in a handful of GA counties – including Walker, Dade, and Catoosa – must find jobs or do volunteer service to continue receiving benefits.
State wide the rules, started in three counties, will expand to 21 counties. State officials expect 11,779 people to be impacted by the change.
Georgia DFCS plans to roll out the new EBT rules for all 159 counties by 2019.


Of all the things to fight over…
WQCH Radio, 03/29/17:

"A MOTHER-DAUGHTER FIGHT RESULTED IN CHARGES FOR BOTH, ACCORDING TO LAFAYETTE POLICE.
"39 YEAR OLD CARRIE DENISE HILL, THE MOTHER, WAS CHARGED WITH SIMPLE BATTERY UNDER THE FAMILY VIOLENCE ACT. A JUVENILE COMPLAINT WAS ALSO FILED AGAINST HER TEENAGE DAUGHTER.
"POLICE SAY BOTH AGREED THAT THE SUNDAY MORNING FIGHT STARTED OVER A PROM DRESS AND A STRUGGLE OVER CAR KEYS. NEITHER PERSON REQUIRED TREATMENT."
(Nothing good has ever come from prom.)
Plus: Walker Jail booking report, March 13-19.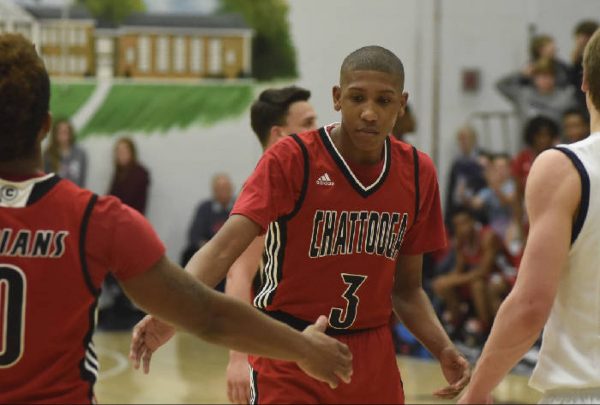 Jay Shropshire, Chattooga High's star basketball player, will get national attention this weekend competing in the "High School Slam Dunk Championship."
The contest in Phoenix will be televised on CBS/Channel 12 Sunday afternoon.


Last weekend Jeremy Treadaway went to the Chattooga jail after officers found him sleeping in someone else's car in Menlo.
Treadaway said he had just gotten out of jail and wasn't sure where he was or what he was doing.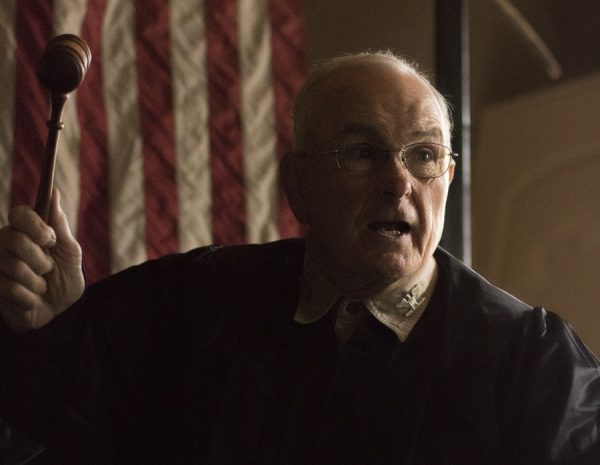 Back Alley Productions won't have a show this weekend and the Mars is dark, but next Friday the theater group will begin performing "A Few Good Men" live on stage.
Right here in LaFayette.


For today's links and any breaking news, follow the Underground on Facebook or Twitter.