2012
07.01
Followup to Muddy Water, 05/11/2012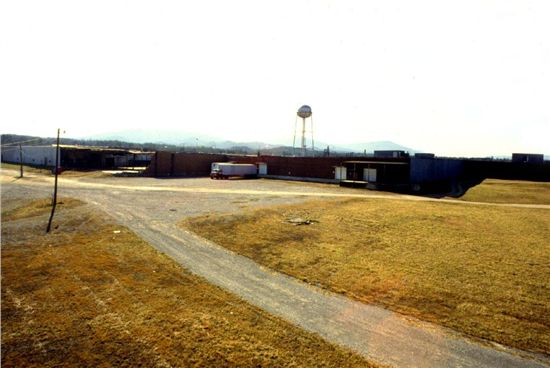 In early May, Walker County residents were excited to hear of a new business moving into one of the area's underused industrial buildings. But the company, its claims, and the site being used may not all be what they seem – and the entire project could be more about politics than business.
"Real Bright Sunrae Water will be relocating to Walker County, taking over an existing 200,000 square foot facility and bringing the promise of solid job growth.
"'They are going to hire twenty people to start, and then more as production ramps up and the facility expands,' said Walker County Economic Development Director Larry Brooks.
"The former Barwick Archer building in Kensington will be the new home for the company, which plans to start production the first week of July and will eventually bottle about 2.5 million sixteen and twenty ounce bottles of water a year, with an additional 150,000 five gallon containers for home and commercial use once full production commences.
"'I am so pleased to welcome this new company to Walker County,' said Walker County Commissioner Bebe Heiskell. 'We continue to receive wonderful news of businesses choosing to invest in our county. We hope Sunrae will have a long and prosperous relationship with Walker County.'"
This seems to be good news. The Barwick plant in Kensington has been sitting empty, or being used as warehouse space, for the better part of three decades. It's an eyesore and a huge waste of potential. But the mill has a sordid past that could make it less than ideal for a company interested in bottling water, and as the stated July deadline for production arrives there seems to be nothing actually happening in Kensington.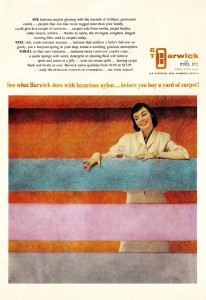 E. T. Barwick Mills was one of the earliest producers of tufted carpet, and the first to make it with synthetic fibers. Because of those technological advantages, Barwick dominated the carpet industry for more than twenty years. Two of Barwick's biggest mills were in Walker County: one in LaFayette (where Auto Custom Carpet is now) and a manufacturing/distribution center in rural Kensington on highway 341. The Kensington mill (referred to as Barwick-Archer) was first built in 1965 and expanded over subsequent years to nearly 1 million square feet, making it (for a while) the country's largest carpet facility.
Barwick was an economic powerhouse for Walker County, providing jobs and paying taxes. They also gave back to the community: several LaFayette recreational facilities and its airport were built (or funded) by Barwick. But that came to an end in the mid-1980's when the company collapsed after years of bad business deals and outright embezzlement from top executives. E. T. Barwick Mills was liquidated, and its shuttered Walker County properties were eventually acquired by Dalton millionaire Drennon Crutchfield.
Crutchfield and his company, Intermark USA, use the Kensington facility as warehouse space and occasionally lease it out to other businesses like Mohawk and Shaw. Over the years various other "creative" uses for the 199-acre site have been proposed, but attracting serious business to such a remote location has proven difficult, and a 1995 fire destroyed about 10% of the space.
For several years the plant's railroad siding was used to offload garbage bound for a private dump nearby. That 11-acre landfill opened in 1976 and was initially used for burying construction debris and "latex sludge" from nearby Dow-Reichold. Around 1992 the dump began accepting "industrial solid waste" from from outside sites, at the rate of 500 to 1,000 tons per day. Walker County and the Georgia Environmental Protection Division fought the landfill, forcing it to close in 1994 because of law violations and potential groundwater pollution.
In 2006, Walker County paid for a "feasibility study" about turning the Kensington property into an equine facility. Commissioner Heiskell came up with the idea, but warned that the site was polluted and cleanup might cost more than it was worth. The project apparently proved to be too expensive and risky, and equine center plans were transferred over to Mountain Cove Farms.
Barwick's old mill is a "brownfield," property too polluted to use without spending tens of thousands of dollars (or more) to have toxic materials removed from the ground and facilities. The 199-acre site is polluted, property nearby conceals buried garbage, and six years ago the surviving buildings were too dirty to use for a horse farm – but now we're told they've been cleaned up enough to do beverage production.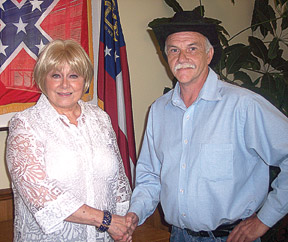 Building owner Drennon Crutchfield said, in response to our initial concerns, that the section of building being used by SunRae was cleared of asbestos several years ago and has been "assessed" (but not necessarily approved) by the EPA. In May Crutchfield said SunRae had already begun moving in "stainless steel bottling equipment" and had a three-year lease on 40,000 square feet of the site, but needed to do additional work to the building before bottling could begin in July. (Video from Channel 3 only shows old carpet equipment and some roof repairs, nothing stainless and nothing modern.)
Real Bright SunRae CEO Michael Schieck contradicted Crutchfield about site cleanup, saying he paid for the process himself. Schieck also claimed water will be bottled with an "encapsulated" system, a "house within a house," to keep contamination from the building out of the water. But even the outer "house" must meet a minimum standard to bottle water sold for human consumption. Getting the Barwick plant to that standard would (or did) require significant time and money. If Crutchfield or Schieck invested into the cleanup that's terrific, but we'd like to see some proof.
What about the water source? The dirt and groundwater around Barwick-Archer is polluted, so there's no way they could use a well on the site for water. Commissioner Heiskell confirmed that, saying "he's not getting ready to drill a well into a brownfield .. I'd stop him." She added that SunRae will use Walker County water, not a well or spring.
But on the very same day, SunRae's Chief Operating Officer Dr. Robert Beeman told the Walker Messenger they weren't sure where water would come from. "It'll come locally ..We have many locations in mind but we're not sure where exactly yet." Another contradiction. That quote was made only six or seven weeks before the scheduled start of production; by then everyone speaking for the company should have known where the water to be bottled would come from. A clean, reliable water source should be top priority for a company focusing on water.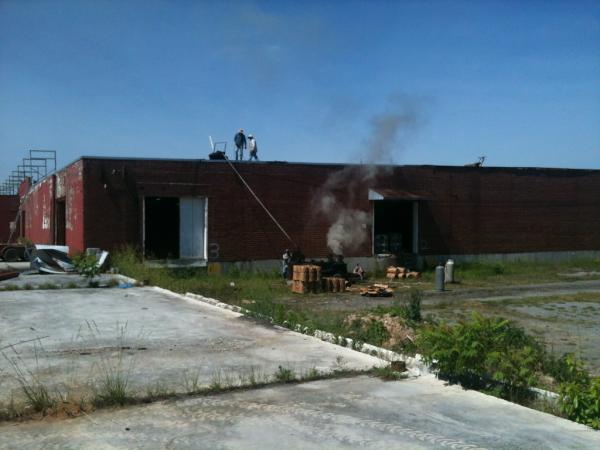 Is "Real Bright SunRae Water" actually a water bottling business, or is the water operation just a front for something else? While they claim legitimacy, evidence and news reports strongly suggest SunRae intends to do more than just make water – if they do anything at all.
There are actually three different SunRae companies, all owned or controlled by Michael Schieck: SunRae Environmental, Realbright – Sunrae Water, and RealBright – Sunrae Aquaponics. The oldest of those, SunRae Environmental, was founded in January 2011 and restructured in May. The other two, SunRae Water and SunRae Aquaponics, were incorporated this April. Schieck also owns or controls worm grower Elaine's Environmental Center, defunct garbage processor Eco-Friends, Inc., and occasionally does business under the unincorporated name "Lilfisher."
Schieck said SunRae Water is a "subsidiary" of SunRae Environmental. SunRae Environmental's Web site describes it as a "clean technology company" recycling garbage bound for landfills into usable products. The company claims to produce ethanol, raise worms and fish, and sell shredded plastic, crumb rubber, timber, and other recycled material. Schieck's Eco-Friends, Inc. (no longer operating) also described itself as a producer of reclaimed garbage products.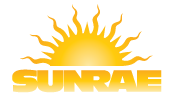 SunRae Aquaponics is related to garbage processing; organic material like food scraps "recovered" from landfill-bound trash will be fed to fish inside a closed building, and the fish excrement used to grow plants. Elaine's Environmental, another Schieck company, proposes breeding worms fed bio material recovered from processed garbage. Mr. Schieck has also used the name "Leading Edge Rubber" to market rubber products recovered from garbage.
Two garbage processors, a fish business, a worm breeder, a rubber recycler – and bottled water. Bottled water seems to be the odd-man out in this picture, the only one of Schieck's businesses not related to recycling, and the only SunRae not mentioned on SunRae Environmental's Web site.
♪ ♪ One of these things is not like the others, one of these things just doesn't belong.. ♪ ♪
In October of last year, Mr. Schieck proposed building a garbage processing and recycling facility in Polk County, Tennessee. He told Polk Residents of the environmental and economic advantages of setting up a center where 85% of local trash could be recycled, promising roughly one new local job for every ton of refuse processed if the county would pay SunRae Environmental to take its trash. He suggested Polk could actually make money by bringing in garbage from other counties and paying him to recycle it.
"In addition to new jobs, he said, the county could benefit financially through contracts with other counties. For example, he said, the county could charge $30/ton to take trash and pay Sunrae $25/ton for the recycling and disposal. The county would reap the difference, he said, and there would be less trash in the landfills as well as job creation."
Residents of Ducktown and the rest of Polk County were, as you would expect, less than enthused with Schieck's plan to bring the world's garbage into their community. He tried to persuade the crowd there by telling them about a similar deal in another nearby location:
"Sunrae does not yet have an operating recycling center, Schieck said, but a $31 [million] investment is being made for one under development in a nearby Georgia county that will be operational by June. Asked why there has been no news about this facility, Schieck said there is a non-disclosure agreement until an official announcement is made."
Pause and think about that for a minute.
…
Now think about this, reported a week later:
"Sunrae Environmental has been talking to economic development officials in Walker County, GA, about a recycling facility, but 'we still have a ways to go,' according to Larry Brooks with the Development Authority there. He said Mike Schieck has talked to him about a facility similar to the one being presented to Polk County. The idea is to recycle around 85% of the waste that would normally go to a landfill, creating marketable products ranging from plastic pellets to fertilizer from worm castings."
So, last October Walker County development director Larry Brooks was in talks with Schieck about building a $31 million garbage factory in Walker County, and Schieck predicted the plant would be finished in June of this year. Polk County residents, presented the same deal, rejected it. After seven months Brooks and Schieck announce… the same company setting up a water bottlery, scheduled to start during the first week of July on polluted property in Walker County previously used for garbage handling.
The initial article from Channel 3 concluded with this: "'We have other projects that are currently being developed that we plan on locating in Walker County as well,' Schieck added. The details regarding those additional plans are not being disclosed by the company for now."
What kind of additional plans might Mr. Schieck have in mind? Hmm… .. .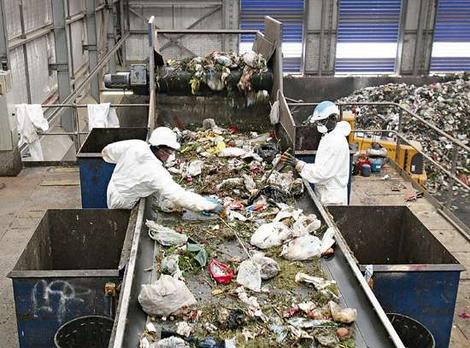 Kensington residents will be in for a sad surprise if they wake up later this year to find out SunRae is little more than a glorified garbage sorting plant hiding behind a water bottler.
Bringing in a trash handling company isn't necessarily bad, but it's not good either, and needs to be discussed on its own merits instead of covered up with another type of business. The people of Walker County, especially those in Kensington, should be aware of that potential before accepting claims made by SunRae, Schieck, or Bebe Heiskell and her employees.
But considering SunRae's history, there's no guarantee any plant (be it a water bottler, a garbage sorter, or something different) will ever operate.
SunRae and Schieck have never done water bottling before. The company and its named executives have no background in water or any other kind of beverage production, and the company has no other facilities where water is bottled. In fact, SunRae has no facilities or property of any kind whatsoever.
The company doesn't even have an office. All three SunRaes are registered to a residential address in Mt. Juliet, Tennessee. That address is a 3,000 square foot house in a brand-new subdivision zoned only for residential use, owned by (and the personal residence of) nurse Elaine Oleksick, SunRae Environmental's "Health, Wellness & Administration" manager. Eco-Friends, Lilfisher, and Elaine's Environmental also claim the same mailing address.
SunRae's executive profiles show little experience with water bottling or related fields. Two leaders have backgrounds in food, but the rest are physicians, biologists, ethanol experts, marketers, and fundraisers. CEO Michael Schieck spent most of his career doing quality control for General Motors, and then got into marketing before becoming an environmentalist. SunRae Water's COO Dr. Robert Beeman (not listed on the SunRae Environmental page), a retired nuclear scientist who worked at Three Mile Island during the meltdown, describes himself as a conservative radio host and "author of action-packed novels of the war on terror complete with Steamy Sex Scenes and variouis [sic] bad language."
None of the various SunRae businesses (or Schieck's other ventures) seem to be based off any executive's particular expertise, but on trendy ideas and proposals that might get the attention of naïve investors. Several of the executives have experience in seeking venture capital funding, or VC, for start-up businesses, and that seems to be more in line with what SunRae is doing: seeking funding, investors, or slow-witted business/government partners who will desperately put cash into the company based on pie-in-the-sky promises never likely to materialize.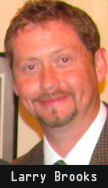 Walker County Development Director Larry Brooks (mastermind of the failed Lookout Mountain hotel deal) insists that the county has nothing invested in bringing SunRae to Walker County. For once, according to Brooks, there will be no bonds sold, no land bought, and no special incentives to bring the business here: "They have not asked us for anything .. They have not even asked us for any tax abatements."
And considering the potential for SunRae to implode in a short time, that's a very very good thing.
But, assuming Brooks is being truthful, why did the deal require so much time to finalize? Schieck and Brooks were already discussing these plans in October; it shouldn't take six months to negotiate property rental, and the county wouldn't have to change its zoning rules to accommodate a water bottler – although zoning for a garbage site might need some adjustment.
Hopefully the county wasn't negotiating terms for SunRae Environmental to be paid for processing garbage, similar to the deal proposed in Polk. Remember, Schieck suggested Polk could pay SunRae Envrionmental $25 a ton to process trash, then accept it from other areas for $30 a ton and make a profit on every load. A deal like that here would solve Walker County's garbage problem, but could also result in out-of-state trucks full of debris going down our poorly-maintained roads and highways. Not to mention the potential for abuse: how much trash could SunRae bury on 199 acres of land without being noticed?
We'd like to think even self-serving political opportunists like Larry Brooks and Bebe Heiskell wouldn't resort to destroying the county environmentally to make a few bucks – but fears about that happening are certainly understandable. At the very least Heiskell or one of her employees could have done the same research we did and seen the potential for SunRae to be something other than a water bottling operation, but they either neglected that due diligence, or know and don't care.
Best case scenario: SunRae Water actually sets up water production in the old Barwick mill, invests several million dollars into the project, hires a dozen or two local people, and then goes out of business by Thanksgiving.
Worst case scenario: SunRae Environmental sets up a garbage processing business, hiding behind a water bottler, and buys trash from Walker County and outside areas for local people making low wages to sort.
Nightmare scenario: Mike Schieck takes thousands of dollars from Walker County to process garbage, buries it all on the Barwick property, and skips town in the middle of the night before being caught – leaving behind an environmental disaster.
No matter which of these comes true (and in the next week we should be finding out), none of them are the kind of business success stories that should cause anyone to give support to Commissioner Heiskell.
Heiskell has herself been critical of comments made here about SunRae, saying the Underground is "running us down" by "politicizing" a business decision that has nothing to do with government. That would be true, except she "politicized" the situation first by inserting herself and Larry Brooks into the announcement, inviting the media to take pictures of her shaking hands with Mr. Schieck, and using the supposed jobs SunRae will bring in as a reason to vote for her. If SunRae had done all this on their own and she had kept her mouth shut, we wouldn't care and you wouldn't be reading this.
Heiskell further "politicized" SunRae Water by sending Channel 3 to interview her opponent, Dr. Paul Shaw, about our comments questioning the company's legitimacy. His reasonable response, "we don't need to be in the real estate business, we don't need to be in the water business, we don't need to be in the warehouse rental business" was used by the Heiskell campaign in a nasty mailer sent to Walker County voters claiming Shaw is anti-business and trying to "kill new jobs."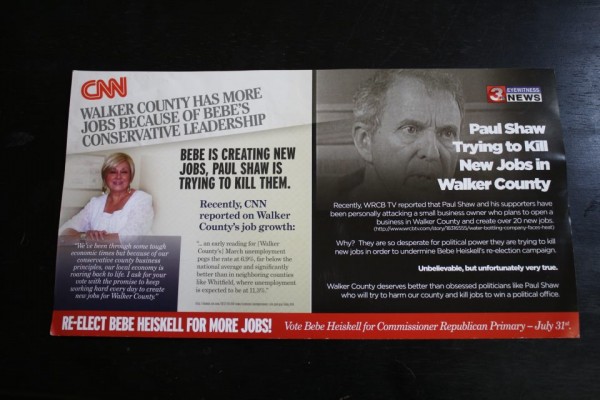 Shaw's concerns reflect the ones expressed here in May, and he's no more anti-business than we are. Business activity is crucial to the county's economic future and we welcome any legitimate businesses that want to move in, as would Shaw. Unfortunately SunRae isn't a legitimate operation and the promised jobs haven't materialized. Heiskell's decision to hitch her wagon to that horse shows that she's either naïve about business or (most likely) willing to say and do anything – even something ridiculous or ethically questionable – to get herself reelected.
Initial announcements about SunRae moving to Walker County said the company would begin production during the first week of July. Checking the calendar, today is the first Monday of that first week – so where's the water? Where are the jobs? Where's Mike Schieck?
Heiskell hasn't mentioned SunRae since mid-May, and outside of a cancelled appearance at the June LaFayette City Council, Mr. Schieck hasn't been seen or heard from since the initial announcements. No unusual activity has been observed in or around the Barwick site, and at least one Walker County resident inquiring at the site about a job was told they might be taking applications in August or September.
Next week Channel 3, The Walker County Messenger, and the Times Free Press should follow up on their initial reports about SunRae Water, going to visit the site with cameras to let Walker County residents know what – if anything – is happening at the Barwick site. They should do those reports with the same enthusiasm they had when the initial announcements were made. If reporters find twenty Walker residents using shiny new stainless steel equipment to bottle water in the old mill, we'll publicly apologize to all three media outlets for calling them out on the initial reports. We'll also apologize to Heiskell, Brooks, and Schieck for doubting their credibility.
But if the promises are found to be false, as we anticipate, then all three (Heiskell, Brooks, and Schieck) should apologize to the Underground, Dr. Shaw, and the people of Walker County for their misleading statements and politically-motivated responses. But that won't happen, because they take all of us for fools. Walker County voters are perceived as stupid enough to believe a garbage handling company that only exists on paper will soon bottle water in a toxic waste dump.