2016
08.23
Some good news on the property tax front: Walker County Schools is lowering its property tax rate to make up for higher property appraisals, while keeping its budget steady.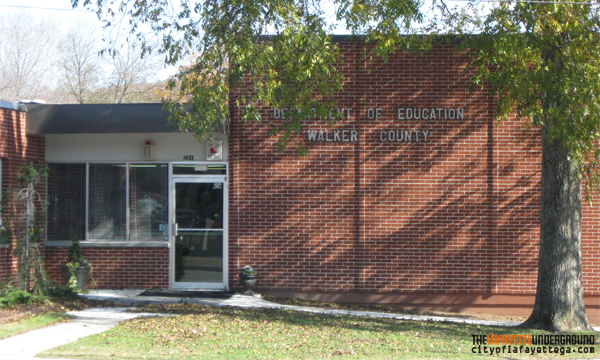 If your property assessment is higher this year, your school tax will remain about the same. If you're one of the lucky few whose assessment held the same or went down, you'll pay less. To the schools, anyway.
WQCH Radio, 08/20/16:

"NO PROPERTY TAX INCREASE THIS YEAR FROM THE WALKER COUNTY SCHOOL SYSTEM, IN FACT, THEY PLAN TO ROLL-BACK THE MILLAGE RATE.
"FINANCE DIRECTOR PHYLLIS COPELAND SAID THE TAX MILLAGE RATE WILL BE DROPPING FROM 17.4 LAST YEAR, TO 16.6 MILLS. HOWEVER, THE LOWER MILLAGE RATE WILL RAISE NEARLY THE SAME REVENUE FOR SCHOOLS. THE DIFFERENCE IS THE REASSESSMENT OF PROPERTIES IN WALKER COUNTY.
"THE STATE-MANDATED REASSESSMENT HAS RAISED THE OVERALL VALUE OF PROPERTIES, COUNTY-WIDE. THAT VALUE IS KNOWN AS 'THE DIGEST'. WITH A HIGHER DIGEST VALUE, A SMALLER MILLAGE RATE CAN RAISE A SIMILAR TOTAL FOR THE SCHOOLS.
"THE TOTAL SCHOOL BUDGET FOR THE COMING YEAR IS 93.8 MILLION DOLLARS, INCLUDING A RESERVE. LOCAL PROPERTY TAXES WILL PAY ABOUT 29-PERCENT OF THAT TOTAL.
"THE SCHOOL BOARD WILL MEET ON SEPTEMBER 1st TO APPROVE THE PROPOSED TAX MILLAGE RATE, AND TAX BILLS SHOULD BE MAILED IN OCTOBER."
Lookout Mountain is contemplating a 5% tax cut, which will still bring that city in more revenue after the property reappraisals. Rossville, by contrast, announced plans last week to raise its citizen's property taxes even higher than the reappraisals – on top of quietly increasing sewer fees not long ago.
No word yet from Commissioner Heiskell or the LaFayette Council what their portions of the tax bill will do; up, down, or neutral. We should find out before the end of the month what they (and Chickamauga) intend to do.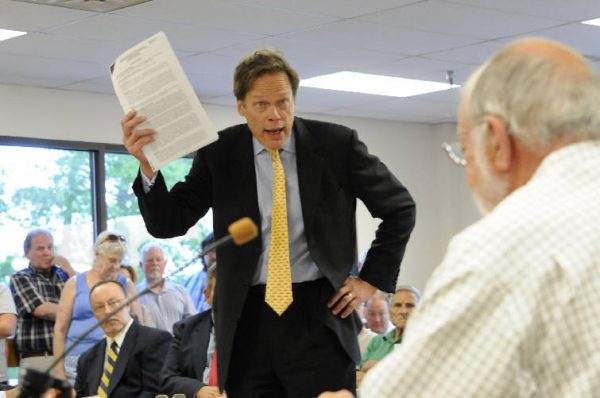 In a carefully-worded press release, Walker County claimed it's only been billed $65,000 in legal fees associated with the Hutcheson/Erlanger case.
"Attorney Stuart James, saying it was 'a step in being totally transparent with the public,' said his firm of James, James and Joyner of Chattanooga has billed Walker County $62,419 for services in the Hutcheson Hospital litigation, while Jenkins and Bowen, based in Cartersville, has received a $10,000 retainer for their services. To date, the firm has billed less than $2500 against the retainer."
BILLED is the key word here. The release is misleading because it says how much the county's been "billed" not what it owes, or will be billed, or has paid overall. (The Chattanooga paper asked the county for copies of those bills and was told no bills exist.)
With multiple high-end lawyers involved for a year or more now, this case is costing us way, way more than $65,000 – a bill that grows larger every day, along with debts owed to Erlanger.


In response to the news of Walker County spending $65,000+ on legal bills for Hutcheson, Shannon Whitfield said he doesn't know if he'd settle the lawsuit from Erlanger or not.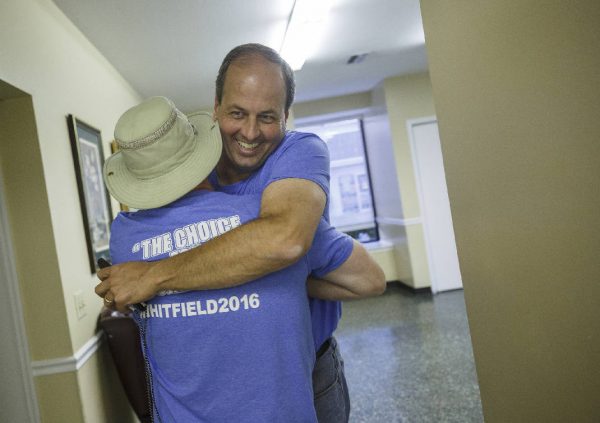 So he thinks there's some possible merit to the case? Hutcheson and the county took a multi-million-dollar loan from Erlanger, promised to pay it back, and then didn't. Every day the case drags on makes it cost more.
Perry Lamb, by contrast, said the weak desperate case is exactly that, and he'd work to settle it in a way that does the least damage to taxpayers.
Is Shannon Whitfield an idiot, or does he actually not know what he'll do with the case until his unnamed advisors tell him what he thinks?
Not taking a position on Hutcheson's lawsuit DID give Whitfield opportunity to attack his opponent, who works for Erlanger (also formerly Hutcheson) and HAS taken a clear position on the legal battle.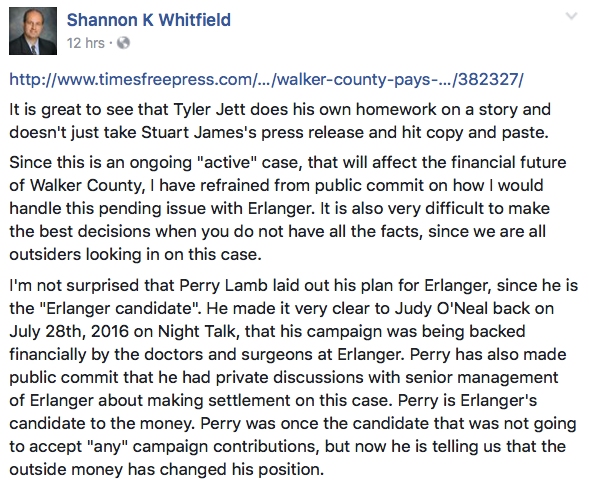 Lamb has spent over $6,000 out of his own pocket for his campaign, and says he has taken in maybe a thousand from people he works with at Erlanger – co-workers who know him, not hospital administrators.
Shannon Whitfield has spent $0 out of his own pocket for his campaign and has taken in thousands from all manner of business interests that will want to do business with Walker after he takes office.
Ironic that Whitfield criticizes Lamb for being one of 5,000+ people who work at Erlanger, somehow that's a conflict, when he's the CFO of the county's fuel vendor, which belongs to his father – and he's admitted he plans to keep doing business with himself after taking office.


Another sleeping at the wheel accident in Rock Spring Friday morning sent an unidentified woman to the hospital.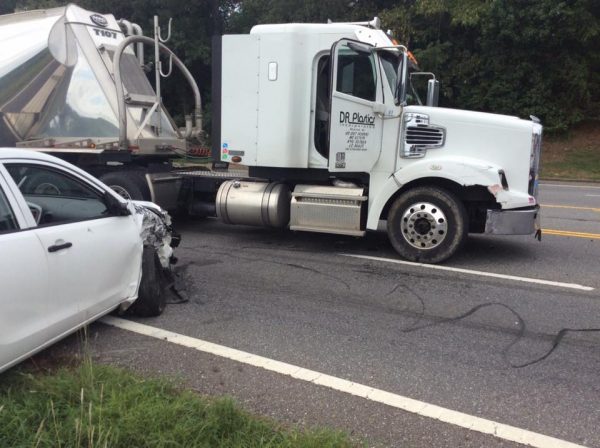 Responders say the woman driving this Toyota fell asleep heading south down 27 near Kay Conley Rd and ended up in the northbound lane where she ran into a semi truck.
Both vehicles were heavily damaged, the woman was hospitalized but not seriously injured.


The Ramblers won Friday night's football season opener v. Armuchee on the road.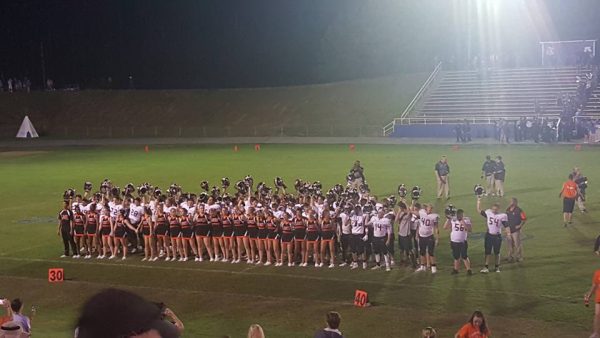 They were down 0-6 in a lackluster match at the half, then somebody flipped a switch (on one team or the other) and LaFayette surged ahead. Final score 22-6.
After the win, fans gathered downtown on the square to welcome team busses home.
The home opener will be this Friday at 7:30 vs. Trion.



Hutcheson Hospital is no more, but its fundraising arm – Hutcheson Foundation – lives on. For now.
Last Wednesday a judge released the organization to donate its remaining funds, about 3/4 of a million, to other charities dedicated to improving healthcare in NW Georgia. The donations have to be given to other nonprofits with a similar mission, not to individual employees of the closed hospital or its other creditors.
Hutcheson Foundation leaders (legally separate from the Hospital Authority and its broken leadership) hope to hand out all the cash and wind down legally by the end of this year.


One of Georgia's top cops quits under suspicion of fraud.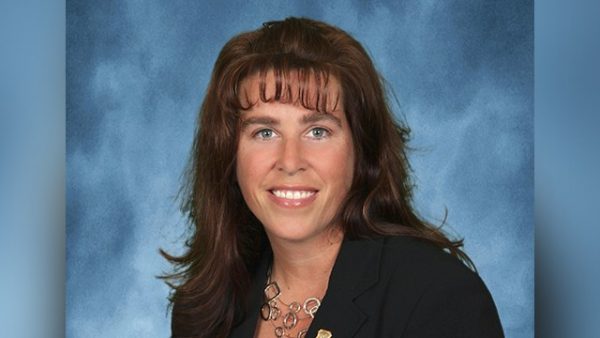 GBI inspector Sandra Putnam resigned on Thursday after the agency she worked for launched an investigation into her use (or abuse) of a state credit card.
GBI investigators say Putnam, who led the state's computer crime and child exploitation policing units, apparently spent $26,000 on herself over a three year period, charging furniture, electronics, and other personal items to a state charge account connected to herself and others in the GBI.
She was employed by the agency for over two decades.
So far she's only being investigated and hasn't been charged with a crime. A decision about prosecuting her will eventually be made by State Attorney General Sam Olens.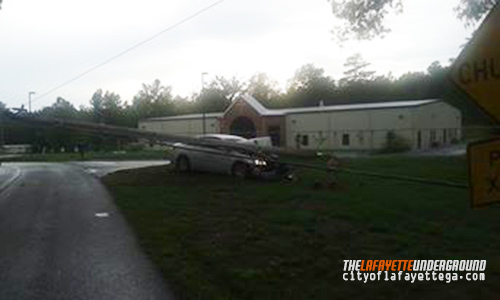 This accident on Dunwoody Rd. in Naomi Saturday evening in front of Mt. Zion church knocked out power in the immediate area.
No word on what exactly happened or how the vehicle's occupant(s) came out.


Over 100 turned out to Mock Tales at the library Saturday night.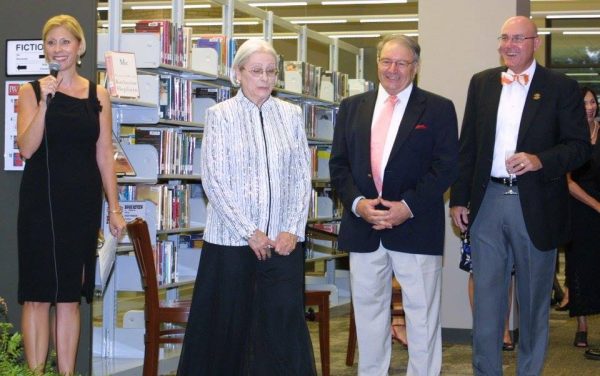 Among those showing support for library programs through the fundraiser were Mayor Andy Arnold, commissioner candidate Perry Lamb, Councilman Beacher Garmany, many members of the Woman's Club, Chief Magistrate Judge Shelia Thompson, library employees, Library director Lecia Eubanks (of course), student volunteers from LHS, and Chamber of Commerce head Lacey Wilson.
(No Whitfield and no Bebe of course.)
No word yet how much money was raised for the library, but public support from political leaders and prominent citizens goes a long way to reenforce how important it is to the city's future.
Even if you don't use the library for some reason, your neighbors and probably a few relatives do. They do a lot for the community without much of a budget.



The number of black homeschool families in Georgia is soaring in recent years as many realize public school is cutting their child's potential short.
Black homeschooling is boosted by state rules that allow someone other than a parent to do the teaching, so even a single mom can educate her children in the home while working outside it.
Georgia is one of a handful of states that permits homeschool co-op groups, which canhelp with trickier subjects or provide group teaching while a parent is at work.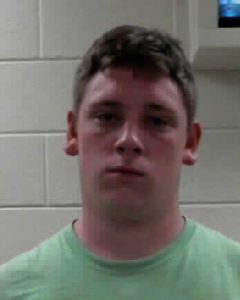 Georgia teen arrested after trying to hire a hitman.
Morgan Miles Morris, 17, of Pickens County allegedly contacted an undercover detective seeking to have two people killed.
Another report says he was offering $12,000 for the deaths of two unidentified classmates and their families.
It's not clear as of yet what his motive was. Someone close to the situation said the boy's mental situation changed a few years ago when he lost his mother.
The Pickens Co High School student has been charged, as an adult, with criminal solicitation to commit murder.


If you observed a bit more bike traffic on the southeast side of Walker County (around Villanow) during the last weekend, it was probably related to the annual "intense" Trans North Georgia (TNGA) bike race stretching from the east side of the state into Alabama.


For today's links and any breaking news, follow the Underground on Facebook or Twitter.