2012
11.16
Commissioner Heiskell held no public meeting Thursday. There hasn't been one since the second Thursday of October (18th), and next week is Thanksgiving – but she vowed on UCTV Wednesday night to have one on November 29th. They legally have to meet at least once a month; presumably that meant once in a four-week period but in Bebe's Walker County the first Thursday of October and the last Thursday of November is "once a month."
She said they aren't doing a meeting because nobody ever comes to them. While they might not be standing-room only, there are citizens who try to attend every meeting. The problem is, some of them have started asking questions and taking notes.
If the meetings ARE poorly attended (which most of them probably are) it's likely because she has them at 10 AM on a weekday when most people are working or in school, because she cancels them at the last minute more than half the time so those who CAN attend usually are inconvenienced, and because she doesn't listen to her constituents anyway, so most people figure why waste the time?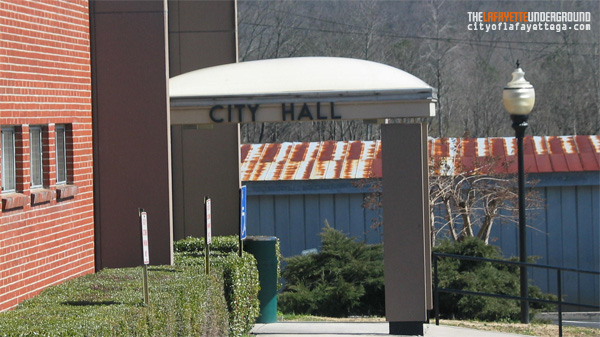 WQCH Radio, 11/15/12: "LAFAYETTE'S NEW MAIN STREET MANAGER AND DOWNTOWN DEVELOPMENT DIRECTOR, MATTHEW WILLIAMS, WAS INTRODUCED AT THIS WEEK'S COUNCIL MEETING.
"A NATIVE OF CUMMING, GEORGIA… MATTHEW HAS DEGREES IN POLITICAL SCIENCE AND HISTORY FROM NORTH GEORGIA COLLEGE, AND A MASTERS IN PUBLIC ADMINISTRATION AND POLICY, FROM AUBURN. HE MOST RECENTLY WORKED AN INTERNSHIP WITH THE CITY OF CUMMING, WHERE HE HELPED WITH HISTORIC PRESERVATION AND CITY PROMOTION. HE SAW THE OPENING IN LAFAYETTE IN AN ON-LINE AD.
"AS THE MAIN STREET PROGRAM MANAGER, MATTHEW WILL BE WORKING ON THE DOWNTOWN HISTORIC DISTRICT, AND WELL AS SEEKING NEW BUSINESSES TO KEEP THE AREA 'ALIVE AND THRIVING'. HE WILL ALSO WORK WITH THE DOWNTOWN DEVELOPMENT AND HISTORIC PRESERVATION BOARDS. HIS OFFICE IS LOCATED IN HISTORIC CHATTOOGA ACADEMY."
Another outside hire. Apparently Northwest Georgia has completely run out of anybody qualified to do anything, or the locals who might be able to do these jobs know enough about LaFayette that they won't touch it..
Mr. Williams replaces Catherine Edgemon, who was fired back in September. No doubt he'll do a better job than she did; it wouldn't take much.
However, development and preservation are not the same thing. It's understand all this is funded through multiple grants glommed together to make a single position, but LaFayette needs someone to do historic preservation in the downtown area, and a separate city-wide development authority.


In other reports from Monday's council meeting:
WQCH Radio, 11/14/12: "NOT EVERYONE IS PLEASED WITH THE CITY COUNCIL'S DECISION TO CLOSE WARDLAW STREET TO THROUGH-TRAFFIC. OAK PARK RESIDENT BEACHER GARMANY SPOKE TO THE LAFAYETTE CITY COUNCIL MONDAY NIGHT, ASKING THEM TO RECONSIDER. HE SAID THE STREET, WHICH RUNS BETWEEN JOE STOCK PARK AND THE PUBLIC SAFETY BUILDING, WAS A FAVORITE ROUTE FOR PEOPLE LIVING IN HIS NEIGHBORHOOD. HE HAD HEARD ON WQCH THAT THE MAIN REASON FOR THE CLOSURE WAS SAFETY FOR CHILDREN CROSSING FROM THE PARK TO THE PUBLIC RESTROOMS, BUT HIS OBSERVATION WAS THAT THOSE CHILDREN WERE USUALLY SUPERVISED BY ADULTS.
"MAYOR NEAL FLORENCE GAVE SEVERAL REASONS FOR THE CLOSURE TO THROUGH TRAFFIC ON WARDLAW, AND SAID HE DIDN'T SEE A REASON TO CHANGE THE COUNCIL'S POSITION. POLICE CHIEF BENJIE CLIFT SAID THE CLOSURE HAS BEEN A POSITIVE MOVE FOR SAFETY, ESPECIALLY FOR POLICE AND FIRE VEHICLES AS THEY ENTER AND EXIT THE PUBLIC SAFETY BUILDING ON WARDLAW. THE CHIEF SAID THROUGH TRAFFIC WAS ALWAYS A PROBLEM THERE, ESPECIALLY WHEN TRYING TO BACK FIRE ENGINES INTO THE GARAGE AFTER A CALL.
"COUNCILMAN BEN BRADFORD SAID HE WOULD BE WILLING TO RE-CONSIDER THE THROUGH-TRAFFIC CLOSURE OF WARDLAW BUT WANTED TO KEEP THE TRAFFIC BAN IN-PLACE FOR AT LEAST A SIX-MONTH TRIAL."
The city was motivated to close the street as much for the fire/police vehicles as for kids going to pee. But, that said, Mr. Garmany isn't going to be put out very much driving down to Culberson Ave. instead of using Wardlaw. Not like he's walking or anything. That thought process ("I can't drive one more block on my way home from Bi-Lo") is part of what kept Wardlaw open twenty-plus years ago when Coca-Cola needed it closed.
Is this really a personal concern for Beacher, or is this a first step towards running for City Council again next year? He should drive over to West LaFayette sometime and see how many of the streets over there don't connect anymore. Try to get from Culberson to Henderson sometime, they're a block apart but you have to drive a mile east or west because the connecting streets were closed forty years ago.
Hopefully Councilman Bradford won't base a decision about keeping the street closed, or reopening it, on the number of kids at Joe Stock Park in February. This probably isn't the best time of year to measure park usage, although they probably do get some bathroom business from the Christmas light show in Joe Stock Park every December and January.


"A LaFayette couple was arrested in Fort Oglethorpe after the two were caught stealing electronics from the K-Mart on Battlefield Parkway where they both worked."
Apparently the 17-year-old was stealing to help his 20-year-old "friend" get enough money to hire a lawyer for a child custody battle. This probably won't do much for her case.


Tennessee's secession petition on the White House Web site has reached the 25,000 name threshold required to get an official response. Another petition demanding signers of the first petition be kicked out of the country has around 7,000 signatures.
Georgia's two secession petitions have 30,000 and 12,000 names each.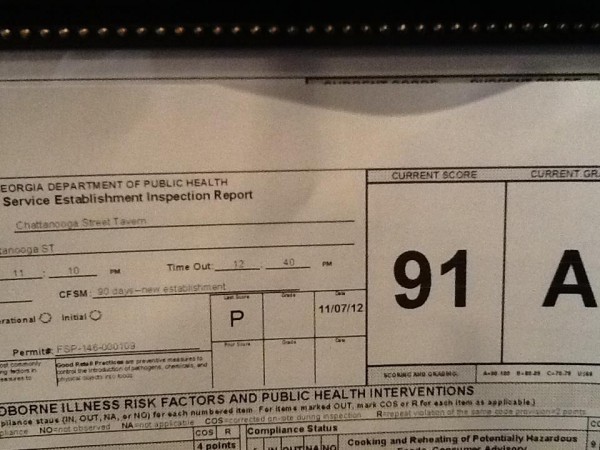 Chattanooga Street Tavern posts their health inspection score, but they didn't list what violations were found. 91 is good but a new store should get a 98 or 99. Do health inspections matter when you're considering where to eat?
According to the actual report, here are the issues found, or areas missed:
"Wiping cloths; properly used and stored" (Every restaurant gets dinged for this, no problem)
"Adequate ventilation and lighting; designated areas used" (This sounds like a design problem with the store, which is understandable considering it's a repurposed 90-year-old building)
"Insects, rodents, and animals not present" (Erm.. Ut uh. November flies or critters? Not good for a new store.)
This isn't horrible, just not perfect – hopefully they'll produce a better score next inspection and bring business into West LaFayette.


Also:
WQCH Radio, 11/15/12: "GOOD GRADES CONTINUED ON LAST WEEK'S RESTAURANT INSPECTION SCORES FROM WALKER COUNTY ENVIRONMENTAL HEALTH. BIG JOHN'S BARBECUE AND TACO BELL LED THE PACK, BOTH SCORING 93's. OTHER 'A's' INCLUDE NUMBER-ONE CHINESE, AND LOS GUERRERO'S. SCORING 'B's' LAST WEEK, WERE MARY & MARTHA'S PERSONAL CARE IN ROSSVILLE, RAFAEL'S IN LAFAYETTE AND WANDA'S RESTAURANT IN ROCK SPRING."


Friday LU posted about fifty state legislators who signed a $100 gift cap pledge. Here's a list of the fifty, and not one of them is representing Walker County. The closest are Chattooga's new Rep. Eddie Lumsden Deffenbaugh and Stacey Evans of Ringgold. The Walker delegation, Neal, and Mullis, won't commit to gift limits.


After the election ends, legislative bodies scramble to set up leaders for the next year before disappearing for the Holidays. The GA House, with most senior members reelected, made almost no changes in leadership.
If you like how things have been going in Georgia, you'll be happy to see absolutely nothing different in state government during the next two years.


What will GA Department of Education do about low test scores, high drop-out rates, and a dissatisfied public? Advertising! If they TELL you things are OK, they'll be OK, right?


In other school news, another editorial about the Charter Schools Amendment:
"You would think Georgia State Sen. Emanuel Jones and his fellow legislators in the legislature's Black Caucus, would want to do all they can to expand high-quality school opportunities for young black men and women who look just like them — and all children in the Peach State. .. Unfortunately for black children in the state, Jones and his pals have decided that they are more-intererested in defending failed schools than helping black children get the high-quality education they need and deserve."


Since 1965, nine southern states (and several parts of other states) have been held to a different standard for congressional redistricting, because of past racial discrimination. A new lawsuit will force the Supreme Court to rule if it's constitutional not to treat every state the same, and if the rules are still needed in 2012.
It's not so much an issue, for us, of this being needed or not, but of discrimination against certain states or areas that had problems a half-century ago. This punishes a current generation for the crimes of our ancestors. They should either drop these rules entirely or apply them to the entire country. Racism can happen anywhere, and it's not as prevalent here as it was in the past.
Here's a list of all the states, counties, and "townships" covered by the 1965 law. As you can see, it's not just southern areas – there are parts of Michigan, New Hampshire, New York, and North Dakota among others. But the only whole states involved are in the South.


Georgia Power insists that a new solar company shouldn't be allowed to compete with it, because the startup company lacks sufficient resources to.. compete with it.
GA Power arguments here seem circular; they don't have any customers, so the state shouldn't allow them to have customers. But they'll probably be able to block it from setting up, considering how much money GA Power and its parent Southern Co give to state legislators and other leaders.

Friday Advertiser Spotlight: Armstrong Piano Tuning, serving Southeast Tennessee and Northwest Georgia. Standard tuning rate just $75, with multiple piano discounts available for schools or houses of worship. Tell them you saw their ad on the Underground.
For today's links and any breaking news, follow the Underground on Facebook or Twitter.