2012
05.29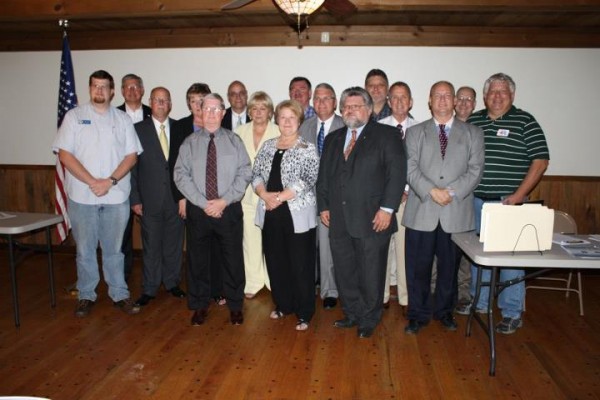 While some candidates for this year's county and state elections have been campaigning for nearly a year, some weren't sure about running for office until last week. But Noon Friday was the deadline to decide; any candidates who didn't have their fee paid and their forms signed by then are being left off the ballot.
Candidates for state office (including state legislators) had to qualify at the State Capitol in Atlanta. Local candidates were asked to qualify at their respective party headquarters, or at the county elections office for non-partisan races. The photo above was taken Thursday during a registration event for Walker County Republicans.
The election scheduled for July 31 is a primary, to determine which candidates in each party will go on to represent the party during November's general election. But with few Democratic candidates signed up, most of the November voting (at least for County races) is a formality. The future of Walker County leadership will for the most part be decided in late July.
Qualified Candidates for State Legislature:
(GA House Districts Map) (GA Senate Districts Map)
As expected, nobody stepped up to qualify against Jeff Mullis. Mullis isn't exactly loved by his constituents, and he's been a real disappointment as a state legislator, but because of his powerful position in the State Senate (including chair of the powerful Transportation Committee) he normally raises a hundred thousand dollars or more in campaign contributions compared to his opponents' tens of hundreds.
Mullis is now guaranteed a seventh two-year term, where he can go to Atlanta and continue supporting silliness like TSPLOST and magic bullet trains while fighting against bills that would fix the state's ethical problems.
Steve Tarvin, who ran a solid campaign for US Congress in 2010, signed up to oppose State Representative Jay Neal. Neal has been a relatively good rep, and Tarvin's decision to face him for District 2 is somewhat surprising and a bit disappointing. Tarvin is probably the only person in the area who could give Jeff Mullis a run for his money, and he'll probably pick Neal off with little effort – which is a shame.
Minister and former bus driver Jay Neal claims a LaFayette PO box as his home address, but we understand his home is now actually in Chickamauga. That won't help him much, since Tarvin owns Crystal Springs Bleachery in Chickamauga and serves on the Chickamauga City Council. In most of these races, the candidate preferred by Chickamauga's old money voters will come out on top and Tarvin probably has those voters wrapped up before the campaign even begins.
Former Walker Co School Board member Alan Painter is running for GA House District 1 to replace retiring Representative Martin Scott. (District 1 was District 2 before this year, and D2 was D1. They were swapped out of order years ago and redistricting this session corrected the mistake.) Painter is joined on the Republican ticket by John Deffenbaug and Mike Nowlin. Whichever of the three wins in July will go on to face Dade County Democrat Tom McMahan.
Qualified Candidates for Lookout Mtn Judicial Circuit:
POSITION
REPUBLICAN(S)
DEMOCRAT
SUP. COURT JUDGE
Brian House (I), Ringgold
SUP. COURT JUDGE
Kristina Cook Graham (I) Summerville
DISTRICT ATTORNEY
Herbert "Buzz" Franklin (I), Wildwood
Doug Woodruff, Ringgold
Apparently nobody wants to be a judge in Georgia. No candidates qualified to run against Brian House or Kristina Cook Connelly Graham (even though by most accounts she's nuts), and nobody bothered signing up to run against the state's nine supreme and appeals court judges up for a vote this year. They'll all get another term without a fight.
District Attorney "Buzz" Franklin, however, will have a fight on his hands. He's developed a bad reputation over the years due to his botched handling of the Marsh Crematory prosecution, involvement in the misguided prosecution of Tonya Craft, and refusal to prosecute various members of law enforcement who were found involved in criminal activity. His opponent, Doug Woodruff, lives in Ringggold but grew up in Rock Spring and at one time served as a member of the Walker County Sheriff's Department (pre-Steve Wilson). He's currently working on the opposite side of the courtroom as assistant Public Defender for the same circuit.
Qualified Candidates for Walker State Court Judge:
Bruce Roberts was sworn in as interim Walker State Judge last fall, which technically makes him the incumbent in this race. Before being named to the seat, he spent time as Assistant Attorney General and Assistant District Attorney. His opponent, Billy Mullinax, has had a private law practice in LaFayette for about forty years.
Mullinax is apparently Sheriff Steve Wilson's chosen candidate for the judgeship, as the Wilson campaign has been setting out Mullinax signs and promoting the candidate to the point that it's hard to tell where Wilson ends and Mullinax begins. Roberts serves with Wilson on a charity board for the Sheriff's Department, but that seems like less of a conflict. That kind of conflict does make a difference when the majority of cases being heard by a judge will be coming from the Sheriff's Office.
Roberts has an advantage being the incumbent and being several… decades younger than Mr. Mullinax.
Qualified Candidates for Other Walker Court Judges:
Christy Anderson spent ten years as the assistant to the Probate Judge, and was named interim Probate Judge last January. Before that she worked for the Sheriff's Department Bank of LaFayette. Mr. Carpenter is currently a Walker County Sheriff's Deputy. Doug Grammer is a former director of the Walker County Republican Party, a former loan officer, and was a car salesman in Chattanooga until the middle of last week. (Grammer promises to have a Web site and Facebook profile ready within a few weeks.)
In the Magistrate race Shelia Thompson is also an interim, appointed to finish retiring Magistrate Judge Jerry Day's position in 2011. She has decades of experience as Magistrate Judge in other courts, has a law degree, and is bar certified. Bruce Coker has none of those things, but he IS a deputy with the Walker County Sheriff's Office (this is becoming a theme).
Coker is most known for running Stocking Full of Love, refusing to arrest his old friend Sam Parker in 2002, and running for State Senate against Jeff Mullis in 2008. Coker campaigned behind closed doors to be named interim Magistrate after Judge Day retired, but was passed over in favor of Thompson due to her actually being a judge and having a background in law.
Michael Yates of Chickamauga is also running for Magistrate Judge. Yates' stated goal for the magistrate is to "make sure that everyone is treated equal with the respect that is due" and hold people responsible for their own actions. Like Coker, he has no previous experience in the legal realm and has never before held elected office. His career background is with the carpet industry, and he currently works for Dalton Truck.
Qualified Candidates for Walker County School Board:
POSITION
REPUBLICAN(S)
DEMOCRAT
POST 1
no incumbent
Karen C. Stoker, Chickamauga
Dennis Willerson, Chickamauga
POST 4
no incumbent
Dale Wilson, LaFayette
Ronald Cabero, LaFayette
POST 5
Phyllis Hunter (I), LaFayette
Retired 6th grade teacher Karen Stoker and Cleveland TN school psychologist Dennis Willerson both qualified to replace retiring school board member Jim Smith. Stoker has been in the system for decades and until recently was the middle school graduation coach. Willerson lives in Walker but works in Tennessee, and says his wife and children work in "local schools." Willerson declared his intentions to run for the post back in March, naming opposition to charter schools as his primary reason for running.
Jim Smith announced his retirement some time ago, but Post 4 board member Patti Hart was (until last week) expected to run for her seat again. Local businessman Dale Wilson (a former teacher) and Hispanic Seventh Day Adventist minister Ronald Cabero have signed up to take Hart's place, Wilson as a Republican and Cabero as a Democrat. Cabero ran for Walker County coroner in 2010 and was soundly defeated in that race. He doesn't seem to be a very serious candidate, and even if he were, Wilson would likely thrash him based on name recognition alone – not to mention voter apathy towards Democratic candidates.
Dale Wilson and Karen Stoker are in-laws, Dale's wife is Karen's sister – which could make things interesting if both candidates win. Dale Wilson is also Sheriff Steve's brother. We're told that none of that is considered a conflict of interest.
Current School Board member Phyllis Hunter will continue in Post 5 unopposed.
Qualified Candidates for Walker County Sheriff:
Walker County Sheriff is probably one of the most heated (and discussed) races of the year in Northwest Georgia. A total of four candidates qualified; two Republicans, one Democrat, and our incumbent Sheriff who was a dyed-in-the-wool dedicated Democrat until he changed parties earlier this year.
Billy Mullis is an employee of the LaFayette Police Department, currently working as School Resource Officer at LaFayette High School. He has a military background, has worked for the Sheriff's Office, LPD, and was a military police contractor. He was one of the few LaFayette PD officers willing to stand up and testify in support of Robby Tate after Tate was unjustly fired by (now former) Police Chief Tommy Freeman in 2010. That doesn't seem like much, but it says a lot about his character. Mullis ran for Walker Sheriff in 2008 but was badly beaten by incumbent Steve Wilson.
Freddie Roden is also a former Walker Sheriff's Department employee. He was a Sergeant in that department and after some time out of law enforcement joined the Catoosa County Sheriff's Office where he was a Detective Sergeant until taking a leave to run for office in Walker. Roden has been the most outspoken Sheriff candidate and has called Steve Wilson out on several occasions for the way his department is currently being run. Roden is considered the strongest of the non-incumbent candidates and declared his intentions to run for Sheriff several years ago.
Chickamaugan Tim Westbrook, the Democratic candidate, has a background in business. His candidacy comes as something of a surprise, and so far it's not clear what his intentions for the position are, outside of (apparently) keeping it from being held by a Republican. He doesn't seem to be much of a factor in the race so far, but he'll be a viable candidate until the final vote in November.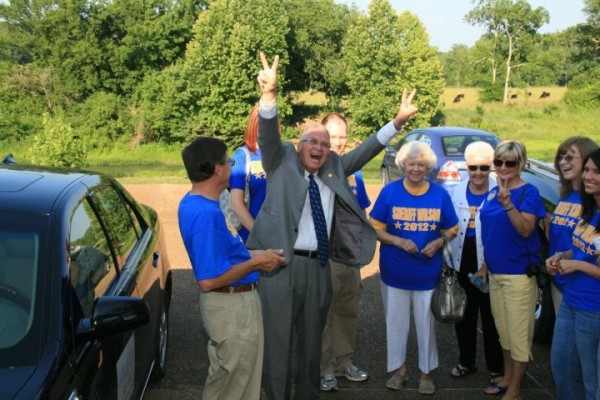 The race for sheriff is less about who the challenging candidates are, and more about who they aren't. Who they aren't, specifically, is current four-term Sheriff Steve Wilson, whose character, reputation, and presence define the race.
Is that a good thing? Depends on who you ask..
Wilson supporters cite the man's character, integrity, family, church membership, successful battle against cancer, and continued dominance of elections as reasons to continue supporting him. Beyond those vague buzzwords, they've been unable to be very specific about exactly why Wilson should get a fifth term. No real examples of that character or integrity are ever provided, but anyone who dares challenge the man's ethics is branded a non-Christian who hates God and country. Wilson has turned his own Good Christian Man™ act into a science, using his public image as a shield to hide some decidedly UNChristian behavior.
Wilson's sixteen-year legacy as Sheriff includes ignoring dead bodies piled in the woods in Noble, ignoring the pleas of Theresa Parker a year before she was killed by Wilson's friend, letting a retired deputy hold a neighborhood hostage without being charged, and giving officers who abuse the law "professional courtesy" time and time again.
Wilson's people claim broad support, and he has it – but the support isn't as broad as in past years, and some of the support is false. The Wilson campaign has been accused of shenanigans with campaign signs, both removing signs of others and placing their own without permission – and the Sheriff has threatened his own employees with termination for supporting his opponents or even "Liking" their Facebook pages. Ignore hinky behavior and intimidation, and Wilson looks more vulnerable than he has since his first campaign in 1996.
In a three-way primary, the chances of Wilson getting the legally required 50% in July is slim. The sheriff race will likely have three votes; the July 31 primary, a run-off between the two top vote-getters, and the final election in November. All throughout, we look forward to several scheduled debates where the Sheriff will have to answer for some of his behavior and decisions while in office.
All that aside, three terms in any four-year elected position should be enough, and Wilson is finishing his fourth. All the man will accomplish during a fifth term is increasing his own power and influence – especially if Mullinax, Coker, and Carpenter are elected to be judges and "Buzz" Franklin stays on as District Attorney.
Qualified Candidates for Walker County Commissioner:
While the Sheriff's race is probably going to be the hardest fought, the one of most importance to Walker County residents seems to be the race for sole county Commissioner. According to an LU Facebook poll, interest in the commissioner's race is beating interest in Sheriff by nearly 3 to 1.
High interest in the commissioner's job is probably due to so many people realizing, between the 2008 election and the upcoming one, just how bad a job current Walker County Commissioner Bebe Heiskell is actually doing.
The commissioner doesn't have a coherent plan for economic growth or attracting new businesses, but has built her current campaign around taking credit for every scrap of good economic news in the state. She's focused all the county's resources towards Chickamauga, providing a majority of services to a community where less than 10% of the county's population (including herself) lives. Her administration of the county lacks accountability and even the minimal transparency provided by her predecessors.
She "invested" millions of SPLOST dollars meant for roads into buying property the county doesn't need while letting infrastructure collapse. She drug her feet for ten years about building a monument to Tri-State Crematory victims (she blames victim families for her delays), took away trash service to rural residents, put idiots in charge of county prisoners, used prison labor to benefit her friends, surrounds herself with loyalists who campaign for her while being paid by the county, continues to pay Jeff Mullis' NWGAJDA office $90,000 a year for no apparent reason, has sold bonds to benefit companies that contribute to her campaigns, and showed personal character flaws by driving drunk.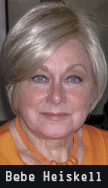 But the deepest problem Bebe has is her willingness to enter into poorly-thought-out business deals with people who have bad intentions. The Lookout Mountain Unicorn Factory Hotel plan that died in 2010 (and died again in 2011) was a bad deal, calling for the county to sell millions of dollars in bonds that would benefit a tax-delinquent crook who fled the state after the project fell apart. That debacle was met with loud protests, opened the eyes of many people to Bebe's naivety (or dishonesty), and will continue to haunt her during this year's election.
Despite all that, she's apparently entered a similar deal again this year – one that won't fall apart until after the election is said and done.
Heiskell's opponent, Dr. Shaw, is pointing out those issues – but they're not the main focus of his campaign. Shaw's promise isn't just being a better commissioner, it's being the last commissioner – or at least the last solo one. Many of the problems with accountability, transparency, bad decision making, and neglecting 90% of the county would be corrected by having multiple people serve on a board of commissioners instead of keeping a lone leader.
Heiskell (and her predecessor/mentor Roy Parrish) have insisted for decades that the sole commissioner form of government is superior to having a multi-member commission because it makes government more "efficient." But if the current condition of Walker County is due to efficiency, maybe it's time to bring in some inefficiency – the kind that comes from having a majority vote instead of a monarchy.
Shaw has vowed to let the citizens vote for a commission form of government within his first two years, and said he won't serve more than two terms even if the commission government is rejected. That's what Walker County needs, and what the people of Walker are realizing they want, even if Heiskell continues to bury her head in the sand about it. Bebe's refusal to give the citizens a true representative county government is her biggest liability, and not even her high-dollar PR firm and $10,000 worth of billboards can help her escape from that reality.
Qualified Candidates for Everything Else:
POSITION
REPUBLICAN(S)
DEMOCRAT
TAX COMMISSIONER
Keith Fults, Chickamauga
Carolyn Walker (I), LaFayette
CLERK OF COURT
Carter Brown (I), Trion/LaFayette
Kellie Maples, LaFayette
COUNTY SURVEYOR
Randy Compton, Chickamauga
Charles Wardlaw (I), LaFayette
COUNTY CORONER
Don Richie, LaFayette
DeWayne Wilson (I), Rossville
The Tax Commissioner's office seems to be decently run under Carolyn Walker, although there are some concerns about tax collections on mobile homes. The office staff there is cooperative and helpful, which is more than you can say about most other county agencies. Carter Brown has made some enemies during his one term as Clerk, but (depending on who you ask) his office is being run more efficiently than it was under Bill "Boom-Boom-Room" McDaniel. Brown's opponent, Ms. Maples, owns a title search company. Charles Wardlaw is fine as surveyor and seems to be good people. We've never heard of Randy Compton.
The coroner job has no qualifications other than paying a fee to get on the ballot, so technically anybody could run for the job. And anybody who runs for that job is going to be more deserving of it than DeWayne Wilson. Wilson, whose family owns several local funeral homes, was one of the Tonya Craft accusers who drug an innocent woman to court, accused of child molestation, because she hurt his feelings. That, along with his inappropriate involvement with the Tri-State Crematory recovery, and reports we've gotten of incompetence within the coroner's office, are plenty of reasons to support anybody who runs against him. Does Don Richie have a pulse? Well that should be good enough..

Check out these candidates, "Like" the pages for the races you're interested in.. Ask questions, put them to the test. Don't just vote for names you recognize. Choose people based on their merits, not on name recognition, familiarity, "they had a good daddy," or just because they've already got the job.
Also be sure you're legally eligible to vote. If you aren't registered, or haven't changed your registration to Walker County yet, get that taken care of. The deadline to get registered for the July 31 vote is July 2nd, and early voting begins on the 9th.
In the next few weeks, LU will be contacting most of these candidates with a series of e-mail questions, similar to what was done last fall with LaFayette City Council candidates. If you, citizen reader, have anything to ask these candidates, let us know in comments below or e-mail us at lu@cityoflafayettega.com . Candidates, we ask that you NOT try to answer questions directly or in comments; to be fair no candidate should see their opponents' answers before the articles run here.