2010
07.19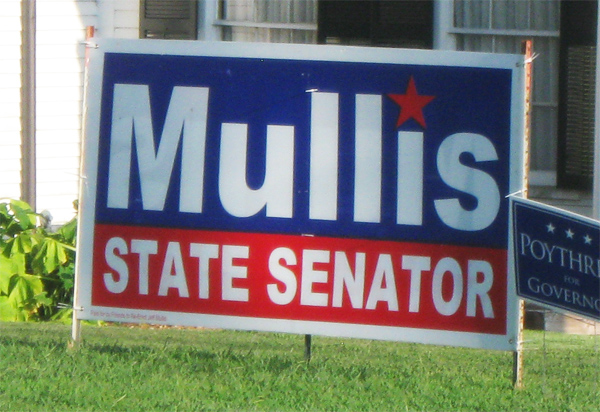 This Tuesday, July 20th, voters from around the state will participate in primary elections. Primaries are the political equivalent of a baseball or football playoff, serving as competitions that determine which candidates from a particular party will move forward to the final vote in November.
There are no Walker County or LaFayette officials up for a vote this year, but several state and federal positions (including Governor, Agricultural Commissioner, and US Representative) are being contested. State Senator Jeff Mullis, who is supposed to represent the interests of both in the Georgia Senate, is running for reelection against two Republican opponents. Mullis has been State Senator for the 53rd district, which covers Chattooga, Dade, Walker, and most of Catoosa, since 2001. He has amassed a considerable amount of power within the state legislature in the last ten years and also wields a lot of unofficial influence over activities at the local level, making Tuesday's election crucial.
In light of that, here are a series of facts and comments about Senator Mullis. Please read these before you vote on Tuesday.
Mullis grew up in Chickamuaga, graduated from Gordon Lee, and attended college at Walker Tech (Northwestern) and Dalton State. Before running for public office he worked as a planner for the city of Fort Oglethorpe, served as Chickamauga Fire Chief, and later became Director of Walker County Fire and Rescue. Mullis also worked for a company called "Commercial Construction Co" which we've been able to find nothing about due to its generic name.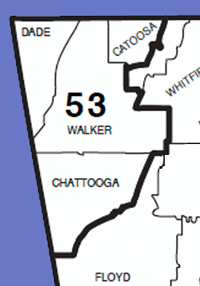 In 1998 Mullis ran for State Senate District 53 as a Republican, vowing to fight tax increases from every direction. In that race he faced Sonny Huggins of LaFayette, who had represented the area ever since dinosaurs lost their right to vote. Mullis initially won the '98 election by a handful of votes, but after several recounts including "lost" ballots from Lyerly, Huggins was declared victorious. Mullis contested that election in court but Huggins remained in office for another term.
In 2000 Mullis ran another well-organized campaign based on bringing in new blood, on removing people beholden to special interests, and on getting a local legislator into a position of power to help the people living in District 53. His promises and youthfulness, combined with the Republican sweep that also brought George W. Bush and Bebe Heiskell into office, resulted in a solid 55-45 win against Huggins. Mullis became a state senator on January 8, 2001 and quickly moved up through the senate's ranks, gaining respect among his Republican peers and being appointed to positions (including chairmanships) on several important committees.
In a short time Jeff Mullis had done most of what he promised: bringing in new blood and putting a local legislator into a position of power to help the people living in District 53. As years went on the R-Chickamauga gained more power, cumulating this January when he was named one of the state's 100 most influential people by Georgia Trend, and was listed as one of the 25 most powerful politicians in Georgia by James Magazine. But with all that influence and power, what is Mullis actually doing now for the people he was elected to represent?
One of Senator Mullis' pet projects and interests is tourism. Being from Chickamauga, he sees Civil War Tourism as a cure to all of the region's economic woes and has worked hard to further tourism in the state. Mullis has in past years served on various tourism committees within the General Assembly and has co-sponsored bills that give tax breaks to tourist sites and help local governments promote existing attractions. He's also been a big advocate of tax breaks and other advantages for filmmakers in the state, and recently asked citizens to compile a list of sites where movies can be made. (That prompted us to ask when he's going to find sites where movies might be watched.)
Tourism bills benefit Fort Oglethorpe and the Chickamauga area, but do little for the rest of the 53rd district. Tax breaks handed to tourist attractions and visiting movie production companies have not been extended to the region's manufacturing businesses and farms, declining operations that still employ far more people than all the state's tourist traps and movie productions combined ever will.
After being elected to the senate, Mullis gave up his position as Walker County's fire chief and was promoted to Walker County Planning and Economic Development Director. That job evolved into Director of Economic Planning and Tourism for the county, and several years later was retitled "Director of Quality Growth." Regardless of title, in those positions Mullis was paid – quite handsomely – by the taxpayers of Walker County.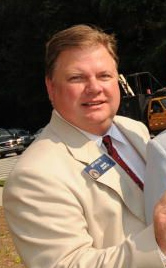 In 2006 that second job for Mullis indirectly resulted in a controversial property tax increase for Walker County residents. Fallout from the tax increase and political attacks from Democratic candidate Bruce Coker pushed Mullis to step down from the Walker County position – but once voting was done he picked the position back up in the same capacity within a different county-sponsored agency, the NWGAJDA.
NWGAJDA, or Northwest Georgia Joint Development Authority, is funded by the four counties Mullis represents in the senate, at a rate of $1.50 (or $2.50, or $1.25, depending on who you ask) per resident. Mullis became NWGAJDA director in 2008 and in that role brings home a reported salary of $80,000 per year plus benefits
In 2009 Walker County dumped more than $90,000 into Mullis' Development Authority, which has a total budget of $240,000 contributed from the four counties it represents. For their money, the counties got back a gorgeous Web site highlighting all the empty and available commercial property in the area. The NWGAJDA also funded a trip for Mullis to visit a chamber of commerce in Germany in 2008, and.. not much else.
Last week during a meeting to discuss more property tax increases, Walker Commissioner Bebe Heiskell was asked what Jeff Mullis has done for the area as a result of the county's $90,000 annual funding of his office. Heiskell replied that he "has done lots of things," but when pressed for a more specific answer all the commissioner could think of was "he went to Germany and sent back information."
Being tax-paying citizens, we at the LU feel concerned for this use of taxpayer money and will now officially place a lower bid to perform the same services as Senator Mullis' NWGAJDA office. For only $9,000 per year, a tenth of what the current office costs, we will produce a similar Web site. We will also use advanced research tools to print and send the commissioner back all the information on Germany she could ever need, free of charge. A similar offer at the same price is extended to Dade, Chattooga, and Catoosa county governments as well.
But all facetiousness aside, ANY money spent on the NWGAJDA is wasted money. That office duplicates what the counties' respective chambers of commerce should be already doing, and duplicates public-relations visits Mullis's senate office should conduct. Mullis' combined salaries from the state ($17,342 per year plus $173 a day for expenses when in session) and Development Authority add up to more than $100,000 per year before benefits and keep him from having to work a real job side-by-side with the people he supposedly represents. That money also keeps him in the pockets of local counties, two of which (Chattooga and Walker) have sole-commissioner governments that can only be changed by Mullis. The NWGAJDA office has also recently been accused of providing "assistance" to the senator's election campaigns in the form of office supplies and telephones.
For someone who originally ran on a platform of saying "no" to higher taxes, the senator has done little to keep local taxpayers from having to pay more and more each year just to keep him supplied with free vacations and promotional Web sites. In the current economy, Mullis should show solidarity with regular taxpayers and give up at least a portion of his generous salary or shut down the redundant Development Authority office entirely.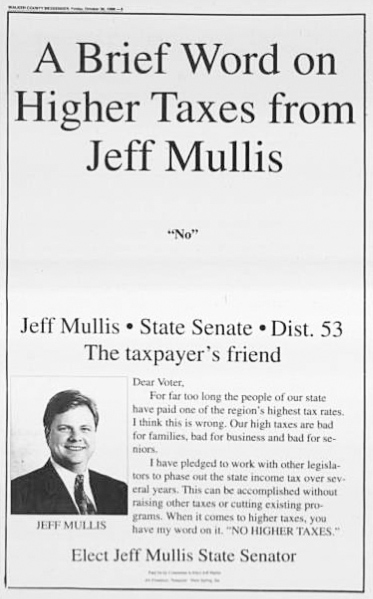 Senate Transportation Committee
In 2006 Mullis was appointed chairman of the Senate Transportation Committee, which oversees transportation-related legislation and has considerable influence over the Georgia Department of Transportation. That put him into an excellent position to adequately fund local road, bridge, and rail projects and to fix some of the inefficiencies seen within GDOT's operations. But one of his first ideas as committee chair was for the state to get more toll roads – and that was the high point of his time on the Transportation Committee.
Since his appointment Mullis has done little for local roads, instead investing thousands of dollars and hundreds of hours into obtaining federal grants to study the potential for building a 270-mile-per-hour magnetic-levitation (MAGLEV) passenger train to carry people between the Atlanta and Chattanooga Airports. In 2008 Mullis went to Washington DC on our dime and spoke with officials there to demand the region's share of MAGLEV study funding, and rode on a MAGLEV train during a tax-payer-funded trip to Shanghai, China.
Mullis' efforts have been politically successful: working with lawmakers from Tennessee and Georgia, the senator obtained several million dollars in grants to research and promote MAGLEV travel and looked good while doing it. But outside of politics, in the real world, every second and every penny spent on MAGLEV development has been a complete waste.
All the money Mullis obtained was for conducting studies – not for actually planning or building such a rail line, which is estimated to cost several billion dollars to actually construct. Similar ideas have been floating around in one form or another since Jimmy Carter was president, and will continue to float in never-never land for the next fifty years. If such a train were to ever see the light of day there's still no guarantee anyone would use it, as the train Mullis rode in China is hated there and loses money despite being in a country where fewer people have cars. And if the monstrosity was actually built and open today, it wouldn't do a thing to benefit the 53rd District because its proposed route mirrors I-75 and wouldn't even benefit people along the interstate in Riggold because the nearest planned rail station would be in Dalton.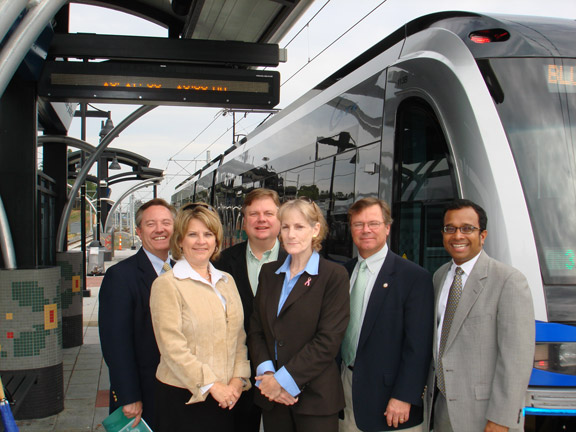 While "Maglev Mullis" has focused a disproportionate amount of time on a passenger-train pipe dream, the existing railroad that already serves businesses in Walker and Chattooga was being washed away. That line, owned by the state of Georgia since 1998, was damaged during last September's floods, cutting off rail service for Mt. Vernon Mills in Trion. To keep the doors open, Mt. Vernon was forced to have material driven down the highway from Chattanooga to Trion at a considerably higher cost.
That higher cost could have put all 1,400 Mt. Vernon jobs at risk, but Mullis (remember, one of the most powerful politicians in the state and Chair of the Transportation Committee) said the railroad would have to wait on FEMA for anything to be done. After months of waiting, Chattooga and Chickamauga Railway (which leases its tracks from GDOT) was finally forced to pay for repairs that rightfully should have been done by the state. Needless to say, if the floods had disrupted rail service to Shaw in Chickamauga – which pays a majority of city taxes there and employs many of its voting residents – Mullis would have moved heaven and earth to get the tracks repaired.
Even though Mullis made no effort to get the industry-critical trains running again, he did help the people of Walker and Chattooga in March 2010 by passing a bill that would rename Highway 27 from Chickamauga through Summerville "Confederate States of America Army of Tennessee Highway." The sign costs alone will be staggering, the name is too long for anyone to remember, and all the effort and expense involved in writing, passing, recording, and implementing the change will accomplish absolutely nothing. Way to use your powerful position and "proven experience," Mr. Mullis.
Nope, No Special Interests Here
As Mullis rises to the top of Georgia politics, he becomes more important to individuals and industries across the state. That leads to political contributions flowing in from all areas of Georgia, possibly to the point of overshadowing his supporters at home. That outside support has led to charges of undue influence from one of Senator Maglev's 2010 competitors who recently pointed out the amount of money Mullis has collected from companies located outside the 53rd District. According to reports filed last week by Mullis' office, he's raised some $116,00 during 2010 – but only $14,000 of that from within the 53rd.
But that's OK, according to Jeff, because "many of his Atlanta contributors may have branches in the district." May. They may, but they probably don't – and he's not breaking out the list of who those donors actually are.
Incomplete data available online shows local contributions, but also lists an alarmingly high number of construction companies and shipping firms that naturally need Mullis' attention and affections in order to keep working and driving on Georgia's roads. If you ignore dollar amounts and only look at the number of donors, this year Mullis has reported 152 different gifts, but only 15 of those (less than 10%) originated from local addresses.
This year's numbers are still trickling in, so let's look at the 2008 election for a better picture.
In '08 Mullis collected a total of $376,320 from 507 donors. Mullis received 37,814 votes in that campaign, which works out to $9.95 for every person who cast their ballot for him. Total collections for 2008 placed him atop the list of Georgia state senators' fundraising, beaten only by Don Balfour of Gwinnett County. Two-thirds of 2008 collections were from corporations or other institutions. More than $100,000 came from Atlanta addresses and another hundred grand came from addresses outside the state of Georgia. Much of the remainder came in from all across the state, representing a healthy amount of support from construction companies that do business with GDOT. Support from people in Ringgold ($16,995), Rossville ($11,002), Summerville ($5,000), and LaFayette ($4,250) was minimal by comparison.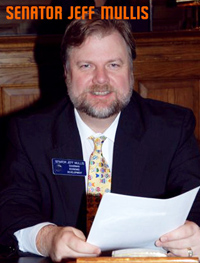 Even more minimal by comparison is the amount of money taken in by his competitor in the 2008 race. Walker Sheriff's Deputy Bruce Coker collected a total of $18,643 in the same period of time, only 99-cents for each of his 18,879 voters. Gifts from within the district made up two-thirds of Coker's total take, and most of the rest came from communities within the region but outside the district, such as Dalton.
We didn't support Bruce Coker in that election and understand 2010 and 2008 are quite different, but use this to illustrate just how much money Mullis takes in from outside the district he's supposed to be representing. After a certain point it becomes like shooting a mouse with a shotgun – overkill. When Mullis accepts more money than his campaign would ever possibly need to fend off even the strongest of competitors, it just brings his loyalties into question.
That overkill holds true for the 2010 race, as Mullis' announced primary competitors collected a total of $500 during the first six months of the year. Does he really need 232 times as much cash to fight them off? Probably not – and most of that needs to go back to the out-of-district places it came from in the first place.
Beyond just the amount of money coming in from outside the district, Mullis shows favoritism within the district to communities in Catoosa and northern Walker counties. While the people of Rossville and Chickamauga might not be as well represented by Mullis as the people of UPS and Georgia Motor Trucking Association, they're much better represented by Mullis than people in LaFayette, Dade or Chattooga. Mullis doesn't even pretend to care about his southern and western constituents (when did he last make an appearance in Trenton or Trion?), and last year his office sent out a statement claiming he represents Chattanooga County.
The population of Catoosa County + Chickamauga + Rossville obviously outweighs the total number of people in Dade, Chattooga, and LaFayette combined, but Mullis is still obligated to listen to all of his constituents (or at least learn how to spell their county names) no matter what part of the district they live in – especially since we all contribute to his considerable NWGAJDA salary.
During the first week of July, Mullis' office released a statement announcing his intentions to help write an anti-illegal-immigration bill during next year's legislative session. This statement, which appeared in the local paper and in regional media outlets, is a bit premature considering that the General Assembly doesn't meet again until January and the bill being touted hasn't even been written yet. The release is purely a PR effort to convince more District 53 voters that Mullis is – and should remain – their man.
Mullis and his handlers are obviously hoping voters will decide based on what he promises to do instead of what he's done – especially since he voted in FAVOR of an anti-immigration-laws resolution during a March meeting of the Public Safety Committee. Part of that measure, Senate Resolution 570, requests "that the United States Congress reject any legislative efforts to enact unfair and ineffective immigration policies." That's a resolution, not a binding bill, and isn't exactly calling for amnesty towards illegal immigrants, but it is apparently intended to encourage the federal government to fight Arizona's controversial anti-illegals law.
So Mullis wants to have his cake and eat it too; promising to write and support legislation similar to Arizona's only a few months after signing off on a resolution rejecting the Arizona law. Apparently that's how you continue to get votes at home while cashing checks from out-of-district construction companies that regularly hire illegal immigrants.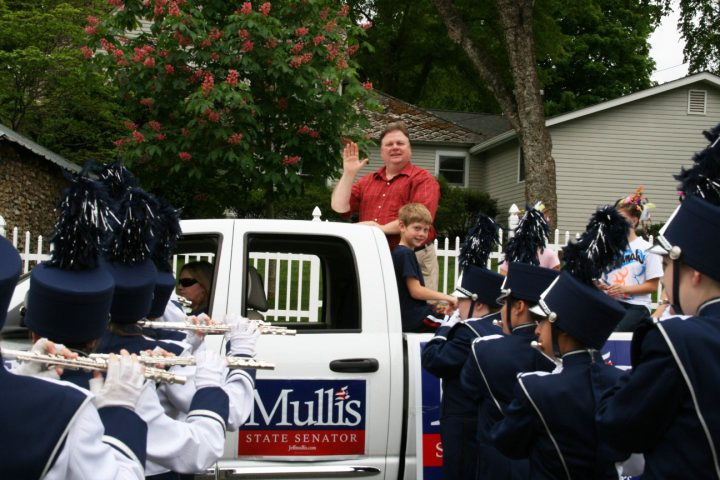 In less than ten years, Jeff Mullis went from fighting for new blood, fighting people beholden to special interests, and fighting to get a local legislator into a position of power to help the people living in District 53 to being old blood, to cashing checks from out-of-state special interests, and to being a local legislator in a position of power who lies to the people of 53 while selling them out to Atlanta businesses. Five terms of that are plenty, at least one more than deserved, and call for his complete rejection from local politics on every level.
But voting against Jeff Mullis this Tuesday means voting FOR one of his two opponents, Jim Pope of Villanow or Jeremy Jones of Ringgold.
Pope is, of course, the favorite alternative for LaFayette since he's more likely to represent the area than someone living in Catoosa County. But Pope has so far shown little activity, having raised $0 in six months and having virtually no name recognition outside of the Armuchee Valley. We spotted his first campaign signs going up this last weekend while Mullis' signs started appearing well before Memorial Day. Pope doesn't have a Web site and has made no statement of core beliefs or philosophy, making him incredibly hard to recommend.
That leaves candidate Jeremy Jones, who has released statements and has a campaign Web site, making him easier to evaluate. Jones takes a stronger position on immigration than Mullis, supports the Fair Tax, and advocates for a reduction of government paperwork for small businesses. He also pledged (for what a pledge is worth) to veto any state budget that isn't smaller than its predecessor. Like Mullis, Jones is an advocate for MAGLEV commuter trains but does say they would have to be privately built and operated instead of serving as an arm of the state government. Jones was originally involved in the scramble to replace Nathan Deal as US Representative for the 9th district, but quit that crowded race to take a go at Mullis. (Parts of his Web site still reflect the former campaign, but the philosophies transfer from federal to state level quite easily.)
Jones isn't the perfect candidate by far, but he is a viable alternative to Mullis and the only real hope (slim as it is) to regain some of the local representation Mullis no longer seems interested in providing. If Jones can get enough of the vote in his home county and pick up a few disgruntled LaFayette, Dade, and Chattooga residents there's a chance he could at least keep Mullis from getting more than 50% of the vote. But if the anti-Mullis vote splits into even camps for Jones and Pope, neither will have a chance at all to defeat him.
As difficult as it is to recommend someone from Catoosa County over a local, the only way we can fix what's broken in District 53 is to recommend you vote for Jeremy Jones. Maybe, just maybe, we can help him pull off a miracle.