2011
10.17
On Tuesday October 4th, two trustee prisoners from the Walker County Jail, checked out to the county to do a construction project (possibly at the LaFayette library), acquired a cache of beer and had a little party while on the job. When they returned to the jail that evening, detention employees noticed they smelled of alcohol and administered blood alcohol tests. Neither man was legally drunk, but they did admit to drinking during the day, and as a result lost their trustee status.
We have been told multiple times by library employees that no county prisoners have done work on the site, but the prisoners themselves and county sources have indicated this happened there. Considering the county's partial funding for LaFayette library renovations it's a good possibility that this did occur at the library but we'll step back and say it happened somewhere in LaFayette and leave it at that. The photo below, from the library project, illustrates the signage and statutes in place for a typical prisoner construction site.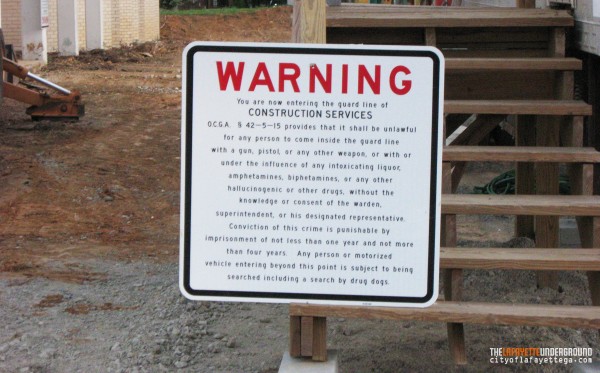 According to statements made to Chattanooga media, the inmates were "working in a county government building and were being supervised by a building maintenance worker" employed by the county. Under an agreement between the Sheriff's Office and Walker County's general government, the county can check out prisoners whenever they're needed for work, and while checked out the county is responsible for what they do. In this situation the jail and Sheriff's Office bear no responsibility for what happened.
One thing not mentioned in the news report is who the county employee supervising prisoners actually was. It wasn't just some low-level flunkie "maintenance worker," it was Walker County's Special Projects Director Roger Neal. Neal, for his part, went back and told his supervisors at the Commissioner's Office that he "fell asleep" on the job. Prisoners said that Neal wasn't asleep, just inattentive and careless – and makes a habit of letting trustees do anything they want. This isn't the first time Mr. Neal has "fell asleep" and not the first time prisoners under his care have gotten into things they shouldn't have.
Trustees are more trustworthy than a typical inmate, but they are still prisoners. They're good for janitorial or construction work but that doesn't mean take them somewhere and go take a nap or wander off and hope they're still there and not drunk or high when you get back.
This incident in LaFayette and a similar situation in Summerville last week – a prisoner doing janitorial work at City Hall simply slipped out the back door and headed to Alabama – both reflect poorly on the trustee system and (indirectly) the jails that have no control over what happens to their own trustees. The system itself isn't flawed, but some city and county government officials watching trustees are falling down on the job, and their actions may result in a complete end of trustees doing work for agencies outside of detention.
What of Mr. Neal, the trustee supervisor? As reported, "the county worker will not be charged or disciplined in the incident." That's because Neal's direct supervisor, Walker Commissioner Bebe Heiskell, decided to accept his excuse of falling asleep. He gets no demotion, suspension, or even so much as a reprimand in his employee file. A single incident of prisoners drinking on the job probably doesn't demand his termination, but repeated incidents that we've heard of certainly do – and doing nothing at all just encourages him to continue his lax supervision of trustee prisoners.
Neal isn't just the Special Projects Director, he's also Building Administrator for the Walker County Senior Center and has served, or still serves, on the county's DFCS board, West Armuchee Community Center board, Limestone Valley Resource Conservation and Development Council (whatever that is), and as a Soil and Water Conservation District director. Hopefully he's more attentive and cautious in those positions, but if he's not there's little risk that he'll have any of them taken away from him by the commissioner.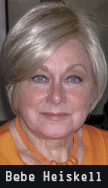 Employment with Walker County's general government, under Commissioner Heiskell, seems to be based more on friendship and support for her than on real-world qualifications, moral standards, or job performance. More than a few members of the commissioner's office staff do little actual work but actively campaign for her. Friends like Roger Neal, disgraced former teacher Larry Brooks, David Wish-We-Had-More-Tornado-Deaths Ashburn, and even Heiskell herself give Walker County a black eye – but we're stuck with them at least until the Republican Primary next July.
There are good employees within Walker County Government, but a select few in leadership who aren't trustworthy. Perhaps the "jail trustee" program isn't as much of a problem as the "political trustee" system in place within Bebe's County Government. Hopefully we'll get a new commissioner next year who will take a close look at both and make the reforms our current elected leader won't.