2011
10.14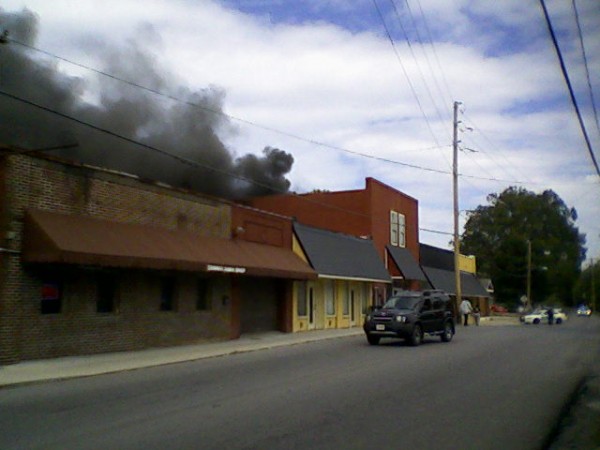 Around 11:30 AM last monday, a fire broke out at the intersection of Chattanooga and West Villanow streets in an upstairs apartment over what used to be the Mars Theater. Flames quickly consumed the 80-year-old structure, generating an inky plume of smoke visible for miles away.
Responders from LaFayette Police Department responded promptly, followed shortly after by fire crews. Before the blaze was extinguished, firefighters from LaFayette FD, Walker County FD, and Walker State Prison were called in to keep it from spreading into adjacent buildings and a pawn shop at the end of the block.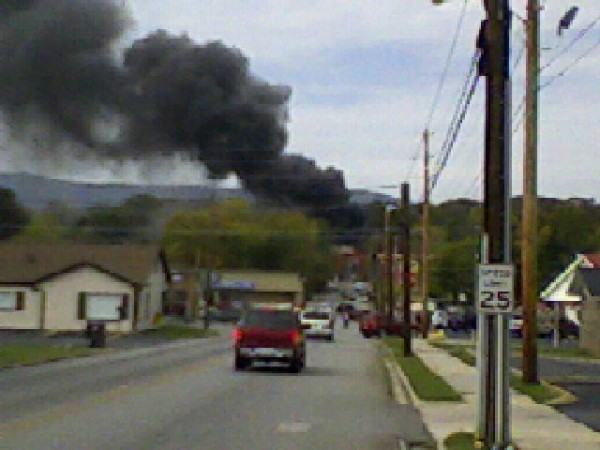 In 1931 when the Mars was built, Chattanooga Street was the economic center of LaFayette. Central of Georgia's rail line connecting Chattanooga to Rome was the equivalent of today's interstate highway, funneling goods and people into and out of LaFayette and Linwood. LaFayette's railroad depot was across the street from Mars, Coca-Cola Bottling Works was next to the depot, and all of the area's manufacturers were within a few minutes walking distance.
The downtown square is considered LaFayette's heart by most people today, but during the first half of the 20th century the city's western square was just as important economically and socially as the two blocks between Cherokee and Duke. Both areas had a variety of stores, eateries, and eventually both had movie theaters; the Mars Theater on Chattanooga Street and Palace Theater on South Main.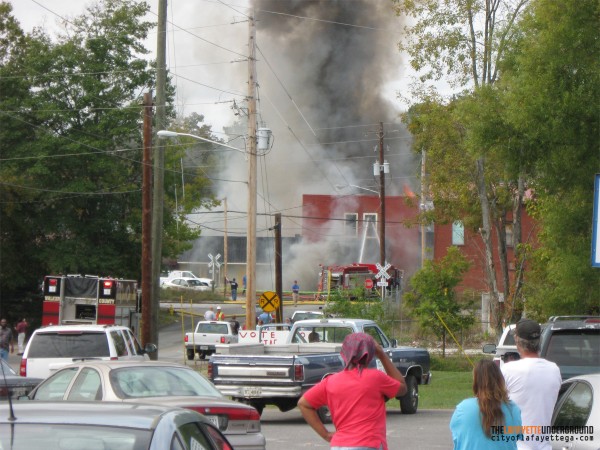 Like everything else in the South during that time, Mars Theater was segregated. Black patrons were allowed in, but forced to use their own entrance and sit in the second-story balcony. Mars was never desegregated, closing in the 1950's as railroad traffic declined. The building was later repurposed as a shopping center and the balcony was closed off into a separate upper floor divided into apartments.
From the late 50's into the 1960's Mars and surrounding buildings housed a shopping center called The Depot, presumably named after the closed rail depot nearby. Chain retailers and newer department stores eventually put The Depot out of business. Investors turned the building into a glove mill named (surprisingly enough) Mars Glove Mill, but that was also short-lived.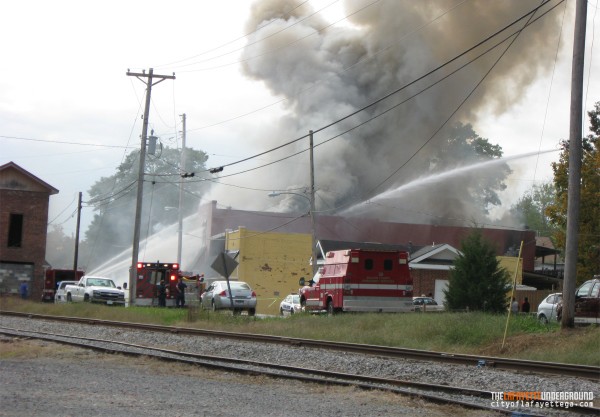 In recent years Mars' lower floor was rented to "The Jesus Mission," a loosely organized group claiming to serve the homeless. They prepared meals occasionally and served thanksgiving dinner to the community, but several observed that services were only available to homeless minorities and the building was mainly a hangout and gameroom with political material occasionally displayed in its front windows.
Jesus Mission never incorporated as a church (or as anything else) so their activities weren't restricted, just a bit dubious for a group claiming to serve God. They seem to have accomplish little outside of distracting from legitimate missionary work being done across Chattanooga Street at The Care Mission.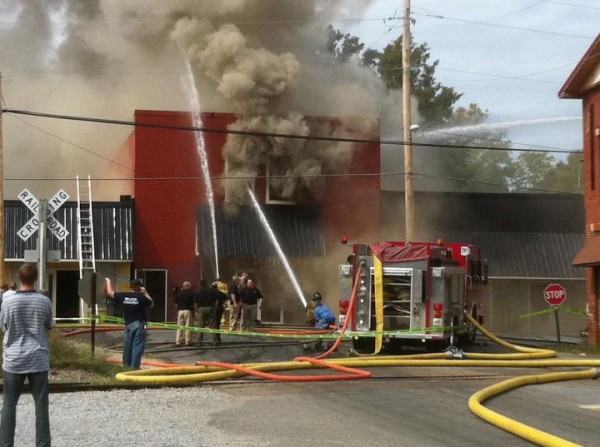 Four or five years ago owners of every building on the Mars Theater block renovated their exteriors using matching funds from LaFayette's Downtown Development Authority. Sidewalks were rebuilt by the city, new paint and awnings improved the block's appearance, and Corner Pawn expanded. Despite the investment, surrounding storefronts never housed businesses for more than a few weeks at a time. Upstairs apartments were upgraded and rented out again at the same time, but those never seemed to stay filled either.
Only one of the three apartments was occupied last Monday, when someone turned over a candle and set a bed on fire. An eighty year old building with pine floors and tarpaper roof doesn't take long to turn into a spectacular fire, and by the time fire trucks arrived there wasn't much that could be done except keep flames from spreading to the adjoining structures. Several LaFayette firefighters went inside to extinguish the blaze but were quickly pulled out as the structure became unsafe.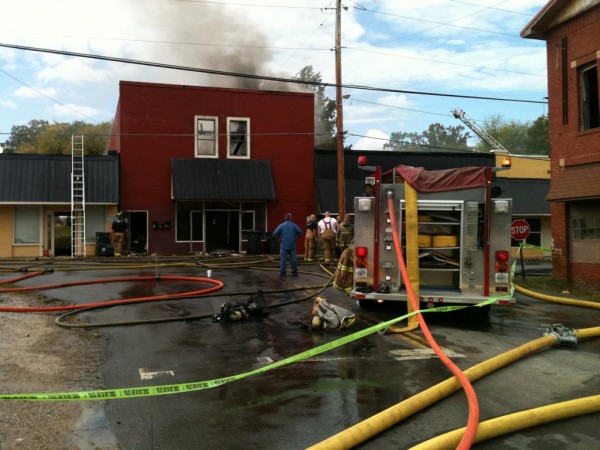 Fire crews and firewalls kept buildings on both sides of the Mars from sustaining catastrophic damage, and Corner Pawn Shop hardly suffered a scratch in the conflagration, but the Mars Theater itself was certainly a complete loss. Everything on the second floor burned, including the roof, and much of the lower level melted in the heat, water, and subsequent rain.
What was once a center of the community, a place where the mill workers of Linwood and LaFayette went to relax, socialize, and be entertained before the advent of television, a place where LaFayette's working-class citizens shopped until outside competition closed it down, is now an empty shell filled with wet rubble and broken glass. And that's not likely to change; with little hope of ever making a profit on the site, owners will likely pocket any insurance money they receive and leave behind charred walls or an empty lot.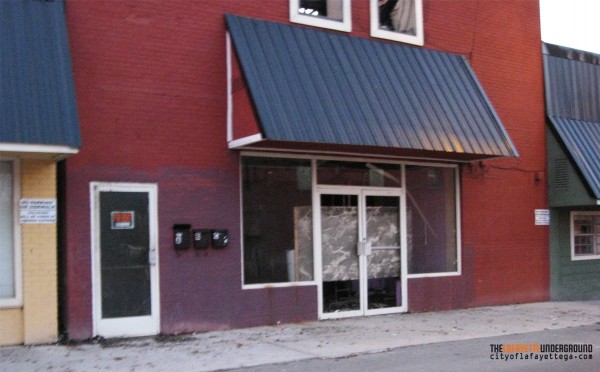 What remains of Mars Theater is visible down Villanow Street from the square. Memories of the fire are now fresh in peoples' minds, but few remember what the building ever housed in the past. In weeks thoughts of the fire and loss will fade, and the Mars will become just another burned out shell, another empty structure, in a community full of them.
PHOTOS: Channel 3, LU Contributors.
We searched high and low for photos of Mars Theater in its glory days, but had no success. We'd like to make the Friday Photo a regular weekly or bi-weekly feature of the site, but in order to do that we need your help in getting historical local photos not available elsewhere. If you have a photo of the old Mars Theater, Mars Glove Mill, The Depot, or anything else interesting from LaFayette's past (or present) please e-mail it to photo@cityoflafayettega.com.
NEXT WEEK: Asphalt