2016
05.12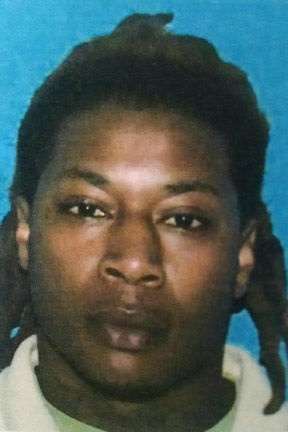 David Lee Townsend II is wanted for stabbing a LaFayette man Monday night on Daugherty St.
According to LPD, the stabbing started on Sunday with an incident involving a woman inside a Ringgold restaurant. Townsend, who lives on Hwy 151 in Walker Couny, is described as being part of a Chattanooga gang.
Locals say Townsend, a onetime employe of Euclid Chemical, has been seen in the past hanging out on Daughtery and Thompson in West LaFayette near where the stabbing occurred. Since he spends time in the area and the victim knew his first name, it seems probable the two had been acquainted before Monday.
Townsend was, per one source, seen going into the Kangaroo on West Main late Monday night – hours after his status as a wanted man was announced on social media.


Old LaFayette High School vandalized, again, by wandering juveniles.
WQCH Radio, 05/10/16:

"LAFAYETTE POLICE HAVE ARRESTED FOUR JUVENILES IN CONNECTION WITH VANDALISM AT THE OLD LAFAYETTE HIGH SCHOOL ON NORTH CHEROKEE STREET.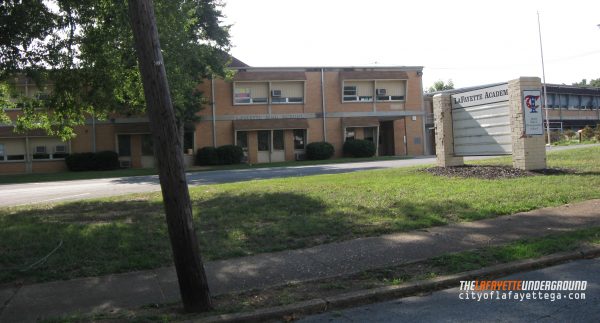 "POLICE ANSWERED AN ALARM AT THE OLD SCHOOL ON SUNDAY AFTERNOON AND FOUND A WINDOW THAT HAD BEEN BROKEN. SHORTLY AFTER, FOUR KIDS WERE SPOTTED ON THE ROOF OF THE BUILDING. TWO OF THEM WERE CAUGHT, AND TWO OTHERS ESCAPED. THEY WERE LOCATED ABOUT AN HOUR LATER IN WOODS OFF NORTH MAIN STREET. PROFANE GRAFFITI WAS FOUND THROUGHOUT THE BUILDING, ACCORDING TO THE POLICE REPORT.
"THE JUVENILE BOYS RANGE IN AGE FROM 11 TO 16, AND POLICE CAPTAIN STACEY MEEKS SAID ONE OF THE FOUR WAS CHARGED BACK IN MARCH, WITH A VENDING MACHINE BREAK-IN AT A NORTH MAIN STREET LAUNDROMAT.
"ALL FOUR WERE CHARGED WITH FELONY INTERFERENCE WITH GOVERNMENT PROPERTY AND MISDEMEANOR CRIMINAL TRESPASS."
Juvenile justice in the region continues to be a bad joke; if the kids who knocked off the vending machine at Suds n Shine back in March had been dealt with, one of them wouldn't have been arrested on the roof of the old high school last weekend.
But they're hardly the first bunch of youths who've broken in there and done damage. Not the first time we've had kids on the roof, either.
Meanwhile, LaFayette is still waiting on the school board to come up with a coherent plan for this property other than let it continue falling apart and become a bigger eyesore in the middle of the city. LHS moved out in December 1997, and classes were last held in the building when LMS Sixth Grade Academy closed three years ago next week.
Maybe they're hoping somebody burns it down?


Welcome Cornerstone Medical Center.

Employee sources inside what used to be Hutcheson say ApolloMD's buyout deal for the bankrupt hospital property, pending since December, was finalized last night.
Today the hospital on Crescent Circle in Fort Oglethorpe was formally renamed Cornerstone – in honor of the Cornerstone Club that funded construction of Tri-County hospital six decades ago.
With this deal complete, the operations of Cornerstone Medical and ApolloMD in Fort Oglethorpe will be a completely separate matter from the wind-down debt operations of Hutcheson, Inc. its subsidiaries, affiliates, and the Hospital Authority of Dade, Walker, and Catoosa.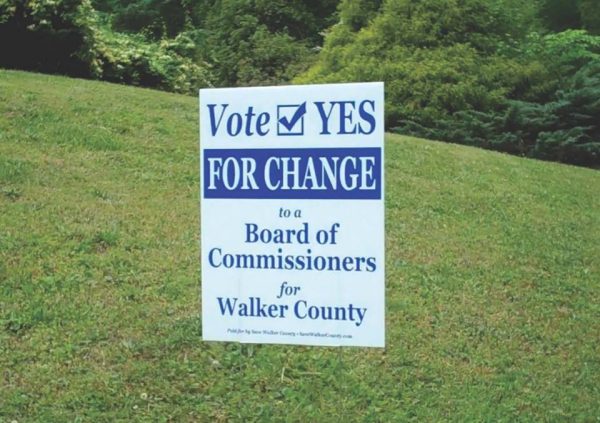 When you go vote (early, this Saturday, or on May 24th), vote YES for the ballot measure regarding sole commissioner.
The results of that vote are unfortunately non-binding and easily ignored. Someday when the Powers That Be feel like it, they might put this on a ballot that counts.
Vote yes, so when Steve Tarvin ignores the results and doesn't make a change, we can vote NO to him in 2020.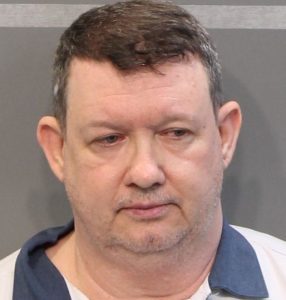 Jerry Lee Pruitt of Rock Spring, arrested over the weekend for a 1999 rape accusation, was originally indicted by a grand jury for the Chattanooga crime back in 2002.
A warrant was issued for his arrest fourteen years ago, and then.. nothing.. until May 2016.
It's unclear what happened over the last decade and a half that kept Pruitt from going to jail. Miscommunication between the sheriff offices in Hamilton and Walker?
It's also unclear how the statute of limitations affects this case. Under Tennessee law, nobody can be charged with a rape more than fifteen years later, and his alleged crime was seventeen years ago. But he was CHARGED in 2002, just not arrested.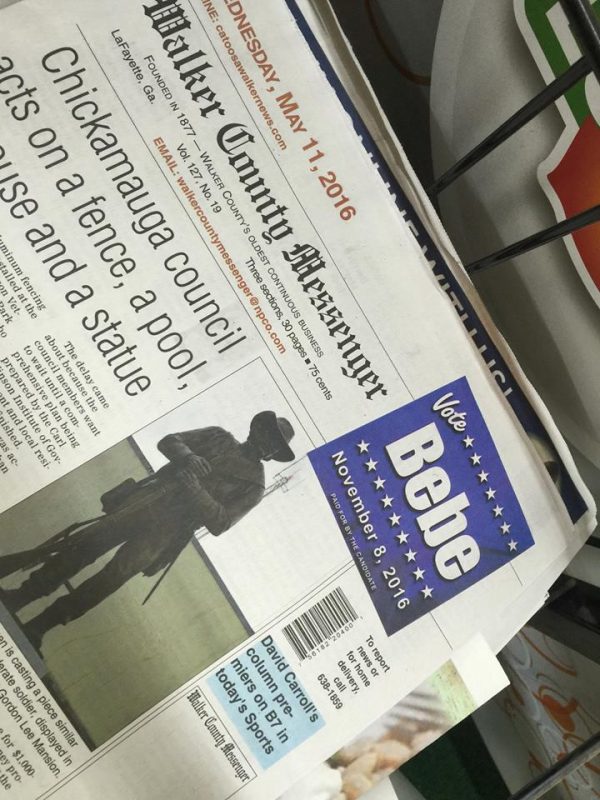 Bebe rewards the local paper for its continued flattering coverage of her by buying expensive sticker advertisements seven months before she's up for a vote. This one, particularly, looks like an endorsement from a local news outlet that has never aggressively challenged or questioned her decisions in print.
Sources say Heiskell's campaign has stopped buying ads from at least one other regional media outlet due to its refusal to bury "negative" stories about her.


Bebe! in the meantime continues to spin reality and defend her decisions to the willing local media.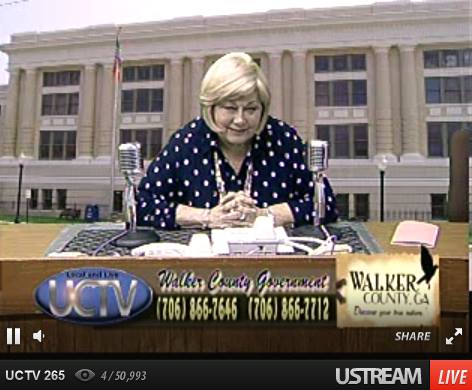 Commissioner Heiskell insists that the SPLOST issues mentioned in an audit she signed aren't problems, and makes another delusional claim about the size of her industrial park.
WQCH Radio, 05/09/16:

"WQCH NEWS ASKED WALKER COUNTY COMMISSIONER BEBE HEISKEL FOR HER ANSWER TO A CHARGE., RECENTLY MADE BY A POLITICAL CHALLENGER, THAT SPLOST FUNDS HAVE BEEN 'ILLEGALLY DIVERTED' FOR USE IN THE NEW INDUSTRIAL PARK AT NOBLE.
"HEISKELL RESPONDED THAT THE SPLOST SPENDING WAS NOT ILLEGAL, AND THAT THE NEW BUSINESS PARK IS PAVING THE WAY FOR THE COUNTY'S ECONOMIC FUTURE. THE PARK IS ALREADY HOME TO THE WORLD'S LARGEST PLASTICS PRODUCER, AUDIA INTERNATIONAL.
"HEISKELL SAID SHE WAS DISAPPOINTED WITH THE MEAGER HELP THAT WALKER COUNTY RECEIVED FROM STATE AGENCIES, IN DEVELOPING WHAT HAS BECOME THE LARGEST PARK AVAILABLE FOR INDUSTRIAL DEVELOPMENT BETWEEN CHATTANOOGA AND ATLANTA. 'THE INDUSTRIAL PARK IS ALL PAID FOR – AND THERE'S NOTHING WRONG WITH THE SPLOST', HEISKELL CONCLUDED."
So many things wrong here, where do we begin…
Audia's corporate parent might be the largest plastic company in the world (unlikely) but the local plant employs, according to Heiskell herself, only "about fifty" people.
Also, it's only paid off because she paid it off with bonds through the Development Authority, which will be repaid with a new property tax being collected for the next 29 years. So it's paid off in the same way you can pay off your car loan with a credit card and then have to deal with the credit card debt.
The SPLOST issue she's dismissing is one pointed out by LU, by Shannon Whitfield, and by others. It's right there in the county's annual audit she agreed to and signed off on: Walker County doesn't keep SPLOST money separate from its general fund, and hasn't for at least two years – in violation of unenforced state law.


Walker County arrests, May 2-8.


Dollar General is building a new distribution center in Jackson, GA just outside Atlanta. The 1-million-square-foot warehouse is expected to be finished in fall 2017 and employ 500.
DG Corp has over 12,000 discount stores and says the new center will serve about 1,000 of them.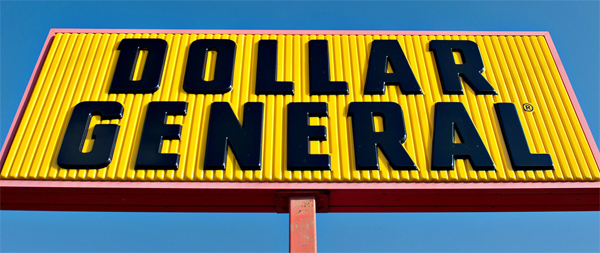 At the rate they're growing, by fall 2017 they'll have 1,000 stores in Walker County alone: DG just built a new store in Villanow last year, they're building another one down 27 near the county line on the 151 spur, and the county just approved rezoning in Chickamauga to build one on Garrett's Chapel Rd. They also plan to replace existing smaller stores in Rock Spring and Chickamauga with larger ones that sell groceries.
(Sadly, that's about all the economic growth Walker County really has, at this point.)


An inmate who escaped from a Georgia prison work camp in 1968 has been recaptured in Connecticut.
Robert E. Stackowitz is in a Connecticut jail, waiting for his return to Georgia. His original prison sentence was 17 years for robbery.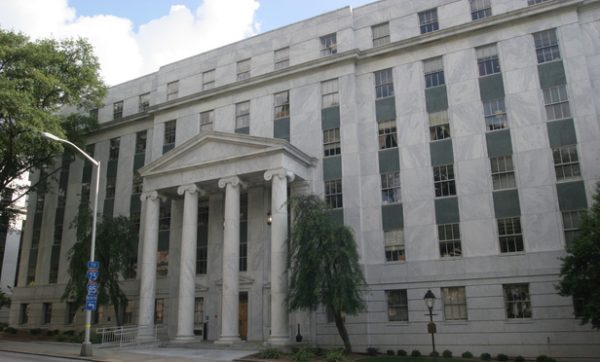 Thanks to help from loyal state legislators, Governor Deal has signed off on a bill expanding the Georgia Supreme Court from seven members to nine – and will get to name the two new judges. By the time Deal leaves office, five of the court's nine judges will be appointed by him – giving him influence over state law for decades to come.
Court expansion also includes a new $115 million building for the state's highest court.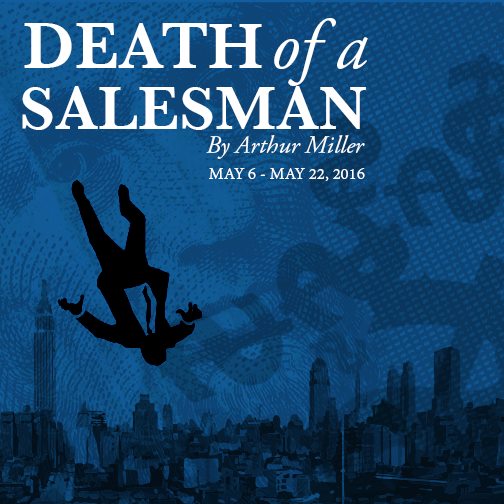 "Death of a Salesman" will premiere at Mars Theater Friday evening.
Back Alley Productions will perform the play this weekend and next, Friday and Saturday evenings and Sunday afternoons.
(Go to church on Sunday, grab lunch, go see a play. There's no football right now and the Braves are awful, might as well do something different on a Sunday besides watching TV.)


NY Times praises Georgia's new approach to keeping college students from dropping out before getting a degree.


For today's links and any breaking news, follow the Underground on Facebook or Twitter.