2016
04.23
Walker County's 2015 audit has been released, and as expected the numbers are very bad.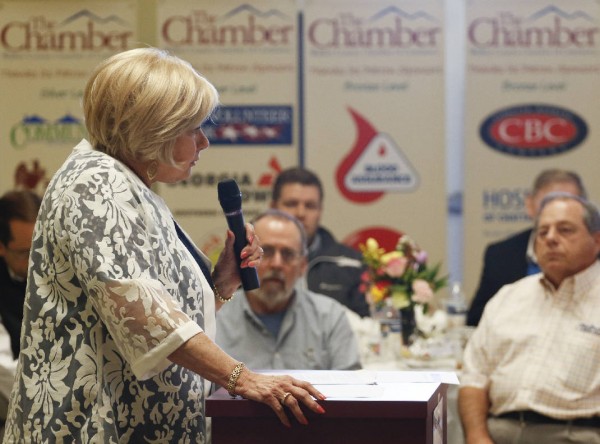 Debt has soared even as tax rates and tax revenue have gone up. Even worse, the audit report openly admits the county and its commissioner have broken state law – for a second year running – by mixing general tax money with SPLOST funds. But the state, so far, has no plans to intervene.
Reported debt is now over $45 million – and this report ends before the Development Authority deal of last fall adding extra tens of millions in debt was finished.
The county also lost another $675,000 on Mountain Cove Farms during the fiscal year, running October 2014-September 2015.
Don't just take our word for it, read the audit yourself:
walker_county_fy2015_financial_statements



(Repeated lawbreaking verified in this audit give grounds to the Sheriff or District Attorney to call in the GBI and ask for a deeper investigation into these issues – but don't hold your breath for Steve Wilson or Buzz Franklin to make that call.)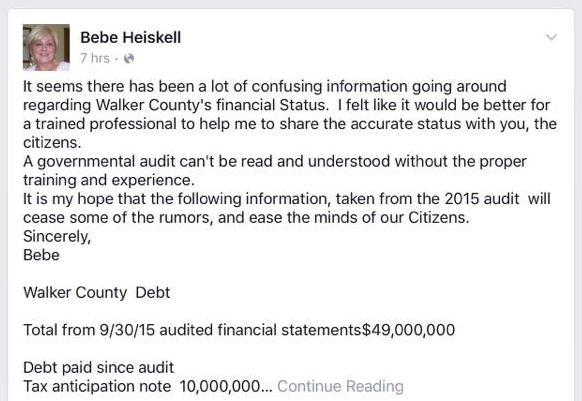 Bebe suggests you shouldn't be reading the audit since you're likely not a "trained professional." She continues to insist things are getting better, saying debt is only a little higher than it was when she took office sixteen years ago.
…only if you ignore all the Hutcheson loans she's co-signed, exclude debts she's shifted over to the Development Authority, and pretend to be the idiot she hopes you are.



Suspect sought in Ringgold bank robbery.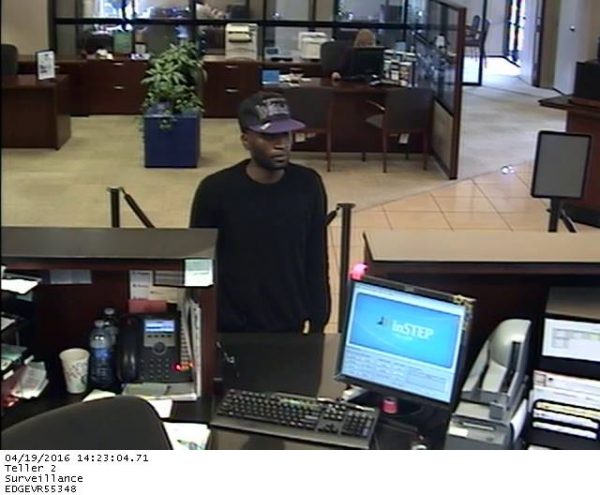 First Tennessee Bank on Alabama Highway was allegedly held up by this gentleman on Tuesday afternoon.
The suspect, whose face was clearly captured in security video, has yet to be identified. Investigators say he left behind "forensic" evidence, which may help track him down once it's processed.
If you recognize him, call Ringgold PD at 706-935-3066.



Widespread drug busts in Walker earlier this week.
WQCH Radio, 04/21/16:

"THE DRUG TASK FORCE HAD A BUSY DAY IN WALKER COUNTY TUESDAY, ARRESTING SIX SUSPECTS.
"AROUND 6-THOUSAND DOLLARS IN MARIJUANA AND PILLS WAS RECOVERED AT A HOME ON MCFARLAND AVENUE IN ROSSVILLE. 36 YEAR OLD TERRY JAMES LAMAR MILLER AND 32 YEAR OLD BARBARA SARAH BETH MCDONALD WERE CHARGED WITH DISTRIBUTION OF MARIJUANA AND POSSESSION OF SCHEDULE-4 NARCOTICS.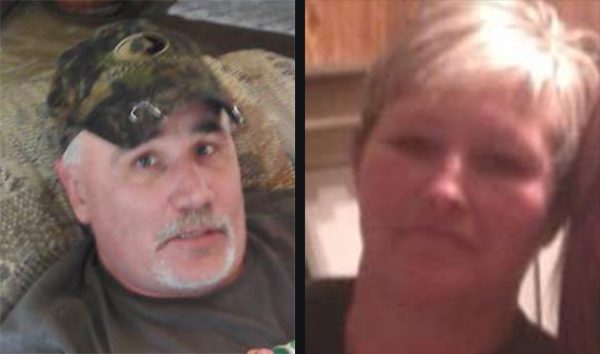 "ON HIGHWAY 95 NEAR LAFAYETTE, THE TASK FORCE ASSISTED WITH A PROBATION VISIT AND ARRESTED DALTON EUGENE KAISER, 49, AND 48 YEAR OLD KIMBERLY LANE TANNER. MARIJUANA AND SCHEDULE-4 DRUGS WERE SEIZED THERE.
"CHRISTOPHER EUGENE SMITH, 45, WAS CHARGED WITH POSSESSION OF METH AT HIS CATHERINE STREET RESIDENCE IN ROSSVILLE.
"AND BROOKE ANNE HOWLAND, 40, WAS CHARGED WITH POSSESSION OF XANAX AND MARIJUANA, DURING A VISIT AT THE PROBATION OFFICE IN LAFAYETTE."
Plus Walker County arrests and jail bookings, April 11-17 and April 14-20.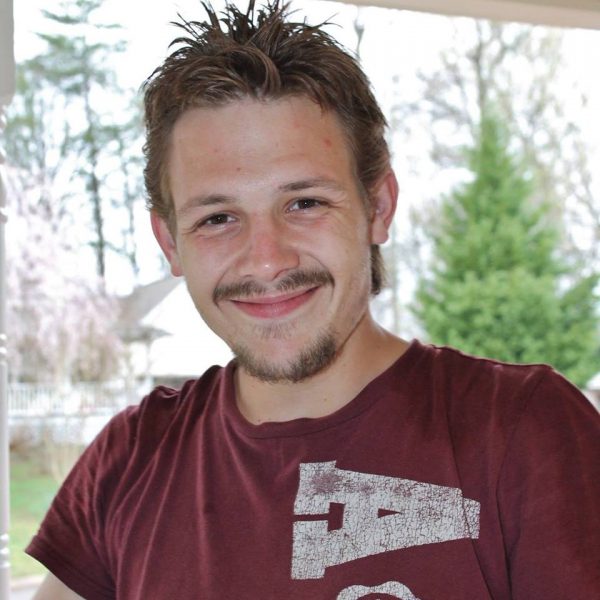 Thursday LaFayette native Justin Whitlock was involved in a serious semi truck accident in Idaho. At last update he was in critical condition in a Boise hospital.
His truck driving partner from Resaca did not survive the wreck.


LaFayette's 2015 audit shows the city is growing financially stronger, primarily on the shoulders of its utility customers.
Handling maintenance projects (like repaving South Chattanooga Street) internally has saved money, but the golf course and airport have continued to be black holes in the city budget.
city_of_lafayette_fy2015_cafr



Overall the report is positive and reflects on better management practices adopted in recent years by interim City Manager Max Morrison and by his permanent replacement David Hamilton, assisted by a.. much more attentive city council than we had until late.
Rosy, especially compared to the COUNTY audit mentioned above, which looks like a deck report from the Titanic.


So how important to you, in the upcoming election, is "transparency" ?
If a candidate claims to be transparent and promises an open government but won't answer questions or reveal personal financial information, are they trustworthy?
Based on the results of this poll, Walker County's potential voters aren't too concerned about one candidate's lack of transparency and refusal to answer hard questions about his business dealings.


LPD says nobody recognizes vehicles involved in recent thefts at Fountain Plaza Car Wash, meaning perpetrators are probably not from the area.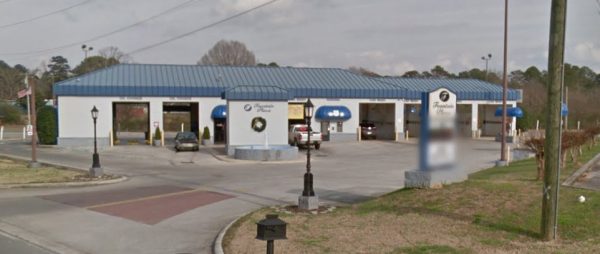 Another recent theft of $600+ in coins from an unnamed car wash in Rock Spring is also thought to be connected.
So we're looking for somebody who's not from here, driving an older red Isuzu SUV, carrying abut 35lb of loose quarters.


More out-of-town crime from Cherokee Farms, plus plenty of home-grown trouble and drama in recent arrests:
WQCH Radio, 04/19/16:

"THREE LOCAL RESIDENTS WERE CHARGED WITH DISORDERLY CONDUCT BY LAFAYETTE POLICE LAST WEEK, AND A RESIDENT OF CARROLLTON, GEORGIA WAS CHARGED WITH MARIJUANA POSSESSION HERE.
"JOSHUA DAVID RANDOLPH HUFFMAN, AGE 23, WAS IN A CAR THAT WAS STOPPED BY POLICE AFTER A PASSENGER WAS SPOTTED WITHOUT A SEAT BELT SECURED. THOSE IN THE CARROLL COUNTY-TAGGED VEHICLE TOLD POLICE THEY HAD BEEN VISITING CHEROKEE FARMS IN LAFAYETTE. AFTER TELLING THE OCCUPANTS THAT MARIJUANA SMOKE WAS DETECTED, HUFFMAN ADMITTED TO POSSESSION.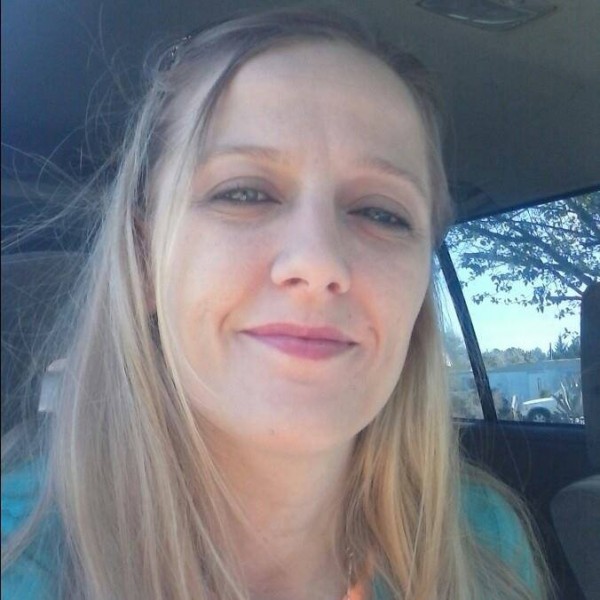 "30 YEAR OLD SABRINA RENEE BOLTON WAS CHARGED WITH DISORDERLY AFTER POLICE INVESTIGATED A LOUD ARGUMENT BETWEEN A MALE AND FEMALE AT THE DEAD END OF RHYNE ROAD. HER BOYFRIEND FLED INTO THE WOODS AND ESCAPED.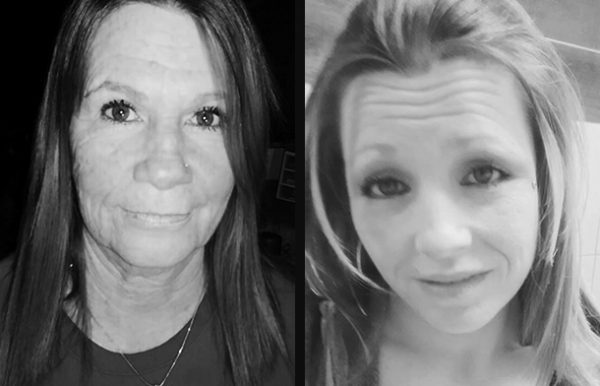 "THEN, 60 YEAR OLD BARBARA ELAINE ASH AND 35 YEAR OLD MISTY DALE RAINES WERE CHARGED WITH DISORDERLY AFTER POLICE ANSWERED A DOMESTIC FIGHT, APPARENTLY OVER A MAN, AT PARNELL COURT."
A 60-year-old and a 35-year-old (mom and daughter?) fighting over a man. Hopefully that's a misunderstanding in the report, but if not… that's the LaFayette we all know and love.


Should the state be able to hire or fire employees based on their personal beliefs or what they say in church?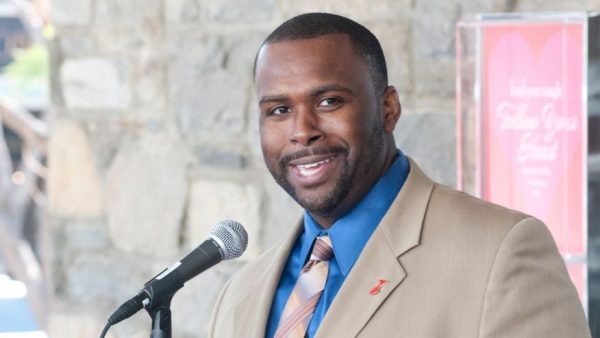 Dr. Eric Walsh, who briefly worked for Georgia Department of Public Health, says the state revoked his hiring after investigating sermons he delivered as pastor of a Seventh Day Adventist church. He spoke about creation, homosexuality, and marriage among other topics.
Walsh has now filed a wrongful termination/discrimination lawsuit against the state.


Our roads are in terrible shape, crime is on the rise, judicial and political ethics are nearing all-time lows. So what's the priority of the Northwest Georgia Regional Commission?
At the request of Walker County, Rossville, Chicamauga, Dade, Catoosa, etc. (but not LaFayette), they're studying… bike trails.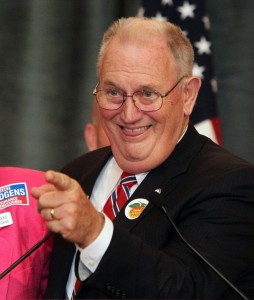 More shenanigans from Georgia's Insurance Commissioner.
Commissioner Ralph Hudgens was warned multiple times about shady businesses run by a man named Jim Torchia, buying up life insurance plans from elderly and sick people without a license.
He chose not to intervene despite Torchia violating laws Hudgens himself helped create as a legislator, and now Torchia's Credit Nation companies are being investigated by the fed for fraud.
Hudgens is the same leader who never (until last week anyway) saw an rate increase he couldn't approve.


Chattanooga man contributes to domestic violence in LaFayette's projects…
WQCH Radio, 04/20/16:

"A DOMESTIC BREAKUP LED TO VIOLENCE, AS A CHATTANOOGA MAN ASSAULTED HIS GIRLFRIEND AND DAMAGED HER CAR, IN LAFAYETTE.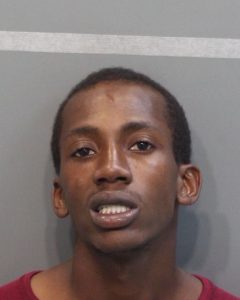 "POLICE ARRESTED 24 YEAR OLD AUSTYN SILVELS IN THE FOSTER CIRCLE HOUSING AREA, MONDAY MORNING. HE IS ACCUSED OF THROWING ROCKS, BREAKING THE WINDSHIELD AND A WINDOW OUT OF HIS GIRLFRIEND'S CAR. POLICE ALSO FOUND WITNESSES THAT SAID HE STRUCK THE WOMAN – AND HE SPIT ON HER AS HE WAS BEING HANDCUFFED, SHOUTING 'YOU'LL GET YOURS'.
"THE VICTIM SAID THEY HAD BEEN DATING FOR A WHILE AND WERE STAYING WITH A RELATIVE AT A FOSTER CIRCLE APARTMENT. SHE TOLD POLICE THAT WHEN SHE FOUND THAT SILVELS HAD BEEN CHEATING ON HER, SHE BROKE UP WITH HIM, AND THE VIOLENCE STARTED WHEN SHE TRIED TO DRIVE HIM BACK TO CHATTANOOGA.
"HE WAS CHARGED WITH AGGRAVATED ASSAULT, SIMPLE BATTERY UNDER THE FAMILY VIOLENCE ACT AND CRIMINAL DAMAGE TO PROPERTY. SILVELS WAS ALSO WANTED IN CHATTANOOGA, ACCORDING TO POLICE."
Silvels seems to be a nice guy with an impressive resumé…
(Maybe he was just mad she tried to drop him off in Chattanooga because he's worried about the gang violence?


Have you ever taken an online vision test?
Experts/optometrists (who happen to compete with the online service) say they're not accurate, and the state is set to ban them.
Sounds like a dubious test, but is it something the state should actually make illegal? Outside of a bunch of mad eye doctors losing business, does the State of Georgia have a compelling reason to say you CAN'T get your eyes checked with a free app?


New TV ads for Georgia describe the state as "Pretty. Sweet."
Advertising campaign sponsored by the state tourism agency features Georgia-produced music mixed in with video clips that highlight the state's scenery and food.


For today's links and any breaking news, follow the Underground on Facebook or Twitter.