2014
04.02
Joshua Michael Fowler of LaFayette has now been formally charged with beating his grandmother to death over the weekend.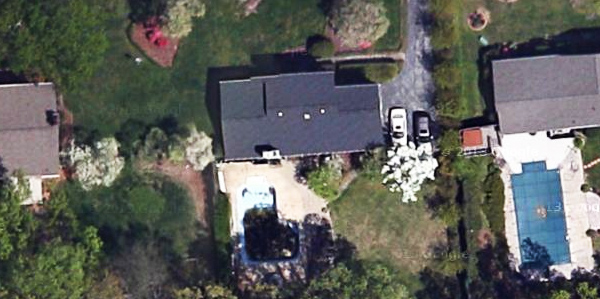 Investigators say Fowler, who served a prison term for drugs, admitted doing meth and coke before allegedly murdering 75-year-old Joyce Ann Fowler on Saturday. They also say the interior of his vehicle was covered with blood. The truck, and a recovered likely murder weapon, are being analyzed by the GBI crime lab.
Addtional reports say the murdered woman, who lived in Chickamauga, had expressed fear that her SON would kill her, and was hinting to neighbors that family members were trying to steal her money.




Be careful and watch for new traffic signals today in Rock Spring at Kay Conley Rd.
WQCH Radio, 04/01/14:

"ROCK SPRING MAY NOT BE AN INCORPORATED TOWN, BUT THEY NOW HAVE A SECOND TRAFFIC LIGHT.
"THE NEW SIGNAL ON HIGHWAY 27 AT KAY CONLEY ROAD WILL BECOME A REGULAR 'STOP LIGHT' THIS WEDNESDAY.
"THE NEW TRAFFIC LIGHT IS ONE OF SEVERAL IMPROVEMENTS AT THE KAY CONLEY INTERSECTION, INSTALLED BY THE STATE D.O.T. DUE TO A HIGH NUMBER OF ACCIDENTS AT THE LOCATION."
Rock Spring actually has TWO other traffic signals – at GNTC and the Hwy. 95/27 intersection. It still needs a fourth, in front of Saddle Ridge school.


Two years ago last week, Covenant Bank (a/k/a Bank of Billy Teems) was declared insolvent and taken over, by government order, by Stearns Bank of Minnesota. Now Stearns announces both branches in Rock Spring and Dalton will close in June.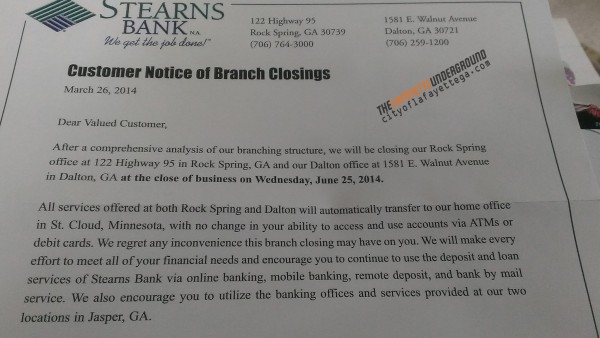 It was only a matter of time. Stupid location for a poorly-run bank, and a poor fit with the Stearns company which has no other local branches.
So what will we see moved into the Covenant Bank building after it closes? Flea market? Antique store? Someone suggested two years ago it'd make a classy spot for a Little Caesar's in Rock Spring.