2015
07.13
Vacation's over, time to catch up…
Corinth Church sustained heavy damage last weekend in an accidental fire, only hours after worship services ended.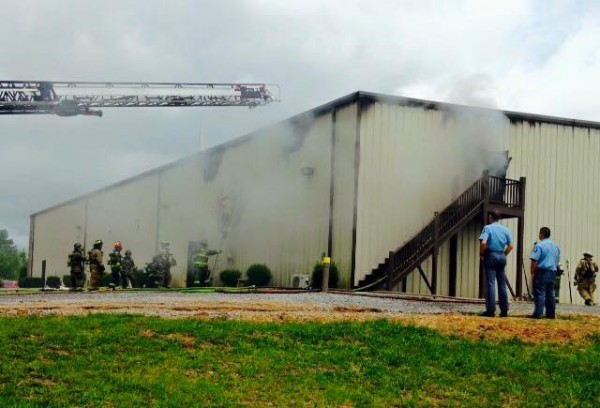 Investigators believe the devastating fire started accidentally in a church kitchen around 2 PM on July 5th, several hours after services ended. Fire crews from at least four stations needed about an hour to extinguish the flames.
A kitchen and classroom area were ruined, and the entire building sustained heavy smoke and water damage. Total estimates for repairs top $200,000.
Corinth's congregation will meet in a smaller building on site until they can restore or rebuild the burned church structure.




On July 4th, this group showed up at Chickamauga Battlefield with a variety of patriotic flags – including Old Glory, several Confederate flags, Georgia's old flag, and the "Don't Tread on Me" banner. They gathered on the museum porch for this photo.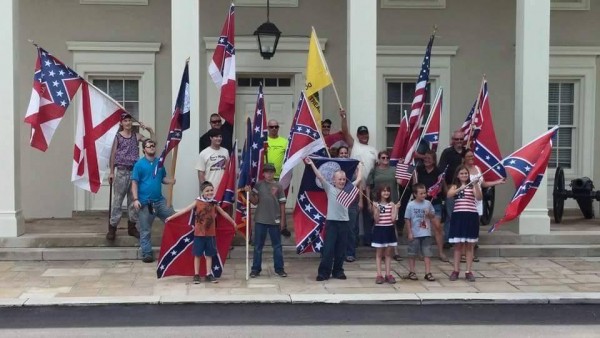 Shortly after the pic was taken, multiple park rangers came in with sirens wailing and lights flashing to make the group leave the park entirely, banners in tow.
Per an attendee, rangers (who were as nice as possible considering the circumstances) deemed the gathering and photo-op as a "rally" and said they would need a permit to congregate. Permit for another similar gathering is forthcoming.
Other rallies in support of the Rebel Flag over the last two weeks have included a gathering at the Fort O and LaFayette Walmarts and an informal parade in Dalton that resulted in a viral video.
Meanwhile, government attacks on the southern symbol have continued unabated: Half of Congress has passed three measures restricting how the National Park Service can obtain or display Confederate flags, and bans private groups from placing Rebel Flags on cemeteries within park boundaries. The proposal (buried in a spending bill) awaits US Senate approval.
South Carolina voted to remove the flag from its Confederate memorial, which was next to (but not on top of) the state capitol building. And Memphis' city council becomes the silliest of all with a vote to dig up a long-dead Confederate general and move him to a less controversial cemetery.
"It belongs in a museum" reactionary opponents say of the flag, even as they push its removal from museums, monuments, and graves.




After 33 months of drama, two owners, and multiple bad health scores, Chattanooga Street Tavern has officially gone out of business.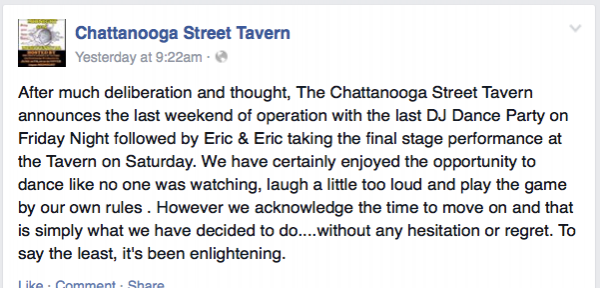 The bar's owners, past and present, continue to blame this site for the closure. They also blame the city, unnamed possibly fictional people opposed to alcohol sales, and everything under the sun except themselves.
You can't keep a business like that running with poor management, inconsistent food quality, and an attitude of hostility towards the community from day one.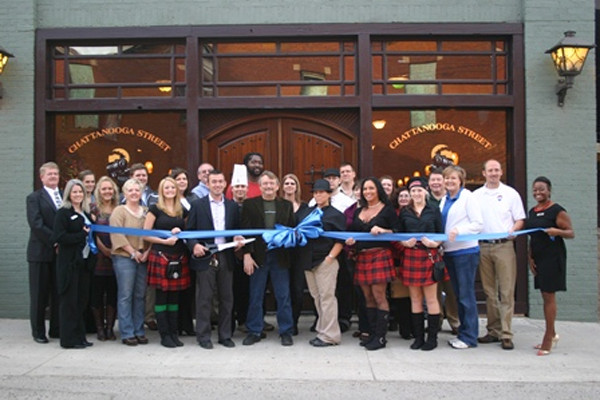 The Lovelady family (and later owner Tabby Holcomb) essentially had a screw-you attitude from the beginning about serving alcohol near a church, serving minors, abusing kitchen help, serving without a license, blocking traffic with their parking mess, dressing employees like prostitutes, etc… If you don't like any of that, screw you, they basically said. Under two sets of management.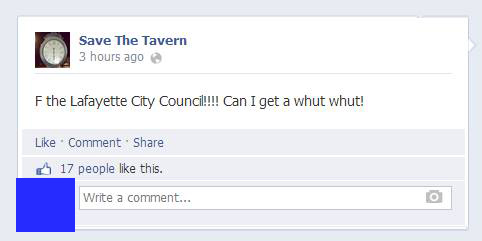 And now THEY got screwed. You can't take that approach and stay open.
Will the building next become a Mexican Restaurant, a title loan office, or be burned down for insurance money?