2016
06.23
Commissioner Heiskell's latest plan for the county? Selling a (literal) pile of garbage.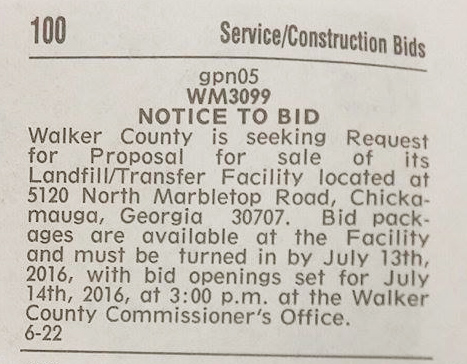 Walker County Landfill is now listed for sale. Bebe's taking bids until mid-July.
In the last year Heiskell has taken out $1 million in loans to expand the dump, which can only accept construction debris. The dump also loses several hundred thousand dollars a year from its operations, despite being of little benefit to the actual county since it only buries construction debris – a majority of which come from outside the county. (Household trash left at the dump is trucked out of state and has been for the last twenty years.)
The landfill and its losses have been mentioned multiple times on LU, and this year have become a point of criticism from Heiskell's primary challenger, Shannon Whitfield.
Is this how Bebe negates Whitfield's critique? Does she have a plan to offload the money-losing dump, cheap, to one of her regular campaign contributors? Maybe she's legitimately trying to sell the asset to make money for the county…
Or it's an election-year scam to make voters think she's trying, when she's absolutely not.


NWGA's favorite soap opera, As The Hospital Burns, continues.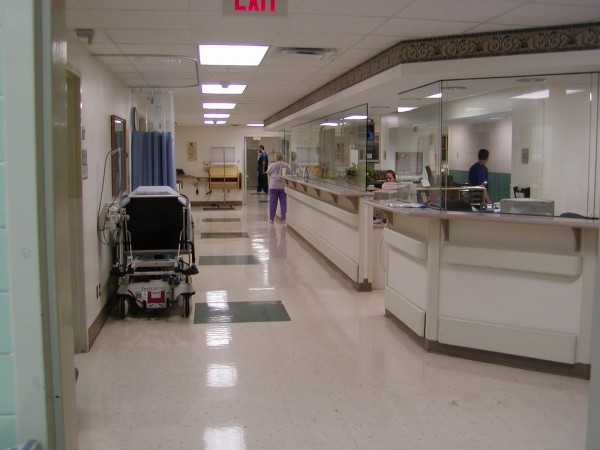 Catoosa County Commissioners agreed Tuesday night to pay Erlanger $6.25 million to settle its share of the outstanding Hutcheson debt. They save about $2 million over what's owed, presumably for agreeing to settle instead of fighting in court as Walker County continues to do.
Walker County's court battle, meanwhile, degrades further into something akin to a child sticking his fingers in his ears and going NAH NAH NAH when asked a question.
Members of the Hospital Authority (which owns/owned Hutcheson) have finally demanded Walker pay up its portion of the Erlanger debts, but Walker County's hired-gun lawyer Stuart James says Authority chairman Darrell Weldon's order is illegal and invalid.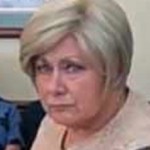 The hospital authority's lawyer, Tom Weldon, in return suggests Walker County's bizarre actions are meant to protect a certain county leader's reelection campaign.
Before Hutcheson closed Bebe could at least attempt to argue her poor decisions were meant to keep the place going. Now, with Hutcheson existing only on paper and the actual hospital controlled by another unrelated company, the situation is (As Weldon says) just about Heiskell delaying the inevitable until after the election – or possibly about her going senile..
Walker will end up owing Erlanger all $8.5 million plus Erlanger's legal fees PLUS our own legal fees for fighting it… When it all hits the fan in November or so. We might also end up owing the interest on that debt Erlanger was at one point willing to overlook.



During the last week, three men in Walker and Catoosa have been arrested on charges of child molestation.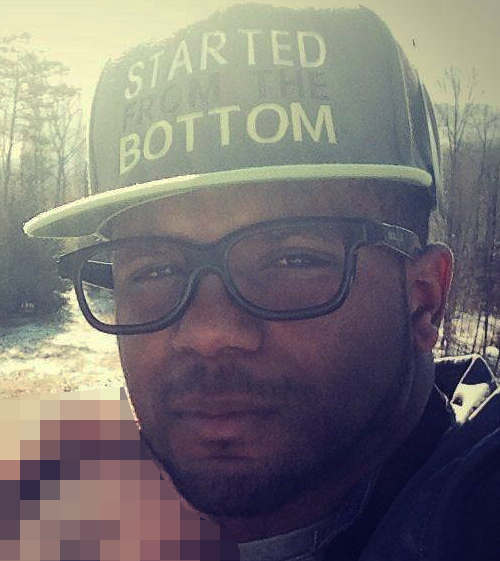 Cagney Darail Dyer, 28, of Rossville was arrested in Walker County on Saturday, hiding in a friend's bathroom, after a Catoosa mom said he molested her daughter. (Dyer has some ties to LaFayette as well.)
Investigators say the child recounts abuses at Dyer's hand from March of last year until this month.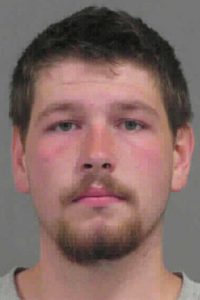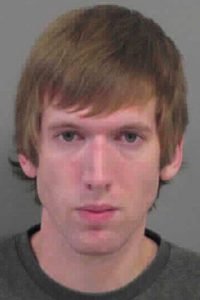 Leonard Raymond Curry, 18, of Ringgold [left] arrested for allegedly molesting a middle school girl. The child he's accused of abusing may be pregnant.
Richard Donovan Smiley, 24 [right], also arrested for molestation, involving a 14-year-old runaway found with him in a hotel room at the Ringgold Super 8, where he lived and was working as a manager.