2017
02.25
Thursday night at 6:30, Commissioner Whitfield held his first public meeting since January 29th.
During the business meeting, Whitfield abandoned county efforts to seize private land to finish the Lookout Mountain walking trail, adopted a rule temporarily blocking fracking, and banned "tiny houses" from being built or brought into the county for at least six months.
He also dropped insurance benefits for part-time county employees and raised rates at the garbage dump.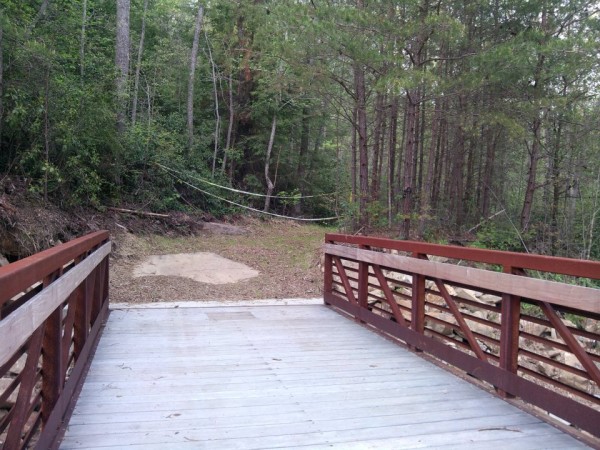 Saying (accurately) the county has no money to finish building or maintain the old Durham Railroad bed walking trail on Lookout Mountain, Whitfield agreed to drop an eminent domain lawsuit against landowners whose small tracts kept the project from completion.
Building the trail was a bad idea to begin with, driven by Bebe Heiskell's loyalty to a family with control of acreage along the road. But abandoning the project now may cost the county more money than Whitfield saves by not finishing it.
All state grant money involved in building the trail will likely have to be returned, to the tune of a half million dollars – and the EPD fines racked up will still have to be paid. (Whitfield in his meeting gave unclear answers about the grants, and claimed he had no knowledge of the EPD fines associated with the trail.)
There's no good way to finish OR abandon the trail – but it has to be asked, did Shannon Whitfield make the decision to give it up on what's best for the county as a whole, or was it based on repaying landowner Jill Wyse who was one of his strongest backers during the election?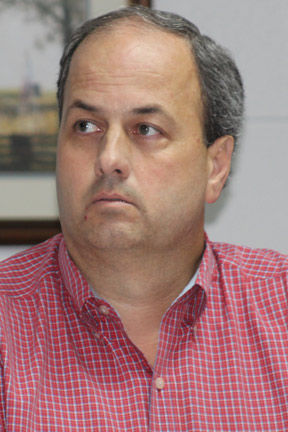 Whitfield seemed unprepared to answer many questions, and responded to several by saying he would have to check into matters further – despite having already made decisions about them.
Whitfield's lack of knowledge and experience with the landfill was highlighted during the meeting. He justified a 300% rate increase there by saying it should help the dump make money instead of operating at a loss – but couldn't defend his decision when challenged by a Tennessee garbage hauler who said the county will actually lose more money at the dump by driving away business.
Whitfield's six-month ban on tiny homes and container houses comes down to taxation. The county has no rules and guidelines for them and doesn't want any built until they can figure out how to make money off the buildings coming in. (Not exactly the libertarian approach to local government some had hoped for.)
He left further details on that subject to the planing and zoning board which will meet every 3rd Tuesday at 7 in the Civic Center. Hopefully THAT body will work out some light restrictions that allow property owners to use their land as they see fit without harming the property values of their neighbors.
Days before the meeting, Whitfield vaguely said he's already cut $700,000 off the county's budget since taking office and hopes to save $2 million for the full year. How that will be done is not yet determined.
He's banking on new companies coming into the industrial park (good luck with that one) and has "met with" the CEO of Erlanger to discuss the county's ongoing lawsuit over Hutcheson debt – but did not settle the expensive legal battle Walker County has no hope of winning.




Unrelated to Whitfield's tiny house ban, but coming from the same thought process, LaFayette's council has taken a brave stand against unsightly rooftop solar power cells.

Nearly two years ago, in April 2015, LaFayette imposed a "temporary" ban on installation of solar cells anywhere inside the city. Installation was put on hold so the council could study the issue – studies that apparently took the same length of time as earning a college Associates degree.
That ban was lifted a week ago, replaced with rules technically allowing solar panels on houses, but only if they can't be seen from the street. That makes them non-viable for buildings with southern or western roof surfaces facing the roadway.
WQCH Radio, 02/17/17:

"THE CITY OF LAFAYETTE HAD A MORATORIUM ON INSTALLING SOLAR PANELS, BUT THAT HAS ENDED WITH THE ADOPTION LAST [Monday] OF A NEW ZONING ORDINANCE.
"IT ESSENTIALLY FORBIDS PLACEMENT OF SOLAR PANELS ON ROOFS OR IN YARDS WHERE THEY ARE VISIBLE FROM THE STREET, A NOD TO AESTHETICS. WITH THE NEW ORDINANCE APPROVED, HOME OWNERS AND BUSINESSES IN THE CITY OF LAFAYETTE MAY NOW APPLY FOR PERMITS TO INSTALL SOLAR PANELS.
"THERE IS ONE MORE BRIDGE TO CROSS FOR THE CITY: NEXT, THEY WILL HAVE TO ADOPT NEW RULES FOR PURCHASING EXCESS POWER FROM SOLAR-EQUIPPED CUSTOMERS, AND WILL HAVE TO DETERMINE HOW TO PAY FOR AND INSTALL THE TWO-WAY METERS THAT WILL BE REQUIRED."
And the city still has no plan for buying excess power back from those panels, which is the main financial draw for those who put them in.
(If you have a solar panel on the street side of your house, would it still be "visible" if you just pile the trash in your yard high enough so nobody can see it?)


Big changes for Walker County School Board.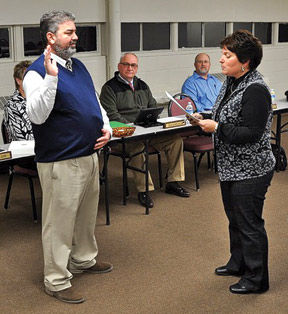 Board member Charles Wilson, who was elected in 2014 without an opponent, has resigned from the board without explanation. His term would have lasted through 2018.
WQCH Radio, 02/23/17:

"CHARLES WILSON, A MEMBER OF THE WALKER COUNTY BOARD OF EDUCATION, RECENTLY SUBMITTED HIS RESIGNATION FROM THE BOARD AS OF FEBRUARY 14th. WILSON, WHO REPRESENTED DISTRICT TWO, GAVE NO REASON FOR HIS DEPARTURE IN HIS LETTER OF RESIGNATION.
"DALE WILSON, SCHOOL BOARD CHAIRMAN, SAID THE BOARD HAS 45 DAYS FROM THAT DATE TO APPOINT A NEW BOARD MEMBER FROM DISTRICT TWO, TO FILL THE TERM WHICH EXPIRES IN 2018.
Charles Wilson's replacement will also join the school board without an opponent, as he or she will be appointed by the board's remaining four members – two of whom (Dale Wilson and Karen Stoker) are related by marriage.
Maybe Dale Wilson has another in-law or cousin they can put on the board and make it a 3/5ths family affair.

Read More >>