2015
01.23
Early Sunday morning, two men – Justin Lee Gilbreath and Hunter Brice Pettigrew – were arrested for breaking into a Dripping Springs Rd. home. The boys also allegedly fired at least nine shots from a .223-caliber AR-15 assault weapon during the attempted burglary.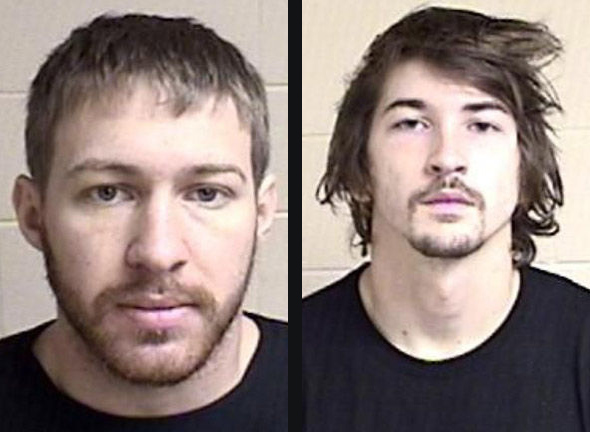 Sheriff Wilson speculates the two were seeking cash refunds for a drug deal gone bad, or simply trying to steal drugs they knew were in the home.
Two gentlemen who lived in the house being robbed – James Edward O'Quinn and Chad Franklin Hurt – were also arrested for possession of the drugs Pettigrew and Gilbreath presumably wanted.


When visiting downtown LaFayette, be sure to stay at the beautiful Morgan Motel.
WQCH Radio, 01/21/15:

"AN ALTERCATION AT THE MORGAN MOTEL LED TO AN ARREST EARLY SATURDAY MORNING. LAFAYETTE POLICE RESPONDED TO A CALL COMPLAINING OF A COUPLE ARGUING LOUDLY IN THE PARKING LOT OF THE SOUTH MAIN STREET BUSINESS.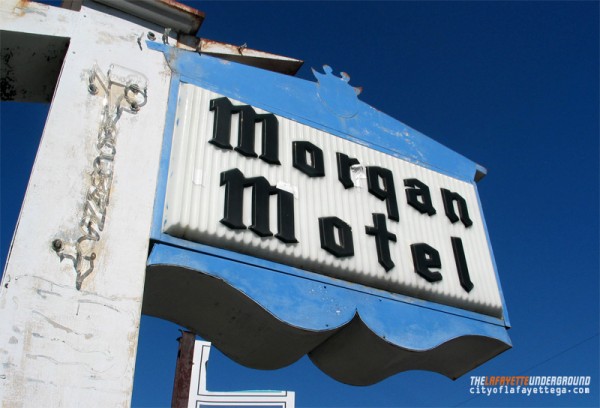 "WHEN THEY ARRIVED, OFFICERS COULD HEAR LOUD CURSING COMING FROM ONE OF THE ROOMS AND KNOCKED ON THE DOOR. THE MAN WAS COMPLIANT, BUT THE WOMAN INVOLVED REFUSED TO CALM-DOWN.
"40 YEAR OLD RHONDA LANETTE SANCHEZ WAS ARRESTED ON A DISORDERLY CONDUCT CHARGE. WHEN SEARCHED, A SMALL QUANTITY OF MARIJUANA WAS ALSO FOUND ON HER PERSON – AND SHE WAS CHARGED WITH POSSESSION.
Here's a statement from Motel Management: "YOU NO TAKE PICTURE I CALL POLICE."


Shady entrepreneur and defeated political wannabe Mike Lovelady says he no longer owns Chattanooga Street Tavern.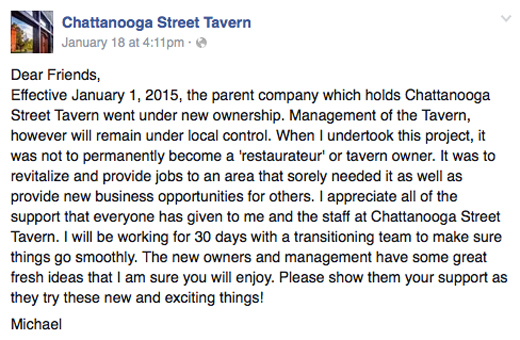 Lovelady's Facebook statement isn't clear on details, but seems like he's unloaded the entire Mars Theater block on Chattanooga St. to new owners.
Current Tavern management remains in place, for now.