2015
04.22
Late last night fire claimed a home on Kemp Rd. in Naomi near Dry Creek Baptist Church.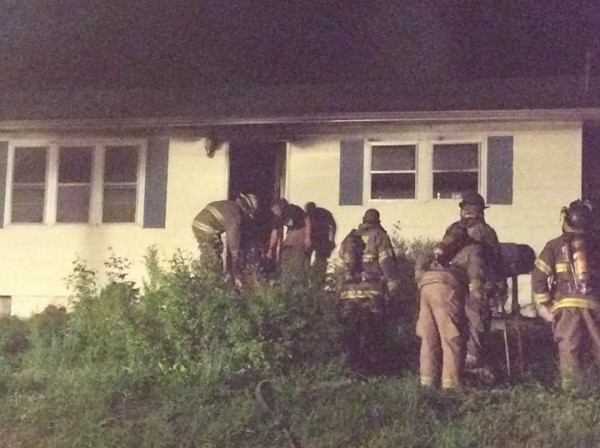 Per news reports, the blaze was reported a little after 10 PM. The home's sole occupant was hospitalized for smoke inhalation. Structure sustained heavy damage. Cause of the fire has yet to be determined.



LaFayette leaders say fears about big changes at the city cemetery are overblown.
WQCH Radio, 04/19/15:

"WITH THE CHANGE OF DEPARTMENT HEADS OVER PUBLIC WORKS CAME COMPLAINTS TO THE CITY COUNCIL ABOUT THE LAFAYETTE CEMETERY. [Last Tuesday] NIGHT, CITIZENS CONFRONTED THE COUNCIL CLAIMING THAT THE INTERIM PUBLIC WORKS DIRECTOR HAD SAID THAT DECORATIONS AND MEMORIAL ITEMS WILL BE REMOVED FROM GRAVE SITES.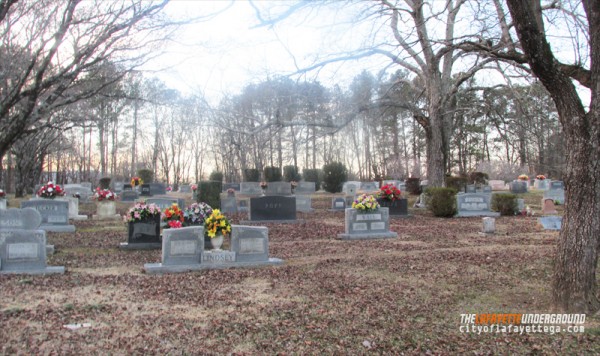 "THE COUNCIL HEARD SIMILAR COMPLAINTS SEVERAL YEARS AGO – AND APPOINTED A CEMETERY COMMITTEE TO 'SPELL OUT' THE LIMITATIONS OF WHAT CAN AND CANNOT BE PLACED AT GRAVE SITES. A SYSTEM WAS PUT IN PLACE ALLOWING SOME ITEMS TO BE PERMANENTLY DISPLAYED, WITH WRITTEN PERMISSION BY THE CEMETERY COMMITTEE.
"MAYOR ANDY ARNOLD SAID NOTHING WILL BE REMOVED WITHOUT FAMILIES FIRST BEING NOTIFIED. CITY MANAGER DAVID HAMILTON ASKED THOSE WITH COMPLAINTS TO MEET WITH HIM TO WORK OUT A SOLUTION."
Considering how badly the cemetery has been handled in the past, nobody can blame people for worrying about changes there. The city's current cemetery rules seem to be more consistent and fair than in past years, but many remain unsatisfied and are likely to remain so.


Looks like LU struck a nerve in the Commissioner's office, among people who won't admit to reading the blog.. This screenshot of Monday's Update, using a screenshot from last week, was put on Heiskell's Facebook page Monday evening.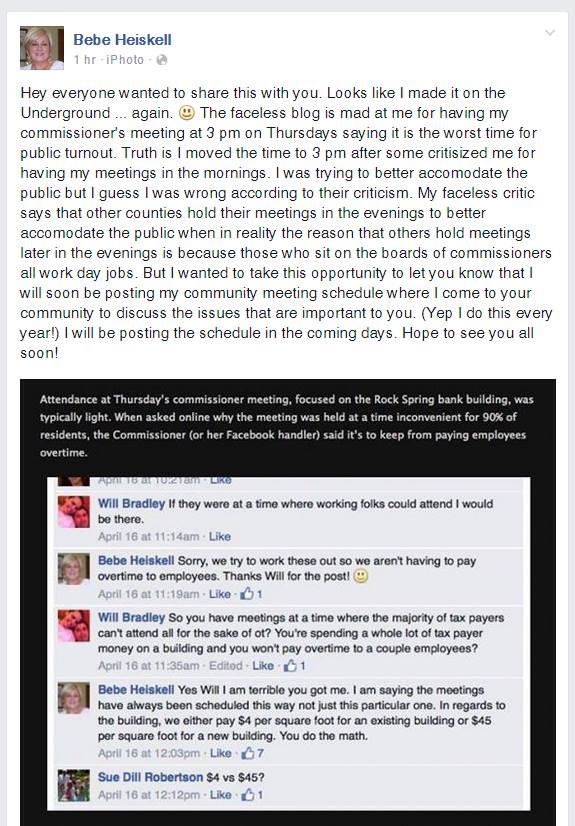 The Commissioner says here she moved county business meetings to 3 PM because people didn't like them at 10 AM. But nobody asked for them at 3, they asked for them during hours when they could attend – 3 ain't that.
Heiskell claims she has community meetings people can attend, but didn't have a single one last year. She's lying here about having them every year.
She also says other counties meet at night because their commissioners have "day jobs." (She says that like it's a bad thing.) Maybe we need to find Walker a commissioner with a "day job" too, so the meetings are accessible.
Bebe is welcome to come here to the blog and comment, so are her supporters. They're also welcome to comment on LU Facebook. Unfortunately LU and others in the county are NOT welcome to comment on Heiskell's page, and neither is anyone else who asks hard questions or disagrees with her (her being whoever runs her Facebook and prints her e-mails).
[Will "Bebe" make a screenshot of this screenshot of her screenshot of LU's screenshot and put it on Facebook and comment on it?]