2014
04.23
210 Villanow St. has been abandoned and deteriorating for several years. Now it's literally collapsing into the street. This isn't the back side of town, it's located on a gateway to the city across from the cemetery.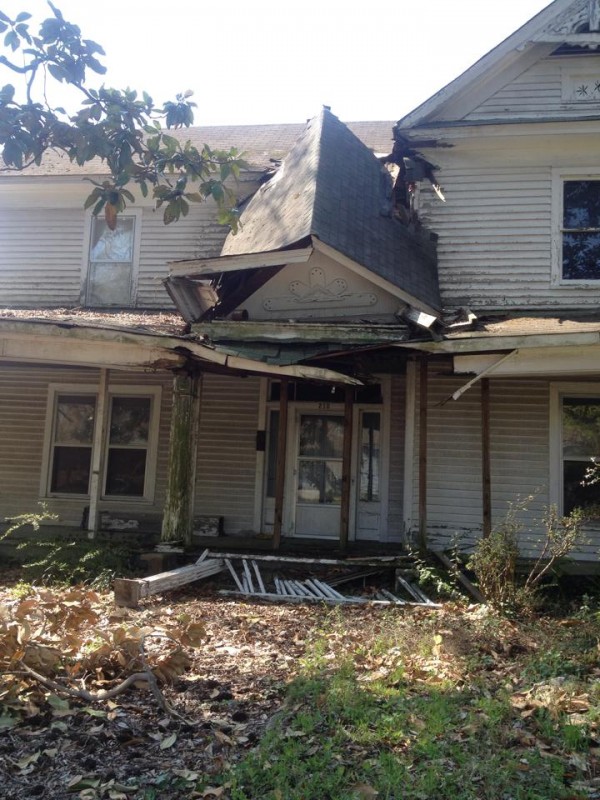 During last Monday's meeting, LaFayette City Council voted to begin actively pursuing "nuisance abatement" laws – in other words, the city will start enforcing long-ignored laws requiring residents to fix up their falling-in houses and clean up their yards.
WQCH Radio, 04/22/14:

"CODES DEPARTMENT HEAD PHILLIP JEFFERS TOLD THE COUNCIL THAT HE ESTIMATES THE COST OF DEMOLITION AND REMOVAL OF SUCH STRUCTURES SHOULD AVERAGE UNDER 3-THOUSAND DOLLARS EACH. CITY MANAGER MAX MORRISON ADDED THAT WITH THE CITY'S IMPROVING FINANCES, THEY SHOULD BE ABLE TO HANDLE ABOUT 3 TO 5 DEMOLITIONS EACH YEAR. A LIEN IS THEN PLACED ON THE PROPERTY, IN HOPES OF RECOUPING THE EXPENSE OF DEMOLITION."
We don't need an aggressive entity demanding houses all be painted a certain color and making everyone cut their grass to the same length twice a week, but homes that are allowed to deteriorate like this one (and many others) are encouraging crime and killing property values. The city's new codes director, Phillip Jeffers, really has a chance here to make a difference in the city that people will be able to see and feel.




Two local business, Loughridge Equipment and Sears, were robbed over the weekend.
WQCH Radio, 04/22/14:

"THIEVES CUT A HOLE IN THE [Loughridge Equipment] SECURITY FENCE, AND SPENT QUITE SOME TIME ON THE PROPERTY, ACCORDING TO DETECTIVES. THEY GAINED ENTRANCE TO THE SHOP AND TOOK NUMEROUS TOOLS, MANY BELONGING TO MECHANICS WHO WORK FOR THE BUSINESS. TOTAL VALUE OF THE LOSS THERE WAS OVER 2-THOUSAND DOLLARS.
"THEN THEY BROKE THROUGH A WINDOW AND RANSACKED THE BUSINESS OFFICE. THEY OPENED A SAFE AND TOOK $750 CASH, AND GUITAR AND A HAND GUN. THE BREAK-IN OCCURRED BETWEEN SATURDAY NIGHT AND MONDAY MORNING, ACCORDING TO OWNER, BILL LOUGHRIDGE. ANYONE WITH INFORMATION ON THE BREAK-IN SHOULD CONTACT LAFAYETTE POLICE."
Sources say the business has offered a reward for information leading to an arrest.

"A REPORT WAS RECEIVED MONDAY MORNING, OF SUSPICIOUS PERSONS TRYING TO SELL SOME ITEMS ACROSS THE STREET FROM CVS ON NORTH MAIN. WHEN POLICE ARRIVED, THE MAN AND WOMAN TRIED TO FLEE. THEY WERE IN POSSESSION OF A TOP-OF-THE-LINE STIHL CHAINSAW AND AN IMPACT WRENCH, TOTAL VALUE OVER $700.
"POLICE IMPOUNDED THE ITEMS FOR 'SAFE KEEPING' AND MINUTES LATER, THEY RECEIVED THE REPORT THAT THE ITEMS HAD BEEN TAKEN FROM THE SEARS STORE IN LAFAYETTE, SATURDAY NIGHT. AN ARREST IS PENDING IN THAT CASE."

Relay for Life event at Saddle Ridge school this Friday has special meaning for Kandy Gilstrap, principal of Rock Spring Elementary. Gilstrap was diagnosed with breast cancer last month.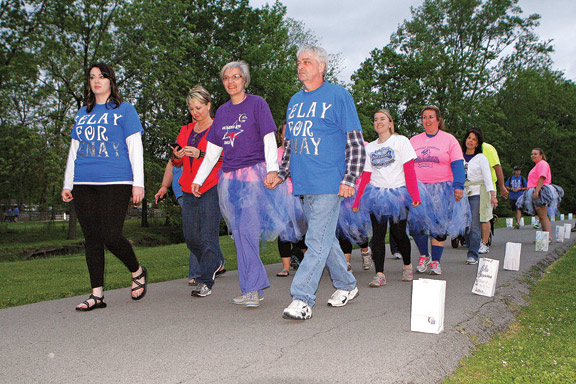 Local musician Channing Wilson is taking bids to let someone cut his hair, with proceeds going to help Gilstrap in her battle against cancer. Top bid right now is $105. (The hair goes to "Locks of Love.")