2014
07.28
Apparently Commissioner Heiskell has gotten calls about a link shared here last week regarding the future of Roper.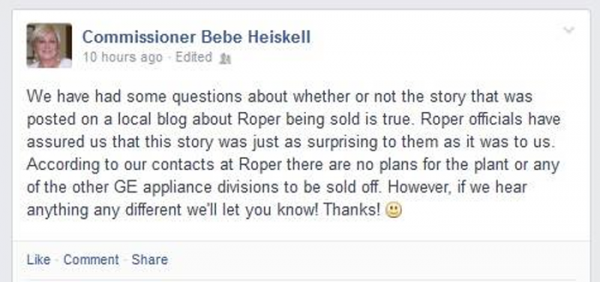 The initial story wasn't made up by LU, it was a report from Bloomberg business news. The story was also picked up with additional details by the Wall Street Journal [registration required]. Per both articles, GE is considering a sale of its entire appliance unit (not just Roper) after another business deal is finished later this year.
A union member at GE Appliance Park in Kentucky says nobody there knows anything about a pending sale but also says anybody who WOULD know is contractually not allowed to say anything. Same situation here: If there WAS somebody at Roper who knew what was going on, they couldn't admit it without losing their job.
Bebe's breakroom gossip "contacts" at Roper haven't heard anything; Meanwhile Bloomberg Business News, which has contacts inside GE corporate HQ, says preliminary sale talks are happening. You can believe whoever you choose on this one.


More legal trouble for Daniel Alex Snyder.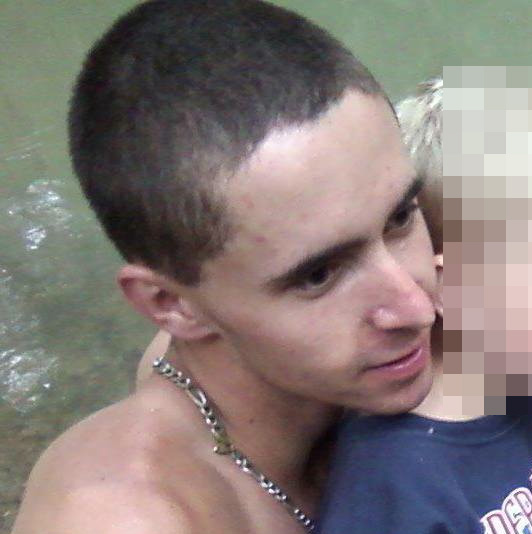 In addition to "fleeing from police" charges filed last week, Snyder has been connected with three recent vehicle break-ins in West LaFayette.
WQCH Radio, 07/26/14:

"NOW, SNYDER HAS ALSO BEEN LINKED TO AN 'ENTERING AUTO' CASE REPORTED JUST AFTER THE CHASE. AN OFF-DUTY POLICE OFFICER SAID HE SPOTTED SNYDER GOING THROUGH A PICKUP TRUCK SUNDAY EVENING [July 20th]. THE NEXT DAY, THE OWNER REPORTED TO POLICE THAT SOMEONE STOLE A SONY CD-RADIO FROM HIS TRUCK AT 807 MAGNOLIA STREET. THE MAN SAID SNYDER HAD BEEN TO HIS HOUSE FOR A VISIT, BUT HE DIDN'T GIVE HIM PERMISSION TO ENTER HIS TRUCK. TWO OTHER VEHICLES WERE ENTERED IN THE SAME AREA OF TOWN AT AROUND THE SAME TIME.
"SNYDER HAS BEEN CHARGED WITH ONE COUNT OF ENTERING AUTOS, ALONG WITH CHARGES OF FLEEING TO ELUDE AND OBSTRUCTION OF AN OFFICER."
Mr. Snyder has apparently been apprehended. His arrest might slow the rate of vehicle break-ins, but he's hardly the only person responsible for those. Residents should still be careful to lock their car doors at night.



During Thursday's LaFayette council meeting, results from the city's fiscal 2013 audit were presented. Thanks to higher rates, the electric, gas, and water departments all made profits during the year, funds that go to run the city instead of taxes.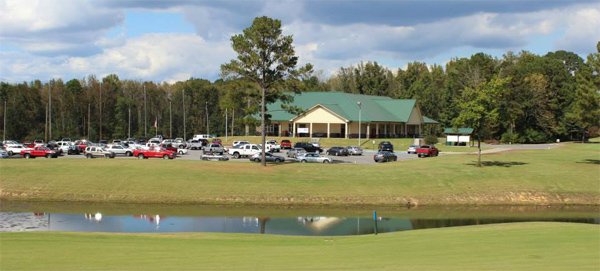 Unfortunately the golf course and airport still bleed cash that could be used to pave roads, pay police, or lower the utility rates a bit. Neither of those subsidized "business type" activities have made a profit since LU has paid attention.
We'll concede that the airport is "necessary infrastructure" that has to exist even if it doesn't make money, despite the fact that it serves less than 1% of the city's population.
But the golf course, which might benefit 5% of the residents at best, serves no necessary function other than giving the city's old men somewhere to go when they need to hide from their wives.
It's clear from the latest audit (and has been for years) where the city's financial "leaks" are. Now it's up to the council to decide if they're politically willing and able to make reforms like cutting out free play for city employees, bringing in outside management, or selling the course outright.
(Don't hold your breath for any of that to happen.)