2016
07.23
In a special called meeting Thursday night, Walker County Board of Elections formally certified Perry Lamb's campaign to run as an independent candidate for Commissioner.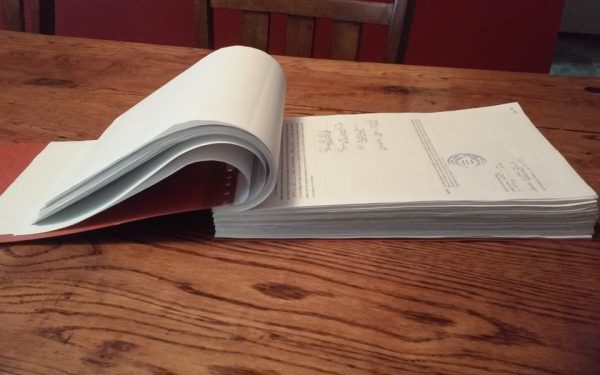 Lamb's name will be on the official ballot this November, opposing two Chickamaugans: incumbent Bebe Heiskell and party choice Shannon Whitfield.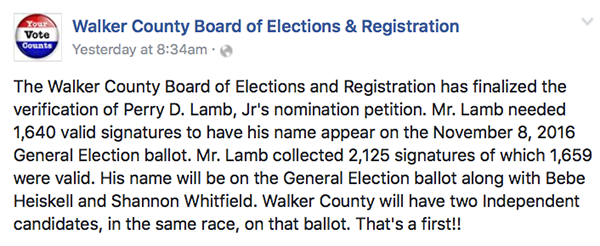 This is a victory for those who want real choice in the election, to defeat the broken status quo and to move away from ethically conflicted party politics.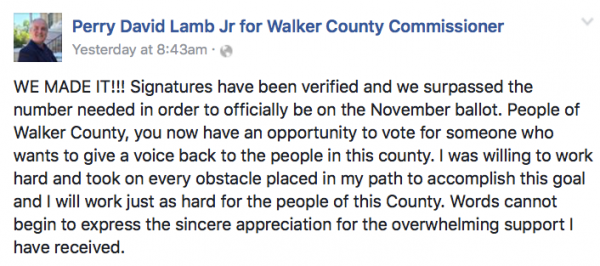 Now poor Shannon Whitfield will actually have to work for this election – and might even have to put his campaign signs back up.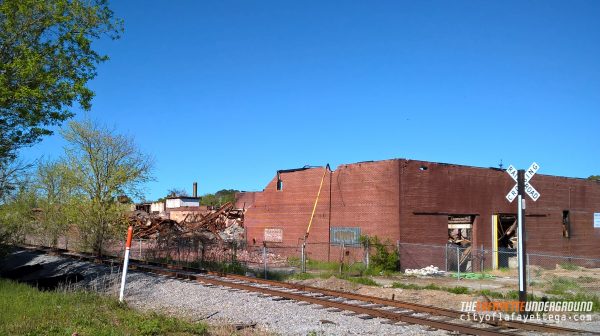 When Barwick's old carpet facility burned back in November, the city said its owner would be prompt about beginning the cleanup process.
Eight months later cleanup is mostly on hold, but the EPA says any time now owner Drennon Crutchfield of Dalton will get the mess removed.
WQCH Radio, 07/21/16:

"THE WHEELS ARE FINALLY STARTING TO TURN ON THE CLEANUP OF THE FORMER BARWICK MILLS PLANT – MUCH OF WHICH WAS LEVELED BY FIRE LAST NOVEMBER.
"WQCH NEWS TALKED TO EPA SITE COORDINATOR DAVID ANDREWS, WHO SAID WITHIN 30 DAYS, A NEW CONTRACTOR WILL BE ON-SITE AND STARTING THE DEMOLITION PROCESS.
"EPA SAMPLED THE STORED WATER RUNOFF FROM FIRE-FIGHTING, WHICH IS IN THE BASEMENT OF THE BURNED PLANT AND ALSO STORED AT THE OLD ARCHER PLANT IN KENSINGTON. IT IS CONTAMINATED, BUT NOT CONSIDERED 'HAZARDOUS WASTE'. ANDREWS SAID THE PLAN IS TO TRANSPORT THAT WATER TO A TREATMENT FACILITY IN ATLANTA. ASBESTOS IS ALSO INCORPORATED INTO THE DEBRIS INSIDE THE BUILDING AND WILL ADD SOMEWHAT TO THE COMPLEXITY OF THE CLEANUP.
"THE PROPERTY OWNER, DRENNON CRUTCHFIELD, WAS 'CAUGHT OFF-GUARD' WHEN THE FIRST CLEANUP CONTRACTOR HE HIRED, PULLED OUT OF THE PROJECT. HE HAS NOW EMPLOYED GEOSYNTEC OF KENNESAW, GEORGIA, AS THE PROJECT CONSULTANT.
"EPA SAYS THE CONSENT ORDER IS EXPECTED TO BE SIGNED THIS WEEK, WITH ANOTHER 20 DAYS OR SO TO REVIEW THE PLAN. SO, VERY SOON- PERHAPS WITHIN 30 DAYS- THE ACTUAL CLEANUP OF THE BURNED PORTION OF BARWICK MILLS WILL BEGIN. ANDREWS ADDED THAT MR. CRUTCHFIELD HAS BEEN EXTREMELY COOPERATIVE AND IS ANXIOUS TO SEE THE BUILDING SAFELY DEMOLISHED.
"EPA IS ALSO PRINTING FLIERS TO DISTRIBUTE IN THE COMMUNITY – LETTING THE PUBLIC KNOW DETAILS OF THE CLEANUP PLAN."
After changing contractors and deciding plant debris is full of the asbestos we were once told didn't exist, cleanup is now expected to begin within thirty days.
In January debris removal was projected to start in February and take a year to finish. Then in early May the city expected cleanup to begin in late May. Now the timeline is late August. At this rate, cleanup not be done in our lifetimes.
Mr. Crutchfield also promised to pay for all the cleanup AND comp the city/county for expenses related to putting the fire out. Hopefully he's kept that promise – although the man hasn't paid his taxes on time for any of his Walker County properties in years, so don't bet on it.


Two Catoosa teens charged with raping a girl under the age of 16 have been released on bond.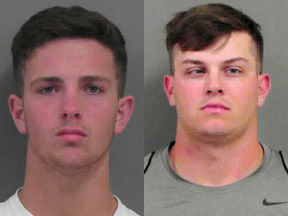 Facing charges of molestation, rape, and supplying alcohol to a minor, Destin Noble and Brett Hardy weren't allowed to graduate with the rest of their class earlier this year and are prohibited from contacting their alleged victim – but Noble is still allowed to work with young girls as a cheerleading coach in Tennessee.