2016
11.20
Fire crews from around the state, including local volunteers, have been challenged by the recent dry weather and outbreak of woods fires.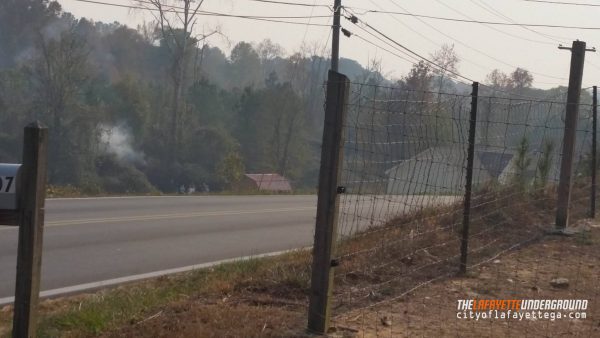 Just within the last week, Walker County crews have fought brush or woods fires on Hwy. 151 in Naomi, Probasco Street in LaFayette, Chamberlain Road off 193, and one today on Halls Valley Road – among dozens of other smaller fires.
Local law enforcement is also pressed by idiots who continue to light up, responding to a half dozen illegal outdoor burns in just one day.
Regionally, fires have continued to burn on Rocky Face Ridge in Whitfield County, and atop Lookout Mountain in Dade and parts of Walker. The Tatum Gulf fire atop Lookout briefly required residents of Highland Subdivision in Dade to evacuate, although no homes were lost there. (That blaze is expected to keep burning through the end of the month.)
Many of the fire fighters working in state forest land are actually prisoners, men who have taken fire fighter training behind bars and volunteered to come battle the flames. Others have been brought in from out of state to help locals, especially with the largest fires.
243 people battling the Cohutta Wilderness fire are preparing to spend the Thanksgiving holiday away from their families. They are, instead, working 16-hour shifts during two week assignments to stay on top of a monster blaze that could put the homes of others at risk.
That inferno has now burned over 28,000 acres of forest land – that's over five times larger than Chickamauga Battlefield. The blaze is now about 40% contained.
Comparatively, Walker County has been shielded from the worse of these fires – but without significant rain, a deluge of small fires will continue.













In response to the fires and drought, commissioners of Walker, Chattooga, Dade, Catoosa and other counties around the region issued temporary bans on all outdoor fires.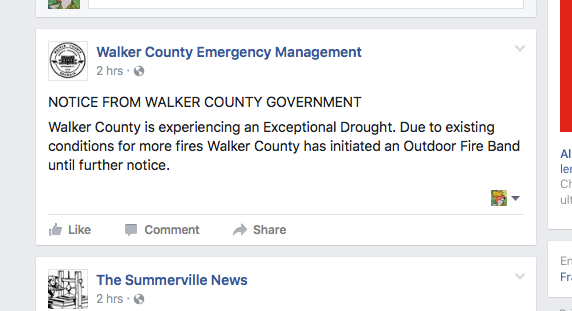 (All county burning restrictions were worded similarly, but several counties had trouble getting the message across to citizens – this post from Walker County, which was also reverse-911 texted to citizens, referred to an "Outdoor Fire Band." To be fair, Dade was no better, misspelling "Fire Departmenst" in its own text to residents.)
LaFayette's city council went a step beyond the county, banning all outdoor fires, plus asking law enforcement to ticket those seen tossing cigarette butts out their car windows.
(If you see somebody burning anything outside, or tossing out cigarette butts, call your respective law enforcement agencies or non-emergency 911.)
WQCH Radio, 11/14/16:

"IN THE FACE OF FIRE DANGER FROM DROUGHT CONDITIONS, THE LAFAYETTE CITY COUNCIL AUTHORIZED AN IMMEDIATE BAN ON ALL OUTDOOR BURNING UNTIL FURTHER NOTICE. POLICE WILL EVEN STOP MOTORISTS OBSERVED 'FLICKING CIGARETTES' OUT THE WINDOW – A "ZERO TOLERANCE" BAN ON ALL TYPES OF OUTDOOR BURNING."
Walker County schools didn't disrupt class for the smokey conditions as some hoped, but is asking parents to keep kids inside until the bus arrives, to limit their exposure to smoke.
The bus will wait on kids to come out, which means it might run late. Kids who ride the bus and arrive to school late for this reason will not be marked absent.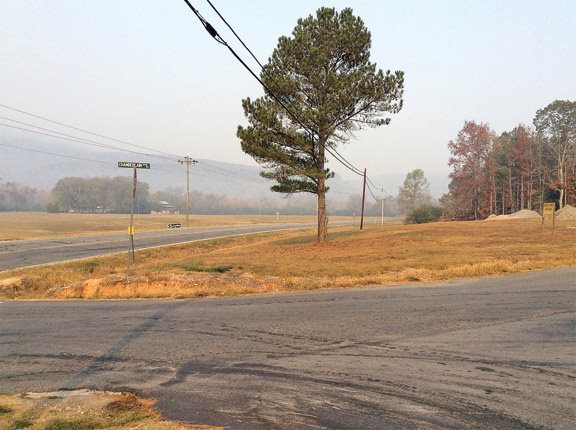 At the state level, Governor Deal banned fireworks for most of the dry state. Deal also included many counties (including Walker) in a "Level 2" drought, which means you're restricted in days of the week you can water your grass. (As if you watered grass anyway.)
It's unclear if restrictions apply to private wells, or only public water.







Bebe Heiskell concedes that Shannon Whitfield beat her in the election, and says he won the vote "fair and square" by a huge margin. She says they're working together on a transition.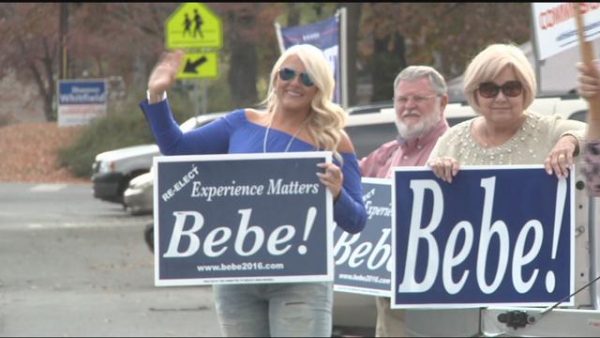 Heiskell tells reporters she wants to "tie up as many loose ends" as she can before leaving office at the end of December, which could be bad news for people who opposed her or her plans.
You thought she was bad before? Now she's got nothing to lose by doing whatever she can get away with. Lots of projects she's been putting off for political reasons might come to a head in the next few weeks while everyone is distracted by the holidays.
You haven't seen government waste until you see what all Bebe can accomplish unfettered in the next six weeks.
She has an unfinished fire station in Hinkle, an unfinished walking trail on Lookout Mountain, a half-remodeled office building in LaFayette where the tax office used to be, and maybe some contracts to hand out to friends or family.
As sole commissioner, she has no restrictions on what she can do through December, other than the law – which she's never really seemed to care much about.
Step one? Using the power of government to take away private land atop Lookout Mountain that has kept her from finishing Bobby Davenport's walking trail/driveway – a step Heiskell took during last Thursday's business meeting while Commissioner-Elect Whitfield sat silently and watched.



Read More >>