2014
08.29
This serious wreck in front of Saddle Ridge School during Thursday morning rush hour had traffic backed up for miles.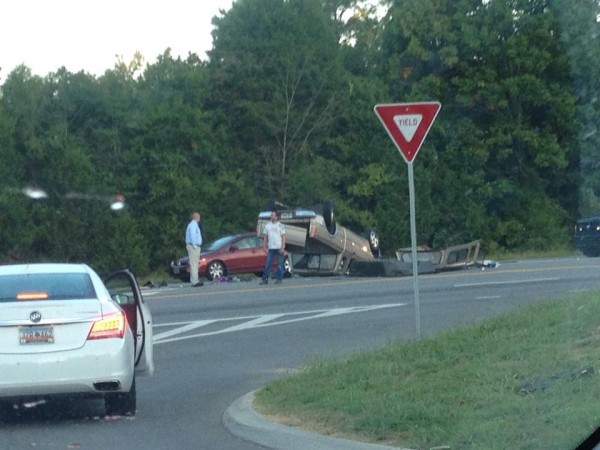 Per observers, a parent failed to yield and pulled out in front of the pickup truck depicted. None of the people involved were seriously injured.
Beyond verifying the uselessness of a "55 MPH" school zone sign, this accident again shows the need for a regular traffic light in front of the school and rrandom visits from law enforcement to make sure drivers on 27 AND exiting the school obey traffic laws and drive safely.
Be careful out there – the school year has just begun.


Days before bulldozing one of the prettiest pieces of land in Noble, Walker County Development Director Larry Brooks admits to local media we still have no idea how many jobs the Project Eagle / Audia International investment will bring to the area.
WQCH Radio, 08/27/14:

"WALKER COUNTY'S NEWEST INDUSTRIAL NEIGHBOR SENT MEMBERS OF THEIR HUMAN RESOURCES DEPARTMENT TO VISIT OTHER INDUSTRIES IN THE LAFAYETTE AND ROCK SPRING AREA, LAST WEEK.
"DEVELOPMENT AUTHORITY DIRECTOR LARRY BROOKS SAID THEY WERE SENT TO 'REACH OUT' TO THEIR SOON-TO-BE INDUSTRIAL NEIGHBORS. FIRST, TO GET ACQUAINTED, AND SECOND, TO REASSURE THEM THAT AUDIA INTERNATIONAL WON'T BE TRYING TO 'STEAL THEIR EMPLOYEES'. THE EXECUTIVES WERE ALSO LOOKING AT HOUSING OPPORTUNITIES FOR THE 'HANDFUL' OF AUDIA EXECUTIVES THAT WILL RELOCATE TO WALKER COUNTY.
"BROOKS SAID AUDIA IS STILL DECLINING TO SAY JUST HOW MANY EMPLOYEES THEIR NEW OPERATION IN THE NOBLE BUSINESS PARK WILL BE HIRING.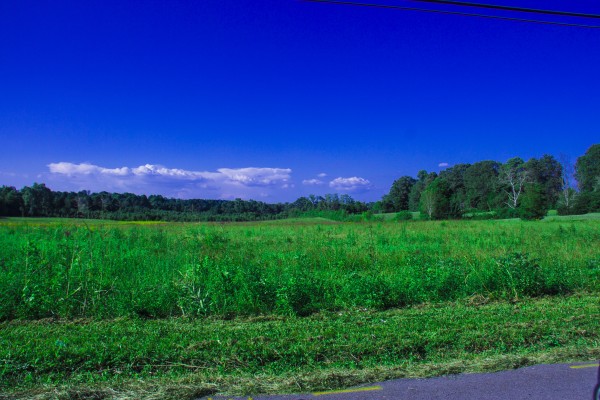 "MORE EARTH-MOVING EQUIPMENT WAS BROUGHT ON-SITE LAST WEEK, AND MOST OF THE TREES AND HILLS THAT ARE NOW VISIBLE FROM U.S. 27 WILL BE TAKEN DOWN IN THE BUILDING PROCESS. THE 'VIEW' FROM THAT ANGLE, 'WILL CHANGE DRAMATICALLY' BROOKS SAID."
Millions of dollars invested, the county's natural beauty paved over, and he can't guarantee a single job will be created when it's all said and done. AND the company has essentially admitted it won't be hiring any locals.
This is NOT how you do development deals.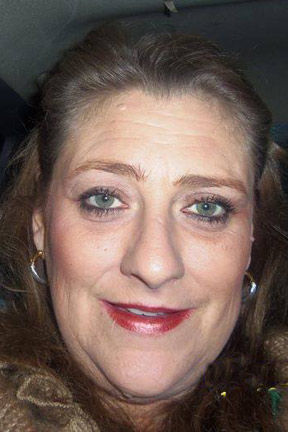 Final arrangements for Frances Middleton held today at Wilson Funeral Home.
The family asks for donations to help with funeral expenses instead of flowers. Those interested in helping pay for the poor lady's burial can send a check to Wilsons at PO Box 1992, LaFayette or give online here. Middleton's survivors apparently need about $4,000 to cover everything.
(As previously reported, Middleton was found dead last weekend in her LaFayette apartment after suffering a medical emergency and bleeding to death.)