2013
07.29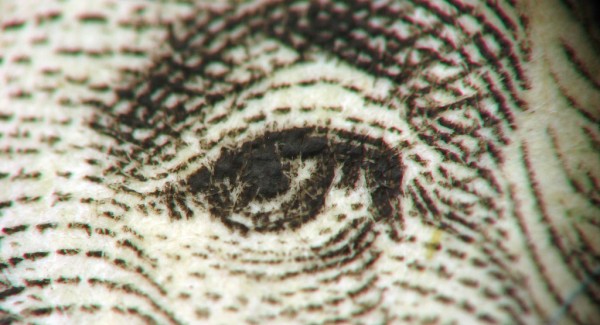 "Bait-and-Switch" is the name of an old retail tactic where products are advertised at one price to get customers in the door, then sold at another price (or replaced with a more expensive product) without buyers noticing the difference.
Government has banned this practice in stores, but government itself at every level still engages in Political "Bait-and-Switch" (or "Political BS" as it were) on a regular basis. Voters are promised one thing to gain support, then often realize they were sold something else entirely once its too late to change their minds.
Political BS of that type has been perfected here in Walker County, especially when it comes to the regular renewal of Special Purpose Local Sales Tax, or SPLOST. SPLOST is a state-sanctioned 1% sales tax, one of three local sales taxes currently being paid along with a 4% state tax. Revenue from SPLOST is restricted to special projects – building facilities, road work, buying land, purchasing equipment, etc. and cannot be used for operating expenses like salaries or utilities.
Under state law, the 1% sales tax must be reapproved by voters every five or six years. Walker County residents have faithfully reapproved SPLOST every chance they've had since it was first implemented in 1987, but each SPLOST cycle provides voters with fewer and fewer benefits compared to what backers promise. The Bait and Switch.
Walker County SPLOST is up for a vote again this November. Baiting has already started; shenanigans begin tonight at 7 PM during a SPLOST planning meeting/dog and pony show every Walker County voter should make an effort to attend.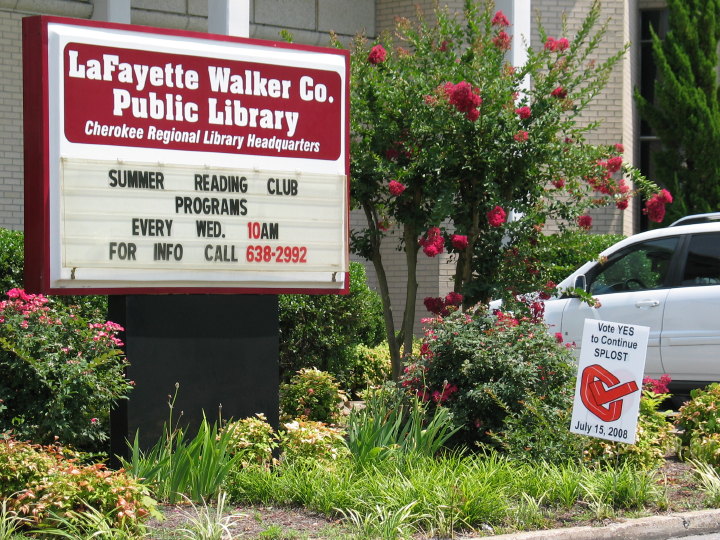 In July 2008, voters backed SPLOST based on promises of paved roads, library renovations, community centers, airport expansion, a new Sheriff's Office and jail renovations, and a variety of unspecified recreational projects. Many of those promises were kept, but the biggest selling points – paved roads and library renovations – were barely done or started and never finished. (Projects for the Sheriff's Office were never discussed again.)
Worse than jobs not done were unannounced pet projects that received a majority of 2008 SPLOST funds. Mountain Cove Farms was recipient of over $2 million from SPLOST within months of the tax being renewed. Commissioner Heiskell had documents for the purchase in her desk all during 2008, but never mentioned plans for buying the Kensington property to voters until the money was available.
LaFayette used $900,000 of its own SPLOST money to build a softball complex in a swamp, solely on the advice of one now-disgraced councilman who moved out of city limits once the fields were completed. The city also built a new airport runway used by tens of citizens. Improvements to the city's wastewater plant we all use, meanwhile, were funded through an increase in utility bills. That could have been avoided if SPLOST had been spent wisely.
LU warned voters way way back on July 17, 2008 about the potential for SPLOST funds to be abused:
"..SPLOST's ballot measure is extremely broad in what exactly it should be spent on. Improvements for roads and bridges, public safety vehicles and equipment, buildings, sewers, fire hydrants, acquisition, construction.. Almost anything can go into those broadly defined categories. The measure is so broad in its designations that it essentially doesn't designate the funds for anything at all, leaving their disbursement up to the discretion of the county's government. The county's government with its sole commissioner who has no fetters beyond those imposed by matters of insurance or legal liability.
"$38 million in cash, with no specifically designated purpose beyond where it can be spent, controlled by a sole individual who has to run for reelection every 4 years. What does that translate into? A defacto pay-off fund for whoever ends up being the county commissioner, a pile of cash they can distribute to any project or part of the county they desire, based on need, public demand, or pure political convenience.
"It's a carrot and a stick for voters in Walker County. Be good and vote correctly and you'll get a treat. If you're bad then you'll get spanked and somebody else gets your treat."
That prediction was dead-on. Other than the designated city/county splits, Commissioner Heiskell was free to spend the county's share of SPLOST on whatever projects she chose, in the priority she chose them. Mountain Cove Farms was purchased even though it was mentioned only as "recreation" but the road projects and library renovation specifically pushed by tax backers were delayed until funds were almost exhausted. (COMPLETING the library renovation promised in 2008 is now being used as a selling point for the NEXT round of SPLOST.)
Many in the community, burned by 2008 SPLOST waste, have demanded more transparency in the new SPLOST cycle. Projects should be given specific dollar amounts, with at least 60% of monies dedicated to roads/streets/sidewalks and infrastructure instead of toys and pet projects for the Commissioner and city leaders. Unfortunately, documents and numbers from local government insiders reveal that isn't going to happen. This year's SPLOST proposals mirror what was done in 2008: only one project (a major land purchase) has a dollar amount or priority attached, and everything else is vague.
The one defined project calls for buying 137 acres of land in Noble for part of a long-proposed industrial park. Walker County purchased two smaller tracts there which haven't been developed, and now intends to spend between $8.2 and $8.6 million buying and developing a second section of the Joe Swanson Farm on Highway 27. (A third section is being held off for a later round of SPLOST. Total purchase and development for the entire project is projected to top $24 million after 2020.)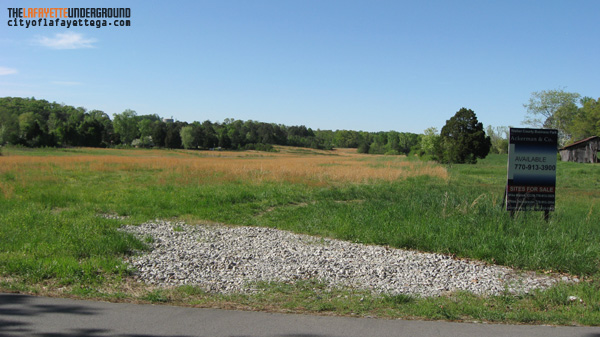 According to county documents, $6.6 million of that cost will be taken off the top of SPLOST (20% of anticipated $33 million) before dividing funds between the county and cities, leaving only $26.4 million for other projects. (The remaining $2 million or so for the Noble farm will come from the county's designated share.)
Of that $26.4 million, 75% will go to the county and 25% ($6.6 million) to the five cities. Each city gets a cut of the remaining $6.6 million (25% of 80% of the total) based on population. LaFayette, the biggest municipality in Walker County by far, will take 44% of that money – or $2.9 million. Just 8.8% of total projected SPLOST revenue over six years. Chickamauga will get less than 4%.
| | | |
| --- | --- | --- |
| DESIGNATION | $$ VALUE | % OF SPLOST |
| SWANSON FARM | $6,600,000 | 20% |
| WALKER COUNTY | $19,800,000 | 60% (75% of 80%) |
| LAFAYETTE | $2,904,660 | 8.8% (44.01% of 25% of 80%) |
| ROSSVILLE | $1,669,800 | 5.06% (25.3% of 25% of 80%) |
| CHICKAMAUGA | $1,265,220 | 3.834% (19.17% of 25% of 80%) |
| LOOKOUT MOUNTAIN | $653,400 | 1.98% (9.9% of 25% of 80%) |
| FORT OGLETHORPE | $102,300 | .31% (1.55% of 25% of 80%) |
| TOTAL | $33,000,000 | 100% |
The cities get a minuscule amount of total funds, especially compared to the ridiculously expensive, speculative industrial park project which won't provide any benefit to the county until at least the year 2020.
LaFayette's SPLOST want list includes some infrastructure improvements, a new fire station, and a variety of other projects. $4 million for sewage, $17.6 million for city water service, $1.5 million for the golf course and airport, $2.2 million for police and fire, $100,000 to build a train depot museum, and only $1.6 million for streets and sidewalks. That's absolutely not the 60% of SPLOST funds for roads some City Council members have promised.
All together, LaFayette's wish list tops $28 million – nearly ten times the amount the city will actually get from SPLOST. That list will be pared back significantly to fit into the $2.9 million budget – a process which will begin during tonight's meeting.
As for the county's wish list, what's on it? Vagueness, as usual. So far the only identified projects are the rest of Swanson farm ($1.8-$2 million), finishing library renovations promised in 2008 ($500,000-$1.5 million) and building a new million-plus-dollar fire station on Lookout Mountain – and those aren't guaranteed unless the county mentions them specifically in the November ballot measure.
A change in state law requires SPLOST projects to be prioritized before voters approve them, meaning the projects most likely to be done would be numbered in order; 1,2,3,4 and so on. But Walker County's ex-convict ex-drug-dealer attorney Don Oliver has identified a legal means of dodging that rule: SPLOST bonds.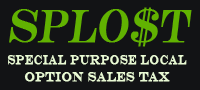 Selling bonds worth 80% of projected SPLOST revenue (as the county has always done) keeps the county from having to prioritize or even budget projects on the measure voters will see in November. No legal priorities allow the Commissioner to decide how much to spend on each job, leaving lowest priority projects like the library or road paving until the end of SPLOST when money might be exhausted. Having funds available all at once also allows Commissioner Heiskell to continue building on her own schedule, completing projects when doing so is politically helpful to her.
Bonds aren't free, and the county would have more SPLOST funds available if tax revenues were saved as they come in instead of spent all at once with a loan – but politics take priority over financial common sense in our Walker County. (The County Attorney also benefits from this system as he traditionally gets a fee from setting up bond sales through local banks. Passing this SPLOST could be key to his upcoming retirement.)
Hopefully more details will emerge after tonight's SPLOST meeting, but based on past history this article might be the most Walker County residents find out about the upcoming tax before November.
As one of only three local sales taxes charged on every purchase, SPLOST is a most important issue for everyone living in Walker County. It represents 1% of every dollar spent on purchases in the county, a seventh of the taxes paid on many purchases, and a full THIRD of the sales tax paid on grocery items. Eliminating this tax will save each family in the county hundreds of dollars a year and keep local leaders from wasting revenues on projects nobody wants.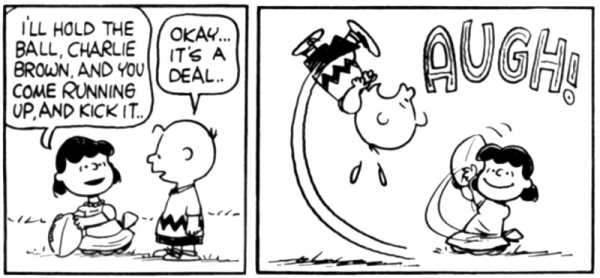 SPLOST is the proverbial Charlie Brown football – time and again voters have ran to kick the ball, trusting it won't be moved, only to find themselves flat on the back in the grass when it's all said and done. It's time to wisen up.
Will Walker County voters wise up and stop falling for the old Bait and Switch, or will we foolishly trust those who never keep their promises to do so just this once?
The SPLOST meeting will be held at 7 tonight in the Commissioner's Office. This meeting is open to the public but citizens may not be given an opportunity to speak. If there is opportunity to speak, the numbers provided here will helpfully provide a foundation to speak from.
2014 SPLOST PROJECTIONS | SWANSON FARM PROJECT | LAFAYETTE SPLOST LIST