2013
06.08
Despite hours of discussions between the county hospital authority and Erlanger, no lease agreement for Hutcheson hospital has been reached. The counties set a deadline for midnight Tuesday, but Erlanger refuses to sign anything unless the counties agree to refinance Hutcheson debt regardless of a deal.

Meanwhile, Hutcheson employees were being given the following memo: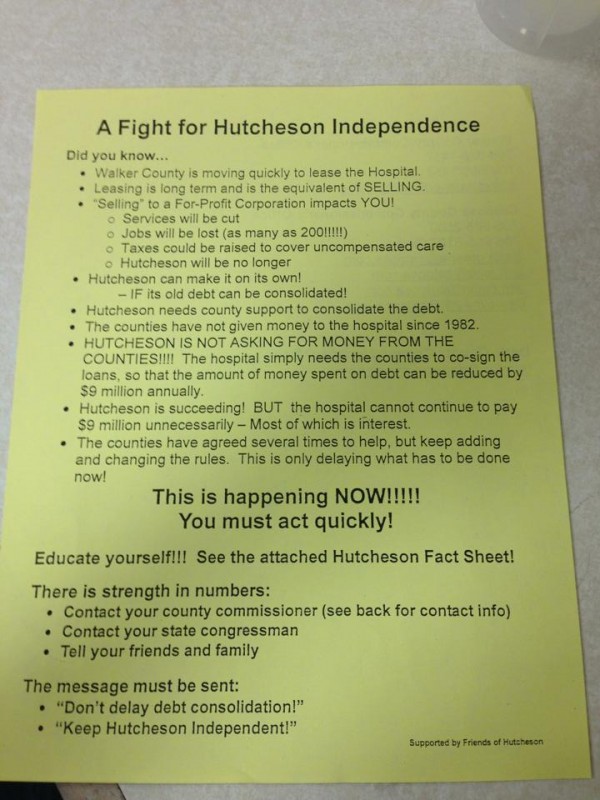 "Friends of Hutcheson" encourage hospital staff to reject any deal with an outside party (including Erlanger) and contact the counties to demand they refinance the hospital's debt. Again.
This position matches that of hospital leaders and was likely put together by them. Hutcheson executives did the same thing last time a lease arrangement was being discussed in 2011; employee protests then pushed Bebe to take the Erlanger deal, which has added to the facility's debt load.
Hopefully Hutcheson employees will see through this fear-mongering letter and support a long-term arrangement that will return the hospital to financial stability while freeing its county owners from taking on more debt responsibility.


GSP's report on the accident that killed Josh Jackson last weekend has been released. Accident investigation is inconclusive since the vehicle burned, but suggests it happened because of distracted driving or a tire failure, combined with speeding. Jackson and Caitlin Keith were not wearing seatbelts.


The fireman who drove Walker County's $600,000+ "quint" truck into a pole last Sunday is Rodney Johnson, a Walker Co. Fire/Rescue employee since 2006. Johnson is an experienced driver, well regarded by others in the fire fighting community. Local article expands on the accident investigation and the community reaction to accident photos posted on LU.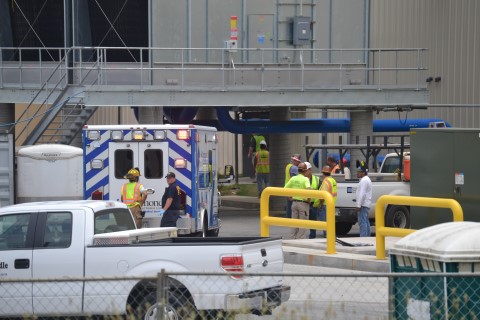 A construction worker at the Summerville Mohawk plant fell 40+ feet to his death Wednesday. The man, later identified as 22-year-old Huriel Gervacio Zamudio of Rockmart, was working on a plant expansion.
So far it's not known which of two contractors on the site Zamudio was working for; an insider says he was seen wearing a safety harness earlier in the day. Plant was shut down while OSHA conducts an investigation of the accident.



In other sad news, an accident was reported Friday around 1 PM on GA 95 in Catlett. LifeForce helicopter was spotted on the scene. Eyewitnesses say a young mother was killed in the accident; so far no names have been released.


The (former) Dade County Jail trustee who stole a county vehicle and took it on a multi-state chase last week is saying Rhea, TN deputies beat and kicked him. All law enforcement officers involved say he wasn't abused, but medical scans done after his arrest may show otherwise.
If you run from police they're going to beat you up when they get you. That's pretty much how it works, unless COPS is there with a camera.
If they shoved him around or something, well, yeah, he went on a multi-state chase and could have killed somebody. But if they were kicking him in the groin or beating him in the head, that's something else entirely.


A month after being named interim LaFayette City Manager, ex-councilman Max Morrison spends half his day volunteering for the city and half his day working at Flex-a-Bed. Morrison says he isn't taking pay to serve because he wants to give back for "blessings" received from three decades of living here.


Playground equipment at the new railroad park off Patton Street: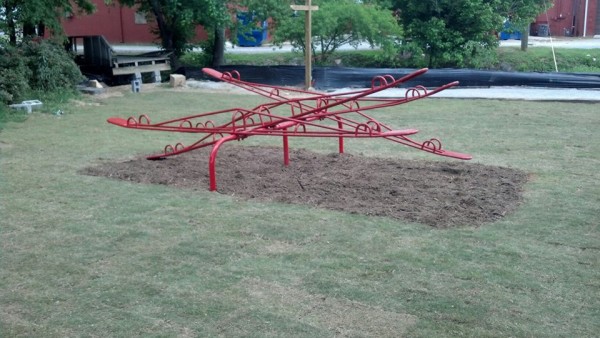 Just hope the city will keep it maintained this time.

(Photo from Mike Lovelady)

Hays Prison will soon have a new warden. Scott Crickmar, warden of Walker State Prison since last year, will be moving to Hays starting July 1. Bruce Lee will replace Crickmar at Walker State in Rock Spring. (Not even Chuck Norris will be able to escape from Walker State Prison now.)
Hays' Deputy Warden Shay Hatcher, whose work history includes a termination for inmate abuse, will be promoted to warden of a smaller prison down in Columbus. Hatcher is seen by some as the man most responsible for letting Hays go down the tubes in recent years.


Walker County School Board has signed off on several projects for the summer, including additions for LMS and two elementary schools, a playground for Saddle Ridge, badly needed parking lot and driveway changes for every school, and (most importantly) $160k of new lighting for softball fields at LHS and Ridgeland.
It's not clear how they can make the driveways and parking lots better, but it seems like nobody is happy with how the parking lots are currently set up at any local school. LMS, North LaFayette, Naomi, and Rock Spring are all especially horrible for parent drop-off or pickup.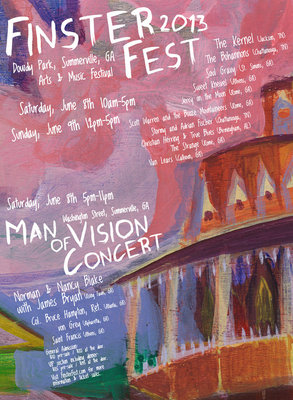 Finster Fest began today in Summerville, continuing through tomorrow. The festival features art, music, food, and bussed-in tours of Howard Finster's Paradise Gardens.
Those who take the Paradise Gardens tour will be able to visit the new Finster museum there, which volunteers have rushed to complete in time.


Several juvenile prisons in Georgia have been ranked among the nation's worst for sexual assault against inmates. YDC in Paulding County has the worst rate of sexual assault in the country, at 32.1%. That means ONE out of every THREE kids behind bars there is sexually victimized by another inmate or guard. The national rate of sex assault in YDCs is 9.5%.


Gov. Deal has appointed Senator Jeff Mullis to Georgia Council for the Arts. No idea what, if anything, qualifies him for that position or what he'll be doing there.
What is Georgia Council for the Arts?
"Georgia Council for the Arts empowers the arts industry in Georgia and artists around the state to cultivate healthy, vibrant communities that are rich in civic participation, cultural development and economic prosperity. As a division of the Georgia Department of Economic Development, Georgia Council for the Arts provides grant funding, programs and services statewide that support this vital industry, preserve our cultural heritage and create increased access to high quality arts experiences."
But none of that arts support goes to art programs in schools.


Dollar General Stores' Literacy Foundation has given GNTC $5,000 to promote adult education.


Father's Day is June 16th, one week away. If you haven't already, it's time to think about picking up something for that good dad in your life.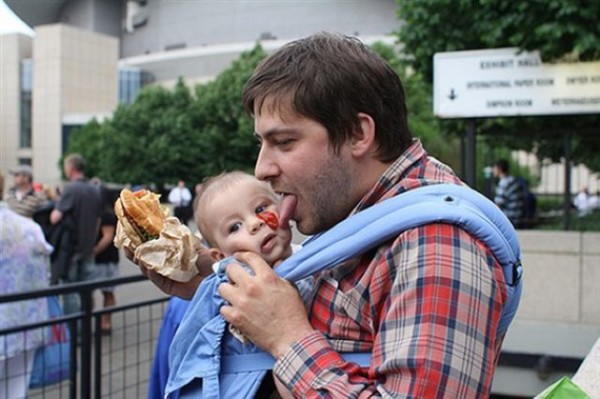 Purchase a Father's Day gift at Amazon.com to give dad a good day and help support The LaFayette Underground.
Other options besides Amazon that can please dad while helping out LU:
Walmart (Includes SiteToStore) · Tractor Supply Co · Musicians Friend · Football Fanatics · BustedTees · Working Person's Store · The Biker's Den · Sinclair Firearms Accessories · Crosman · Airsoft RC · Taylor Made Golf · Edwin Watts Golf · Starbucks · Northern Brewer · Famous Smoke Shop · OtterBox

Three years ago LU reported on an industrial park Walker County planned to build in Noble on the Swanson Farm. At the time, the owner's family said it was being sold for $4 million, and there were rumors of an industrial client interested in the site.
36 months later the farm is still a farm, but Walker County is paying $10,000 a year for an option to buy it later on.

In 2011, GA student loan debt averaged $22,443 per graduate. 58% of GA college graduates finished school carrying student loan debts. But underemployment – college grads working jobs that don't require degrees – and unemployment among college graduates, is higher than ever. Meanwhile the state invests $1.8 billion a year into its university system.
Is a college degree worth the debt when having one doesn't really guarantee a decent job?


For today's links and any breaking news, follow the Underground on Facebook or Twitter.