2012
11.28
WQCH Radio, 11/27/12: "A LAFAYETTE TEENAGER WILL BE TRIED AS AN ADULT ON FELONY CHILD MOLESTATION CHARGES. POLICE IDENTIFY THE SUSPECT AS 16 YEAR OLD SCOTT KENNETH WINEBRINNER, A RESIDENT OF LAFAYETTE'S READING CIRCLE PUBLIC HOUSING COMPLEX."
Apparently all the alleged victims are juveniles. Families that have lived in or around the Reading Circle/Hale's Hill neighborhood in the last couple years might want to talk to their kid(s). It seems there are possible victims from both genders.
Bottom line, you can't always trust neighbors.. Be aware of where your kids are and who they're with. Especially in big neighborhoods where lots of little ones tend to hang out at the same house with older kids watching them.


There's a big push all over the county for Stocking Full of Love fundraisers. Before you give time or money, check into where funding actually ends up.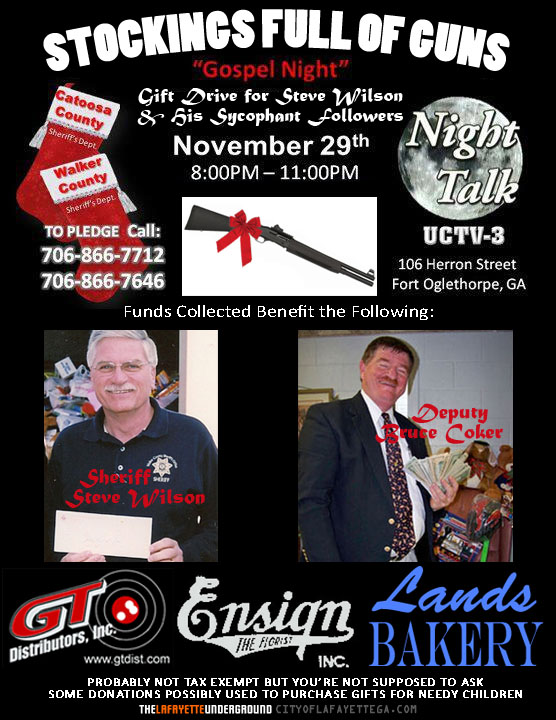 Do kids get gifts? Certainly. But how much of the money collected actually goes for that purpose? They waste a good bit of what comes in, intentionally spend it on things donors did not intend – and aren't transparent with finances. They also lie in telling people it's a tax exempt charity. Don't be fooled.
There are plenty of legitimate charities in Walker County that ARE tax-exempt and actually do spend all their funds on what they claim to. Empty Stocking Fund is the major one doing Christmas for kids and families in need.
The Steve Wilson Gun Fund does still have a few open slots for families that need Christmas gifts. No problem with anyone getting help from SFOL or even giving them support as long as you give a toy and NOT cash.


LaFayette's new Development Director, Matthew Williams, says he's all about transparency and history. One of his goals is better use of social media and the Internet to promote the city, something that has been noticeably better the last few weeks.
The city set up a Twitter account earlier this month, and more activity has been seen on the city Facebook page in recent weeks too. City Web site looks a little better also, but just a little.. The calendar seems more complete and most of the stuff from Facebook is also being posted there.
Hopefully he can get beyond the Civil War being everything.. LaFayette has a lot of history and almost all of it came AFTER the war. Also hope he can get beyond just the downtown area, the entire city needs development, preservation, and promotion.
We have a rich heritage with textile mills mills, with having three towns (two of them mill towns) under one roof, the mountains and scenery, the Civil War.. Before the Interstate opened in 1976 we were a major thoroughfare for people going to or from Florida. Johnny Cash credited the county jail here in town for saving his life. There's a lot of texture and a lot of stuff beyond just the Lost Cause to celebrate and preserve.
There's a lot more LaFayette 1900 or 1950 to preserve than there is LaFayette 1860. The Marsh House and Chattooga Academy are about all there is from before 1900 and they're as well preserved and protected as they ever will be. But we let historically significant sites like old Fortune Mills be plowed under with hardly a peep. Downtown, the Courthouse, the block around Mars Theater, what remains of the old football field, a few older homes on Chattanooga Street and North Main.. None of that stuff is really going to draw in tourists but it shouldn't be about tourists, it's about respect for ourselves and who we were, where we came from. Even more recent buildings like the old LHS, which has an unclear future after May, should be taken care of when possible so people who lived here twenty years ago recognize something when/if they come back.
Should we memorialize and worship every old building? No. There has to be a balance between preservation and growth. But there's also no reason to tear down every old thing just because we can.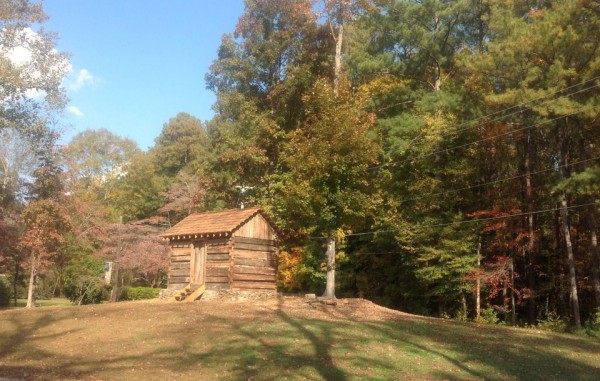 Here's the completed "slave cabin" at the Marsh House. Not sure it'll draw in any tourists (which is what the city said it was meant to attract) or even be noticed by many people, but now the Marsh House has somewhere to park its lawnmower.


WQCH Radio, 11/27/12: "EIGHT MORE 'ENTERING AUTO' CASES WERE REPORTED IN LAFAYETTE OVER LAST WEEKEND, AND THIS TIME, GUNS ARE MISSING FROM UNLOCKED CARS. POLICE CAPTAIN STACEY MEEKS SAID OWNERS REPORT A HANDGUN AND A HUNTING RIFLE WERE STOLEN FROM TWO VEHICLES. 'I HATE TO THINK ABOUT THOSE TWO GUNS FLOATING AROUND TOWN', HE SAID."
Lock your vehicles. Take your guns in the house. Keep eyes open for anyone suspicious, and don't hesitate to call 911 if something is going on. This isn't going to stop until the thieves are found and arrested, and that's not going to happen without a population on alert.


Hutcheson lost nearly $400k in October, vs. an actual profit in September. October '12 was still much better than October '11. Hospital leaders expect to clear $3 million during fiscal 2013.
Linked article blames some of the loss on transition to a different billing company. If they improve their billing processes it's well worth the loss – their terrible billing is one reason why a lot of people refuse to deal with Hutcheson.
Also notice the whole "Erlanger at Hutcheson" thing has apparently played out after just a few months. Back to being Hutcheson again.


During the last year, our local State Legislators were given thousands of dollars in meals, sports tickets, and rounds of golf. Jeff Mullis benefitted to the tune of $4,225 and Jay Neal got a little over $1,000 in gifts. Rep. Neal says he asked for Vols tickets and doesn't see anything wrong with taking them from lobbyists. His attitude mirrors the majority of state legislators: I can't be bought, so it's OK if they try to buy me. Essentially "hey I'm ethical, bring on all the goodies."
Jay Neal's constituents and neighbors should call him and let him know this isn't as cool as he apparently thinks it is. His cell number, according to the GA General Assembly Web site, is 423-421-3292.
Outgoing State Rep. Barbara Massey Reece of Chattooga got $45 of gifts in the same time period, and Martin Scott of Lookout/Rossville (who barely showed up to vote in Atlanta this year after announcing retirement plans) got nothing.


Are you a North GA Electric customer? They're asking members to take a survey, with a chance to save $50 off a future power bill.


Despite years of planning and millions of dollars spent, tourists aren't flocking to Georgia as part of the Civil War's 150th anniversary. Report blames state budget cuts, but MAYBE people just aren't as interested in a bloody disaster from a century and a half ago as some leaders and lawmakers expected.
Most of the major battles' anniversaries are next year, Chickamauga 1863 being the big deal locally, but even if tourism does kick up a click next summer it's not going to be an economic savior.. And THEN what? Plan for the 200th anniversary?
Preserve history for history's sake, and stop trying to make things into tourist traps and using "tourism" to justify preservation efforts. Especially misguided ones.


In GA, disciplined law enforcement officers who appeal their punishments typically wait five YEARS for an answer from the courts. That allows bad cops to keep working when they shouldn't, and keeps good ones from clearing their names in a timely manner.
This doesn't matter in Walker County since officers accused of crimes are allowed to simply resign and walk away (presumably to law enforcement jobs in other places) instead of being disciplined.


Meanwhile, down in Savannah…

Georgia's graduation rate from school districts considered "rural" is third lowest in the nation; students who DO graduate from those rural schools are often less prepared for college than their suburban counterparts.


This week is one of the busiest online shopping periods of the year. Use this link and LU gets a small cut of what you spend on Amazon.com. It doesn't cost you anything, and helps pay Web hosting fees. Sorry for the intrusion, and thanks for your help!


Olives in the Peach State? If experimental plantings bear fruit (literally), this could become Georgia's newest cash crop.

For today's links and any breaking news, follow the Underground on Facebook or Twitter.