2012
10.29
The city has formally closed Wardlaw Street (next to Public Safety and Joe Stock Park) to through traffic. You can still use it to get to the park or to the police station but you can't use it as a shortcut from Duke to Main or vice-versa. This was done because of kids crossing the street to use the restrooms at the PS building.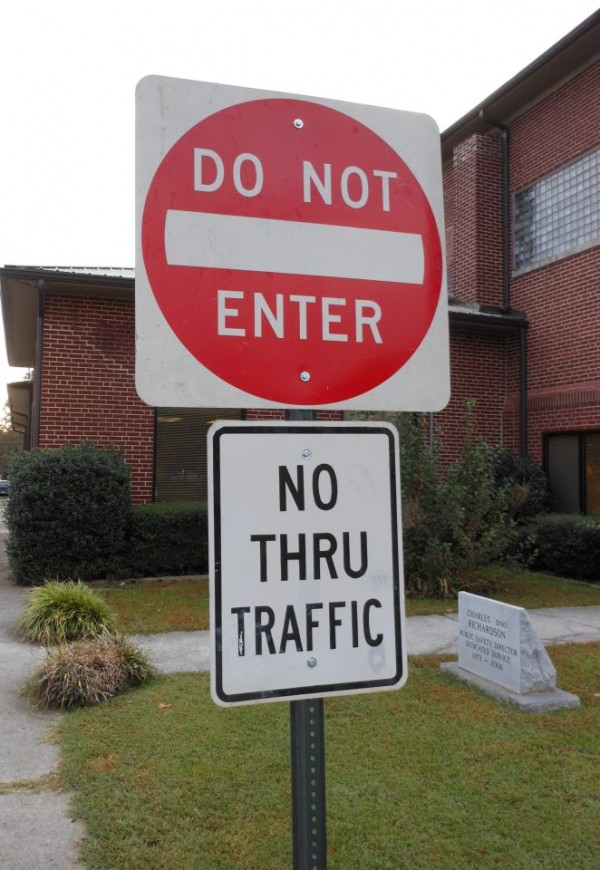 Over twenty years ago Coca-Cola Bottling Works was located in the Public Safety building and had a metal warehouse building next door where the park is now. They asked the city to close Wardlaw St. because they had trouble getting trucks in and out of their facility. The city refused to close it, and they moved to Fort Oglethorpe shortly afterwards.
LaFayette Coca-Cola would certainly have closed eventually, after moving to Fort O. they sold out to United Coca-Cola Bottling out of Alabama and relocated to the Chattanooga area. They were only bottling for Walker, Dade, Chattooga, and Catoosa – a small operation like that wouldn't have gone on much longer independently. But we could have held on a little longer – and the street could always be reopened later.
It was never made clear exactly WHY the city wouldn't close the street back then, but some who were close to things back then say it was politically motivated: the Wardlaw family that owned Coke wasn't liked by the people in charge at the time. They had once been political leaders and had lost power, and some were mad because they built the city's first fast-food restaurant nearby. Whatever the reason, the city was unreasonable about it and we lost one of the best businesses LaFayette ever had.
That said, nobody on the council now and few who work for the city at all now were around in 1990-1992. Only the mayor is the same. So don't blame the current leaders for what happened two decades ago – and Coke isn't coming back regardless.


Chattanooga Times Free Press takes a look at the Wall Street Journal piece about the Walker Commissioner race. This is now headline news all over the state thanks to WSJ and candidate Campbell.
"The article also describes Walker County as 446 square miles of Appalachian foothills and valleys 'where Confederate flags, hand-drawn signs for boiled peanuts and men in overalls aren't uncommon sights along winding roads with names like 'Straight Gut' and 'Hootie Hoo Holler.""
.."'There's very few Confederate flags' in Walker County, Heiskell said. 'I have never seen Hootie Hoo Holler. We don't have a street of that name, to my knowledge.'"
Bebe is supposed to be on top of things, but doesn't know there's a Hootie Hoo Holler in Walker County? There is, it's off 136 west of town.
Maybe it's too much for one person to be in charge of everything and know everything. Five people would be better able to remember every road and street name instead of just one.
(Walker County has anyone living on a driveway with more than two residences name their driveway, for 911 purposes. That's why we have Hootie Hoo Holler, Learning to Lean Lane, and Who Cares Ave. among many others. She should know this – she was county administrator when the policy started.)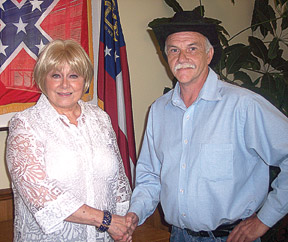 As for the Confederate Flag comment, Bebe's own office media center where she does press conferences, where the Sheriff does his media events, has an old state flag on the wall with the battle flag on it. There are a lot of Confederate Battle flags or images of the old flag in Walker, to the point that locals don't notice it – even though it stands out like a sore thumb to those who aren't used to seeing it.
Both Commissioner Heiskell and her challenger, Ales Campbell, said the article made Walker County look bad – but the journalist was simply reporting what he saw. The way he saw us is the way most outsiders, visitors, and potential investors do – a backwater with an outdated form of government run by an elderly Boss Hogg-wannabe.
More on this topic soon.


Today, October 29, begins the last week of early voting in Georgia. This week early voting will expand to five sites: the Courthouse Elections Office, Rock Spring Athletic Association, Chickamauga Civic Center, Rossville Municipal Civic Center, and Lookout Mountain City Hall. For early voting it doesn't matter what precinct you're registered at. All those sites will be open this week Monday-Friday 8:30-4:30.
The actual election is one week from Tuesday.


WQCH Radio, 10/25/12: "LAFAYETTE POLICE ARE ONCE AGAIN TRYING TO DRIVE-HOME THE MESSAGE: LOCK YOUR CAR DOORS AND STORE VALUABLES OUT-OF-SIGHT.
"ANOTHER RASH OF ENTERING AUTO CASES HAS BEEN PLAGUING LOCAL CITIZENS, ACCORDING TO LAFAYETTE POLICE CAPTAIN STACEY MEEKS. HE SAID 'WE KNOW THEIR NAMES, THE GROUP CONSISTS OF ABOUT 6 JUVENILES – OFTEN SEEN CRUISING THROUGH TOWN ON BICYCLES'. THE PROBLEM, HE SAID, IS CATCHING THIEVES 'IN THE ACT'. THE COMMON THREAD IN MOST CASES IS AN UNLOCKED CAR DOOR. THE KIDS ARE LOOKING FOR AN EASY OPPORTUNITY TO RUMMAGE THROUGH A CAR FOR ITEMS TO STEAL.
"THE GROUP HAS BEEN GROWING BOLDER, MEEKS SAID. 'NOW THEY'RE STEALING ITEMS FROM PORCHES AND OPEN CARPORTS, EVEN FROM A RESIDENT'S SCREENED BACK PORCH'. TWO JUVENILES WERE ARRESTED LAST SATURDAY NIGHT FOR ENTERING THE CHATTANOOGA STREET TAVERN, WHICH IS YET TO OPEN. 'THE KIDS HAVE BEEN KICKED OUT OF SCHOOL AND THEIR PARENTS SAY THEY CAN'T CONTROL THEM', MEEKS SAID.
"THE LAFAYETTE POLICE DEPARTMENT IS NOW ACTIVELY ENFORCING THE JUVENILE CURFEW WHICH IS 9 PM ON WEEKNIGHTS AND 11 PM ON WEEKENDS. THE DEPARTMENT ASKS THE PUBLIC'S HELP IN CALLING WHEN THEY SEE SUSPICIOUS ACTIVITIES IN THE NEIGHBORHOOD, AND ONCE AGAIN BY LOCKING CAR DOORS AT ALL TIMES."
LPD needs to step it up, and so do residents. Nobody can stop this alone, neither can police – but the new chief needs to get after it. Enforce the curfew, patrol the streets. It's been too many years since LaFayette had real security.
Hopefully these kids will get caught in the act and get sent off to boot camp for a while instead of catch n release as our local juvenile judge seems to prefer.


Speaking of stupid crimes, last week someone stole a wooden cross from The Care Mission. The item is meaningful to volunteers at the mission; a $100 reward has been offered for information leading to the thief.


This year Walker Schools have a "relaxed" cell phone policy, which apparently means students can use their phone whenever they want unless a teacher specifically asks them not to.
What do you think, is this a good move or bad?


Another debate with comments from HD1 candidates McMahan and Deffenbaugh. Deffenbaugh continues not to take a position on anything, but has "begun reading" about the Charter Schools Amendment.
Not sure which is worse, a State Representative who agrees with us politically on almost nothing, or one who doesn't disagree on anything because he doesn't have a position one way or the other.
Also the former Sheriff of Dade County, who wants to be Sheriff again, admits here that his officers competed to see who could write the most tickets, with proceeds going to their retirement fund. Sounds like a real keeper…


LaFayette played Ridgeland at Ridgeland Friday night, and lost so badly the score won't be shared here. LHS falls to 1-7 for the year and will face Northwest Whitfield (5-3) at home this week for the final regular game of the season.


Latest update on renovations at LaFayette library.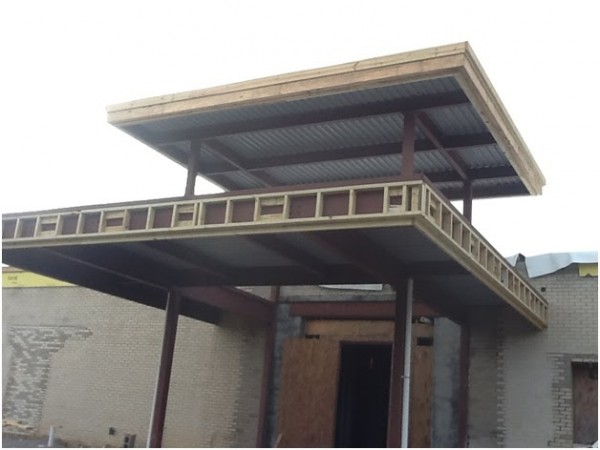 It's been mentioned here before, but for those who missed it – Scare on the Square will be Wednesday night, Halloween, 5:30 to 7 PM.
For other upcoming events (including political activities, entertainment, and Halloween stuff) check the LU Local Calendar.

A recent study shows more Georgia companies "in-sourcing" work than "out-sourcing" it, for the first time in years. That means they brought things from outside communities home instead of farming it out. The only area in the state where out-sourcing increased was, of course, the Rome/Dalton region Walker County sits in.


WQCH Radio, 10/25/12: "THE WALKER COUNTY FIRE DEPARTMENT HAS THAT EXPECTED 'I.S.O. INSPECTION' NOW UNDERWAY, ACCORDING TO COUNTY COORDINATOR, DAVID ASHBURN.
"CURRENTLY AT A CLASS 4, ASHBURN IS HOPEFUL THAT IMPROVEMENTS WILL IMPRESS THE ISO INSPECTORS ENOUGH TO HAVE THE RATING LOWERED TO A '3'. ASHBURN'S ENTHUSIASM SEEMED TEMPERED, HOWEVER, BY THE ISO'S ASSERTION THAT THE COUNTY NEEDS AS MANY AS 10 NEW FIRE STATIONS TO PUT EVERYONE WITHIN 5 MILES OF A FIRE HALL.
"REALISTICALLY, HE SAID, WE REALLY NEED ABOUT 4 MORE STATIONS TO GET OPTIMUM COVERAGE. ASHBURN SAID SOME AREAS OF WALKER COUNTY, SUCH AS HIGHWAY 136 AT THE GORDON COUNTY LINE, WILL NEVER BE WITHIN 5 MILES OF A STATION AS HOUSES THERE ARE SURROUNDED FOR MILES BY THE NATIONAL FOREST. 'WE HAVE THE FIRE TRUCKS NECESSARY' ASHBURN SAID. 'THEY'RE JUST ARRANGED TWO-PER-STATION, WHERE ISO WOULD LIKE TO SEE THEM MORE SPREAD-OUT'.
"THE FIRE DEPARTMENT HOPES IMPROVEMENTS IN WATER FLOW IN NEW AND EXISTING WATER LINES, NEW HYDRANTS, AND THE NEW FIRE TRAINING TOWER (NOW BEING ERECTED) WILL EARN ENOUGH POINTS ON THE COMPLICATED ISO RATING SYSTEM – TO GET THE LOWER 'CLASS 3' RATING."
Hopefully the county's investment into better fire protection will lower the ISo rating – but having a better fire department is a good thing regardless. It's a net positive, even if the ISO doesn't change.
But with that said, we don't need ten new fire stations. Especially when the county can't fully staff the ones we have. Some of the most rural stations in Western Walker don't have enough volunteers to operate even minimally, or didn't a couple years ago when we last got an update. Hopefully the Powers that Be won't use this as a reason to build more fire department/community centers in the middle of nowhere, because the savings and minimal additional fire protection wouldn't be worth what they would cost.


University System of GA may stop funding colleges based on enrollment, and instead set their budgets based on graduation rates. But that could lead to lowered standards so more students graduate, making a college degree worth even less than it is now.


State Legislators are looking into "elder abuse" and may pass new laws about the crime during next year's legislative session.


Friday Monday Advertiser Spotlight: Choo Choo BBQ on South Chattanooga Street is LaFayette's ONLY sit-down barbecue restaurant, open 10:30 to 8:00 Monday-Thursday and 10:30 to 9 Friday and Saturday. Like them on Facebook and stop in for some great food – be sure to let them know you saw their ad on the Underground.
For today's links and any breaking news, follow the Underground on Facebook or Twitter.