2012
10.25
The nation's largest newspaper takes a look at the Sole Commissioner issue and the race between Bebe and Ales. This ran on page A1 of Wednesday's printed Wall Street Journal: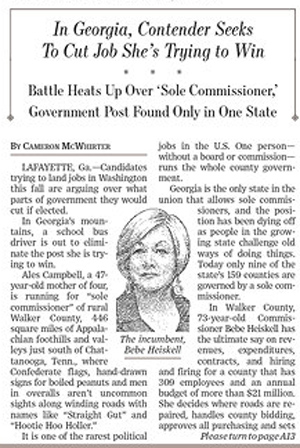 WSJ has daily circulation of 2.11 million readers, including printed papers and people who pay to read it online. Maybe this will get some attention on the issue now, because sole elected leader anything is ridiculous. (Be sure and listen to the audio version of this on the same page.)
Being on the front page of the Wall Street Journal with one of their trademark dot portraits is considered an honor; those sketches take hours to make – somebody had to look at a photo of Bebe's face for hours to make that, and she came out looking at least twenty years younger than she really is. Despite that, during last night's UCTV broadcast Ms. Heiskell was threatening to sue the paper over how it portrayed her.
"The race is as nasty or nastier than any national race this fall, thanks in part to incessant sniping from anonymous sources on local websites."
WSJ almost mentioned the Underground. Almost.


Walker Co Messenger, 10/24/12: "By Tuesday afternoon, Oct. 23, 1,511 voters had come through the Walker County courthouse, according to elections officials, who said they are averaging more than 200 voters per day."
It doesn't seem like very many locals are being motivated to vote by the presidential race or the House District 1 election. This is all about the race for county commissioner. What some call a "nasty" race seems more like a race that people actually care about for the first time in a decade.


Several have asked about a sample ballot for the November election. Here's what you'll have to choose from (on the computer voting machine) if you're in LaFayette, Rock Spring, or Chickamauga.
The rest of Walker will have Deffenbaugh v. McMahan instead of Jay Neal v. nobody. Way too many uncontested races on both ballots.
The elections office at the courthouse is open daily 8:30-4:30. This Saturday it will be open 9-4 and so will several satellite locations around the county: Rock Spring Athletic Association, Chickamauga Civic Center, Rossville Municipal Civic Center, and Lookout Mountain City Hall.
Next week all those sites will be open daily 8:30-4:30 as early voting wraps up.


WQCH Radio, 10/23/12: "A LAFAYETTE MAN IS HOSPITALIZED IN CRITICAL CONDITION WITH STAB WOUNDS, FOLLOWING A DOMESTIC FIGHT SATURDAY.
"42 YEAR OLD PRISCILLA ANN OLIVER WAS ARRESTED IN THE CASE AND CHARGED WITH FELONY AGGRAVATED ASSAULT AND POSSESSION OF A WEAPON IN THE COMMISSION OF A CRIME. THE INCIDENT HAPPENED AT A HOME ON GLENN STREET AROUND 9:30 SATURDAY EVENING, ACCORDING TO POLICE CAPTAIN STACEY MEEKS.
"THE INJURED MAN, WHOSE IDENTITY WAS NOT RELEASED, WAS DESCRIBED AS THE ESTRANGED HUSBAND OF THE WOMAN ARRESTED. HE IS SAID TO BE RECOVERING AT ERLANGER. MEEKS SAID THE TWO GOT INTO A VERBAL FIGHT WHICH ESCALATED AND OLIVER GRABBED A KITCHEN KNIFE. THE MAN WAS STABBED TWICE, IN THE ABDOMEN AND THE BACK.
"OLIVER CALLED 9-1-1 AND THEN FLED IN A CAR THAT HAPPENED TO HAVE TWO FLAT TIRES. POLICE TRAILED HER OUT HIGHWAY 193 AND STOPPED THE CAR, MAKING THE ARREST AND RECOVERING THE KNIFE BELIEVED USED IN THE ATTACK, MEEKS SAID."
So remember, if you're going to stab your ol' man, don't try to run off in a car with flat tires.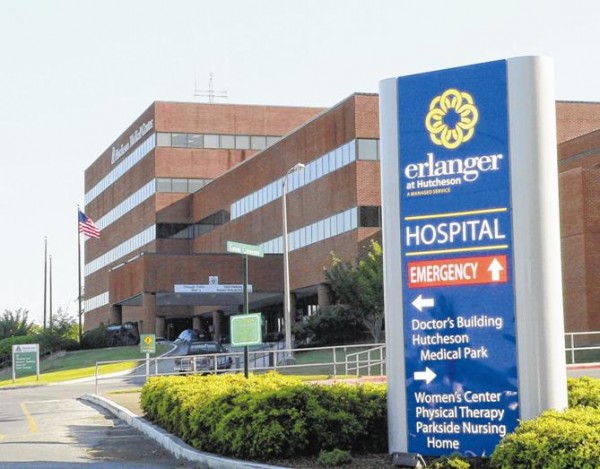 Hutcheson is getting out of the Hospice business.


Georgia's laws regarding law enforcement seizure of assets are among the nation's worst. If you're even ACCUSED of a crime, property that might have been involved (including cash) can be seized and sold, to benefit police and sheriff agencies. The state requires each county to file annual reports about what assets were seized and how they were disposed of, but there's no Walker County report available.
If we can't trust the Sheriff with money donated to help buy kids Christmas presents, how can anyone possibly think we can trust him with tens of thousands of dollars in cash and confiscated property?


Another letter to the editor for Bebe Heiskell. This one mentions the president then shifts to Bebe and John Deffenbaugh for some reason, and then insists the Commissioner is a victim of so many lies, while she herself has never said anything bad about "her opponent."
Bebe has said some negative things about Ales, but mostly she doesn't have to because she has a circle of people who do that for her. Right after Ales declared herself a candidate, David Ashburn spent several days making sure county employees knew all the rumors about her love life. And she's got a dozen proxy people on here digging up old tax records and calling Ales a whore at every opportunity.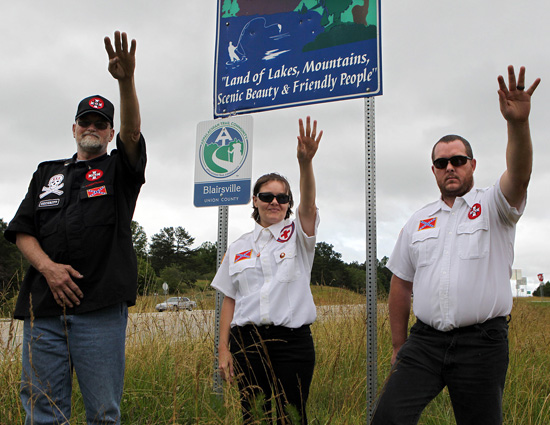 Georgia has asked that an ACLU lawsuit filed over its rejection of the KKK for "Adopt a Highway" be dismissed for several technicalities. This is normal procedure in this type of case, it could drag on for several years.
Earlier LU coverage of the KKK "Adopt a Highway" request


A state committee led by Gov. Deal decided to purchase property in Hall County owned, in part, by Deal's election campaign chairman. The state will be building a $13.6 million poultry research facility on the industrial park site.
The governor is committee chair so he didn't actually cast a vote, so it's not clear if this is a conflict of interest or not. It does raise some concerns. Supporters of the purchase say the land was bought at a good price and the state got a good deal on it, no pun intended.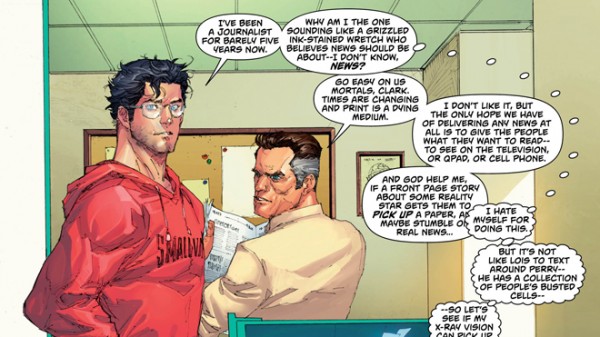 In an upcoming issue of "Superman" comics, Clark Kent will resign from his newspaper job and become a blogger.
Sure, it's easy if you're independently wealthy, faster than the speed of sound, capable of going back in time, immortal, bulletproof, have X-Ray vision, and don't require food or sleep.


Georgia TEA Party has taken a position in support of the Charter Schools Amendment.
Here are some stats and charts about public school funding and charters.
And an argument for trying something different, from the fiscal perspective:
"we already know what we get when we pour more and more money into that system: Student learning doesn't grow nearly as quickly as the funding does. That's because, complaints about spending notwithstanding, educational spending in Georgia has gone up, up, up over the longer term. But test scores have barely budged by comparison."


Three years ago, the LaFayette Underground site relaunched with a new focus and new look. Thus began the modern era of local political bloggery in Walker County.
The same day. LU posted a piece about the city investing $14,000 into a GPS system for a garbage truck that was apparently never used.


"Manufacturing in Ga. brings in $46B a year"

For today's links and any breaking news, follow the Underground on Facebook or Twitter.