2012
10.31
Here's a recent photo of the mansion at Mountain Cove Farms. The county has spent over $2 million on the site so far, but looks like they haven't spent a penny to replace rotten wood on the site's most prominent structure. Some who have recently been inside say the building is destroyed inside and likely unsafe.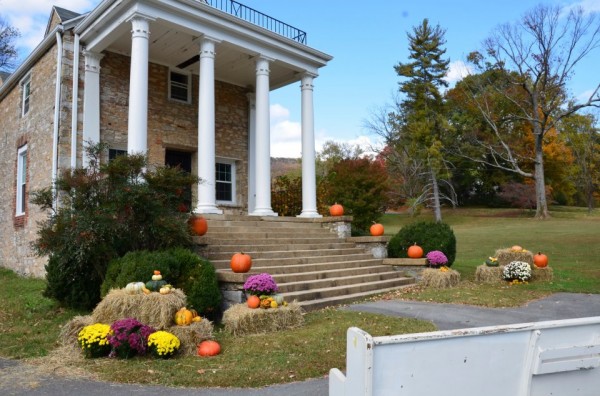 Ales Campbell said the county has spent about $2.75 million on this; Bebe told the Wall Street Journal she "estimates" it's only been $2.3 million. So that's AT LEAST $2.3 million of YOUR road money, money that could have gone to the libraries, to pavement, to fire trucks, to raises for hard-working county employees, to propping up Hutcheson.. that Bebe has spent on her pet project that doesn't have a clear plan for the future. It just looks like a huge pile of rot and liability.
How many of you have actually seen any part of Mountain Cove Farms with your own eyes? How many people in the county is this thing benefitting?


Walker Messenger reports some 14% of registered voters here already early voted by Saturday evening, with five days left. That's higher turnout for early voting than we've see all together for some recent local elections. Several people have reported waiting in line over an hour to early vote on Saturday.
In Walker County we only had 36% turnout for the entire July primary. That was some 11,808 votes cast. The county has 32,121 registered voters, or did back in July. 14% of that is somewhere around 4,500-4,600 people. And in July only 10,444 (or 30% of registered ) voted for commissioner. We may very well top that by next Tuesday, with only one name on the ballot.
Walker only had 6,121 people vote in the presidential primary in March. Seems like people aren't as motivated by the presidential race than by the local vote. This may turn out to be an absolute record setting barn-burner of a local race – almost all because of the commissioner election.


Speaking of the heated election: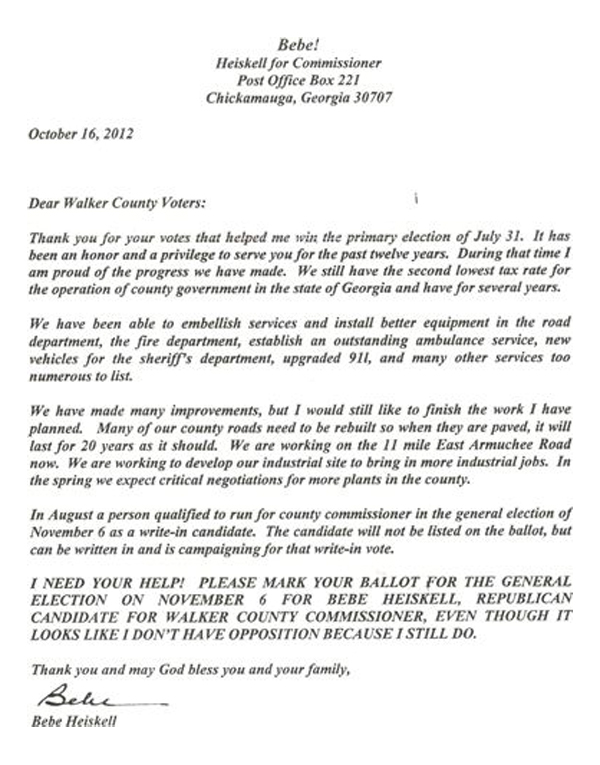 This grammar-and-vocabulary-challenged letter is Commissioner Heiskell's final appeal to Walker County voters. Much like her mailers about Dr. Shaw in July, this may have done more harm than good since half the county didn't even know she had an opponent. Until they got this.
$150,000 spent on her campaign (through September) and this is what it all comes down to. A poorly written letter on white paper that reminds voters she has an opponent. Her campaign management is about as quality as her management of Walker County.
Remember, all the things she didn't do in the last twelve years she will surely do in the next four. Or maybe the four after that. Or not at all. "Embellish" is another word for lie, or exaggerate – seems like fire service isn't the only thing Bebe's embellished over the last dozen years.
As for her claims about roads.. She and David Ashburn have both said in public that the road department budget was cut from $3 million a year when she took office to less than $1.5 million in 2010. She's cut and cut, on roads and services that benefit residents. But we showed you earlier where she hasn't cut – on her pet project over at Mt. Cove Farms.
She also hasn't cut back on abusing staff for her own purposes – these letters were folded by county employees at the Road Barn on the clock. Remember that when you pay this year's tax bill.


LaFayette Middle football defeated Dade and Chattanooga Valley yesterday afternoon (after Chatt. Valley defeated Gordon Lee) in the North Georgia Athletic Conference semifinals. LMS will face Heritage on Thursday to determine who goes to the finals next week.


Scare on the Square begins tonight at 5:30.
This event page says 5, and kids will start showing up around 4 or 4:30. Seems like every year families come out earlier even though the official start time has been the same forever. Be careful out there, and don't plan to drive anywhere near downtown this afternoon.
Tonight there will also be a Fall Festival at Highlands Church from 6 to 8:30, $.50 corndogs at Sonic all day, and a handful of other events. More fall festivals are coming up over the weekend.
This year's final visit from the TN Valley railroad Museum steam engine will be on Saturday, and the new Walker County Planetarium will be open to the public Sunday afternoon free of charge.

WQCH Radio, 10/29/12: "THE GEORGIA DEPARTMENT OF LABOR WILL ISSUE NO MORE CHECKS, STARTING THIS WEEK. THE AGENCY ANNOUNCED THAT UNEMPLOYMENT INSURANCE BENEFITS WILL NOW BE PAID ELECTRONICALLY. RECIPIENTS HAVE BEEN MAILED THE NEW 'U.I. WAY-2-GO DEBIT MASTERCARD' AND THEY BECOME EFFECTIVE THIS FRIDAY, NOVEMBER 2nd.
"THOSE WHO PREFER DIRECT DEPOSIT OF THEIR BENEFITS WILL CONTINUE TO HAVE THAT OPTION. ELIMINATION OF PAPER CHECKS AND POSTAGE IS EXPECTED TO SAVE THE DEPARTMENT OF LABOR ABOUT 19-THOUSAND DOLLARS EACH WEEK."
This impacts far far too many people in Walker County, so figured we should share it here. Most who are being changed over should be well aware of it.


In other unemployment news:
In the last year, Georgia lost nearly 5,000 construction jobs. The worst hit area is around Atlanta. Article notes that the Chattanooga area is showing signs of life, but looks like most of that stops at the state line.


Supporters of the current status-quo say a "five-man" commission in Walker would be bad, because some of the five might not care about some communities. Versus having a sole commissioner who only cares about ONE community? This is a circular illogical argument Bebe! supporters keep rolling out.
"..the same will happen with a five-man board for Walker County Commissioner. If your member lives in your area, he/she will care about what happens in your community. If they don't, then they won't. It's that plain and simple. It always 'looks' good for the one in your community to be on your side."
If "your member" lives in your area he/she will care about what happens in your community. This is true. This is why Chickamauga leaders are breaking all kinds of laws to support Bebe, and why everybody else in the county wants her gone. We ALL deserve a voice in county government.


More discussion about the Charter Schools amendment. Seems like only politicians and educrats are taking positions on the issue – it would be nice to hear from classroom teachers and parents. How are YOU voting on this issue, and why?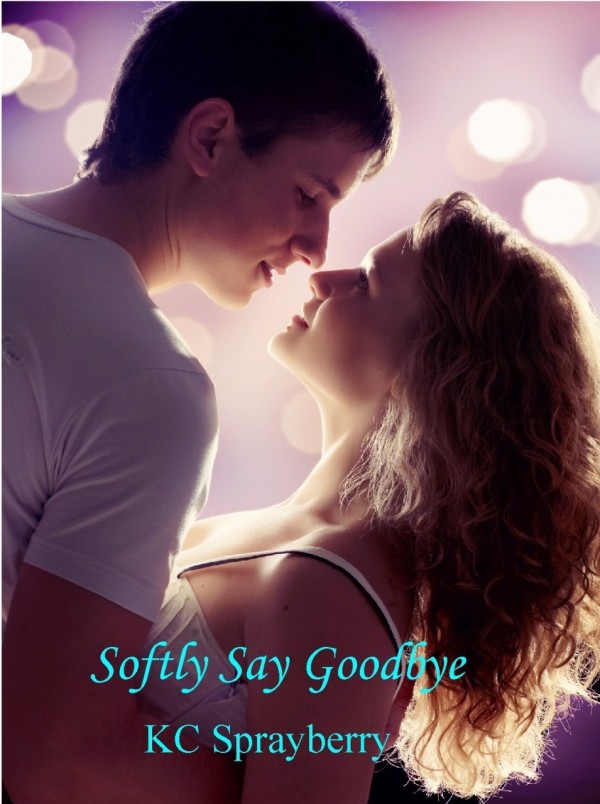 LaFayette author KC Sprayberry, a regular on LU Facebook, has a new book out. It's fiction but she says some of the book is based on real local events.
Download the book for Kindle, just $1.99.


Last year the state cut Pre-K funding back to 160 days from 180 each year. This year the governor negotiated an expansion back to 170, and they expect to have a 180 schedule again next year. The trade-off is ending a planned expansion to serve another 2,000 students.


Plans to build a new high school in Chattooga County are moving forward.


The proposed $1 BILLION new Falcons stadium is nearly a done deal, but may require state legislators to approve a bond sale. Here's where the citizens do have a say; need to hold Jeff Mullis, Jay Neal, and John Deffenbaugh/Tom McMahan accountable and tell them not to support this wasteful project in any way.
Candidate McMahan, to his credit, gave the following response to this article: "I love the Falcons, but while we have schools and roads and other vital services vastly underfunded, there's no way this would ever get a 'yes' vote from me."
Mr. Deffenbaugh is probably still doing "research" about the issue before taking a position.

For today's links and any breaking news, follow the Underground on Facebook or Twitter.