2012
07.11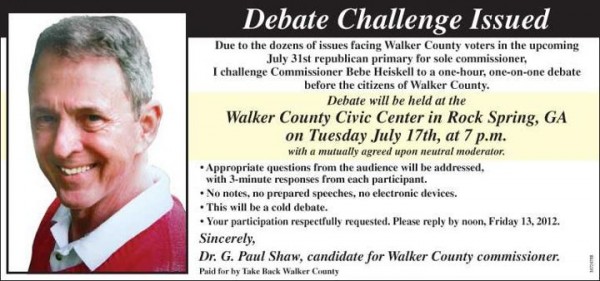 Dr. Shaw has publicly challenged Bebe to a debate with this ad appearing in local papers. Will the Queen accept, refuse, or simply ignore him? The deadline is Friday.
Shaw says he's paid $500 to use the Civic Center next week and plans to have a discussion with the community whether Heiskell shows up or not. (Check the LU Local Calendar for all upcoming political events and activities, including this one.)

The Steve Wilson campaign has released a radio ad. Doesn't seem like much to brag about after sixteen years.. We didn't know the Sheriff's Office wasn't accredited – seems like four terms would be plenty of time to get that done already if it was really going to happen.
Let's compare his accomplishments via this ad to his failures.
He implemented CHAMPS. Because the state Sheriff Association ended DARE so that's pretty much.. the direction to go in. School resource officers – the only one WCSO provides is at Ridgeland. He promises better dispatch, but all the dispatch upgrades are being handled by Walker County gov't not the Sheriff's Office.
During the same time period he also ignored complaints about Tri-State Crematory for two years, let Sam Parker kill his wife after she asked Wilson directly for help, he knowingly let a deputy "date" a 14 year old girl and then did nothing except push the officer to resign when her dad complained about their sexual contact.. He let an officer pepperspray a handcuffed female in the back of a squad car and didn't investigate the complaint. He let a former high-ranking department employee terrorize a neighborhood without an arrest. He turned a lot of murders into "suicides" and lowered the crime rate by not investigating quite a few reported crimes.
He certainly listens and responds to our needs. Just ask Gerry Cook or Theresa Parker how well he responds. Well maybe we can't ask Theresa..

If you want to vote -or early vote- in Walker County but don't have a ride, Walker Transit will provide you with a free trip to the Courthouse. 706-375-0803 for information. (We understand they don't even care who you vote for.)

WQCH Radio, 07/10/12:
"MICHAEL LOVELADY, OWNER OF ONE-ELEVEN RESTAURANT, HAS PURCHASED MOST OF THE BLOCK OF BUILDINGS IN THE OLD DEPOT SHOPPING CENTER INCLUDING THE BURNED-OUT MARS THEATER BUILDING. SOME DEMO WORK HAS ALREADY STARTED AND LOVELADY SAID HIS COMPANY HAS PLANS FOR THE NORTHERN-MOST BUILDING IN THE BLOCK. HE WANTS TO OPEN AN 'ENGLISH-STYLE PUB AND SPORTS BAR'.
"THE MARS THEATER BUILDING BURNED LAST YEAR AND HAS BEEN A CHARRED SHELL, WITHOUT A ROOF. LOVELADY SAID HE'S NOT SURE WHAT THAT BUILDING WILL BECOME. IT'S THE ONLY TWO-STORY BUILDING IN THE BLOCK.
"LAFAYETTE'S DOWNTOWN DEVELOPMENT AUTHORITY HAS BEEN WORKING ON PLANS TO HAVE THE AREA DECLARED 'BLIGHTED' WHICH SHOULD MAKE LOVELADY AND OTHER OWNERS NEARBY ELIGIBLE FOR GRANTS, TAX CREDITS AND LOW-INTEREST LOAN, BOTH FOR HISTORIC REHABILITATION AND FOR JOB-CREATION AS NEW BUSINESSES MOVE IN. LOVELADY SAID HE IS EXCITED WITH WHAT THEY FOUND UNDERNEATH, AS THEY REMOVED SOME OF THE OLD FACADES: BEAUTIFUL BRICKWORK AND SOME ORIGINAL WINDOW CASINGS WERE REVEALED.
"HIS PURCHASE DID NOT INCLUDE THE PAWN SHOP AT THE SOUTH END OF THE BLOCK BUT INCLUDES ALL THE ADJACENT BUILDINGS NORTH OF THERE, ON THE WEST SIDE OF THE STREET INCLUDING THE OLD SERVICE STATION JUST UP THE BLOCK. THE OFFICIAL NAME OF LOVELADY'S PROJECT IS 'PHASE ONE' OF 'THE MARS THEATER DISTRICT REDEVELOPMENT'"
Considering the side of town it is, and his existing high-end (for our area anyway) restaurant, he'd do better to open something mid-level casual. Economic revitalization doesn't necessarily mean four-star french and southern cuisine with $25 menu items. LaFayette needs a nice fish place, or something like Jefferson's in Summerville. That format would work great as a sports bar. But again it's his money and if he wants to do an English pub or a dinner theater or whatever he has in mind that's great. Don't necessarily think we'd support the city putting anything into it, outside of maybe a tax credit or something for the building renovation(s).
Lovelady leads the DDA, so his role in seeking tax credits for property he just bought (or was planning to buy) could be considered a conflict, but seems that the city won't be putting any money directly into the properties. Good luck to him.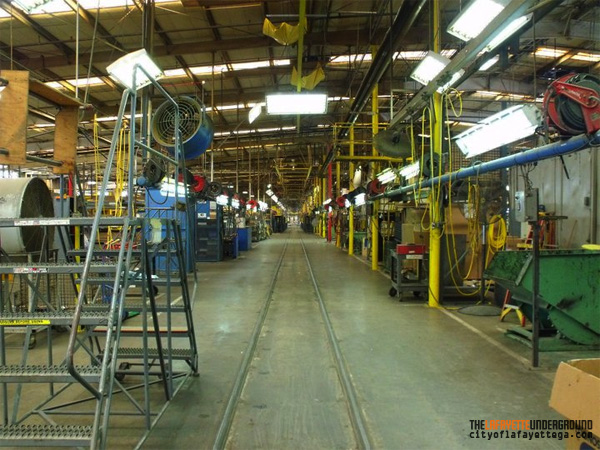 Phillips Machine intends to hire 40 more employees as soon as they get moved into the BlueBird facility, and 50 more "long term" which isn't as definitive. Two articles out this week give Bebe and the county credit for "100 new jobs." This is a good thing but not any 100 positions yet, and doesn't offset the hundreds of other jobs lost in recent years.
"'The announcement of almost 100 new jobs is a direct reflection of the hard work and high caliber that our local workforce offers to new and existing businesses contributing to the economic success of Walker County,' said Bebe Heiskell, Walker County commissioner. 'The focus of the Commissioner's Office and Walker County Development Authority has been and will continue to be maintaining significant job growth in our area by providing support to businesses such as Phillips that can bring a positive economic impact to our area.'"
Again, the Phillips company moving to LaFayette and expanding is great news. But it hardly makes up for the many many more jobs Walker County has lost during Bebe's current term (not to mention her other terms). BlueBird employed, what, 800? Phillips Bros. isn't even hiring enough to make up for the number of people the school system cut this year, much less the number BlueBird laid off in 2010.
The older people who vote for Bebe accept her claims of our great economic condition because they're mostly retired and have no idea how screwed up the local job market is or how poorly paying most of the remaining jobs are.
More –> Phillips Bros. Web Site | LU Coverage of BlueBird Closure

In other positive manufacturing news..
GE (parent of Roper) announces various product plans, including "upgrades" to the products produced in LaFayette during 2014.
Bebe should latch onto this announcement as evidence of all her success.. GE's plans for Roper are more realistic and probably will result in more new jobs than anything else she's been bragging about.
It has nothing to do with her, a decision made 900 miles away based on product development and an existing plant, but she can make hay out of it.

Walker Co Animal Shelter didn't reopen Monday, but was expected to be open Wednesday following a voluntary inspection.
The shelter workers quoted in this article need to be careful, the comments made in their own defense are bordering on attacks against people who use (and support) the shelter. People aren't going to get animals vaccinated before taking them to the pound, and the shelter wasn't very clear why they closed initially which is where some of the speculation and guessing came from.

WQCH Radio, 07/10/12:
"WITHIN HOURS OF PROPOSED CITY COUNCIL ACTION TO DECLARE DOWNTOWN LAFAYETTE A 'HISTORIC DISTRICT' THE STATE AGENCY IN CHARGE OF THAT DESIGNATION PULLED THE PLUG ON THE PROJECT, AS IT WAS TO BE ADOPTED.
"LAFAYETTE'S MAINSTREET DIRECTOR, CATHERINE EDGEMON, SAID THE HISTORIC PRESERVATION COMMISSION OF THE GEORGIA DEPARTMENT OF NATURAL RESOURCES CONTACTED HER OFFICE MONDAY, SAYING THE HISTORIC DISTRICT CAN NOT BE DECLARED HERE, WITHOUT GUIDELINES IN-PLACE TO REGULATE FUTURE ARCHITECTURAL CHANGES. AND THAT IS EXACTLY WHAT THE LOCAL HISTORIC PRESERVATION COMMISSION HAD PROPOSED TO DO.
"SEVERAL DOWNTOWN BUILDING OWNERS MADE IT CLEAR THAT THEY FAVORED THE 'HISTORIC DISTRICT' DESIGNATION BUT DID NOT WANT TO BE RESTRICTED IN WHAT THEY COULD OR COULD NOT DO, WITH THEIR OWN PROPERTY.
"THE 'BOLT FROM THE BLUE' FROM DNR CAUSED THE CITY COUNCIL TO CANCEL A PUBLIC HEARING ON THE HISTORIC DISTRICT MONDAY NIGHT. MAYOR PRO-TEM ANDY ARNOLD, WHO WAS PRESIDING OVER THE MEETING IN THE ABSENCE OF MAYOR NEAL FLORENCE, SAID THE MATTER WILL BE STUDIED AND BROUGHT BACK FOR CONSIDERATION AT THE NOVEMBER MEETING OF THE COUNCIL."
There was no point of being a historic district without the regulations, and the regulations were only wanted by some council members and a couple people on the DDA. Implementing the 100 pages of rules that came with that zoning would just kill what appeal remains in downtown LaFayette for businesses that aren't art galleries or antique stores. The only buildings worth preserving now pretty much all belong to people who will take care of them anyway.
Some city insiders suggest Ms. Edgemon's job will go away without the grant money. Oh well.
It's about a dead horse now. Will they keep digging it up and beating it or give up?

Aimee Copeland, the University of West GA graduate student who required quadruple amputation after contracting a flesh eating virus back in May, is beginning to recover in an undisclosed rehab center.

Is there any legitimate place for robot drones in domestic law enforcement? Police agencies around the country are asking permission to use them for various things, but privacy advocates are concerned.
A month or so ago we posted an article about GA Tech testing drones over around Lyerly.
It's acceptable within the law to do aerial photos for maps and things like that, and a drone might be a cheaper way to do that sort of thing. But anything targeted towards a specific person or meant to uncover wrongdoing without a warrant is constitutionally (and ethically/morally) very problematic. Maybe for traffic enforcement but the potential for abuse there is very broad.
For today's links and any breaking news, follow the Underground on Facebook or Twitter.