2012
06.04
WQCH Radio, 06/02/12:
"THE CITY OF LAFAYETTE'S 'GARBAGE PICKUP EXPERIMENT' IS OVER, AND NEXT WEEK, IT'S BACK TO THE OLD TWICE-A-WEEK PICKUP SCHEDULE. THAT INCLUDES GARBAGE PICKUP ON EITHER MONDAYS AND THURSDAYS OR TUESDAYS AND FRIDAYS, DEPENDING ON YOUR LOCATION.
"FOR THE MONTH OF MAY, THE CITY COUNCIL ORDERED THE SANITATION DEPARTMENT TO TRY THE 'ONCE PER WEEK' PICKUPS ON TUESDAYS AND THURSDAYS. THEY WERE INSTRUCTED TO 'KEEP TABS' ON EXPENSES DURING THE MONTH, TO SEE IF THE REDUCTION IN PICKUPS SAVED THE DEPARTMENT SIGNIFICANT MONEY.
"THEY ARE SUPPOSED TO REPORT THOSE FINDINGS TO THE CITY COUNCIL IN JUNE, AND FUTURE PICKUP SCHEDULES WILL THEN BE DETERMINED BY THE CITY'S ELECTED GOVERNING BODY."
Considering how terrible the "experiment" went (mostly due to poor communication and limited distribution of larger trash cans), the city will probably decide to keep twice a week pickup permanently and raise garbage pickup rates by $6 to $10 a month.
Next month we should do another experiment: shut down the golf course or airport two days a week and see how much money that saves. If the savings are substantial, make the change permanent and don't charge the 90% of residents who don't benefit from those toys extra fees to get their garbage hauled off.

You should be getting one of these from the Queen in your mailbox soon. We've never seen Bebe this desperate before: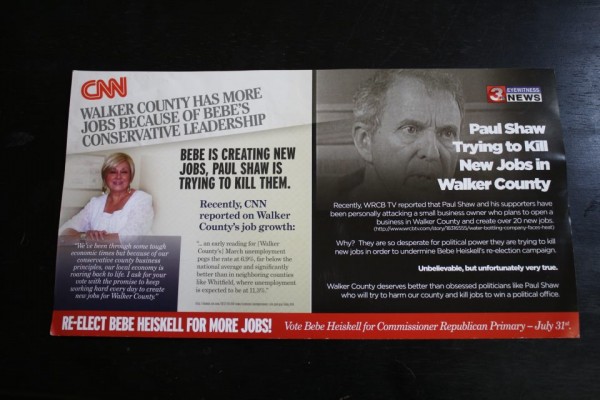 The stories her PR firm ginned up with CNN and Channel 3 are, as noted before, the core of her campaign – and the statements attributed to them aren't even quotes from their reports. This mailer shares nothing positive she's done, and nothing about the 224 jobs lost last month. (The company Shaw spoke against promised maybe 20, and all he said was the county shouldn't be involved in private business.)
But that's OK. The only people in Walker County who believe lies at this level were already going to vote for Heiskell, and some who weren't sure who to vote for have been convinced by this stunt to vote AGAINST her.
Dr. Shaw doesn't have the resources or the moral failings to do an advertisement like this. Heisekell has $10,000 of billboards, is lining up broadcast advertising, has the resources of the county at her disposal, and still has to resort to copyright infringement and outright blatant lying to try and get ahead.
Since the Shaw campaign won't respond in a similar manner, here's a volunteer attempt: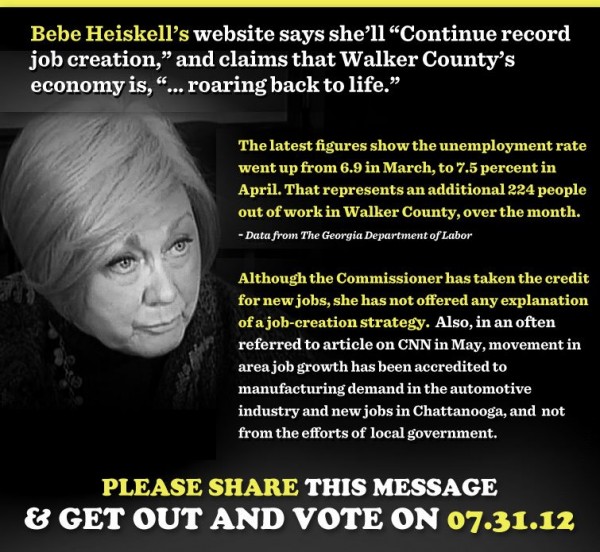 And unlike the Heiskell mailer, this one is actually true.
This isn't affiliated with the Shaw campaign, and won't be mailed – but everyone is strongly encouraged to share this with their voting friends. Expect to see more come out before the election is done.

In probably related news..
The Walker County Development Authority is going to buy two billboards on Hwy. 27 saying "Come Grow Jobs With Us" referring people to the CNN Money story about the area's supposed record-setting low unemployment. While it's good they've finally decided to promote the county, the billboards will be IN the county, and it seems like Bebe will benefit more from the campaign than the county itself will.
If the billboards were meant to be effective, they would be located in Hamilton, Whitfield, or some other county. Or remind Walker residents to "shop local." Your tax dollars at work..
(Thanks to WQCH for the initial report.)

One bit of good economic news Heiskell's administration can actually take credit for: Thanks to a $3 million bond from Walker County, Phillips Bros Machine will be buying the BlueBird plant in LaFayette and moving down here from Rossville.
This is legitimate, we have no problem with it. Not a new business to the community, not a lot of new jobs, but it's fine. Certainly not a garbage processing water bottling plant in a brownfield like the last deal, or a multi-million-dollar hotel plan. And there will be a few new jobs once it's set up.. Better us than Rossville.
$3 million in bond debt for the county, in exchange for keeping an existing business in the area and adding 10 or 15 new jobs. It's the way business is done today, but doesn't work on a large scale – how much would the county have to obligate itself to for a hundred new jobs?

The Cagle family is still looking for the thieves who stole and destroyed vehicles off their car lot in late May.
As noted here last week, the Sheriff's Office already arrested suspects for the Cagle thefts, including one who apparently confessed to the crime, but then charged them all with a different very similar crime. The Sheriff told local media the arrested youth have no ties to the Cagle robberies, which is (at best) a premature statement, or (at worst) an outright lie.
Meanwhile, employees of the Sheriff's Office are threatening the Underground with subpoenas and charges of obstruction if we don't tell them who Nick Snyder confessed his crimes to (which they already know), in an apparent effort to have us "out" our LU informant. We don't curl up and cry when threatened, they should know by now. Sheriff Wilson's legacy of threats, intimidation, and intolerance of speaking out marches on.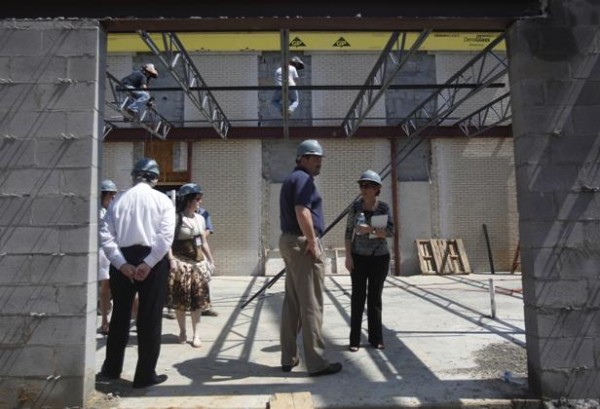 Chattanooga Times Free Press, 05/31/12: "Inmate labor pushes LaFayette Library to halfway mark"

Epic Fair Fail:
Did you buy a ticket for "Northwest GA Spring Festival" at Cherokee Farms? Apparently nobody did. But vendors were promised thousands of guests to sell to, and paid out the nose for rights to set up there. Music acts cancelled, the carnival left when organizers didn't pay them, and now it's devolved to chaos.
Cherokee Farms is located right outside town on Mineral Springs Rd. and normally hosts festivals where droning music is played constantly, 24 hours a day, for almost a week. Events there are usually associated with cannon fire, decent fireworks, and illegal substance consumption. (All ignored by the Sheriff's Office because of the officers hired off-duty for "security.")
This event is something new Cherokee Farms tried. It wasn't advertised locally, just to the hippie/droning music circles they usually appeal to. (We did find an announcement in the Chattanooga Times from three weeks ago.) There's a horrible Web site where tickets can be purchased for $5. The event, nine days long, was described thusly:
"Come on our & jam with us. Bring your children, lawnchairs and booze and having a grand time. We have bands preforming live all day long for the next 9 days"
Apparently advertising an event as being for families with Christian bands isn't compatible with BYOB, and telling people to BYO-food isn't a good idea when you have food vendors paying to come in.
The Web site makes it SOUND good, almost unbelievably good (state's longest inflatable slide, etc.) but it looks like 1994 and the organizer has a Yahoo e-mail.. That should have been the first clue.
"And no they didn't turn it into a music fest it turned into a drunk fest. I sat there all day Sunday until 11pm that night then when I started to close my windows the drunks started showing up wanting me to cook a bunch of food for them to eat."
Event organizers deny accusations that they took vendor money and left town. But they blame the musicians and vendors for their own failures and refuse to refund any of the money collected. Complete epic fair fail.
"Hello this is David I am here to say , that I am sorry about the things that happen to my festival, I tryed to bring something good to our town and all I have heard is that we got a lot of money and ran. I live here and have not gone anywhere. You can find me right here anytime, as for money!! I am so far in the hole a dozer could not digg me out. If anyone should be upset it is me, but it is fine I will take the blame, it can only make me stronger and I have learned a lot, most important watch who you trust and deal with for someone is always left holding the bag, I guess this time it is me."
Wah wah baby cry cry. He should still give the vendors their money back.

GA Tech is going to be testing pilotless drone planes in the Menlo area. Watch out, Chattooga County terrorists!

Georgia Political Review, 05/30/12:
"Is the Democratic Party of Georgia dying? For now, it appears that the party is extensively weakened, and it remains to be seen if it can recover. If Georgia Democrats cannot pose legitimate challenges to Republican incumbents and lose ground in the state legislatures and local offices, there's a good chance that Republicans could experience a level of the deeply rooted control over state politics that Democrats enjoyed after Reconstruction."
Even if you disagree with the principles of the Democratic party, you have to realize we need at least two if not many different competing political groups to keep each other honest. If Georgia doesn't have a significant Democrat party to balance the Republicans then it needs a strong Libertarian party or something of that nature. One of the biggest problems now with ethics is established leaders who know they've got almost no risk of ever being voted out due to the party they're affiliated with. Even if the party has perfect goals, without some outside competition or accountability the individual members can easily become corrupt and complacent.

Idiots continue trying to sneak drugs into Hays prison.
She successfully got into the prison but now she may have to stay in one for good.

GA's highest court has dismissed a lawsuit filed against DA Buzz Franklin and Rossville PD because the suit is meant to interfere with the criminal case against him.
Nothing he was doing sounds legit. Rossville was in the right to do what they did; if there's any complaint, it's for their inconsistency in not shutting down ALL the illegal gambling there instead of just some of it.
We knew this would be the outcome when he decided to represent himself. Unless you're already a lawyer, you don't need to appear before the dang state supreme court as your own attorney.

Random Regional & State News:
A 3-year-old from Rossville is allergic to the sun.
If you're getting unemployment and using drugs, you might get cut off. But they'll only know if your neighbors rat you out.
"Olympic hopeful horses die in north Georgia crash"
Rome News-Tribune, 06/01/12: "More than 1,000 preschool teachers across Georgia are getting bonus checks today from the government for advancing their own education."

Chattanooga Times Free Press, 06/01/12: "The AMC Network has announced that 'Small Town Security,' the reality show based on the staff at JJK Security & Investigations in Ringgold, will premiere July 15 at 11 p.m."
The Walking Dead is also filmed in Georgia… AMC likes the Peach State.
Hopefully it's actually a documentary-style reality show and not a reenacted pile of crap like all the shows on TruTV.
For today's links and any breaking news, follow the Underground on Facebook or Twitter.