2014
06.09
Apparently June is Crime Month in Walker County.
The video above shows a robbery last Tuesday at the Kangaroo gas station in Flintstone. Authorities say the event happened around 7:50 PM on June 3rd. The man fled in a black Dodge Durango SUV.
Anyone with information about the robbery is asked to use the Walker Sheriff's Office "anonymous tipline" or contact Detective Jeff Herpst at 706-638-1909 extension 263.



Yesterday LaFayette's city pool opened late after employees found the pool concession stand had been broken into overnight. Insiders say thieves may have swiped about $1,000 left (for some reason) inside the glorified lawnmower shed.
LPD is investigating…


WQCH Radio, 06/06/14:

"THE WALKER AND CATOOSA SHERIFF'S DEPARTMENTS ARE WARNING OWNERS OF UTILITY AND ENCLOSED TRAILERS THAT THERE HAS BEEN A RASH OF THEFTS.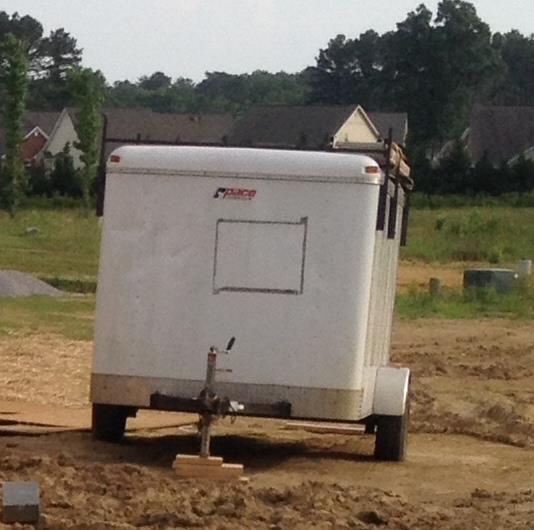 "A RELEASE STATES THAT INTELLIGENCE HAS BEEN RECEIVED INDICATING THAT THE STOLEN TRAILERS ARE BEING CUT UP AND SOLD AS SCRAP, OR ARE BEING TRADED IN THE ATLANTA AREA FOR METHAMPHETAMINE.
"THEY SAY THE BEST DEFENSE IS TO KEEP TRAILERS INSIDE A LOCKED BUILDING. BUT IF THAT IS NOT AN OPTION, STORE TRAILERS OUT OF PUBLIC VIEW. YOU CAN ALSO CHAIN AND LOCK A TRAILER, OR PARK IT BETWEEN A WALL AND ANOTHER VEHICLE, TO PREVENT EASY ACCESS."
(Photo is of a trailer stolen recently in Catoosa County.)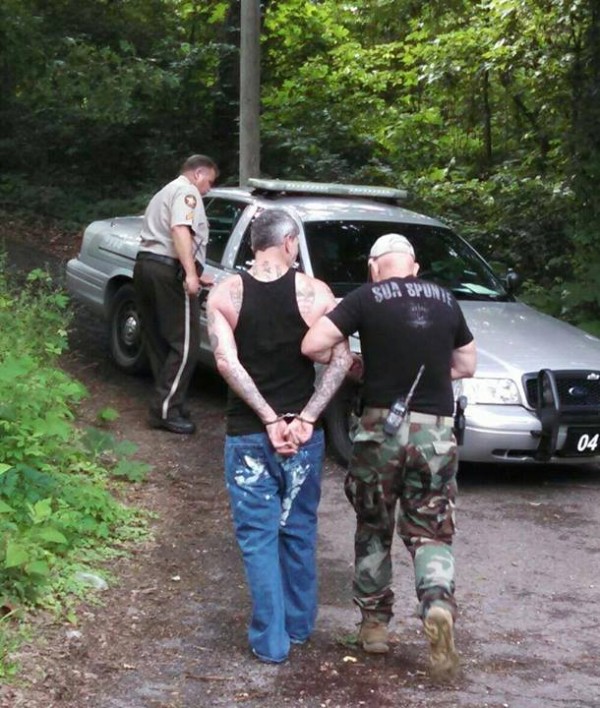 Thursday evening Chattooga Co. deputies recaptured an escaped Floyd County inmate who slipped out of a work detail in May. He was found in the Trion area.


According to the drug task force, locally produced meth is going out of style, replaced by cheaper, imported South American and Mexican "ice" methamphetamine.
*Insert comment about messakins stealing our jobs*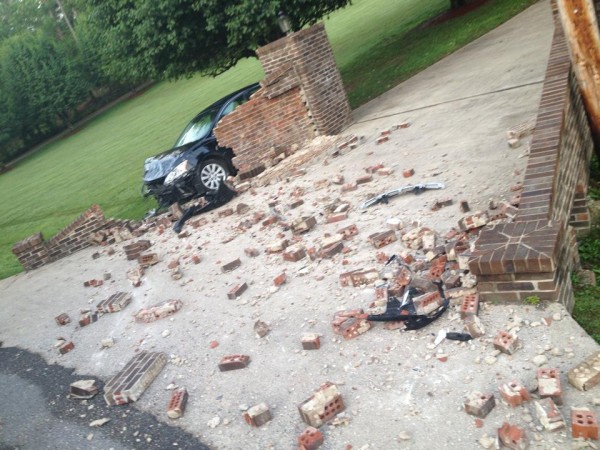 A little after 6 Friday morning this vehicle slammed into a brick mailbox or gate area on Johnson Rd. in Chickamauga. The driver, who fled, has not yet been identified.


Domestic conflicts at gas stations are on an upward trend..
WQCH Radio, 06/05/14:

"LAFAYETTE POLICE ARRESTED TWO WOMEN FOLLOWING A FIGHT ON THE CHATTANOOGA STREET PIT STOP PARKING LOT.
"THE CALL WAS RECEIVED [last] MONDAY AT 6:15 PM. A CUSTOMER AT THE PIT STOP CALLED POLICE AFTER TRYING TO BREAK-UP THE FIGHT HIMSELF. HE SAID ONE OF THE WOMEN WAS SLUNG INTO HIS TRUCK ON THE PARKING LOT, DENTING THE DOOR.
"OFFICERS ARRESTED 48 YEAR OLD MELISSA EVANS AND 45 YEAR OLD SANDY SHAE HALL, CHARGING BOTH WITH AFFRAY, OR FIGHTING. ARRESTING OFFICERS SAID THEY DETECTED THE SMELL OF ALCOHOL ON BOTH SUSPECTS."
Couple weeks ago we had a similar fight at the bypass Pit Stop, woman and almost-ex-husband got into it with a BB gun and vehicles were involved.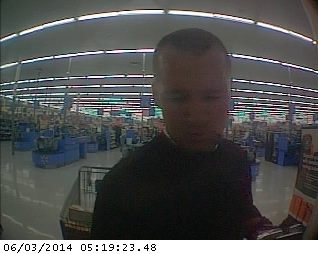 Walker Co Sheriff's Office needs help identifying this man allegedly using a credit card stolen from a vehicle on Tuesday. If you recognize him call the SO, 706 638 1909 extension 228.


Chickamauga woman sentenced to four years in prison and a $306k fine as part of a massive tax fraud scheme investigation.


Meanwhile in Rossville*…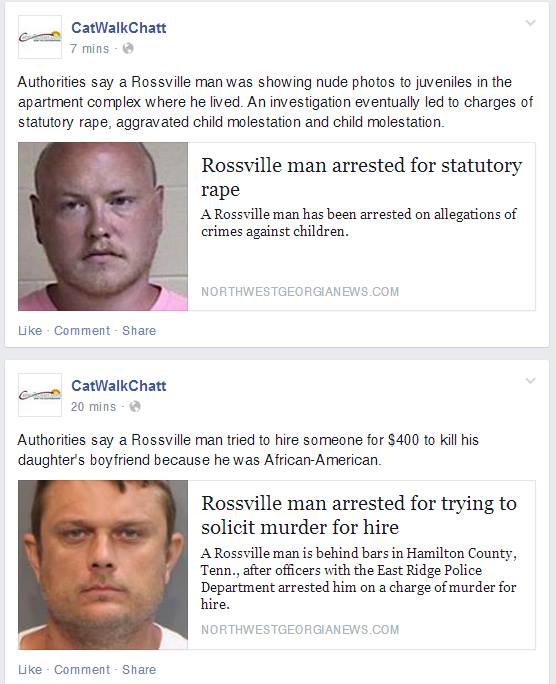 (Makes us glad to be in LaFayette)
*Rossville area, not inside the city, to be clear.


Sunday morning the new red light at Kay Conley Rd. in Rock Spring was ignored by yet another driver, causing a serious accident.


Bi-Lo LaFayette will be accepting donations for The Care Mission now through June 17th.
From The Care Mission:

"The Lafayette Bi-Lo Store has chosen us as their Charity Group for 2014. Until June 17th the cashiers at the Lafayette Bi-Lo location will be accepting monetary donations on behalf of the Care Mission.
"This is a quick and easy way to support us as you're checking out. Even if you cannot donate, please let them know how much we appreciate their support of our food pantry and area families."
Late last year Bi-Lo miscommunicated plans to give donations to the same organization. This time the company assures locals that anything given to the LaFayette store through June 17th WILL stay in LaFayette at the Mission.


Two years ago this week, Walker and Dade libraries cut their operating hours and laid off employees after local school systems cut library funding out of their budgets.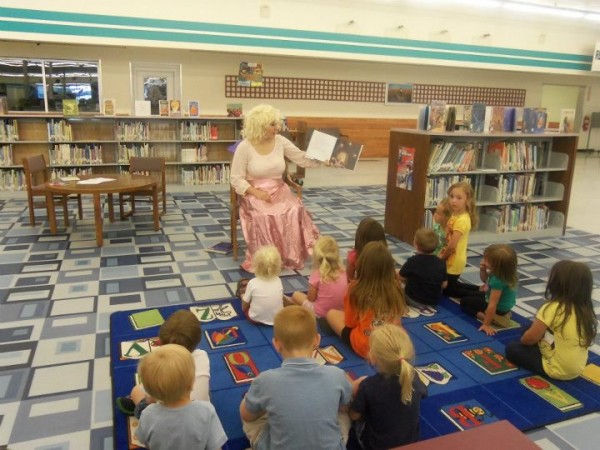 The funding situation hasn't improved. This afternoon Cherokee Regional Library board will decide if one of its three Walker County branches should close for good.


Gov. Deal says the recent tragic injury of a child during a no-knock raid on a suspected drug house MIGHT prompt him to consider changing the state's rules for no-knock warrants, depending on the investigation results. Meanwhile his opponent for governor, Jason Carter, says the practice should be curtailed no matter what.
An effort to reduce no-knock raids back in 2006 went nowhere. That push began when an elderly Atlanta woman was killed by police in a similar situation.


Support the Underground while reminding friends and neighbors of wasted tax dollars with a Money Pit Farms LU shirt. Multiple colors in regular sizes up to 5XL and women's cuts all available for $18.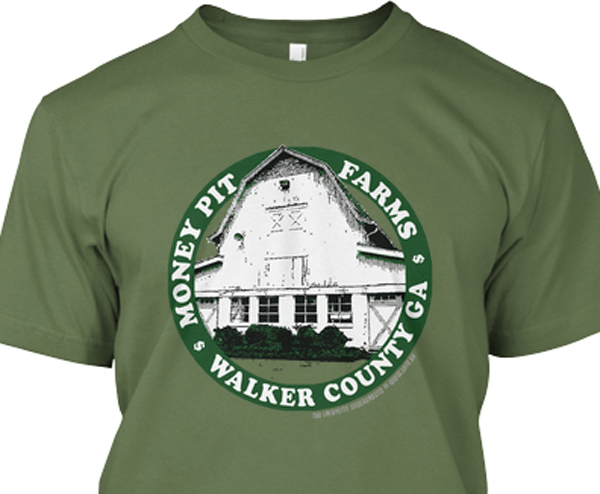 Ordering deadline is June 18th.


Several states and quite a few larger cities have passed laws prohibiting employers from asking job applicants about their criminal history or past convictions. Now Gov. Deal is considering an executive order blocking the State of Georgia from asking potential new state employees about THEIR criminal pasts.
Supporters say it helps non-violent offenders get back on their feet and stay off welfare. Many business leaders say it keeps them from properly screening employees to keep customers safe.
In the same general topic, former State Rep. Jay Neal recently delivered a speech about safely returning prisoners to mainstream society.
Neal represented the LaFayette/Chickamauga area in Atlanta for about ten years until stepping down last fall to take a paid position with the state.



From last week's Throwback Thursday: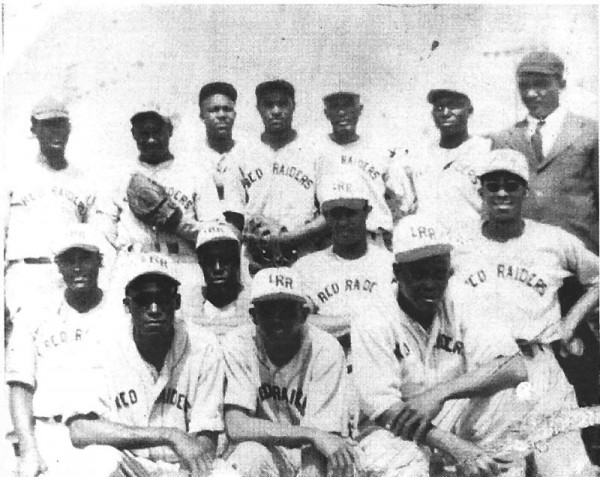 1946-1947 LaFayette Red Raiders baseball team.


Georgia Attorney General Sam Olens says the state cannot enforce a new law requiring certain food stamp recipients to undergo drug tests, because federal rules prohibit states from adding extra requirements to the food stamp program.
Federal officials already said aspects of the new rules, scheduled to start July 1st, could cost the state its food stamp funding.


FOUR years ago LU broke the news of Walker County's plans to buy Swanson farm in Noble for $10,000 an acre and convert it into an industrial park.
LU was tentatively supportive of the idea, but warned of the potential for Walker County to buy it and bring in nothing after destroying the property's natural beauty. Neighbors around the land were of course concerned about the plans, and their questions and fears were totally ignored by the Commissioner per her usual.


Back in April several area churches hosted an "alternative" (no dancing) prom at Walker County Civic Center.


For today's links and any breaking news, follow the Underground on Facebook or Twitter.