2014
05.10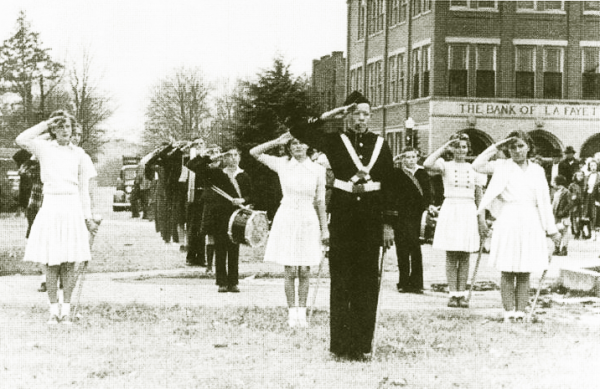 LHS Marching Band on the downtown square, early 1950's.
For more on LU's old photos, see below.

Commissioner Heiskell is using SPLOST money to build community centers intended to reward neighborhoods and individuals that supported her in 2012. She's defending them as "emergency shelters" and says some will only cost $250,000, but that's nowhere close to the real number when you include the cost outside of SPLOST.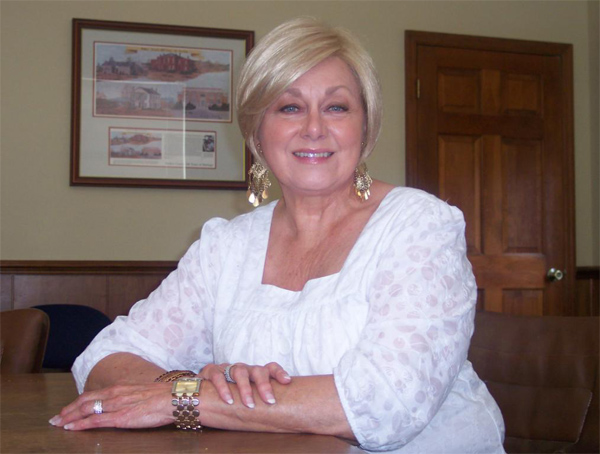 The new building in Hinkle, for example, is being built to reward the Davenport family for their support for Heiskell.. The new fire station/emergency shelter/museum will be located in the middle of a new shopping center the Davenports are building, and the land on that site has already been cleared – for them – by the county.
The Cedar Grove station will be a mile away from Mountain Cove Farms, and it's being built because the Commissioner promised it to residents out there IF they voted for her in 2012 and supported SPLOST in 2013.
Emergency shelters sound like a good idea, but during an emergency like a tornado there's no time to get to a shelter, and most folks prefer to stay home and deal with whatever's going on. During the tornado threats earlier this month three shelters were opened, and only twenty people (in a county of about 65,000) chose to use them.


Earl Anthony Grant arrested last Saturday for aggravated assault after fighting with his almost-ex-wife at the bypass Pit-Stop and threatening to shoot her and a friend while waving a gun.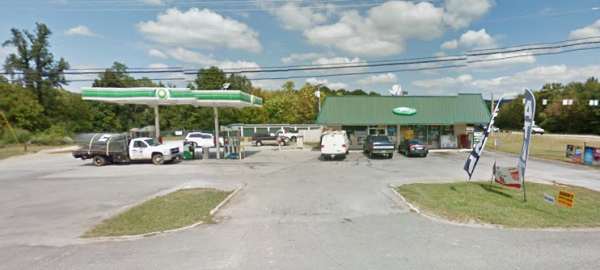 When arrested his gun was found to be the BB type.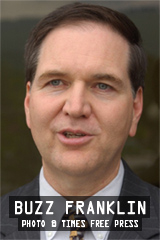 Nearly ten years ago a Catoosa County man was accused of smothering his six-month old. During trial he was convicted of a minor count, but the jury was hung on a murder charge and never reached a verdict.
Last year District Attorney Buzz Franklin's office realized he was never re-tried on the main murder count, but a judge has ruled too much time elapsed for a retrial. In other words, he gets off because Franklin (or someone in his office) forgot.
Maybe if they weren't spending so much time kicking Tanya Craft and Les Coffey for political reasons, and helping the Dalton FBI office and Rossville PD pretend to be little girls on the Internet, they'd be able to remember to have a trial for a man who allegedly possibly murdered his own kid.


Post Office mail carriers will be collecting canned food today as part of a national food drive. Anyone wishing to donate canned goods can leave them in a bag near or on the box.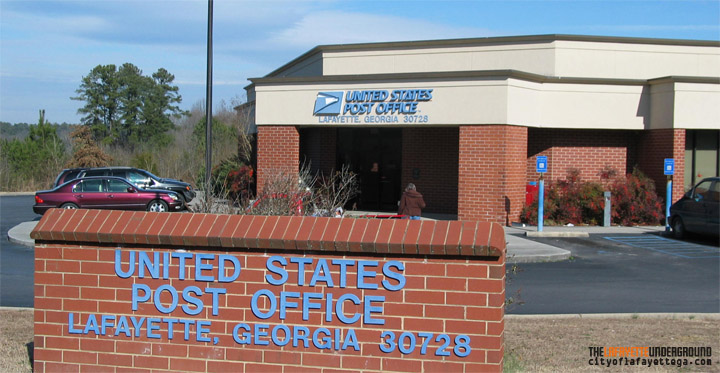 Collections taken up by LaFayette mail carriers are supposed to go to The Care Mission here in town.


Ringgold mother who accused Catoosa school principal of abusing her son in 2013 has been sentenced to three years probation. She was found guilty earlier this year of making false statements to law enforcement regarding the incident.


Have you eaten yet at Charlie's?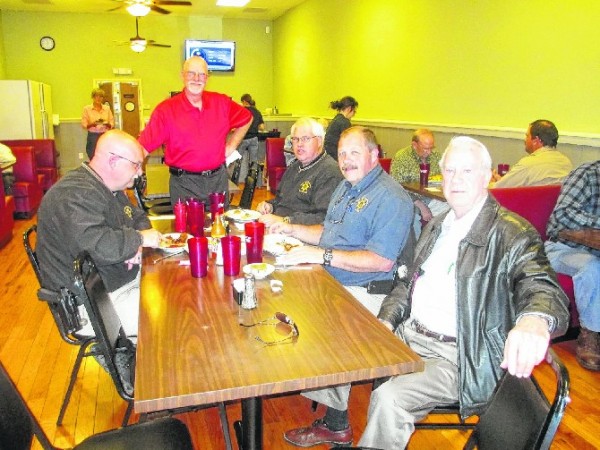 So far reviews are mixed – but this group of "leaders" from Walker County Sheriff's Office seem happy enough with it.


More details on Hwy. 151 widening project in Ringgold. Plan will include several miles of "raised median" meant to keep people from making left hand turns, and will be mostly paid for with federal funds.


The Federal Highway Trust Fund is expected to run out of money sometime later this year. That's bad news for GDOT, since more than HALF of Georgia's transportation budget comes out of that federal fund. (And a good bit of what comes from the state goes to pay down debt on Atlanta road projects finished years ago.)
The Hwy. 151 widening project may not happen afterall, and neither will anything else unless the state starts paying for road projects itself.


You trust the lawyer of a state legislator to make that legislator follow campaign law, right? Sure…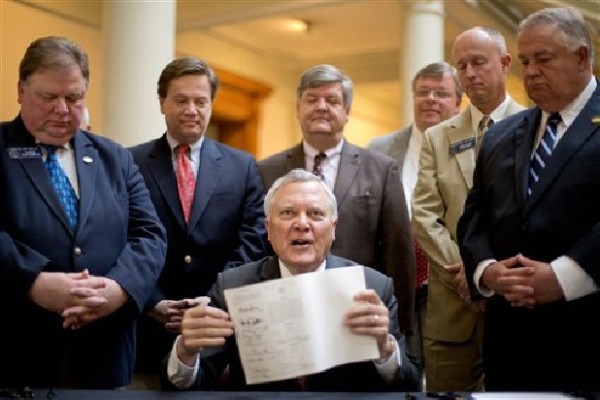 Problems with the state ethics committee go way deeper than just not having enough money or people to enforce the rules.


Speaking of ethics…
Former state legislator Chip Rogers, given a cushy high-paying job with GA Public Broadcasting by the Governor, was fired last month for violating GPB employee policies.
His made-up position was GPB's highest paying ($150k-per-year), and cost other employees (who did actual work) their own jobs.


Walker Co Board of Education has put together its next five-year maintenance plan for upgrades and repairs of county schools.
(This article is almost completely lacking in detail.)


We love to see old photos of the area, and a lot of you do too. But supply is limited, there are only so many historical images and there's no way to go out and make more of them.
However, YOU may have an old photo that nobody outside your family has seen in decades. If you've enjoyed seeing the older pics LU shares, consider getting out your photo album or shoebox and finding some that others might also like to see.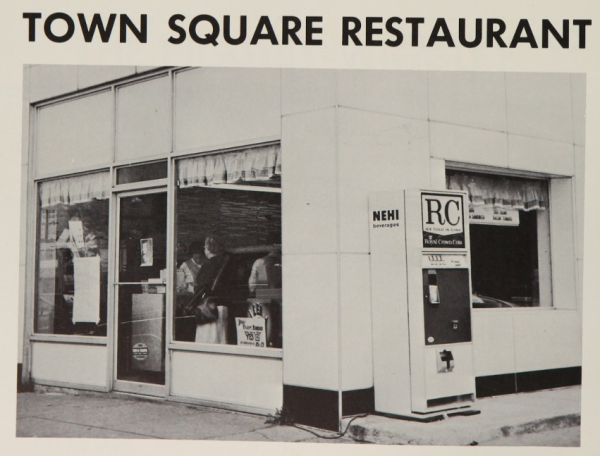 If you've got a scanner and know how to use it, scan those pics (highest resolution you can) and e-mail them to pics@lafa.ga. If you don't have a scanner or don't know what you're doing, still e-mail LU and we'll find someone that can help you get those images scanned.
Leaving that stuff in a shoebox somewhere to fade away or be tossed out someday is a shame. The best way to protect history is get it online where it'll never go away, and make sure as many people as possible have access to it.
THIS photo is Town Square Restaurant in 1969. Phone records say it was located at 102 E. Patton St. but it's obviously in the current Sew Cute building at 100 E. Patton; 102 is next door.



GA Chamber of Commerce, which more often than not works against the interests of small businesses and individual citizens, has given A+ grades to local legislators John Deffenbaugh and Jeff Mullis.
Steve Tarvin, for rocking the boat and voting against measures the Chamber backed on several occasions, earned a C+ for his half session under the Gold Dome.
Good job Steve – shoot for a D next year.


University System of GA announces DSC president Schwenn to retire at year's end. Schwenn has been in charge of Dalton State for six years.


150 years ago this week General Sherman began his infamous Atlanta Campaign, attacking a major Confederate force located near Dalton on Rocky Face Ridge. The Battle of Resaca followed on May 14th. Sherman was in Atlanta by September. (He should have taken I-75.)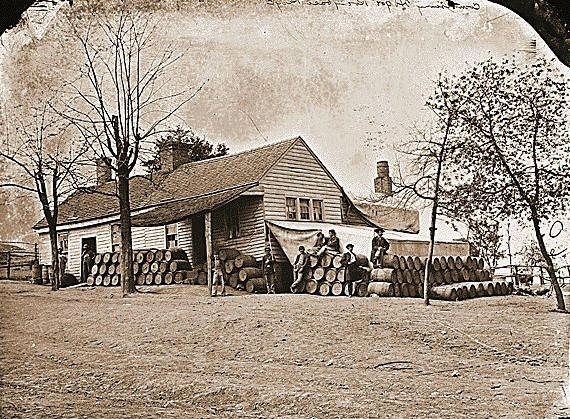 A reenactment of the Battle of Resaca will be held on the weekend of May 16-18.
Also, if you're interested in this topic, there's a Civil War / Battle of LaFayette exhibit set out at Chattooga Academy, which was a focal point of fighting here in town almost 151 years ago.


Georgia law requires drivers to slow down and get over when they see emergency vehicles parked on the shoulder. But the specifics of how slow and how fast to get over are left up to officer interpretation. Some jurisdictions are using that flexibility as an excuse to abuse their authority and rake in ticket money.
Now some state leaders, including Senator Mullis (who pushed the flawed law through ten years ago), think it's time to clarify the rules.
The core idea of this law is sound, but it's asking for trouble any time rules are left open to officer interpretation.


A GA Tech professor has admitted to taking cash from students and vendors for his own use. He returned some $48,000 in illegal funds in return for resigning instead of being fired, which will allow him to take another teaching job elsewhere.


For today's links and any breaking news, follow the Underground on Facebook or Twitter.