2014
02.17
Last Thursday morning 49 of 50 US states had at least a little bit of snow on the ground somewhere. That includes the 7 or so inches that fell on much of Walker County and northwest Georgia. (Only state without snow? Florida.)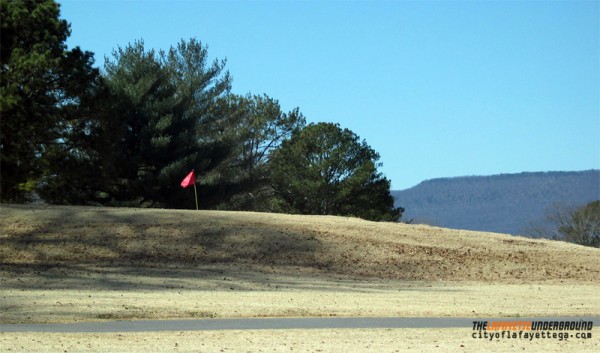 Today the snow is gone and we're enjoying a 60° day in mid-February.
Hope you have a chance to get out and enjoy it, soak up a little sunshine before cold weather returns.



Walker Co. Road Barn director Rodney Parker says "thank you" to road crews, emergency workers, and others who helped keep roads clear of snow and ice during the last week:
How do YOU feel the city and county did clearing roads of snow and ice last week? Give your feedback in this week's Saturday Survey. Poll will be open through Thursday with results shared in Friday's Daily Update.
(Video originally shared on the Commissioner's personal Facebook profile, where public information like this (produced with county equipment by county employees at taxpayer expense) is shared only with a select few people who Like her personally.)



Cherokee Regional Library director says LaFayette branch remodeling should be finished and reopened by "summer" thanks to individual and business donations.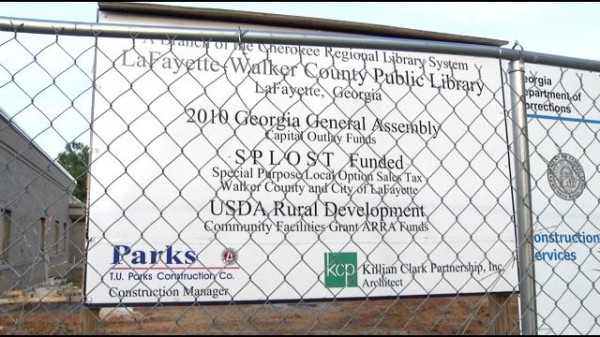 Not mentioned in the article? SPLOST funds promised to complete the project. Where's THAT money in all this?


More crime at West LaFayette Pit-Stop:
WQCH Radio, 02/15/14:

"A LAFAYETTE CONVENIENCE STORE REPORTS THE THEFT OF A ROLL OF LOTTERY TICKETS, FEBRUARY 7th.
"EMPLOYEES OF THE PIT STOP ON SOUTH CHATTANOOGA STREET TOLD POLICE THAT A MALE CUSTOMER WITH BLOND HAIR CAME IN THE STORE AROUND 10 PM FRIDAY. THEY SAID HE WENT BEHIND THE COUNTER AND TOOK A ROLL OF ACTIVATED LOTTERY TICKETS VALUED AT $220. THEY BELIEVE HE LEFT IN A WHITE 4-DOOR MERCEDES.
"LOTTERY TICKETS ARE WORTHLESS UNLESS ACTIVATED, AND POLICE SAY IT'S UNUSUAL THAT AN ENTIRE ROLL OF ACTIVATED TICKETS WOULD BE LEFT ON THE COUNTER. THE NORMAL PROCEDURE IS FOR STORE EMPLOYEES TO ACTIVATE EACH TICKET AS IT IS SOLD. THE THEFT INVESTIGATION IS CONTINUING."
According to many convenience store employees, tickets are frequently activated before selling even though the practice goes against Georgia Lottery recommendations. However, the crime should be easy enough to solve since serial numbers for every ticket are logged – if any of the stolen scratch-offs are redeemed authorities will be able to identify and arrest the culprit.


Steve Tarvin is in Atlanta today serving his first in the Georgia House of Representatives. Tarvin says his cell phone will be off while he's away, with constituents encouraged to e-mail or write him with their their thoughts, needs, and wants.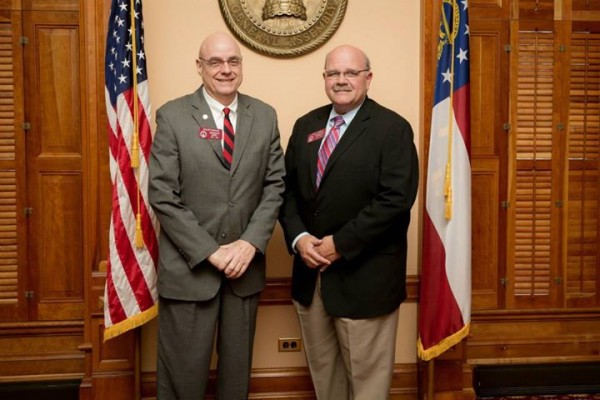 With its snow-pushed winter break ended, legislators today were expected to discuss and possibly vote on a 2015 budget, a change of the state agency responsible for Medicare, and a bill protecting schools from lawsuits over student-led prayer.
Proposed legislation not yet up for a vote would change Georgia law so individual churches, bars, and schools could decide if guns are allowed on their property – replacing current blanket rules banning firearms in those places no matter what. HB 875 would also allow residents of public housing to own guns if they aren't restricted for other reasons.
Rep. Eddie Lumsden, who represents Chattooga and part of Floyd County in Atlanta, is on the committee considering this bill. If you live in that district and want to see this made law, you might contact him to voice your thoughts on it.
Do you know how Georgia's legislature actually works? Here's a little look at "making the sausage" in Atlanta.






If you haven't been paying attention: Friday employees of Volkswagen rejected efforts to unionize.
In slightly related news: a new $10 million GNTC campus in Ringgold, previously announced, is being positioned as a "training center" for Volkswagen Employees, and possibly for employees of VW suppliers.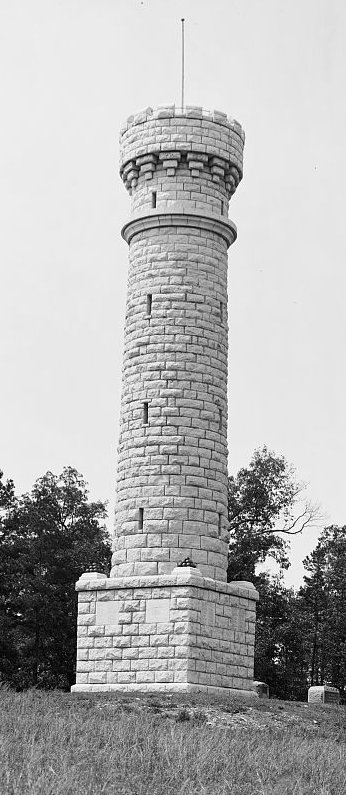 National Park Service wants to shut down a back entrance to Chickamauga Battlefield, the access road to Long Hollow Rd. near Wilder Monument known as Vista Drive. NPS will take public comments on the plan until March 17th.
In recent years seems like authorities been making the park harder and harder to access by closing roads and shutting gates. The stated goal of this is to protect monuments from vandalism, but also seems to go against the general idea of this being a park for the people.
For people who live on that side, it's going to add a lot of driving to get into a place they can SEE from their homes. And having the road blocked off won't keep people with bad intentions from walking in and vandalizing or stealing, just makes it inconvenient for those who legitimately need access.
It's also troubling in light of the gov't shutdown last fall where park rangers intentionally shut people out of outdoor, unstaffed monuments and park sites.
What do you think?


Walker County Emergency Services responded to two carbon monoxide related incidents during the last week.
If you're going to run propane heaters or generators indoors, be sure you have a CO detector. Or don't run them inside in the first place.


Deal to locate a new Cabela's in Catoosa County has been in the works for over a year. Local leaders credit multi-agency cooperation and sales taxes lower than those in Tennessee.
Catoosa's sales tax is 2.5 cents lower than Hamilton County's. If Walker voters had wisely rejected SPLOST renewal we could have a sales tax here 3.5 cents lower than Hamilton County, but apparently we'd rather have more farm land turned into county-owned parking lots than have a retailer like Cabela's come in and give jobs to people.


Twelve years ago last weekend, Valentine's Day 2002, state officials arrived in Walker County to investigate one of the most bizarre, disgusting crimes in modern history: 340+ corpses abandoned in the woods behind Tri-State Crematory in Noble.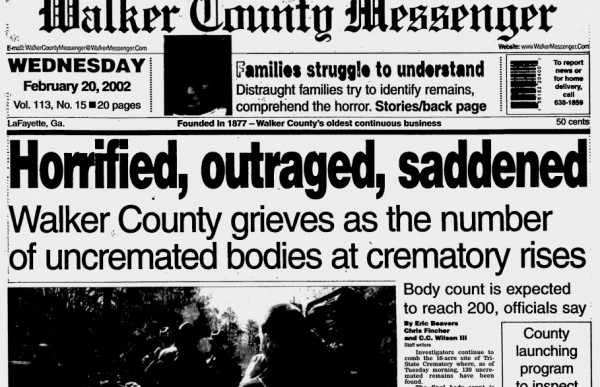 The case was a headline around the world for the next few weeks – a time most consider the low point in the county's 180-year history.
Local law enforcement had been warned of what was going on there more than a year earlier, but Sheriff Wilson and his officers dismissed initial complaints, then conducted an investigation most would consider "less than thorough." The crime was eventually uncovered by EPA investigators indirectly tipped by a local gas delivery driver.
Brent Marsh, the man held responsible for what happened in Noble, is currently in Central State Prison with a release scheduled for June 2016. His mother, at least as responsible as he was, was never punished and sits at her house in Noble waiting on Brent to come home.


With "net neutrality" laws dismissed in court, Internet service providers Verizon and Comcast have been found intentionally (yet legally) slowing down network traffic from Netflix and Amazon.com. Comcast has also allegedly restricted online access to Olympics coverage to those who buy more expensive cable packages.

Reagan Black has been named Deputy Warden of Walker State Prison in Rock Spring. Black is coming from Hays Prison in Trion where he was "chief of security" and described as an asset to the troubled facility.


Sheriff's Department in Oconee County, GA, issued a statement on Facebook "canceling" Valentine's Day, in an effort to keep people at home while roads there remain in bad shape from the winter weather.


18-year-old Texan faces eight years in prison for a sarcastic threat made on Facebook. He already spent months in jail waiting to make bail.


For today's links and any breaking news, follow the Underground on Facebook or Twitter.