2013
03.26
Per multiple city sources, LaFayette City Manager Frank Etheridge will be leaving his position as-of Friday. The change was announced to city department heads during a meeting this morning, and Etheridge apparently made the same announcement during a Rotary Club event this afternoon. No word yet what the specific reason was for his departure, and it's still not clear if he quit, was fired, or forced to resign.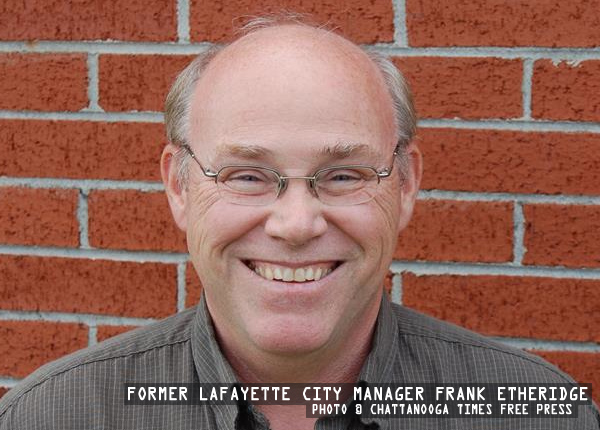 Etheridge was hired in October 2011 to replace fired City Manager Johnnie Arnold. The decision to hire Etheridge was made by a lame-duck four-member city council, two members of which had already decided to retire. At the time LU pushed to have the decision made by a newly elected council, so new city leaders could have their own man (or woman) in the job but the outgoing councilors chose Etheridge to make their own mark on the future.
When Etheridge was chosen, LU raised some concerns about the man's work history. Between 1997 and 2010, Etheridge held four different jobs and was apparently fired from all of them – which is why LU dubbed the man "Four-Firings-Frank":
Etheridge lists five non-military jobs on his résumé, beginning in 1997 when he was a Planner, Surveyor, and Project Manager for a Florida-based engineering company. He held that job for a year and two months, then moved on to work as Planning and Development Director for Camden County, Georgia. That position lasted exactly three years, followed by a two-year, two-month stint as Building and Planning Director for Habersham County and a three-year, nine-month job doing the same thing in Jackson County. His last job was City Administrator for Pembroke, GA (population under 3,000), another position that lasted only 23 months.
That's the kind of job hopping you expect from a single twenty-something trying to find their place in the world, not a professional married adult with children in college. What grown man, over forty years old, works five jobs in fourteen years?
Perhaps a grown man who gets fired frequently.
Inquiries as to the reasons for those dismissals (which didn't inherently make Etheridge a bad guy) were never provided. At this point he should probably consider another line of work.
Etheridge's wife Denise is currently an assistant editor of the Catoosa County News/Walker County Messenger. No word on her position.
Updates as this story develops.