2013
03.07
Article updated below to add results of Convention.
This Saturday, March 9th, at 9 AM, the Walker County Republican Party will hold its biannual County Convention. Decisions made at the convention will set the tone for politics and leadership in Walker County for the next two years – making participation in the convention a must for those who desire political relevance.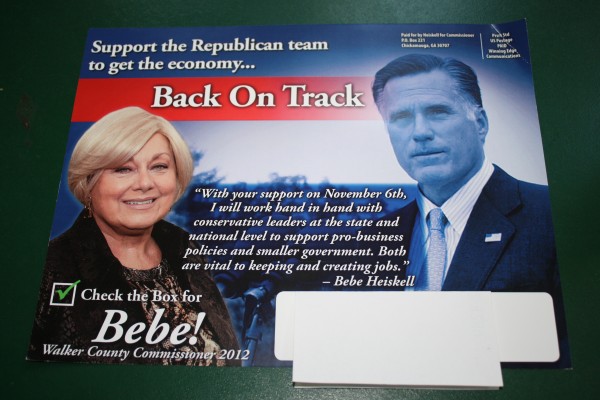 Political parties are meant, in theory, as a way for like-minded people to band together in support of certain causes and principles. However, causes and principles of parties can vary widely generation to generation (or even year to year) based on the whims of party leadership and participants. A party (be it Republican, Democrat, or something else) can only be as good as the candidates who choose to run within it and local party leaders who decide what the party stands for.
National party positions on issues like homosexual marriage, foreign relations, or the price of gasoline don't generally make a difference to the jobs of county commissioner, coroner, or Sheriff – so local candidates often choose political affiliation not because of party principles, but on how well that party can help them win elections. That allows them to claim similarity and affinity for popular national candidates, as seen in the tacky, opportunistic Bebe Heiskell/Mitt Romney mailer depicted above.
Heiskell, of course, was a hard-core dedicated Democrat until losing a primary vote for County Commissioner in 1996. She switched parties before running again in 2000, then rode a wave of support for national Republican candidates to victory, becoming the county's first female and first Republican commissioner. But her core values didn't change, and she quickly shaped Walker County Republican Party agendas and values to mirror her own.
Before 2000, the Walker County Republican Party considered ending sole-commissioner county government a "most significant" issue. After Heiskell took the sole commissioner job as a Republican, the party changed gears to make support of the formerly-opposed system one of its core values. Likewise, the Walker County Democrat Party – which upheld sole-commissioner government as sacred when the sole commissioner was a Democrat – shifted to oppose it.

A wide majority of Walker County voters consider themselves Republican and support Republican candidates; in fact by last year's elections the county had only one Democrat official left and isn't likely to have any more in the foreseeable future. However, it's debatable if a majority of the county's residents or a majority of Republican voters also support sole-commissioner leadership.
The two issues shouldn't be tied together; voters should be able to support Republican candidates and issues without inherently advocating for unaccountable sole-elected-leader government. That's why the Walker County Republican Party should drop support for that archaic system of governance from its official platform and endorse voting for whatever type government the people want.
And the time to make that change is this Saturday during the 2013-2014 convention.
During the convention, Walker County Republicans will decide on goals for the next two years. Party leaders will be selected, resolutions suggested, and platforms – like the sole-commissioner issue – voted on. Members will be appointed to an executive committee, which among other things decided who serves on the county elections board. The party will also choose delegates to represent Walker County at regional and state conventions later this year.
Convention decisions will be made by delegates representing each of Walker County's eleven voting precincts. Each precinct gets one base delegate plus another for every fifty votes cast for the Republican presidential candidate back in November. That means a total of 326 people will have opportunity to sign up as delegates and help set party positions.
| | | | | |
| --- | --- | --- | --- | --- |
| PRECINCT | DELEGATES | | PRECINCT | DELEGATES |
| Armuchee Valley | 11 | | Kensington | 11 |
| Center Post | 19 | | LaFayette | 41 |
| Chattanooga Valley | 50 | | Mountain | 10 |
| Chickamauga | 57 | | Rock Spring | 54 |
| Fairview | 20 | | Rossville | 39 |
| Fairyland | 14 | | TOTAL: | 326 |
As the chart shows, each precinct gets a generous number of delegate slots for the party convention – but in most years none of them fill all the slots.
Party meetings are typically attended by two or three dozen people – not the three-hundred-plus that could be serving as delegates – and the ones who do attend are predominantly from Chickamauga and Northern Walker. Chickamauga, Rock Spring, and Chattanooga Valley have greater voter participation in elections (thus their higher delegate counts) and also benefit from greater participation in the convention. That's why communities with smaller populations than LaFayette manage to dominate the county's Republican party and political stage.
It doesn't have to be that way. Party insiders say only 34 people have pre-registered to attend Saturday's convention – leaving 292 delegate opportunities for the taking. If enough LaFayette, Armuchee, Kensington, Center Post, and Mountain voters turn out this weekend, they along with a number of dissatisfied people in the northern precincts could easily flip over the proverbial apple cart by removing support for sole-commissioner government from the party's official positions.
Last year's defeated candidates for Walker County Commissioner (Dr. Paul Shaw and write-in challenger Ales Campbell) are apparently planning to show up at the convention to take a stand against sole-commissioner government and advocate for a return to the party's 1999 platform positions. Rumors say the two have gone their separate ways and might be somewhat at odds, but that shouldn't distract from their common goal of giving Walker residents a chance to vote on restructuring county government. Hopefully any delegate from any precinct who supports fair representation and accountability will be able to set aside differences and do what's right with this issue.
People associated with Commissioner Heiskell have already been describing the potential loss of party platform support as a political "coup." But it's no more a "coup" than voting out an incumbent would be. Party rules specifically allow these kinds of changes to be made if enough interested voters turn out to serve as delegates and vote their consciences. Using these legally established means of changing party policy, within party rules, is the way things SHOULD work. That's not a coup at all, it's democracy.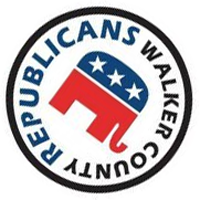 Delegates must live within the precinct they want to represent, be a registered voter in that precinct, and be a "believer" and "supporter" of the Walker County Republican Party and its ideals. (There's no way for party leaders to check which individual candidates a potential delegate voted for during the last election, but they can check which ballot was requested during the primary; those who don't actually vote Republican regularly should refrain from participating so the process stays honest and can't be challenged later.)
Anyone wishing to be a delegate should fill out a registration statement and be in line at Rossville Civic Center around 8 Saturday. (Serious delegates who want to make sure they get a slot in the smaller precincts might consider coming even earlier.) After 8:59 no more forms will be accepted for delegates, and all other attendees must register as non-voting guests. Registration fees are $20 per person.
Party politics are difficult at times, and the two-party system leaves a lot to be desired. Even worse, in Walker we essentially have a single party system since the Republicans dominate every election year. But regardless of like or dislike for the system, this is what we have to work with.
There's a time to stand outside and fight the status quo, and there's a time to step inside and make changes from within. Right now (or at least this weekend) the best position to foster change in Walker County is within the Republican Party Convention.
Those truly serious about seeing the county's political situation improve should commit to being delegates on Saturday. It's time to send a message (to the Commissioner and the local legislative delegation) that the old way of running Walker County like a dictatorship isn't acceptable anymore. If we don't participate, we can't complain about the results.
MORE: Republican Call (Details about Convention) | Party Rules 2011-2013
Mixed results from the Walker Republican Convention. A total of 67 people came to serve as delegates; not hardly the 326 possible, but strongest turnout for a party meeting in about a decade.
A motion to change the party platform in support of a county commission was defeated in a close vote. How close is being debated – the vote was taken by having delegates stand up to show their support, and no official number was provided. Those who support the measure say it looked like a 25/40 vote, those who oppose say it was only supported by about nineteen.
Ms. Heiskell was accompanied by county employees and her friends from the City of Chickamauga, giving her enough artificial support to maintain the status quo – but it did come closer to change than in past years. Party leaders stifled debate and discussion on the matter, forced voting to be done in public, and (per a vote) destroyed all records showing the official number of votes counted.
PeachPundit blog contributor Nathan Smith was voted out as party chair, and was elected Second Vice Chair instead. Smith was replaced as chair by Glen Roberts, described as a man who "will not cater to the current incumbents" like his predecessor. Defeated House District 1 candidate and former School Board member Alan Painter was selected as First Vice President.
Write-in Commissioner candidate Ales Campbell was nominated to be party Secretary but lost in a 19/47 vote. She was instead chosen to be a party delegate to the state and regional conventions.
While every needed change wasn't made, the meeting did make forward progress in removing Smith as chair and having a vote at all on the sole-commissioner issue. Some who never participated in the convention process before came out as a result of this post about the meeting, and hopefully will stay involved in the future.