2013
01.24
This fall LHS Ramblers football will be coached by Chad Fisher, recently of Gordon Central. He's spent the last seven years with GC in Calhoun and has a 28-34 (.452) record there. Last year his team went 8-3, their best season under his leadership.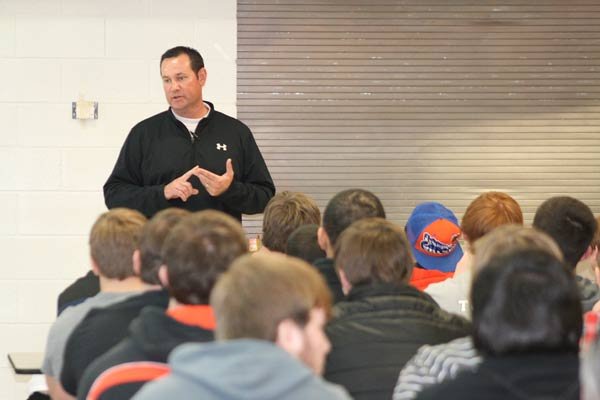 WQCH Radio, 01/23/12: "LHS PRINCIPAL MIKE CULBERSON GAVE US THE NEWS BY PHONE, AS THE TWO WERE LOOKING AT HOUSES FOR THE NEW COACH ON WEDNESDAY.
"FISHER'S WIFE IS CECILIA, AND THE COUPLE HAVE 2 CHILDREN IN 3rd GRADE AND ANOTHER IN 7th GRADE. FISHER SAID HE'D LIKE TO SEE ALL OF HIS CHILDREN GRADUATE AT LAFAYETTE HIGH, MEANING HE INTENDS TO BUILD THE FOOTBALL PROGRAM HERE 'OVER THE LONG-HAUL'."
LHS' outgoing coach Tab Gable just had a 1-9 season, but his career record is actually better than Fisher's – or was until he got to LaFayette. Will the new coach whip LHS into shape, or will the community chew him up and spit him out like so many before?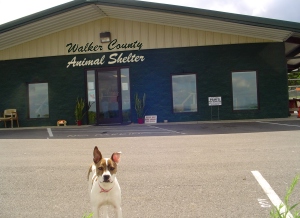 For the second time in six months, Walker County Animal Shelter has been closed/quarantined due to a parvo outbreak.
Parvo generally affects puppies and is almost always fatal. The illness spreads through feces but can live in contaminated ground for long periods of time, so once an outbreak starts it's difficult to completely eradicate. Hopefully this second quarantine (the first was in July) will solve the problem.


The generator thief shown in a video here yesterday has been identified and arrested. The truck DID have a Tennessee tag, as many figured. So far the man has only been charged with "criminal impersonation" – a crime not directly connected to the theft last week. The woman who helped him has so far not been charged at all. Both will probably face theft charges soon.


In response to three inmate murders in the last months, GA Department of Corrections has assigned a Cobra unit from Atlanta to Hays prison. This photo of the unit was taken yesterday.

GDC describes Cobra as "two (2), 12 member GDC Specialized Tactical Squads called Cobra I & II, which are elite tactical teams that consist of the most highly trained, physically fit and professional staff."
A Hays source says Cobra reports directly to the GDC Commissioner.


Here we go again.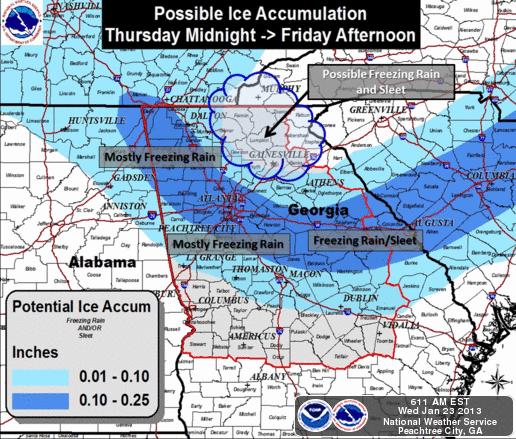 Winter storm watch issued for Walker, Catoosa, Chattooga, Dade, and Whitfield, between 1 and 7 AM Friday. (That just means lots of early morning wrecks.)
No, they haven't announced anything about school yet.


Gov. Deal and the legislature have figured out a way to avoid raising taxes without cutting out programs: pass the authority to raise "fees" to boards and various departments and then blame increases on them.
The first test of this plan is avoiding an increase in the Medicaid-funding hospital "bed tax" by letting the Department of Community Health set its own rates.
One editorial calls the plan a cop-out: "A proposal backed by Gov. Nathan Deal that would allow a state health department to levy hospital fees to shore up Medicaid funds insulates lawmakers from having to directly hike taxes. But it also shifts that burden squarely to the governor's executive branch"


Dollar General announces plans to open 635 new stores and relocate 550 existing operations. Does this mean LaFayette will get a third store in town somewhere between the two we already have? They're not quite in sight of each other, so it's probably too far for somebody to walk to either one.
DG has over 10,000 stores, highest store count for any retailer in the country. Eight of those stores are in Walker County – Kensington, Rock Spring, Chickamauga, Flintstone, and two each in Rossville and LaFayette. However there are several places in the county (like Villanow or Naomi) that could probably support another Dollar General location.
Each new store adds a handful of jobs to the community; unfortunately expansion of a dollar store, even when they do create a lot of jobs, is a sign that the economy isn't doing well.


Sometime in the next few months, a child in a developing third-world country will get a t-shirt celebrating the Atlanta Falcons' theoretical win over San Francisco.


WQCH Radio, 01/23/12: "THE GEORGIA NORTHWESTERN BOBCATS WILL HOLD A FOOD DRIVE FOR THE CARE MISSION AT THEIR BASKETBALL GAME THIS FRIDAY NIGHT. THEY'RE HELD AT THE ROSSVILLE ATHLETIC COMPLEX, 301 WILLIAMS STREET IN ROSSVILLE. TIP-OFF IS AT 7 PM, AS THE BOBCATS HOST MACON STATE. ADMISSION IS FREE, IF YOU BRING A NON-PERISHABLE FOOD DONATION FOR THE CARE MISSION."
As noted here many, many times, The Care Mission is a worthy cause. Help them help others with a donation at this game or a direct contribution.

For today's links and any breaking news, follow the Underground on Facebook or Twitter.