2013
01.27
Wednesday night after closing the Murphy USA gas station in front of Walmart was robbed. Thieves broke out a window, carried out some cigarettes, and cut down most of the security cameras. They missed a camera so images of the burglars should be coming soon; the items they stole were worth less than the cameras and window they destroyed.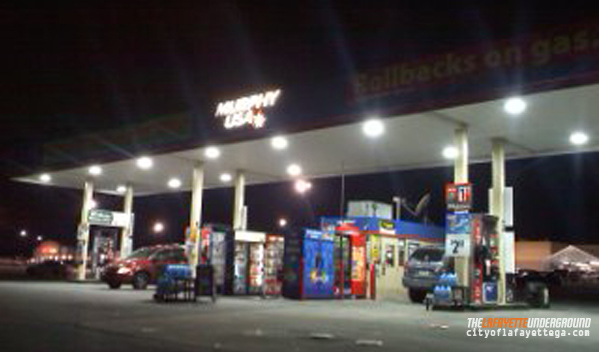 The same two men had been caught shoplifting at Walmart earlier in the day (one tried to steal fishing lures) but had fled. After breaking into the Murphy station, at least one of the men returned to Walmart AGAIN and was arrested after being recognized by store employees.
WQCH Radio, 01/25/13: "TWO MEN WERE ARRESTED FOR A BURGLARY AT THE MURPHY GAS STATION AT WALMART IN LAFAYETTE. IT HAPPENED BETWEEN 3 AND 5 AM THURSDAY, ACCORDING TO CAPTAIN STACEY MEEKS. THE SUSPECTS STOLE SEVERAL OUTSIDE SECURITY CAMERAS, THEN BROKE OUT A WINDOW AND SNATCHED CIGARETTES FROM INSIDE THE BUSINESS. TOTAL DOLLAR AMOUNT WAS AROUND $2,100. THE TWO MEN MISSED ONE SECURITY CAMERA, HOWEVER, AND IT RECORDED THE ENTIRE INCIDENT.
"22 YEAR OLD JUSTIN ALLEN SIMMONS RETURNED TO THE WALMART LOT LATER IN THE DAY – AND WAS SPOTTED BY MURPHY EMPLOYEES. POLICE ARRESTED HIM THERE. LATER, THEY FOUND 31 YEAR OLD JEROME ACE DEERING AT THE PEAR-PINE MOBILE HOME PARK. BOTH MEN ARE CHARGED WITH FELONY BURGLARY."
Late Friday night a bomb threat was phoned in to the Walmart. So far there's been nothing linking the incidents together, but it's certainly possible the threat was made in retaliation for the arrests.

Unedited video from Thursday afternoon's Walker County Commissioner meeting. Come back next week for analysis and commentary on the video.


Predictions of "freezing rain" for Friday forced almost every school in the area to delay or cancel classes. Walker County, Chickamauga, Dade, Catoosa, Whitfield, and Hamilton schools all called off class for the day; Chattooga County schools started three hours late.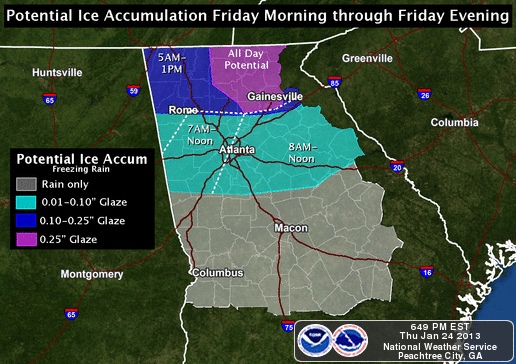 Fears of ice were overblown and the area experienced mostly rain, although there was ice on Lookout Mountain. We dodged a bullet; if the forecasts had been right (and it's impossible to be exact with weather) this mess around Knoxville could have been Chattanooga and NWGA area.
Yes they cancelled school unnecessarily, but how would we feel if our kids were out in that? They had to make a decision Thursday night based on safety and available information.


More detail on Hutcheson's need for $25 million in new financing from Walker and Catoosa. The $20 million loan from Erlanger is long gone, and they eventually have to pay that back. Plus the hospital owes $2 million to vendors and $12 million to Medicare.
(This confirms Medicare debt came from billing fraud committed by the hospital, as previously speculated on LU. Instead of dancing around this problem, the county or counties should be pressing charges against the former Hutcheson executives who stole money from Medicare by inflating the hospital's patient count.)
The hospital's current operations are beginning to turn a small profit but the interest rate on that Medicare debt is ridiculous. It'll eat them alive without refinancing – but the $25 million deal won't happen unless Bebe agrees to it; Catoosa isn't going to put in half unless Walker does too.
Eventually if the thing doesn't make enough money to support itself and pay down debt (or at least exist with a small amount of budgeted tax dollars instead of these continual bond-backed loans), the counties will have to throw in the towel. How many more years can this go on?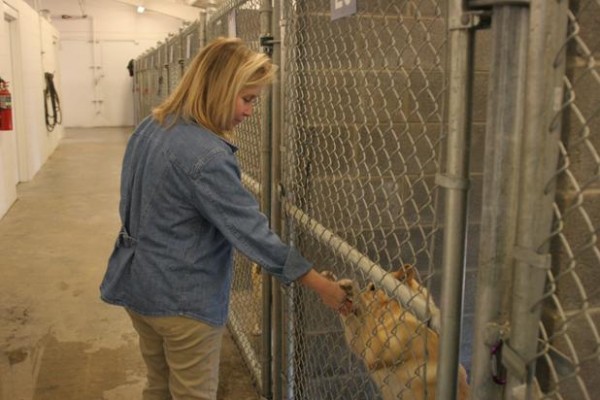 The parvo outbreak at Walker County Animal Shelter has killed eight dogs and caused another four to be put down. Shelter operators say the disease came in with a family of dogs from Rossville and spread last weekend.
"Online speculation that the animals became infected from the ground surrounding the shelter is not accurate, as the weather and temperatures had not allowed for the animals to be outside in recent weeks. The virus can exist outside where animals frequent, but not in this case. None of the dogs have been outside to interact."
That's a response to some commenter posts on LU Facebook. It's not impossible for the animals to get parvo from outside dirt, but that's not what caused this incident since they haven't been outside recently.
Smith and her staff receive approximately 3,500 to 4,000 animals annually, and she estimates that further immunizations would cost a minimum of $35 per animal, for an annual cost approaching $140,000."
Those numbers seem a bit high; not every animal the shelter gets is a dog, so they wouldn't all require a parvo shot – and a series of basic injections covering common dog illnesses can be obtained online at much, much less than $35 per animal.
Shelter staff say they could avoid issues like this if there was a quarantine area for new animals. There's no quarantine area because the shelter can't afford to build one.
Meanwhile the county spent over $100,000 putting a concrete floor inside a horse barn in Kensington so Bebe could throw parties for Jeff Mullis and Nathan Deal.
Walker County has a much better animal shelter now than in past years, and the staff there does what they can to take care of animals in a community where all too many people are irresponsible with their pets – but the shelter could have a better facility and better equipment if the Commissioner would make it a higher priority than her own "pet" (no pun intended) projects.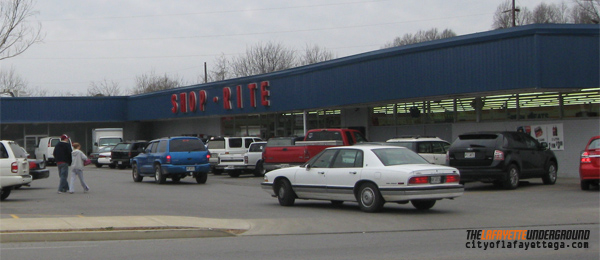 WQCH Radio, 01/25/13: "[LPD Captain Stacey] MEEKS SAID A MAN WAS STOPPED BY SHOPRITE EMPLOYEES – ACCUSED OF TAKING SOME ITEMS. WHEN POLICE ARRIVED, 23 YEAR OLD NICK ALLEN CURTIS WAS ESCORTED OUTSIDE AND PLACED UNDER ARREST. WHILE BEING FRISKED, CURTIS BOLTED AND RAN. HE WAS CHASED BY THE ARRESTING OFFICER AND A SHOPRITE BAG BOY, ACCORDING TO CAPTAIN MEEKS. HE WAS CAUGHT A MINUTE LATER AT THE TRADE DAY ON WEST VILLANOW. CURTIS WAS CHARGED WITH SHOPLIFTING AND ESCAPE."
On your next trip to LaFayette Shop-Rite, be sure to give bagger Jesse Hollingsworth an extra tip for his efforts to fight crime in the Queen City.


Apparently you can be arrested for being a "habitual violator of traffic laws" – especially when the laws habitually violated are related to intoxication.


A 15-year employee of GA Public Broadcasting resigned last week, citing the impropriety of former State Senator Chip Rogers being given a $150,000 salary by the cash-strapped state agency.
"I think it is unconscionable to create a position and compensate any individual in this manner during these difficult times. I am quite certain that considerable political pressure was brought to bear to make this a reality. I am disappointed that you felt this was GPB's best course of action. While I might understand it to some extent, I cannot condone it and I cannot continue to stand idly by."
Senator Rogers resigned from the Senate just to take this job, after being reelected in November. He's starting out with a salary in the top-ten for all GPB employees. He's expected to do a radio show or something similar, but many perceive it as a gift to Rogers courtesy of Governor Deal.


Three Summerville men have been arrested for raping an 18-year-old girl last Sunday.
Be careful who you accept rides from.


LHS boys basketball beat SE Whitfield Raiders yesterday 70-41. Rambler girls lost to the same school 33-55.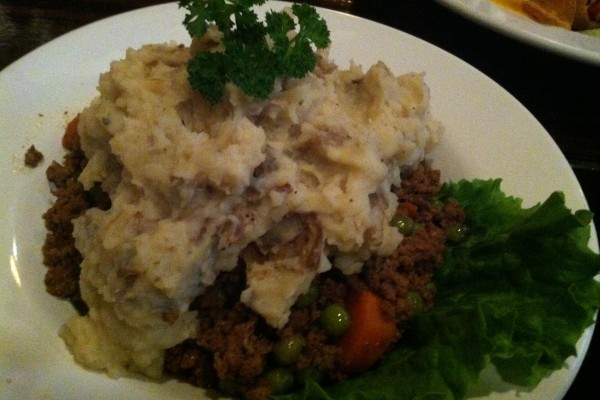 Nooga.com food critic gives Chattanooga Street Tavern two stars out of four. In summary: great atmosphere and service, but issues with the menu and a limited selection of British beer keep the restaurant from being what it could be.


Chattanooga Street Tavern will get a new neighbor next month: in February The Cookie Boss will be opening a store in the Mars Theater District on Chattanooga Street. That'll be the third business on the rehabbed block, joining the Tavern and Heirlooms Vintage Boutique.


GA HOPE may expand to offer students bigger awards and more money for those who choose fields with worker shortages. The scholarship can afford to expand because fewer and fewer students are actually qualifying to get it.


In December Northwest Georgia's unemployment hit 9%. That's higher than November but lower than a year earlier.

Friday Weekend Advertiser Spotlight: Shop thousands of styles of kids' socks at KidsSocks.com! Largest selection of children's socks, leggings and tights from top brands including Trumpette, Puma, Jefferies Socks, Tic Tac Toe, Novelty, Pork Chop Kids, True Religion, Sweet Feet, Memoi, Skechers, and EZ Sox at unbeatable prices.
For today's links and any breaking news, follow the Underground on Facebook or Twitter.