2013
01.07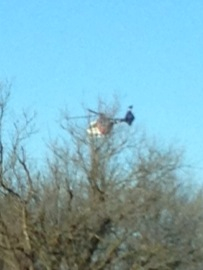 Friday afternoon around 3 PM, an accident involving three vehicles took the life of 30-year-old Aaron Dooley from Chattooga County. Dooley apparently drove into oncoming traffic while heading north on Hwy. 27 in Noble. His car struck another, and both were hit by a third. Occupants of the other vehicles survived with non-life-threatening injuries.
No word yet on how or why Dooley's car ended up crossing the center line.
The accident, emergency response, and cleanup blocked all five lanes of the highway for over two hours. Thanks to alert contributors serving as the community's eyes and ears, first reports of this major accident were posted to LU Facebook only a few minutes after it happened.

A Hwy. 151 resident was picked up on Dec. 26th for beating "a female" on Dec. 22nd in front of multiple witnesses.
Even more unfortunate, the alleged incident was witnessed by children. The man faces charges of aggravated assault, false imprisonment, battery, and cruelty to children.


During this year's session of the GA Legislature, lawmakers will be asked to raise bond limits so a replacement for the Georgia Dome can be built. The dome's current state-funded owner is making sure things go smoothly by giving legislators thousands of dollars in free tickets to events at the current dome. Locally, Rep. Jay Neal was given $640 of tickets to the Chick-Fil-A Kickoff Classic in August – something mentioned here back on November 28th.
All together, between August and the end of 2012, Georgia Legislators received some $9,630 in tickets from Georgia Dome-owner Georgia World Congress Center.


From last Monday: Bebe Heiskell sworn in to begin a 4th term as Sole Commissioner of Walker County.


The first arbitrator decision in a sales-tax split dispute between cities and a county has taken the side of the cities. Three towns in Turner County will now get a full 50% of the county's sales tax revenue.
Walker County is still wrestling with LaFayette, Lookout Mountain, and Rossville over a 70/30 split; the county has so far refused to give the cities more than 25% of taxes collected. Meanwhile, we still don't have a county budget for the fiscal year that began back in October.


State prisoner trustees working on the LaFayette library renovation are getting a special treat from the community once a week: hot meals.


In the news, 22 years ago last week: Local pharmacist Neal Florence took the oath of office and became Mayor of LaFayette. He's still there, but insiders say someone else will hold the title a year from now.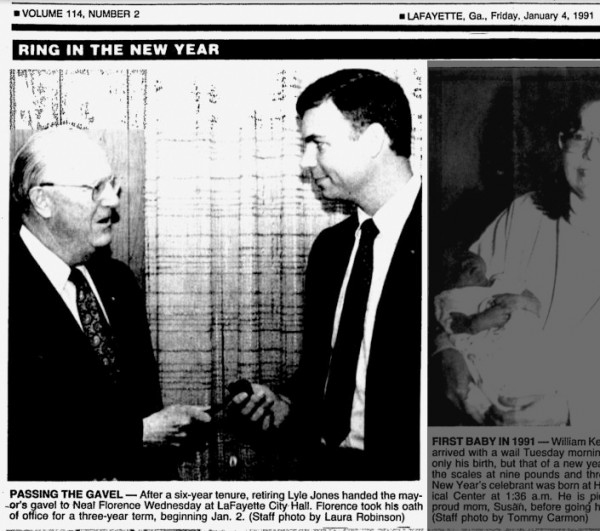 Insiders say Florence doesn't plan to run again this year. He's up this fall if he decides to stay. If he retires, councilman Andy Arnold will probably run to replace him.
Florence, Arnold, and Ben Bradford are up this year. Bradford was just sworn in a little over a year ago but he was elected to complete the unfinished term of Norm Hodge.

Newly reelected Clayton County sheriff Victor Hill faces 32 felony charges, but will NOT be investigated or suspended by the governor; Gov. Deal has gone against the Sheriff's Association to reject the idea, saying that the law doesn't apply since he wasn't a sitting sheriff while indicted even though most of the charges are related to his previous term as sheriff.


The 75-watt bulb is done. You can still buy them, but they're now illegal to manufacture (in this country anyway), just like the 100 watt. 60's and 40's go next January.

For today's links and any breaking news, follow the Underground on Facebook or Twitter.