2012
12.31
No Daily Update tomorrow or Wednesday. Check back at 11:30 AM Tuesday for the top LU blog and Facebook posts of 2012. Updates will return Thursday. Happy New Year!
State Senator Jeff "The Hutt" Mullis of Chickamuaga will most likely be appointed Chair of the Senate Rules Committee late this week before the new legislative session begins. That will make him the third most powerful person in state government, with ability to block any legislation he dislikes. The position also means he'll rake in even more campaign cash and special gifts from lobbyists and corporate interests around the state, making him less likely to listen to constituents (if that's possible) and harder to run against here at home.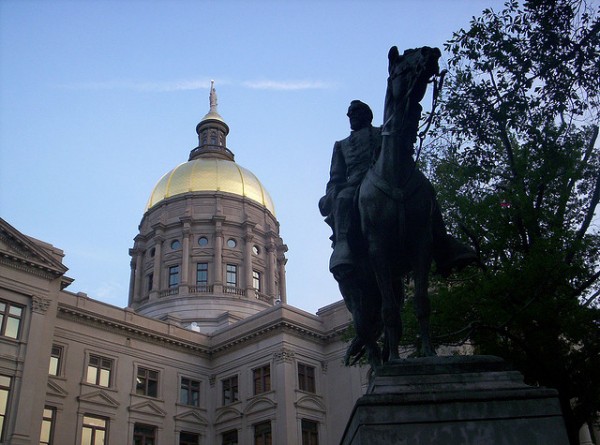 Mullis was the primary sponsor of TSPLOST. He's worked for years to get the federal government to build a high-speed train from Atlanta to Chattanooga (for billions of dollars) with no stops in his own district. He's been Chair of the Transportation committee for years, but all he's done for local roads is block projects in Rome that his deep-pocket supporters dislike.
It's likely to happen, but we might still be able to make a difference. E-mail Lieutenant Governor Casey Cagle's office at Ben.Fry@Ltgov.ga.gov – put "Senator Mullis" in the subject line. Contact President Pro-Tem elect David Shafer at david.shafer@senate.ga.gov or 404 656 0048. Contact Majority Leader Elect Ronnie Chance at ronnie.chance@senate.ga.gov or 404 651 7738. Call Gov. Deal's office at 404 656 1776. Tell these men, who will make the final decision about Mullis, than even his own constituents are opposed to him gaining more power in the state.
Other media outlets are looking into this issue also; LU will probably have much more to share with you later in the week.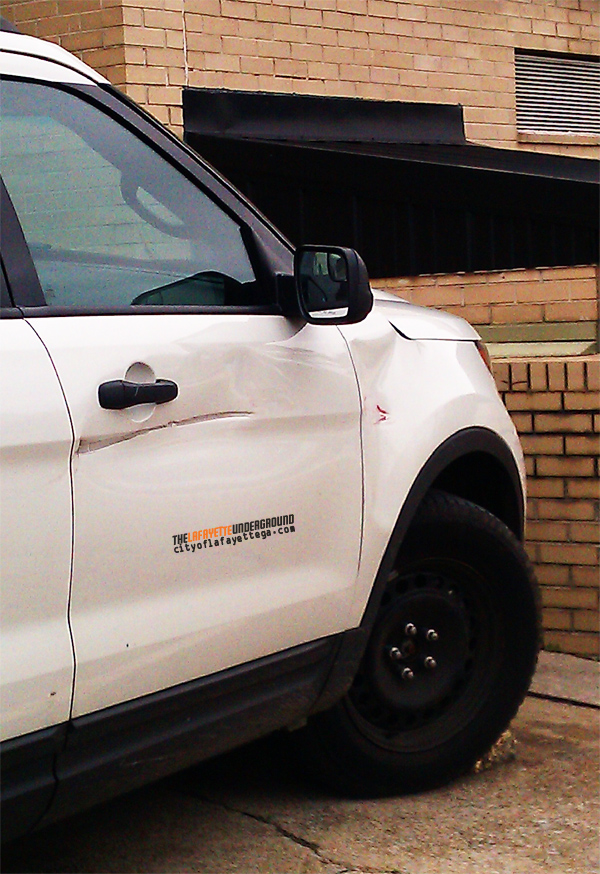 Last week LU posted about the commissioner's vehicle being damaged multiple times in the last year. Several said it's nobody's business if it's her personal car. Sources now verify this SUV is property of the county, purchased in February for the Commissioner's use, insured and maintained at county expense. NOW is it the public's business she's had three wrecks in it?
Who holds a county leader accountable for these issues when there's no other authority?


The first Walker Commissioner meeting since October 18th was held Thursday. The biggest issue "decided" during the meeting was to add a 1/2 cent sales tax back to energy used by manufacturers. Last year the state decided to drop all sales taxes on energy for manufacturing but left a window for counties and cities to keep charing a portion of it.
This isn't exactly business friendly. The county and cities could cut waste and save the small amount of revenue this will bring in, without alienating businesses that might consider moving here (or thinking about leaving).
WQCH Radio, 12/28/12: "THE COMMISSIONER SAID 'WE WANT TO BRING OUR INDUSTRIAL PARTNERS ALL THE BENEFITS POSSIBLE… BUT WE CANNOT SHIFT SUCH A POTENTIAL LOSS OF TAX REVENUE TO THE BACKS OF LOCAL RESIDENTS'."
The backs of local residents is where it would end up, because she's sure as heck not going to cut any of her special projects like Mountain Cove Farms or NWGA Jeffmullis Development Authority.
The emergency LaFayette City Council meeting held Wednesday night was just to discuss this. As the linked article says, the county was going to charge the tax anyway so all the city did was decide if they wanted a cut of the tax or not, which of course they approved 4-0.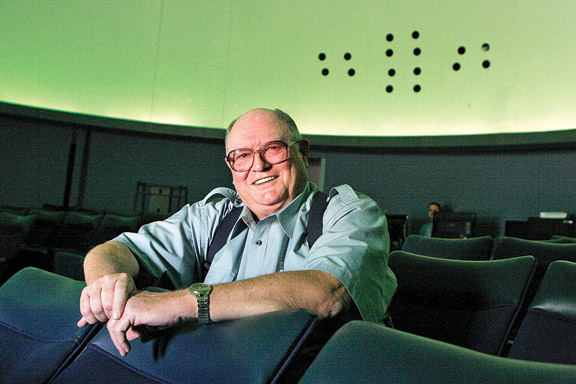 Retired teacher Jim Smith steps off the Walker Co School Board today after finishing two terms. Smith was the driving force behind both of the county's planetariums (the newest is named after him) and has been one of the few school leaders willing to speak to the media on sensitive subjects. He always seemed like a good guy, sorry to see him go.
He'll be replaced by retired teacher Karen Stoker. Dale Wilson, whose sole opponent in the school board race died before the election, will also join the board. They'll take the oath before the school board meeting on January 14.
Stoker should be fine, main concern most people have about her and Dale Wilson is they're in-laws; Stoker's sister is Wilson's wife. Dale, himself a one-time teacher and local business owner, is Sheriff Steve's older brother.


During December two inmates were killed in the same section of Hays Prison. Details of the first death still haven't been made public; the second man (who died Christmas night) was killed after a fight with someone already facing a life sentence.
According to LU sources inside the prison, the first man who died was beaten inside the prison, hospitalized for a week in Rome, and then died of his injuries once back at Hays in protective custody. That's the incident with no details released publicly.
The second man who died on Christmas day was murdered by four other prisoners who held him down and drove a shank into his brain. Another source contests that claim, saying the prisoner was stabbed by a single inmate (which matches media reports) instead of the group shanking. Either way, the man is dead for no good reason.
Despite official statements, investigators aren't sure yet if the two killings are related. The inmates killed were both in the "A" building when attacked, but they aren't the same race, neither is known to have a gang connection, and they were killed in different ways.

180 rural water customers in Chattooga County have dropped county water service in favor of their own wells due to the economy. Meanwhile, here in Walker, we're laying water lines like crazy in the Villanow area. Once the system is finished, will the county have to keep bailing it out?
"Those leaving the new system are Gore and Subligna residents. Many still have their wells and see disconnecting as a way to save from paying monthly minimum water bills."
That's the same area as the Villanow water service. If Chattooga residents are bailing out on service they already paid to connect to, will Walker residents flock to pay hundreds of dollars for water hookup? Some have complained about bad wells but seems like the majority out there have decent water.


A new tax arrangement for Syntec means the company will add 60 jobs to its Probasco Street operation.
County leaders take full credit for the expansion, but if Syntec was closing they'd fully blame it on the economy or some outside factor. They put together a good deal for Syntec, but it's sixty jobs not six hundred or the 2,000 Bebe promised in 2010.
"Numbers from the Georgia Department of Labor show Walker County's unemployment rate recently falling to 6.4 percent, which is one of the lowest rates in the state."
As mentioned before, that's just a measurement of people getting unemployment benefits. Those whose benefits have expired aren't tracked. After extended unemployment packages go away tomorrow, unemployment in Walker County might dip to below 2% – but that won't mean a single soul got a job.


Beginning tomorrow, GA parents can purchase "child only" health insurance plans.


During the last twelve months eight Georgia law enforcement officers died on duty. That's down from ten in 2011. GA is second in officer deaths behind Texas, which had nine. Nationally, 127 members of law enforcement passed away while doing their jobs.
In Georgia one officer was shot and killed, just a few weeks ago down in Clayton County. There was also a corrections officer stabbed earlier in the year. Two Atlanta officers died in a helicopter crash. Most of the others died in car accidents or were run over during traffic stops.
Nationwide figures include officers who died of things like heart attacks while working. Gun-involved officer deaths are down significantly decade to decade, the peak for that was during the 1970's. Here's the report the article is based on.


One thing that might reduce officer deaths? Better mental health care services to help deranged people or keep them off the streets. But mental health experts say Georgia has a long way to go in that area.

Lost local history: Between 1955 and 1960, US Air Force had a small base and radar station on top of Lookout Mountain. It was in Dade, but referred to as Flintstone Station. It was somewhat secret at the time, and almost totally forgotten today.


GA could lose $30 million in federal road money because of the way driving violations are recorded and reported.


177 years ago Saturday the Treaty of New Echota was signed, resulting in the forced removal of Georgia's Cherokee.
Many who joined the Trail of Tears three years later [a direct result of the treaty] ended up at Fort Cumming in LaFayette. Fort Cumming was located somewhere near the Probasco/Indiana Street intersection where the city water filtration plant is today.

For today's links and any breaking news, follow the Underground on Facebook or Twitter.