2012
07.28

E-mail interview conducted with Walker County School Board Post 1 candidates Karen Stoker and Dennis Willerson. They are competing to replace retiring board member Jim Smith. Fifth of twelve Q&A's scheduled before the July 31st vote.
LU: What is your full name, and what name do you generally go by?
STOKER: My full name is Karen Lee Chappell Stoker. Most people call me Karen or Mrs. Stoker.

WILLERSON: [no response]
LU: What is your age?
STOKER: I am 56 years old.

WILLERSON: [no response]
LU: What is your home address? (We will only publish the street/town, not your house number.)
STOKER: Our home is in the Kensington community on South Highway 341, Chickamauga, Georgia 30707

WILLERSON: [no response]
Mr. Willerson lives on Coleman Ln. inside the city of Chickamauga.
LU: How can voters contact you or stay in touch with your campaign? (Please include info like e-mail, phone, Facebook, Twitter, etc. if applicable.)
LU: How long have you lived in the county, and (if applicable) where else have you lived?
STOKER: I have been a resident of Walker County for about 40 years. As a youngster growing up, I lived in Floyd County and Chattooga County.

WILLERSON: [no response]
LU: What's the best thing about living in this community?
STOKER: The best things about living in Walker County are the people, their friendly, caring attitudes, and their diversity.

WILLERSON: [no response]
LU: Starting as early as you want, what kind of education do you have?
STOKER: I have a Bachelor of Science in Education degree from Jacksonville State University and a Master's of Education degree from the University of West Georgia.

WILLERSON: [no response]
According to news reports, Willerson "has studied at and received degrees from numerous institutions across the country, including the University of Maryland, Central Michigan University, St. John's University and the University of Tennessee."
LU: What is your current occupation?
STOKER: I am a retired educator with 33 years of experience in Walker County Schools (20 years) and Chickamauga City Schools (13 years).

WILLERSON: [no response]
Willerson works as a school psychologist for the Bradley County Tennessee schools. His wife teaches at Rossville Elementary and one of his children is a teacher/coach at Gordon Lee in the Chickamauga system.
LU: What previous jobs or elected positions have you held?
STOKER: I have been an educator for 33 years- 29 years in the classroom and 4 years as graduation coach and RTI coordinator. I coached cheerleading (competitive and spirit) for 20 years. I have never held an elected position.

WILLERSON: [no response]
Research shows no prior elected service for Mr. Willerson.
LU: Will aspects of your education or job experiences make you a better School Board Member? If so please explain.
STOKER: Yes, aspects of my education and job experiences will make me a better Walker County School Board member. The fundamental role of a local board of education is to establish policy for the local school system with the focus on student achievement. My years as an educator have been dedicated to this focus on improving student achievement. It is every teachers' task to help students set goals and develop plans. As a board member, I will be part of a team who must set educational goals for the system, then develop a plan to meet those goals.

WILLERSON: [no response]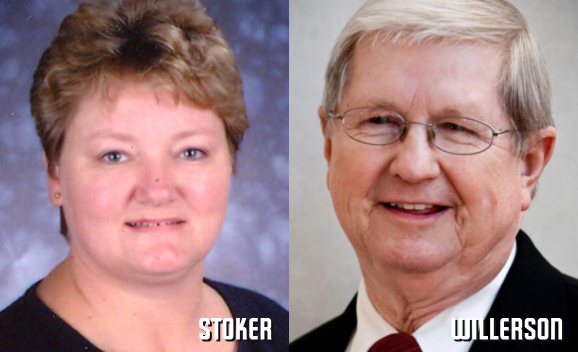 LU: What would you say is the greatest accomplishment of the current Walker County School Board?
STOKER: The greatest accomplishment of the current Walker County School Board is the earning of SACS accreditation for the entire system.

WILLERSON: [no response]
LU: What would you say is the biggest failure of the sitting School Board?
STOKER: No response

WILLERSON: [no response]
LU: What are your priorities for the next four years if you're elected?
STOKER: 1. To set policies that govern the school system; these policies have one focus- improving student achievement
2. To hold the superintendent accountable for implementing and maintaining these policies
3. To be a good trustee of monies allocated to the school system
4. To listen to the concerns of the citizens of Walker County
5. To serve as a advocate for ALL students and teachers in the system
6. To hold administrators accountable for fairness, effectiveness, and efficiency

WILLERSON: [no response]
LU: Is there any criteria, philosophy, or overall guideline you will use when deciding how to vote on matters before the School Board?
STOKER: School board decisions should be made with the best interest of our students in the forefront. Our students must be prepared for college and/or the work force when they leave our school system. School board decisions are guided by local policies, state school board of education rules and standards, a code of ethics, and legislative law.

WILLERSON: [no response]
LU: What do you feel is the biggest problem facing schools today, and what (if anything) will you do to help Walker County Schools overcome it?
STOKER: The biggest problem facing schools today is an economic shortfall. Let me first and foremost say that I do not have all the answers. I probably have more questions than answers. But, as I have taught my students, asking questions often leads to answers. With this said I want to convey several points:
1. Our local board of education needs to be proactive rather than reactive when it comes to money.
2. I would suggest that stretching the life of physical objects (desks, tables, etc.) would save some money. During lean times, these types of purchases can wait.
3. I would take a look at energy consumption such as heating, cooling, and lighting. All of us know that a reminder to conserve is needed from time to time.
4. Our school system cannot function without bus drivers, lunchroom staff, secretarial staff, custodians, and teachers, therefore, we may need to look at non-instructional certified positions before cutting teaching jobs. Nothing can replace a highly qualified teacher in the classroom. So, when considering cuts, we need to ask: Are there any positions that we don't earn as a school system that we are funding solely with local dollars? Are we paying salaries to non-instructional certified personnel that are over the allotted monies given to the school system from the state? Are we trying to live outside our means?

WILLERSON: [no response]
LU: Your opponent has listed opposition to charter schools as one of his main reasons for running. How do you feel about charters and the charter schools amendment on November's ballot? If the amendment is defeated and local parents demand a charter school option, would you be open to the idea? (Stoker only)
STOKER: I am not opposed to charter schools that are locally controlled. I oppose the charter school amendment on November's ballot because there is no local control and it will require local funding. If local parents wish for the school system to fund a charter school option, I would be open to the idea, if money is available without a tax increase.
LU: You stated an opposition to charter schools as a main reason for running. Please explain your opposition to charters and the upcoming charter schools amendment. If the amendment is defeated and local parents demand a charter school option, would you be open to the idea? (Willerson only)
When announcing his candidacy, Willerson said the following to the Walker Messenger: "I'm not against charter schools, but I am concerned as to the effect it's going to have on our current public school situation. Because what you're going to end up with is a two-tiered educational system that is essentially in some sense supported by the government…How are we going to be able to fund both of these? I think our brightest and best students in some sense may be taken out of the public schools. And I think we're looking at future issues in Walker County."
The Charter School amendment up for a vote in November isn't a "loss of local control" as so many have said – it allows the state to set up charters in school districts where parents want them and school boards ignore wishes of the parents. That actually restores local control to the parents instead of leaving it in the hands of boards that sometimes place school financial interests ahead of education.

Walker County already has a two-tier system, where students from wealthier families or greater athletic ability can attend Chickamauga or Trion schools and receive a more focused education than they can in some Walker Co schools. Having free charters available to every Walker student regardless of finances or athletics would level the playing field, not distort it.

Walker County has no strong demand for charters, and the board might well listen to parents if charters were requested – but having the amendment in place pushes school boards to do what their constituents ask for instead of just worrying about budgets. Stoker and Willerson are both wrong on this issue, but Stoker is at least open to the idea of Charters.
LU: Beyond public charter schools, how do you feel about other alternative forms of education such as private or home schooling? Should Walker County Schools do more to work with students outside the public school system or continue to keep them at a distance?
STOKER: Some children learn better in a different learning environment. It is a parent's right to choose this environment, whether it be a public school, a private school or a home schooling opportunity. It is my understanding that Walker County Schools does work with our home schooled student population through the office of Mr. Chris Chambers, Director of Student Services. The Georgia High School Association (GHSA), not the local board of education, dictates the rules that govern working with students not in a public school setting.

WILLERSON: [no response]
According to home educators we contacted, Mr. Chambers' office does nothing for them except receive state-mandated attendance reports. Home educated and private school students in Walker County are not extended opportunity to join school extra-curricular or athletic programs as they are in some districts. Georgia doesn't require districts to open their programs to nontraditional students, but does allow it if the district chooses to. Walker Schools has always done the bare minimum for students outside the walls of its own schools and will likely continue to do so under Stoker OR Willerson.
LU: State budget cuts have forced the school system to lay off classroom teachers and end library funding. What ideas do you have to stabilize the system budget without sacrificing education? Is library funding off the table or something you'd like to restore?
STOKER: Most of this question I have already addressed. With regard to the library funding, I believe that it is imperative to restore this funding.

WILLERSON: [no response]
LU: Despite the cuts mentioned above, the system seems to have kept all its coaches and sports programs. We've also observed that ESPLOST tax revenues are being spent heavily on athletic facilities. Do you feel that Walker County Schools has an appropriate level of spending on sports? What approach will you take to keeping a proper balance between athletics and academics?
STOKER: The present ESPLOST projects were set by the present board of education and a former superintendent. While I feel that extra-curricular activities, such as sports, are important, they must NOT become more important than academics. State law mandates that local boards of education focus on improving student academic achievement.

WILLERSON: [no response]
Willerson said he is a "firm believer in athletics" but doesn't feel sports should "take precedent over your maths and sciences and what a student needs to learn in order to survive in this economy." We'll see how that actually comes into practice if he's elected to the school board.
LU: Your brother-in-law Dale Wilson is also running for school board, and we've heard from many in the community who are concerned that you and he might collaborate too much on certain issues before the board. We've also heard concern about you and Dale having other family members who work for the system. Can you be objective and fair when it comes to matters of friends or family, and are you willing to recluse yourself from voting on things that would directly impact family members? (Stoker only)
STOKER: I most certainly can be objective and fair when it comes to matters of friends and family. State ethics mandate that I recluse myself from voting on matters that would directly impact family members.
LU: You live in Walker County but work for a school district in Tennessee. Several in your family are also educators but none work for Walker County Schools. How familiar are you with the specific needs and strengths of the Walker system, and do you feel like being an "outsider" matters to being an effective member of the School Board? (Willerson only)
LU: Please summarize in a single paragraph why residents of Walker County should vote for you in the upcoming election:
STOKER: The residents of Walker County should vote for me in the upcoming election because I am the best candidate. I have experience working with students, teachers, and parents at all three levels of school- elementary, middle, and high. As a Georgia educator, I have an excellent grasp on the educational rules and regulations governing the education of students in Georgia.

WILLERSON: [no response]
LU: Is there anything else voters should know about you? Family, faith, philosophy, inspirations, etc.?
STOKER: I have been married to my wonderful husband Ken Stoker for 35 years. We have two great children, Cheribeth Swanson and Ben Stoker, and one pretty terrific son-in-law, Bob Swanson. Ken and I worship at the First Baptist Church in LaFayette. Philosophy: Always put the best interest of children first. Inspirations: "Every individual matters. Every individual has a role to play. Every individual makes a difference."—-Jane Goodall
Thank you for this opportunity. It is my hope that my answers will be published as they have been written and that the readers be allowed to form their own opinions.

WILLERSON: [no response]

Mr. Willerson's decision not to participate in this Q&A session is surprising, since he's not an incumbent and not from the LaFayette area. LaFayette voters deserve to know more about him before making their choice next week, but we've had to get what little we know from existing news reports.
While Willerson's education exceeds Stoker's, his status as a school psychologist instead of school teacher, his employment by a school district not only outside the county but outside the state, and his residence inside the City of Chickamauga where his neighbors all attend Chickamauga City Schools, make him a hard choice for those of us living in LaFayette.
Stoker and Willerson have made similar comments about the Charter School Amendment and school athletics, so those answers don't really differentiate between them. The only concern about Stoker compared to her opponent is her connections to Dale Wilson, who's guaranteed to win his own race for School Board Post 4 in November. But in a community of this size it's not unusual for two people on a board or committee to be related, and we have little choice but to accept Stoker's promise to be neutral with matters involving her own family.
For Walker County School Board Post 1, the Underground endorsement goes to Karen C. Stoker. Willerson might not be a bad board member but in this situation being from LaFayette and working in Walker County Schools gives Stoker the advantage.
Walker County Messenger: Karen Stoker | Dennis Willerson

Elections are next Tuesday, July 31, from 7 AM to 7 PM. LaFayette residents will vote at the Walker Co Senior Center, voting locations for other residents vary. Early voting has ended.
THE RULES:
Last week the Underground e-mailed candidates for 12 competitive local races (all except County Surveyor) a series of questions. Candidates who have no opponent on the July ballot were not included; those with opposition in November will be contacted before the November vote.
Candidates were asked to respond to the questions via e-mail by a certain deadline, and were instructed not to share their answers with each other before we made them public. Every candidate in the same race was given the same set of questions except where noted above.
Candidates who did not respond by the deadline have [no response] after their name for each question asked, and candidates who responded but chose to skip certain questions are marked [no response]. Responses received after this point will not be accepted for a full post, but candidates are welcome to add to their responses, answer questions, or respond to our opinions in the comment section below.
Answers are copied directly from e-mail without corrections or changes except for redaction of addresses. Redactions or any editorial clarifications of questions or answers are made in [brackets]. Our thoughts are in italics beneath the responses.
Additional Q&A responses will be posted up until election day.
All LaFayette Underground 2012 Election Posts