2012
10.01
Happy New Fiscal Year! Today marks the beginning of new fiscal years and new budgets for the State of Georgia along with its counties and cities.
October also means it's time to get the scary decorations back out of storage.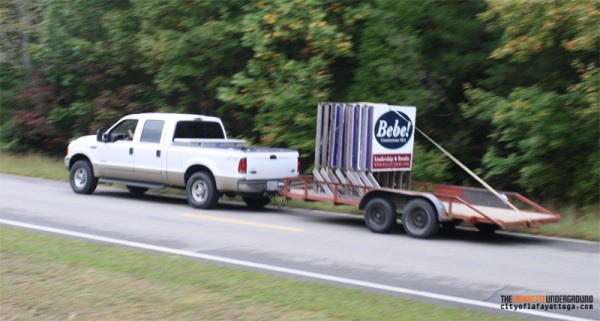 WQCH Radio, 09/28/12: "AS EXPECTED, WALKER COUNTY COMMISSIONER BEBE HEISKELL APPROVED MILLAGE RATES FOR PROPERTY TAXES THURSDAY, WITHOUT AN INCREASE. DROPPING PROPERTY VALUE MEANS THE SAME MILLAGE RATE WILL BRING IN 203-THOUSAND DOLLARS LESS FOR NEXT YEAR'S COUNTY BUDGET, AND DEPENDING ON THE OUTCOME OF LOCAL OPTION SALES TAX NEGOTIATIONS WITH THE 5 CITIES THE COUNTY COULD LOSE MORE REVENUE. COMMISSIONER HEISKELL SAID SHE WILL ASK ALL COUNTY DEPARTMENTS TO SHARE IN CUTTING THEIR BUDGETS-BACK TO COMPENSATE."
If not for write-in candidate Ales Campbell, this story might be very different. "Commissioner finalizes higher property tax" for example? Heiskell certainly doesn't like to cut budgets when she doesn't get forced into it for political reasons, and it's sure not because the Queen loves her subjects.
The very presence of Ales, or anyone else, on the November ballot puts and keeps pressure on Bebe to do what she should be doing all along: whatever is best for the people of Walker County. Having a primary vote with no November opponent left her free to screw us, and hard, without fear of repercussions – but knowing someone else is waiting to take her job makes her toe the line.
If we had an election for Commissioner ever year she'd be a lot better Commissioner.
"LECIA EUBANKS OF THE CHEROKEE REGIONAL LIBRARY SYSTEM APPROACHED THE COMMISSIONER ABOUT FUNDING FOR THE COUNTY'S THREE LIBRARIES. EUBANKS WOULD LIKE TO SEE A SET PORTION OF THE COUNTY'S MILLAGE SET-ASIDE FOR FUNDING THE LIBRARIES IN LAFAYETTE, CHICKAMAUGA AND ROSSVILLE – EACH YEAR.
"COMMISSIONER HEISKELL SAID SHE WOULD LIKE TO SEE AN 'EXIT POLE' OF NON-BINDING OPINIONS ON THAT PLAN, AFTER VOTERS CAST THEIR BALLOTS ON NOVEMBER 6th. IT'S TOO LATE TO PUT THE ISSUE ON THE BALLOT AS A 'BINDING REFERENDUM'. SHE ADDED THAT SOME SEE THE LIBRARIES AS A NECESSITY, WHILE OTHERS CONSIDER THEM 'NON-ESSENTIAL' AND THAT'S WHY SHE'D LIKE A 'STRAW-POLE' ON THE ISSUE. NO DETAILS WERE GIVEN ON HOW THE EXIT POLE ON LIBRARY FUNDING MIGHT BE CONDUCTED.
"MS. EUBANKS' IMMEDIATE CONCERN IS FOR THE ROSSVILLE LIBRARY BECAUSE THE CITY COUNCIL THERE HAS CUT FUNDING BY 12-THOUSAND DOLLARS. COMMISSIONER HEISKELL SAID SHE WOULD BE GLAD TO HELP RAISE FUNDS FROM THE PRIVATE SECTOR, TO KEEP THE ROSSVILLE LIBRARY OPEN."
Bebe could give the Rossville library that $10,000 a year she wastes on property options on the Swanson farm or the tens of thousands we've sank into Mountain Cove Farms during the last few years. She could cut 10% out of her own $105,000 a year salary and give the library enough to keep its Rossville branch open. She could cut out dozens of take-home vehicles given to people who aren't first responders. She could lay off some of the county employees who do nothing except post on Facebook and plan campaign events for her. She could run the entire LaFayette library on what she gives Jeff Mullis every single year to do nothing at NWGAJDA. But no, she'll beg to "the private sector" for that money while making legitimate county departments tighten their belt, and continue to sink an obscene amount of money into her own pet projects.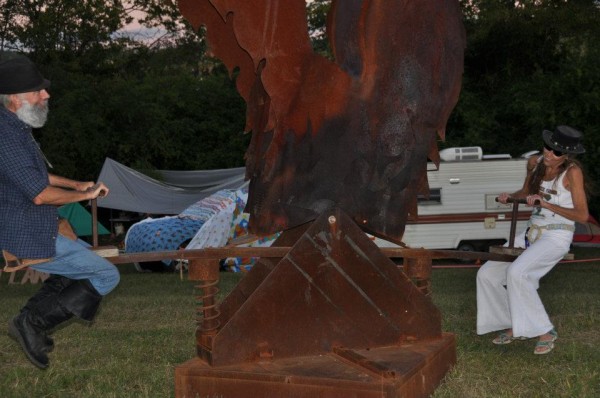 All weekend long, residents of LaFayette and surrounding areas "enjoyed" loud droning music, courtesy of "Alchemy" at Cherokee Farms on Old Mineral Spring Rd. The annual event is something like a mini-Woodstock festival only with terrible music. The four-day concert wraps up tonight with a big fireworks show visible miles away.
Organizers claim to have sold some 3,500 tickets to Alchemy this year. That means 3,500 hippies who will end up at Walmart at 3 PM at least twice during the event. Beyond Walmart the guests (equivalent to half the population of LaFayette) seem to have a minimal impact on the local economy.
Every year residents ask how Cherokee Farms can get away with playing loud music 24 hours a day for four or five days in a row. (Not to mention the very likely potential for drug consumption on the premises.) For starters, off duty law enforcement officers are hired for "security" so there's no chance of filing a legal complaint. Also the owner is a millionaire and a former county official. So good luck with your complaining.
Welcome to Walker County.
Outside of any illegal activity that might very well go on, the event is good for LaFayette – but organizers need to shut down by midnight or 1 AM so people who actually work or attend school can sleep. "Civic Responsibility" is one of the "10 Principles" of Alchemy, so they need to begin with being responsible enough to shut up while neighbors are trying to sleep.


Sheriff Wilson says the 33-year-old murder case closed last week was cracked when the suspect's daughter finally admitted to what she observed the night of the murder.
Now maybe they'll go back and reopen all the suspicious "suicides" from the late 70's through today and see how many of THOSE can be solved instead of covered up.


Thursday night LaFayette Middle School Ramblers football rallied in the third but still fell 40-12 against Trion. They're now 0-4.
LHS Ramblers Football fell to Gilmer County at home Friday night with a score of 27-55. A couple touchdowns away from record territory for high-scoring high school games. The older Ramblers are also now 0-4 for the season.

LHS football doesn't look too good this year, but the LHS Rambler Band is doing very well. Here's a clip from their performance Friday:
The band has a Web site now with YouTube videos, photos, and info. Not bad.
And no "Dude Looks Like a Lady." Seems like that was the only song they played for years.


Speaking of LHS football.. A year ago this week, LU was discussing the 1968 Ramblers team. Why 1968? That's the only one with photos available. Ah well.

WQCH Radio, 09/28/12: "THE LATEST UNEMPLOYMENT FIGURES WERE MIXED ACROSS COUNTIES IN OUR AREA. HERE IN WALKER COUNTY, THE RATE EDGED-UP FROM JULY TO AUGUST, CLIMBING FROM 7.9 TO 8.1 PERCENT.
"DADE COUNTY ALSO HAD AN INCREASE, FROM 8.3 TO 8.6 PERCENT AND CATOOSA COUNTY WAS UP FROM 7.2 TO 7.3 PERCENT. TWO AREA COUNTIES HAD A NICE DROP IN UNEMPLOYMENT: CHATTOOGA COUNTY FELL FROM 11.5 TO 10.8 PERCENT, AND WHITFIELD FELL FROM 12 TO 11.4 PERCENT OVER THE MONTH.
"THE BIG IMPROVEMENT KEPT METRO DALTON FROM CONTINUING AS THE STATE'S HIGHEST UNEMPLOYMENT AREA, A DUBIOUS DISTINCTION IT HAS HELD FOR THE PAST THREE YEARS."
Meanwhile the Heiskell campaign is still hanging on 6.9% unemployment numbers from March. "Walker County / Where Unemployment is Plummeting!"
Thanks Bebe!


Video from this week's Commissioner meeting. They are actually posting these, surprisingly enough, but some of the videos (like last week's) have been edited to omit unflattering bits or questions Bebe didn't like.


Times Free Press profiles Mike Lovelady, owner of One-Eleven and Mars Theater:


State Rep. Rahn Mayo, an African-American Democrat, is throwing his support behind the Charter Schools Amendment:
"In my opinion, many who oppose to the charter amendment are not focused on what's in the best interest of children, parents and taxpayers, but instead motivated by protecting the power and exclusive control currently held by local school boards and systems."
Opponents to charters have been painting this along party and racial lines. However, there are people of more than one race supporting the issue from both sides of the aisle.


Residents of Chatsworth are being terrorized by a mama bear and two cubs. GA Department of Natural Resources has so far been unable to do anything about the situation.

For today's links and any breaking news, follow the Underground on Facebook or Twitter.