2012
09.27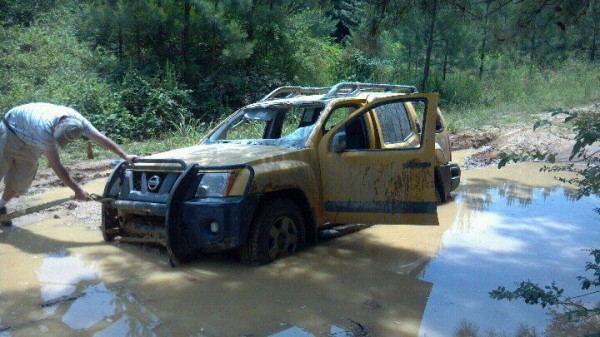 District Attorney Buzz Franklin has offered sentencing deals to three of the four teens involved in stealing and destroying this Nissan XTerra back in June. According to someone close to the case, the 19-year-old gets 8-years probation because he was "only a child," one of the minors gets one year probation, and the other juvenile gets a year in YDC. No word yet about the fourth suspect involved. Is this a fair deal or too lenient?
In other crime news, Walker Co Sheriff's Office has declared a 1979 homicide case "closed" after the DA's office said there was "sufficient evidence to prosecute" a suspect who died last year. (Meanwhile, how many homicide have they actually cleared since 2000?)
They can decide there's sufficient evidence to prosecute a dead man for something that happened 33 years ago, but not enough to prosecute a deputy who had sexual contact with a girl weeks earlier, or prosecute Clara Marsh even though she had dead bodies in her back yard. Good job DA's office and Walker County SO, keep closing those cases nobody remembers.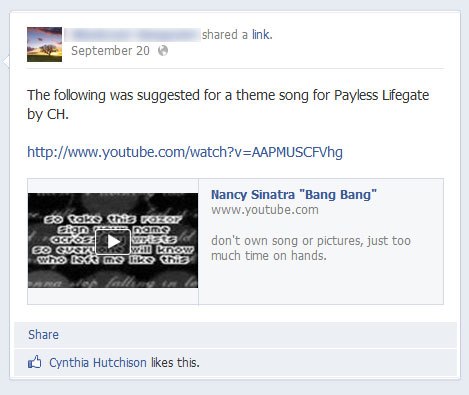 An anonymous Facebook page/group supporting Bebe Heiskell has begun making suggestions of violent threats against write-in candidate Ales Campbell. There are several groups pushing lies and violence, and Heiskell has endorsed several of them. Residents should call her office [ 706 638 1437 ] and ask if she condones this behavior.
If any Campbell supporters suggested a similar song for Bebe, they'd get a visit from law enforcement.

WQCH Radio, 09/26/12: "WALKER COUNTY IS FINISHING CORRECTIVE WORK ON THE DURHAM TRAIL PROJECT THIS WEEK. COUNTY COORDINATOR DAVID ASHBURN SAID THE STATE ENVIRONMENTAL PROTECTION DIVISION REQUIRED THE COUNTY TO COMPLETE A 'CORRECTIVE ACTION' AT THE TRAIL SITE, WHERE IT CROSSES ROCK CREEK ATOP LOOKOUT MOUNTAIN.
"THE ORDER REQUIRED A 10-FOOT TILE BE INSTALLED UPSTREAM, WHICH WAS COMPLETED LAST FRIDAY. ASHBURN SAID THE TRAIL WILL BE COVERED IN MULCH TO COMPLETE THE PROJECT. THE EPD CONSENT ORDER ALSO REQUIRES THE COUNTY TO PROVIDE 65-THOUSAND DOLLARS OF 'IN-KIND' LABOR ON FUTURE EPD PROJECTS WITHIN WALKER, SOMETHING ASHBURN SAID THEY 'FREQUENTLY DO ANYWAY'."
Neighbors say the current work being done to complete the trail system lacks the erosion and sediment controls that were lacking originally. Improper controls are what led to the $65,000 "fine" which the county is paying off by doing more work improperly. Real slap on the wrist this one is.

More support for the Charter Schools Amendment:
"I am for local control. I value public schools and the increasingly more challenging mission we ask them to perform. I still owe much to the teachers and administrators that maintained an educational system that provided me an education to which I would otherwise have had no access.
"Despite that declaration, I support the state charter school amendment on this November's ballot."
The amendment is so the state can set up charters in a school district when parents demand them and the school board won't listen. That forces the school boards to respect what the parents want – which is true local control. Currently school boards have no reason to listen to a vocal minority of parents as long as school teachers and administrators turn out en masse to reelect them.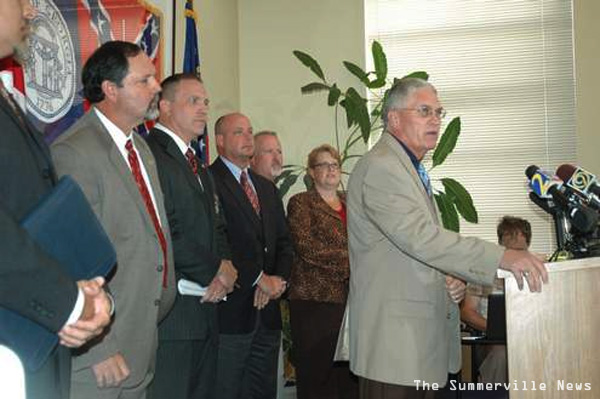 Two years ago today on the Underground Blog, discussion focused on the discovery of murdered Walker 911 operator Theresa Parker's remains near Lyerly. The remains were found by a farm hand taking a break, but that didn't stop Sheriff Wilson from taking credit for the discovery, putting words into mouths of the dead woman's family, and dodging blame for his own role in her death.

Victory Tabernacle of Praise will be having an event tonight to "plan a protest" against LaFayette City Council. They're upset about changes to the city's zoning laws that allow Chattanooga Street Tavern to open two blocks away from a church.
VTP Facebook, 09/20/12: "As a christian are you tired of YOUR rights being steped on?The LaFayette city council recently changed the rules so a 'pubb' could be opened down from Faith Worship Center.Several churches are joining with us to protest this actioun.we will be meeting at V.T.P next thursday night sept.27 th at 7 pm to plan the event anyone and everyone is welcome…it is time for the church's in this area to stand and be heard…Pastor Chris"

This weekend the Sheriff's Office will be at the Civic Center collecting outdated or unneeded prescription drugs for safe disposal. This is a handy service for anyone who can't work a garbage can or has a non-functional toilet.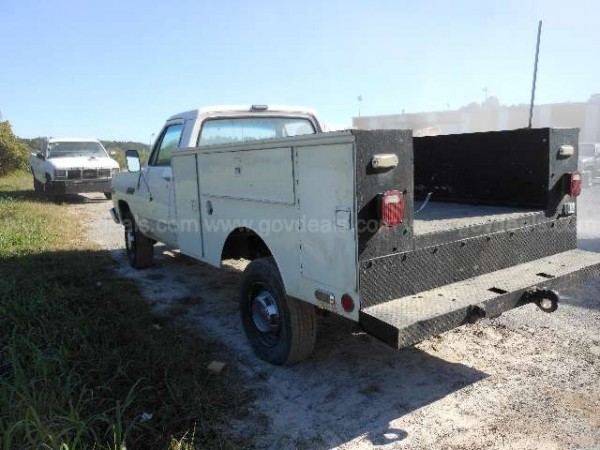 The city is auctioning off a couple of worn-slap-out pickup trucks from 1987 and 1991. If you need something for demolition derby, or maybe a truck for parts, here's your chance to get a deal.

Walker, Chattooga, Gordon, and Floyd farmers have been added to the list of drought victims eligible for low-interest loans from the Department of Agriculture.

Officials in Henry County are desperately looking for five of six kittens given away at the McDonough Walmart, because the sixth one was found to be rabid. Ouch.