2012
09.25
Fiscal 2013 begins in five days, but LaFayette still doesn't have a budget. The biggest issue being contested seems to be the golf course. It loses money hand over fist, as we've been screaming about here for three years. Should they keep raising fees in hopes of losing less money, or lower fees and add "family" packages to bring more people into the community? Or maybe advertise the thing sometime.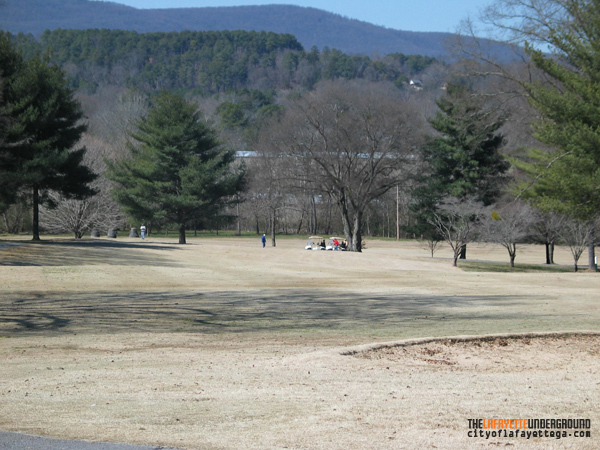 Lowering rates or even giving away games does nothing if people don't know the LaFayette Golf Course exists, know what the rates are, and know how to find it. (Whoever decided to put the entrance off Foster Mill Drive instead of South Main St. had no interest in helping the city's economy, regardless of what they say now.) So if the city plans to do anything with the golf course (besides sell it), advertising it to the outside world is a must.
But citizens must ask: what it would bring at auction? Sell the golf course to the highest bidder to a company that could operate it profitably and advertise it. The city would make money from selling it and be off the hook for future losses, and there would still be a golf course in town. Call or e-mail your councilor.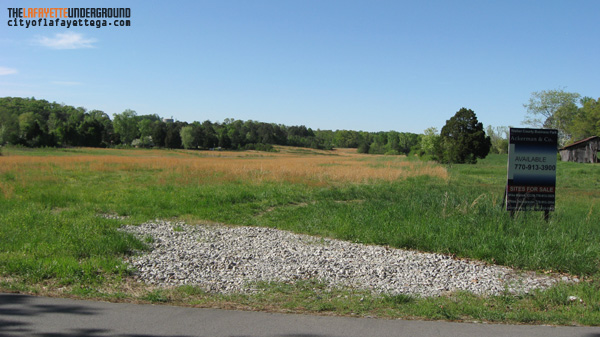 The Heiskell campaign and its press release factory (a/k/a McEntrye at the Messenger) on efforts to bring in business and develop the Swanson farm in Noble. Article fails to mention how the county is paying $10,000 a year just for the right to keep someone else from buying the Swanson farm first.
According to the article, Heiskell didn't buy the land outright from Swanson so he can keep paying property taxes on the land – but this "option" costs the county about $2,000 a year MORE than his overall property tax bill. All this arrangement does is discourage businesses from buying the tracts outright at a lower price than the county will pay.
LU first discussed the Swanson property way back in June 2010.

Is it appropriate for tax-funded local schools to actively campaign for or against a political issue? More than a few school districts in Georgia have taken a public position against charters on their Web sites or elsewhere.
Politicians and government agencies aren't supposed to campaign with any government money. They shouldn't use any tax resources for their campaigns, or even put campaign messages on tax-funded Web sites. Not to say there aren't some who do, but it's a crime.
But this is an ISSUE, not a specific person, and there are different standards for issues vs. candidates – so is this appropriate or not?

Reminding people to go vote on Facebook may be the most effective way to increase voter turnout. Remember that once early voting begins in mid-October. YOUR status message seen by a few hundred friends could impact local elections in a big way, especially when we have some races that end as tightly as the primary votes did in July.
The District Attorney race, contested in four counties, was settled by only 40 votes. A few more people reminding their friends to come out and vote (or vote in that race particularly) might have changed the outcome. And Bebe Heiskell won the primary for Walker Commissioner by only 214. A dozen people reminding friends online might very well have turned that one around, too. Have you shared LU posts with your friends? Shared articles about candidates or news in the area? You have the ability to change the future here.
In related news: Georgia residents can now fill out paperwork for voter registration online. Finish the forms, print out the generated documents and mail them in. No more visits to the Courthouse to register.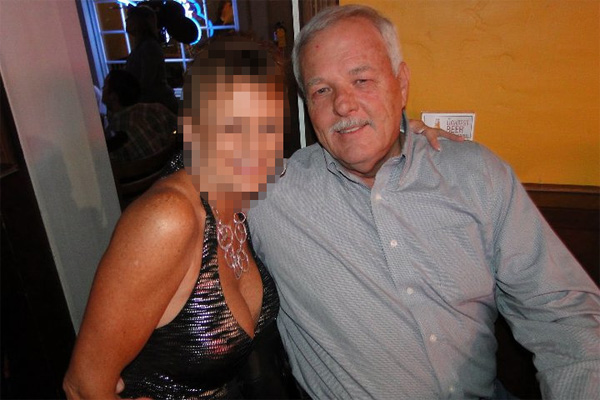 One year ago today, LaFayette said Goodbye (and Good Riddance!) to disgraced, hateful City Manager Johnnie Arnold. Six months later we said the same to his hand-picked bully Chief of Police. Damage from his fourteen years of poor leadership is still being repaired, but his dismissal is probably the best thing to happen in the Queen City since running water.

WQCH Radio, 09/24/12: "SINCE THE CITY OF ROSSVILLE VOTED TO CUT LIBRARY FUNDING LAST WEEK, THE CHEROKEE REGIONAL BOARD WILL MEET TODAY TO LOOK AT THEIR OPTIONS. ONE, OF COURSE, IS TO CLOSE THE ROSSVILLE LIBRARY, ONE OF THREE LIBRARIES IN WALKER COUNTY. ANOTHER OPTION, IS TO CUT HOURS AT ROSSVILLE TO 20 PER WEEK. AND A THIRD IS TO HOLD A ONE-TIME FUND-RAISER TO MAKE UP THE MISSING 12-THOUSAND DOLLARS IN THE ROSSVILLE LIBRARY BUDGET FOR THE COMING YEAR. THE CHEROKEE AND ROSSVILLE LIBRARY BOARDS WILL MEET TODAY ON THE ISSUE."
Obviously the meeting is over by now, but so far no word on what was discussed or decided. Rossville could cut out employee take-home vehicles for nonessential people and save the twelve grand; the $10,000 per year Bebe gives to Mr. Swanson for nothing except an option to later buy his property could also fill most of that funding gap. But the people wouldn't accept a tax increase or go out and have a fundraiser for those wastes, while shutting down a library makes people willing to pay more to governments that despise them.

Hutcheson Hospital lost only a little over $20,000 last month. Still a loss, but losses are shrinking month to month.

More back and forth in Chattooga County between the lame-duck Sheriff and commissioner. Both blame the other for financial problems and some actions at the Sheriff's Department that don't make any sense.

WQCH Radio, 09/24/12: "IN HEALTH DEPARTMENT INSPECTIONS LAST WEEK, TWO AREA RESTAURANTS RAISED THEIR SCORE UPON RE-INSPECTION. WANDA'S IN ROCK SPRING AND CHOO CHOO BARBECUE IN LAFAYETTE BOTH SCORED AN 'A' LAST WEEK, BRINGING-UP 'C' SCORES, FROM INSPECTIONS EARLIER IN SEPTEMBER. THERE WERE NO RESTAURANT FAILURES REPORTED BY THE WALKER COUNTY ENVIRONMENTAL HEALTH OFFICE."
If you're ever in doubt about a restaurant, you can pull up the last five inspections for any restaurant in the county online. All but a handful of Georgia counties are now posting online health scores.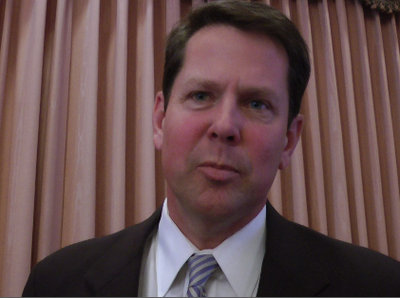 GA Secretary of State Brian Kemp discusses the logic behind his decision to close the State Archives center. It stinks but his arguments make sense – was he backed into a corner with this, or just taking the easy way out?

Chattooga High School in Summerville will have a new building for the 2014 school year. In 2014 their current facility would be fifty years old.

Three years ago after several people died from eating contaminated peanut butter originating in GA, the state passed new laws requiring peanut processors to conduct tests on their product. Most of those processors still aren't following the law or checking their output.